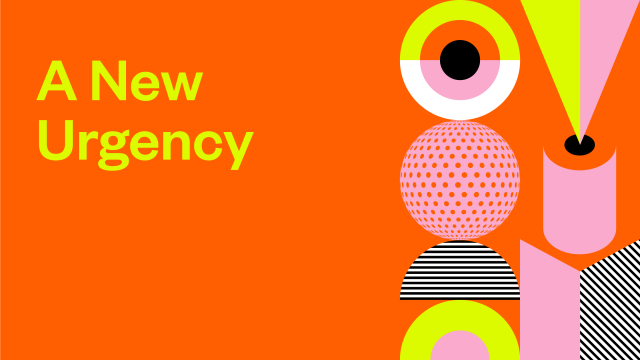 This spring, creatives around the world will convene for SXSW Online - a digital experience to take place March 16–20, 2021. With conference keynotes and sessions, film screenings, showcases, networking, and exhibitions, opportunities to connect and inspire are endless. This year sessions will be organized by seven Conference themes specifically focused on our unique moment in history and a glimpse into what the future could look like.
2020 has amplified issues like racial injustice, poverty, nationalism, and the climate crisis amidst a global pandemic. The future depends on the business, non-profit, government, science, and technology communities all working together. What advancements are needed to create immediate and lasting progress?
A New Urgency is a theme that we are eager to present, as speakers will touch on problems and solutions that matter now. Below are a few sessions from this theme to bookmark as we approach March.
As the form of intellectual property creation and consumption changes, as story-tellers, we must adapt and proactively utilize curation as a part of authorship of a narrative. Especially when curation has now become an AI-algorithm used by streamers. Algorithms seem to feed us what we already like and exclude the narratives of other ideologies from our play-cue – ultimately dividing communities, dividing us. This is one of the greatest problems of our time that can be solved by content creators if the measurement of "Bridging Cultures" is taken into account while developing and producing IPs. Join us as we discuss the way our decisions impact both our work and our audiences, how each of these talented professionals approaches this in their work, and what they hope to see for the future.
Speakers: Roy Wol (Autonomous Think Tank), Elegance Bratton (Autonomous Pictures, LLC), Ashley Eakin (This is Blank Films, Inc), Ainslee Alem Robson (Self)
How can we use design and contrarian thinking to overcome historical bias and inter-racial blocks? Always looking at the human and the systems that surround us, what we have neglected to do is to stop, be still, and understand the causes for the problems we are trying to solve. While action seems to be the only true recourse, acting with haste or urgency creates blind spots and often poor decisions. Problem-reaction-solution historically does not bring us to the better place. Human Centered Design and Afro-futurist principles in dialogue can emerge as powerful communication tools applied from within social justice and a new era of automotive — finding an inter-racial voice in the intersection of two progressive women leaders.
Speakers: Shel Kimen (Ford Motor Company), Ingrid LaFleur (Afrofuture Strategies Institute)
As many workplaces swiftly moved from in-person to virtual last year, employers identified a new challenge in connecting teams and fostering a sense of belonging. Combined with the compounded crises of the pandemic, the economic fallout and the fight for social justice, employers need to provide new resources and support to their teams. This panel will be an unfiltered conversation about how to build belonging and empower a diverse workforce in 2021 and beyond.
Speakers: LaFawn Davis (Indeed), Marra Ackerman (NYU Langone), Melissa Thomas-Hunt (Airbnb), Jennifer Liu (CNBC)
Austin has been the fastest growing city in the country for the past 10 years, but COVID-19 has opened the floodgates to Silicon Valley's top entrepreneurs and investors already frustrated by escalating taxes and raging wildfires. Find out why Jim Breyer, of Breyer Capital and first investor in Facebook, chose Austin as Breyer Capital's second home and why so many others are following in his footsteps. Learn what it takes to get funded by one of the most successful investors in the world.
Speakers: Jim Breyer (Breyer Capital), Nancy Fechnay (Capital Factory)
Check out the seven conference themes and browse all A New Urgency sessions.
Register for SXSW Online 2021
From March 16-20, experience Conference sessions and Keynotes, music showcases, film screenings, world-class networking, online exhibitions, networking events, mentor sessions, professional development, and more, all in a digital setting. SXSW Comedy Festival content will be announced as we get closer to the March event.
Follow us on Twitter, LinkedIn, Instagram, and Facebook for the latest SX coverage.