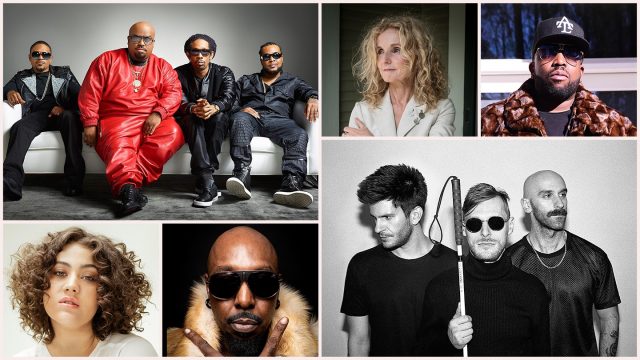 SXSW is back for three nights of music on the lawn at the SXSW Outdoor Stage at Lady Bird Lake. These performances take place on SXSW's largest stage and are open to all SXSW Badges, Wristbands, and is free to the public with the free SXSW Guest Pass.
On Thursday, March 14 we start things off with anthemic alt-rock trio X Ambassadors, with support from soulful British singer-songwriter Jamie N Commons, Aussie R&B-inflected pop singer Odette, and LA pop-rock duo VOILÀ.
Atlanta hip hop/R&B/soul supergroup Dungeon Family featuring iconic rapper Big Boi, Organized Noize singer/producer Sleepy Brown, and hip-hop collective Goodie Mob headline the park on Friday, March 15, with support from Austin-based indie MC Abhi The Nomad and more TBA.
Saturday, March 16 features a performance from legendary Austin singer-songwriter Patty Griffin, with support from soft pop multi-instrumentalist Andrew Bird, Arizona-based folk singer Courtney Marie Andrews, and Americana guitar ace William Tyler.
The SXSW Outdoor Stage at Lady Bird Lake is open to the public with the free SXSW Guest Pass. SXSW Badge and Wristband holders do not need a SXSW Guest Pass to attend. If you have not yet registered to attend SXSW, the time is now. See you all at the park!
You can find more information, including item and carry-on bag restrictions, transportation, shuttles, parking information and more here.
Outdoor Stage at Lady Bird Lake Schedule
The SXSW Outdoor Stage at Ladybird Lake is brought to you by the supporting sponsors of the stage, Cirrus Logic, Sparkling Ice and ACUVUE® OASYS with Transitions™.
A special thank you to SXSW's long time media partner of the Outdoor Stage, ABC affiliate KVUE. Visit KVUE for up-to-date weather reports for the duration of the concert series.
The Outdoor Stage is a charity event benefiting LUPE Arte, a multimedia nonprofit arts education organization encouraging Latino arts and culture within the Austin, Texas, community.
South by Southwest's 2019 Super Sponsors are Capital One, smart, Bud Light, Uber Eats and The Austin Chronicle and Major Music Festival Sponsor Visible.
Photo credits, clockwise from top left:
Goodie Mob - Photo courtesy of the artist
Patty Griffin - Photo by Michael Wilson
Big Boi - Photo courtesy of the artist
X Ambassadors - Photo by Ned Monahan
Sleepy Brown - Photo courtesy of the artist
Odette - Photo by Metaxia Coustas

(Teaser photo) Photo by Michael Wilson