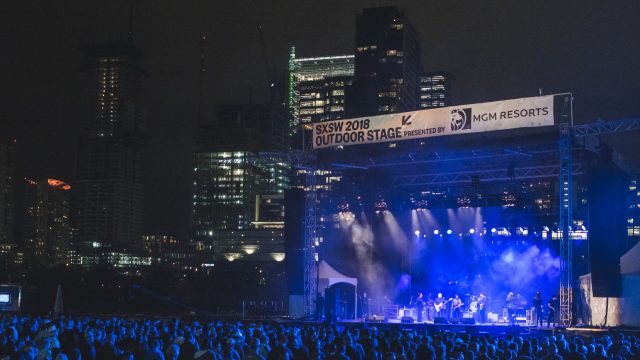 When you think of Austin, Texas what comes to mind? Eclectic, raw, spirited, weird, compelling? You might use those very words to describe the SXSW Music Festival. This tradition runs parallel to the city's lively culture; not limited in a genre or regional focus, fans from all over can enjoy a variety of musical styles at SXSW.
The SXSW Music Festival dates back to 1987 where it showcased 177 artists. Since then the tradition has grown exponentially. The 2019 festival (March 11-17) will showcase 2,000+ official performers from over 60+ countries. All unique with their personal sound and various backgrounds but sharing one common goal: to enhance their careers by showing off their untapped talent in various intimate venues around Austin.
For over 25 years, the SXSW Outdoor Stage has hosted free charity beneficiary concerts for the general public, enabling both Austinites and visitors to enjoy some of SXSW's biggest names without a badge or wristband. In recent years, these shows have become SXSW's largest venues, drawing more than 50,000 attendees over three days.
Explore the history of SXSW's free concert series further within the SXSWorld Magazine gallery.
2019 Outdoor Stage Lineup
SXSW is back for three nights of music free to the public on the lawn at the SXSW Outdoor Stage at Lady Bird Lake.
This year's lineup includes anthemic alt-rock trio X Ambassadors; Aussie R&B-inflected pop singer Odette; Atlanta hip hop/R&B/soul supergroup Dungeon Family; legendary Austin singer-songwriter Patty Griffin; soft pop multi-instrumentalist Andrew Bird; and more.
Find New Sounds
At the SXSW Music Festival, the focal point isn't big named artists, rather this is the place where notable artists are born. In the past, we've seen performers like American Rapper Russ, who have now surpassed the very artists he opened for at SXSW, and the very popular SXSW Alumn Travis Scott, who once performed to a crowd of 200 off of 34th Street and Guadalupe. Are you ready to experience the unique thrill of discovering a hidden gem before the launch of their career and get the chance to say that you were part of that selective 200?
SXSW programmers offer audiences an experience unlike any other festival by curating showcases ranging from Latin Urban to Folk with the help of record labels, booking agencies, media outlets, lifestyle brands, and more. Some of the latest showcasing artists are polyvinyl indie stalwart Pedro the Lion, K-Pop boy band iKON, Merge Records garage-punk Mike Krol, Colombian rapper Ali Aka Mind, and much more.
Register to Attend
For 25 years SXSW has presented rich and diverse content establishing that music is the universal language that brings us together. Which artists' siren call will draw you in? Will it be at a bar, park, hotel, church or club? You won't know until you register to attend!
Music Badges receive primary access to all showcases, Music and Convergence Tracks at the SXSW Conference, and Comedy Festival Showcases and Events. In addition to secondary access to Film programming and Interactive Tracks, Keynotes and Featured Speakers.
To keep up with acts performing at SXSW 2019, stream our Apple Music and Spotify Playlists, surf our YouTube Music Video playlist, and tune into SXSWfm.
Ian Moore at SXSW 1998 – Photo by Michelle Dapra