First Wave of 2020 Showcasing Artists Announced Including Beabadoobee, HTRK, Quinn Christopherson and More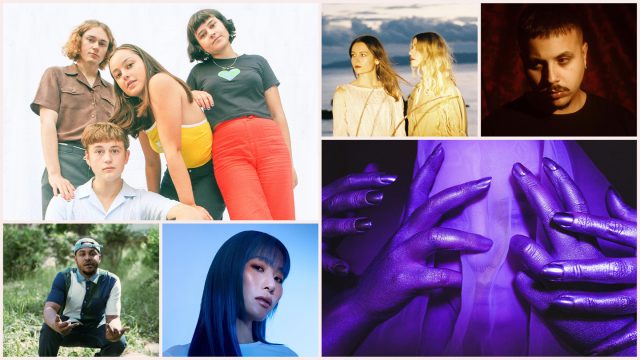 While we're still reeling from all the great acts from last March, it's with great excitement that we present the first wave of Showcasing Artists for the 2020 SXSW Music Festival taking place in Austin, TX from March 16-22.
The 288 Showcasing Artists announced today span 51 countries and include UK Afrobeat octet Kokoroko; 2019 NPR Tiny Desk Contest winner Quinn Christopherson; Dirty Hit signing and soon-to-be indie rock darling Beabadoobee; Ghostly International's moody Melbourne-based minimal dub-influenced electronic duo HTRK; psychedelic Afro-Columbian futurists Ghetto Kumbé; Houston gospel/soul/funk group The Jones Family Singers; former Throwing Muses singer/guitarist Kristin Hersh; Norwegian unhinged pop act and new Bella Union signing Pom Poko; The Weather Girls' Martha Wash (yes, the same one from "It's Raining Men"); and the Robert Smith-approved Icelandic darkwave trio Kælan Mikla.
"This season's first artist reveal is a compelling and diverse list of artists from all corners of the globe. In the continued spirit of discovery, we're pleased to give the world a glimpse of what it can expect to see next March; a genre-spanning and defying lineup of artists you'll undoubtedly be hearing about in the future." - James Minor, Head of Music Festival.
These artists join previously announced SXSW Conference speakers including musician, visual artist, and actress Kim Gordon (Music Keynote); hit songwriter Benny Blanco; legendary cellist Yo-Yo Ma; former Nintendo American President/COO Reggie Fils-Aimé (Convergence Keynote); and more as part of the 2020 SXSW program. Explore the first wave of Showcasing Artists below and stay tuned for more announcements throughout the season.
Don't Know Where to Start?
Here are a few ways to get to know the 2020 Showcasing Artists:
Follow the Official SXSW 2020 Playlist on Spotify and Apple Music
Watch the SXSW 2020 Showcasing Artists Music Videos playlist on YouTube
Explore the Showcasing Artist lineup on the SXSW Schedule and favorite the artists you are interested in seeing at SXSW 2020
Listen to our Mixcloud Show highlighting artists from today's announcement
To stay up-to-date on the latest SXSW coverage including artist highlights and upcoming announcements, follow us on Facebook, Twitter, Instagram, and SXSW News.
Join Us in March
Want to take the stage at SXSW 2020? There's still time to apply! Send in your Showcasing Artist Application by October 25th (11:59pm PT) to be considered. Not an artist? Learn more about badges and register to attend to enjoy live music, conference sessions, film premieres, and more March 13-22, 2020.
2020 SXSW Showcasing Artists
Everything subject to change.
ACTORS (Vancouver CANADA)
Adam French (Congleton UK-ENGLAND)
Aiming For Enrike (Oslo NORWAY)
Alex the Astronaut (Sydney AUSTRALIA)
Ali Barter (Melbourne AUSTRALIA)
Alien Tango (Murcia SPAIN)
Altre di B (Bologna ITALY)
Amanda Black (Mthatha SOUTH AFRICA)
ANAVITÓRIA (São Paulo BRAZIL)
Andrea Cruz (Puerto Rico PUERTO RICO)
Angelica Garcia (El Monte CA)
Antti Paalanen (Kokkola FINLAND)
Arre! Arre! (Malmö SWEDEN)
Art d'Ecco (Victoria CANADA)
Automelodi (Montreal CANADA)
Bad Waitress (Toronto CANADA)
Banditos (Birmingham AL)
Bang Bang Romeo (Doncaster UK-ENGLAND)
Barbara Nesbitt (Austin TX)
Barbi Recanati (Buenos Aires ARGENTINA)
Baseball Gregg (Bologna ITALY)
Beabadoobee (London UK-ENGLAND)
Beachtape (Brighton UK-ENGLAND)
Ben&Ben (Manila PHILIPPINES)
Bethlehem Steel (Brooklyn NY)
Better Person (Berlin GERMANY)
Bill and the Belles (Johnson City TN)
Birthday Club (Houston TX)
Black Country, New Road (Cambridge UK-ENGLAND)
Blushh (Los Angeles CA)
BLXPLTN (Austin TX)
Bootblacks (New York NY)
Borealis Rex (New Orleans LA)
Bourgeois Mystics (Austin TX)
Buzzard Buzzard Buzzard (Cardiff UK-WALES)
Cadence Weapon (Toronto CANADA)
Campfire Social (Wrexham UK-WALES)
Candeleros (Madrid SPAIN)
Capyac (Austin TX)
Caracoles (Canary Islands SPAIN)
Carla Geneve (Perth AUSTRALIA)
Casey Neill & The Norway Rats (Portland OR)
Ceci Juno (Guayaquil ECUADOR)
Charlie Faye & The Fayettes (Austin TX)
Chestnut (Los Angeles CA)
ChihiroYamazaki+ROUTE14band (Tokyo JAPAN)
Cloud Rat (Mount Pleasant MI)
Colin Gilmore & Nicolette Good: Ladder To The Moon (Austin TX)
Como Las Movies (Austin TX)
Con Brio (San Francisco CA)
Corridor (Montreal CANADA)
Cousin Tony's Brand New Firebird (Melbourne AUSTRALIA)
Cromosapiens (Monterrey MEXICO)
Dan García (Mexico City MEXICO)
Daniel Casimir & Tess Hirst (London UK-ENGLAND)
Declan J Donovan (Essex UK-ENGLAND)
Deeper (Chicago IL)
Devarrow (Halifax CANADA)
Devours (Vancouver CANADA)
Donna Blue (Amsterdam NETHERLANDS)
Drinking Boys and Girls Choir (Daegu SOUTH KOREA)
Dry Cleaning (London UK-ENGLAND)
DTSQ (Seoul SOUTH KOREA)
The Dunts (Glasgow UK-SCOTLAND)
Easy Wanderlings (Pune INDIA)
eldanidonoso (Santiago CHILE)
El Dorado (Mexico City MEXICO)
Elephant Stone (Montreal CANADA)
Ellis (Hamilton CANADA)
Emma Jean Thackray (London UK-ENGLAND)
Enno Cheng (Taiwan TAIWAN)
eX-Girl (Kichijoji JAPAN)
Family Jools (Bristol UK-ENGLAND)
Fanclub (Austin TX)
Far Caspian (Leeds UK-ENGLAND)
FEET (Coventry UK-ENGLAND)
Ferris & Sylvester (London UK-ENGLAND)
The fin. (Kobe JAPAN)
Flyying Colours (Melbourne AUSTRALIA)
The Foreign Resort (Copenhagen DENMARK)
FRANKIIE (Vancouver CANADA)
The Frights (San Diego CA)
fuvk (Austin TX)
Gena Rose Bruce (Melbourne AUSTRALIA)
Gewalt (Berlin GERMANY)
Ghetto Kumbé (Bogotá COLOMBIA)
Glue Trip (João Pessoa BRAZIL)
Good Morning (Melbourne AUSTRALIA)
Goon (Los Angeles CA)
Grrrl Gang (Yogyakarta INDONESIA)
Hachiku (Melbourne AUSTRALIA)
Hardwicke Circus (Carlisle UK-ENGLAND)
Hedonutopia (Istanbul TURKEY)
Henry Brun & The Latin Playerz (San Antonio TX)
High Heavens (Austin TX)
HMLTD (London UK-ENGLAND)
Horse Jumper of Love (Boston MA)
Housecall (Dallas TX)
HTRK (Melbourne AUSTRALIA)
ings (Seattle WA)
Jadu Heart (London UK-ENGLAND)
Jan Verstraeten (Sint-Niklaas BELGIUM)
Jason Hawk Harris (Los Angeles CA)
Jeannel (Berlin GERMANY)
Jekyll (Blackpool UK-ENGLAND)
Jeremie Albino (Toronto CANADA)
The Jones Family Singers (Houston TX)
Jordan Mackampa (London UK-ENGLAND)
Kae Astra (Austin TX)
Kælan Mikla (Reykjavik ICELAND)
KAINA (Chicago IL)
Kate Bollinger (Charlotesville VA)
KAZKA (Kyiv UKRAINE)
Kiki Valera (Seattle WA)
Kings of the Beach (Vigo SPAIN)
Kiwi Jr. (Toronto CANADA)
Knife Wife (Washington DC)
Kokoroko (London UK-ENGLAND)
Kristin Hersh (Providence RI)
Lady Donli (Abuja NIGERIA)
La Garfield (Guadalajara MEXICO)
Laveda (Albany NY)
Leon Of Athens (Athens GREECE)
LET'S MARS (Tel Aviv ISRAEL)
Lido Pimienta (Toronto CANADA)
Lilla Vargen (Belfast UK-N. IRELAND)
Los Moustros del Espacio Exterior (Culiacán MEXICO)
Louis Prince (Orange County CA)
Lower Tar (Los Angeles CA)
Luna Luna (Dallas TX)
Malin Pettersen (Oslo NORWAY)
Manifest Destiny's Child (Denton TX)
Mapache (Los Angeles CA)
Margaret Glaspy (New York NY)
Maria y Jose (Tijuana MEXICO)
Martha Wash (New York NY)
The Mastersons (Los Angeles CA)
Mauskovic Dance Band (Amsterdam NETHERLANDS)
Max Chinasky (Cancún MEXICO)
me&you (Sacramento CA)
Merk (Auckland NEW ZEALAND)
Michigander (Kalamazoo MI)
Mir Fontane (Camden NJ)
Mobley (Austin TX)
Model/Actriz (Boston MA)
Moonchild Sanelly (Port Elizabeth SOUTH AFRICA)
Moon Kissed (New York NY)
Moon Panda (Copenhagen DENMARK)
The Murder Capital (Dublin IRELAND)
Myylo (Los Angeles CA)
Nadia Nakai (Johannesburg SOUTH AFRICA)
Natalie McCool (Liverpool UK-ENGLAND)
Native Sun (Brooklyn NY)
Necking (Vancouver CANADA)
Neck of the Woods (Vancouver CANADA)
NekoJam (Taipei City TAIWAN)
Neoma (Cuenca ECUADOR)
Neuza (Fogo CABO VERDE)
New Fame (Da Nang VIETNAM)
Nico LaOnda (New York NY)
Nicolás Molina (Castillos URUGUAY)
Nobody's Girl (Austin TX)
Nonso Amadi (Toronto CANADA)
Noya Rao (Leeds UK-ENGLAND)
Olivier Cong (Hong Kong HONG KONG)
The Orielles (Manchester UK-ENGLAND)
Otha (Oslo NORWAY)
Ötzi (Oakland CA)
Pachará (Mexico City MEXICO)
Partner (Windsor CANADA)
Pearla (Brooklyn NY)
Pearl & the Oysters (Gainesville FL)
Petrol Girls (Graz AUSTRIA)
P.H.F (Auckland NEW ZEALAND)
Pigs Pigs Pigs Pigs Pigs Pigs Pigs (Newcastle upon Tyne UK-ENGLAND)
Pizzagirl (Liverpool UK-ENGLAND)
Pom Poko (Oslo NORWAY)
Porridge Radio (Brighton UK-ENGLAND)
Purple Pilgrims (Coromandel NEW ZEALAND)
Qlowski (London UK-ENGLAND)
Quinn Christopherson (Anchorage AK)
Richard Spaven (London UK-ENGLAND)
Riders Against the Storm (Austin TX)
Roan Yellowthorn (Camden ME)
Rosehip Teahouse (Cardiff UK-WALES)
Ruth Koleva (Sofia BULGARIA)
Sammy Brue (Ogden NY)
San Cha (Los Angeles CA)
San Mei (Gold Coast AUSTRALIA)
San Saba County (Austin TX)
Sarah Klang (Gothenburg SWEDEN)
Sarah Shook & The Disarmers (Chapel Hill NC)
Savannah Sgro (Nashville TN)
Sen Morimoto (Chicago IL)
Shady Nasty (Sydney AUSTRALIA)
Shah (Toronto CANADA)
Shana Falana (Kingston NY)
Shell of a Shell (Nashville TN)
$NOT (Lake Worth FL)
Sofia Macchi (Mexico City MEXICO)
Sofia Portanet (Berlin GERMANY)
Sonoda (Los Angeles CA)
Stealing Sheep (Liverpool UK-ENGLAND)
Stella Sommer (Berlin GERMANY)
Strange Ranger (Philadelphia PA)
Taimane (Honolulu HI)
Tallies (Toronto CANADA)
Tamtam (Riyadh SAUDI ARABIA)
TC Superstar (Austin TX)
Theon Cross (London UK-ENGLAND)
There (Tel Aviv ISRAEL)
Thornetta Davis (Detroit MI)
TisaKorean (Houston TX)
Tolliver (Los Angeles CA)
Tomar and the FCs (Austin TX)
The Tomboys (Kobe JAPAN)
Tony True and the Tijuana Tres (Monterrey MEXICO)
Topographies (San Francisco CA)
Totemo (Tel Aviv ISRAEL)
Tufan Derince (Diyarbakir TURKEY)
UCHIKUBIGOKUMON-DOUKOUKAI (Tokyo JAPAN)
The Underground Youth (Berlin GERMANY)
Vandoliers (Fort Worth TX)
Vanishing Twin (London UK-ENGLAND)
Waco Brothers (Chicago IL)
The Wandering Hearts (London UK-ENGLAND)
Weird Milk (London UK-ENGLAND)
Western Youth (Austin TX)
Why Bonnie (Austin TX)
XCELENCIA (Caguas PUERTO RICO)
The Yawpers (Denver CO)
YAYOI DAIMON (Tokyo JAPAN)
Young Deji (Houston TX)
Young Georgian Lolitaz (Tbilisi GEORGIA)

Everything subject to change.
Photo credits, clockwise from top left:
The Orielles - Photo courtesy of the Artist
Purple Pilgrims - Photo by Olivia Renouf
Cruz Cafuné - Photo by Studio Bruma
Kælan Mikla - Photo by Dean Kemball
SUMIN - Photo by MOTHER
GRIP - Photo courtesy of the Artist
Featured Image: Pom Poko - Photo by Jørgen Nordby