New Order, Killer Mike, Tangerine Dream, Coco & Clair Clair, and More Join the 2023 SXSW Music Festival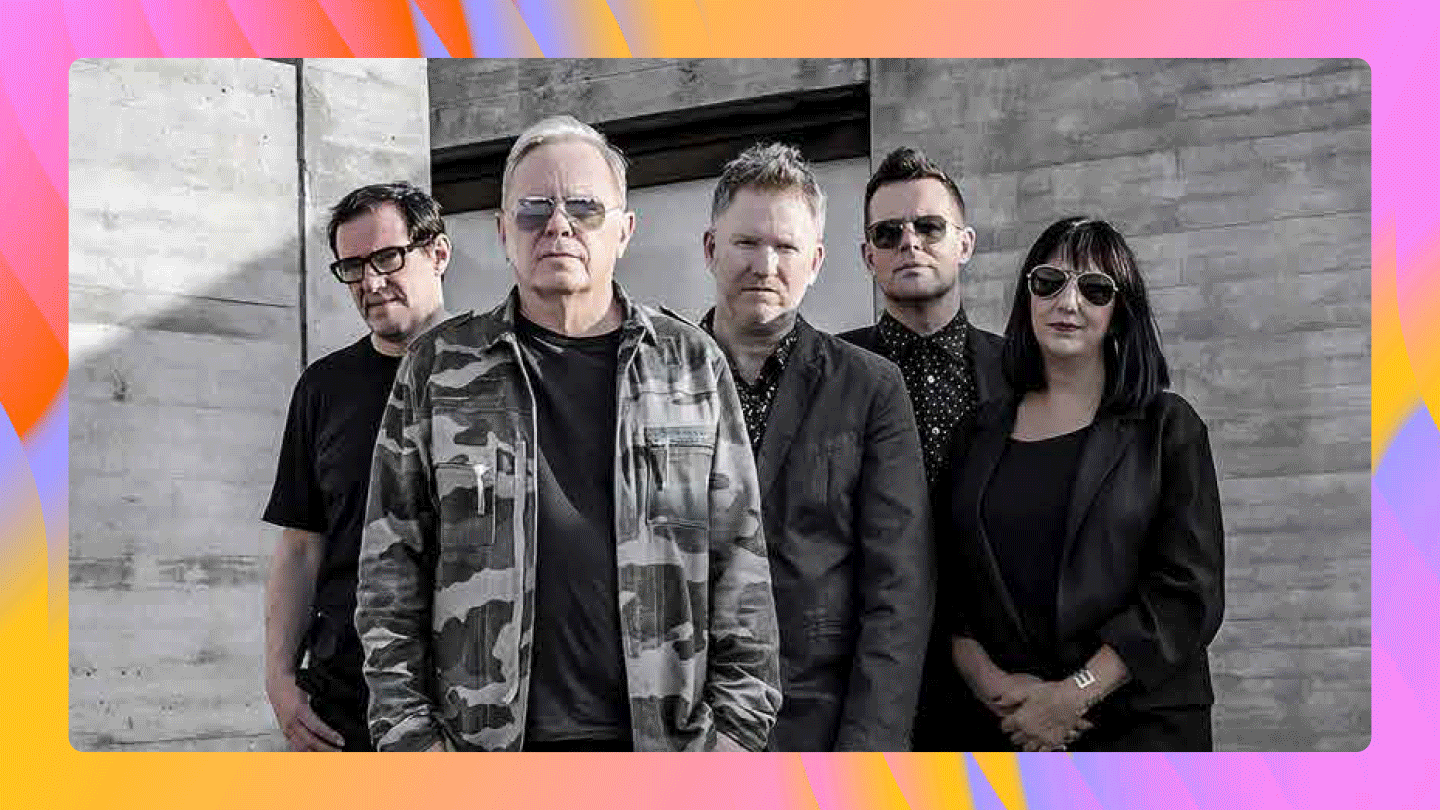 With Spring on the horizon, we're ready to turn the SX energy up with a third round of Showcasing Artists set to perform at the 2023 SXSW Music Festival from March 13-18 in Austin, TX. Feast your eyes and ears on the latest announcement featuring over 300 artists joining us from across the globe, ranging from up-and-comers to veterans.
Today's 2023 lineup additions include Manchester legends New Order; rapper, activist, and Run The Jewels member Killer Mike; and Captured Tracks' post-punk saviors THUS LOVE. Immersion (aka Malka Spigel and Colin Newman of Minimal Compact and Wire respectively) will bring their Brighton-based club night Nanocluster for a special one-off collaborative performance with Thor Harris (Swans, Shearwater, Thor & Friends). Plus, Atlanta-bred duo Coco & Clair Clair break genre barriers with their infectious songs and clever lyrics; and Anwan Glover, better known as Big G and leader of the BackYard Band, transports the world of Washington, DC go-go to Austin.
More Showcasing Artists taking the SX stage include the rediscovered 80's West African country-folk star and recent Verve signing Peter One; Daptone smooth 60's soul revivalists Thee Sacred Souls; current breakout star of the UK's new drum & bass revival Venbee; and German krautrock collective Tangerine Dream, to name a few.
Newly-announced Showcase Presenters include Adult Decisions, Alcopop! Records, Anniversary Group, Aquarium Drunkard, ASCAP, ATC Live, Athens in Austin, Atomic Music Group, Audiofemme, Bad Time Records, Bayonet Records, BBC Introducing, BreakOut West, British Music Embassy, Canela Music, CareFreeBlackGirl, The Color Agent, Consequence of Sound, Dance to the Radio, DAWA Heals, Dedstrange, DEL Records, DJ Ace presents Everything R&B, Don Giovanni Records, EMPIRE, End of the Trail, Father/Daughter Records, Fierce Panda Records, Fire Records, Fire Talk, FOCUS Wales, Force Field PR, Gold Diggers, Good Karma Club, Gorilla vs Bear, Holodeck Records, Hundred Palms, Island Wave, Italians Do It Better, Jazz re:freshed Outernational, Keeled Scales, Kill Rock Stars, KUTX The Breaks, Laneway Festival, Leafy Outlook, Levitation, The Line of Best Fit, The Loyalty Firm, M for Montreal, Marca Única, Marshall Music, Mint Talent Group, Music From Ireland, New West Records, Now Wave, Penny Loafer PR, POP Montreal, Post-Electric Artists, Post-Trash, PRIMA Fund, Reeperbahn Festival, Rocky Road Touring, Rolling Loud, Rolling Stone, Scruff of the Neck, Secret Sounds, Selector presents Jamz Supernova, Six Shooter Records, Space Agency, Spaceflight Records, The Spanish Wave, Speedy Wunderground, Taiwan Beats, Traffic Music Group, Vibe Magazine, We Were Never Being Boring, Wide Days Scotland, WISE x STRRR, WOMEX, and ZZK Records.
Prep for SXSW Music Fest Starts Now
SXSW remains one of the worlds greatest career launchpads for artists on the brink of greatness. And as music lovers ourselves, we know all too well the joys of discovering new music.
Register for SXSW 2023 before rates increase on February 2, 2023 at 11:59pm PT
Follow and listen to the Official SXSW 2023 Playlist on Spotify and Apple Music
Explore the SXSW 2023 Showcasing Artists Music Videos playlist on YouTube
The SXSW Music team works tirelessly to ensure no matter what social situation you're in, you've totally heard of that one obscure band and can quote their best lyrics if asked. So if you're looking for an edge when chatting with your hip co-workers, check out the newly-announced Music Festival Showcasing Artists below!
2023 SXSW Showcasing Artists
Everything subject to change.
81355 (Indianapolis IN)
1st Base Runner (Austin TX)
9m88 (Taipei TAIWAN)
The Accidentals (Nashville TN)
Adrienne Mack-Davis (Rochester NY)
Aguava (Chapel Hill NC)
AIDA (San Francisco CA)
AJ Smith (Nashville TN)
Alexandra Whittingham (Manchester UK-ENGLAND)
Alexia Bomtempo (Brooklyn NY)
Al Lover (Los Angeles CA)
Amra (Ulaanbaatar MONGOLIA)
Andrew Cashen (Austin TX)
Annabelle Chairlegs (Austin TX)
Anwan "Big G" Glover (Washington DC)
Arya (Milan ITALY)
Ashli (Sydney AUSTRALIA)
Aubrey Haddard (Queens NY)
Austin Unconducted (Austin TX)
Ava Maybee (Los Angeles CA)
AyseDeniz Gokcin (Los Angeles CA)
Baba Kuboye (Dallas TX)
The Bad Ends (Athens GA)
Bailen (New York NY)
Banditos (Nashville TN)
Barrie (Ipswich MA)
Beks (Brisbane AUSTRALIA)
Belén Cuturi (Montevideo URUGUAY)
Bial Hclap (Guadalajara MEXICO)
Big Mountain County (Rome ITALY)
Big Special (Walsall UK-ENGLAND)
Big zeeks (London UK-ENGLAND)
Blacklist (New York NY)
Blaketheman1000 (New York NY)
Blvck Hippie (Memphis TN)
Bodywash (Montreal QC)
BÖNDBREAKR (Austin TX)
The Boneshakers (Los Angeles CA)
Bonny Doon (Detroit MI)
BOYO (Los Angeles CA)
Brandt Brauer Frick (Berlin GERMANY)
Brass-A-Holics (New Orleans LA)
Brekky Boy (Sydney AUSTRALIA)
Brendan Abernathy (Atlanta GA)
The Bright Light Social Hour (Austin TX)
Brigitte Calls Me Baby (Chicago IL)
Brixx (Birmingham UK-ENGLAND)
Broken Gold (Austin TX)
Buenos Diaz (Austin TX)
Caballo Prieto Azabache (Madrid SPAIN)
Calder Allen (Austin TX)
Call Me Spinster (Chattanooga TN)
Caramelo Haze (Austin TX)
Caravanchela (Bogotá COLOMBIA)
Casey Neill & The Norway Rats (Portland OR)
Catherine Moan (Philadelphia PA)
Causeway (Boise ID)
Cecilia and The Broken Hearts (Austin TX)
Charlotte Rose Benjamin (Brooklyn NY)
ChihiroYamazaki+ROUTE14band (Kawasaki JAPAN)
Chris "Rapper Dude" Black (Washington DC)
Clarence Ward III & Dat Feel Good (Baltimore MD)
Coco & Clair Clair (Atlanta GA)
Colin Houlihan's Utopia Quartet (Austin TX)
Como Las Movies (Austin TX)
Cotton Mather (Austin TX)
Couch Prints (New York NY)
Crank Caviar (Washington DC)
Curse Mackey (Austin TX)
Dale Watson (Austin TX)
Daniel Brandt (Berlin GERMANY)
Daniel Fears (Austin TX)
David Wax Museum (Charlottesville VA)
Dawn Avenue (Mexico City MEXICO)
The Dead Coats (Austin TX)
Dea Matrona (Belfast IRELAND)
DEAN FOREVER (Prospect AUSTRALIA)
Debby Friday (Toronto ON)
The Debtors (Lafayette LA)
Deca (New York NY)
DEETRANADA (Baltimore MD)
Dende (Houston TX)
Desire (Palm Springs CA)
The Deslondes (New Orleans LA)
Devon Thompson (Los Angeles CA)
Diana Burco (Bogotá COLOMBIA)
Dippers (Naarm AUSTRALIA)
DJ Ace (London UK-ENGLAND)
dj poolboi (Austin TX)
Dr. Pushkin (Bolgatanga GHANA)
Drama Club (Brooklyn NY)
Dresage (Los Angeles CA)
Dumbo Gets Mad (Reggio Emilia ITALY)
Dutch Criminal Record (Portsmouth UK-ENGLAND)
Eichlers (Oakland CA)
EKKSTACY (Vancouver BC)
Elephant Gym (Kaohsiung TAIWAN)
El Gran Poder De Diosa (Santo Domingo DOMINICAN REPUBLIC)
El Hula featuring Blair Jollands and Rose Spearman (London UK-ENGLAND)
El Laberinto del Coco (San Juan PUERTO RICO)
Emily Nenni (Nashville TN)
Emma Worley (Toronto ON)
Enzo Baruffaldi (Bologna ITALY)
Esther Abrami (Manchester UK-ENGLAND)
Felix Fast4ward (Englewood CO)
Fionn (White Rock BC)
Flamingosis (New York NY)
Frank "Scooby" Sirius (Washington DC)
Friko (Chicago IL)
frogi (Los Angeles CA)
Fuse (Amsterdam NETHERLANDS)
GeeXella (Jacksonville FL)
Gen and the Degenerates (Liverpool UK-ENGLAND)
Georgia Harmer (Toronto ON)
Geto Gala featuring Jake Lloyd & Deezie Brown (Austin TX)
GIUNGLA (Milan ITALY)
Goodnight, Texas (San Francisco CA)
GOON (Los Angeles CA)
Haley Blais (Vancouver BC)
Half Dream (Austin TX)
Hansom Éli (Montreal QC)
Hans Pucket (Wellington NEW ZEALAND)
Heavy Salad (Manchester UK-ENGLAND)
Hello Mary (Brooklyn NY)
Homeboy Sandman (Queens NY)
Honeyglaze (London UK-ENGLAND)
Hope D (Brisbane AUSTRALIA)
Humour (Glasgow UK-SCOTLAND)
Husbands (Oklahoma City OK)
ill peach (Los Angeles CA)
Immersion (Brighton UK-ENGLAND)
Irene Diaz (Los Angeles CA)
Isabella Lovestory (Tegucigalpa HONDURAS)
Jack Barksdale (Fort Worth TX)
Jackie Mendoza (San Diego CA)
Jaime Wyatt (Nashville TN)
Jake Blount (Providence RI)
James Vickery (London UK-ENGLAND)
Jamz Supernova (London UK-ENGLAND)
Jane Leo (Austin TX)
JaRon Marshall (Austin TX)
Jason D. Williams (Memphis TN)
Jeff Lofton (Austin TX)
J Güero (Santiago CHILE)
Jhoniván y su Cumbia Loop (Monterrey MEXICO)
J-Live (New York NY)
J. Navarro & The Traitors (Detroit MI)
Jonathan Suazo (Quincy MA)
Jon Muq (Austin TX)
JOON (Dingli MALTA)
Joshua Hedley (Nashville TN)
J. Serrato (Austin TX)
J Soulja (Austin TX)
Juani Mustard (Rancagua CHILE)
Julianna Riolino (St. Catharines ON)
Kaia Kater (Montreal QC)
Kami Lyle (Cape Cod MA)
Karen Jonas (Fredericksburg VA)
Karen Y Los Remedios (Guanajuato MEXICO)
Kash'd Out (Orlando FL)
K-efe (Santiago CHILE)
Kelley Mickwee (Austin TX)
Kibi James (Atlanta GA)
Killer Mike (Atlanta GA)
Konrad Wert/Possessed by Paul James (Kerrville TX)
Kristeen Young (New York NY)
La Marimba (Santo Domingo DOMINICAN REPUBLIC)
Lara Price (Austin TX)
Larry Seaman (Austin TX)
La Sécurité (Montreal QC)
Laura Pérez (Bogotá COLOMBIA)
Le Fou (San Francisco CA)
Lesibu Grand (Atlanta GA)
Letón Pé (Santo Domingo DOMINICAN REPUBLIC)
Lifeguard (Chicago IL)
Lil Texxan (Dallas TX)
Lisa Morales (Austin TX)
Lizzie & The Makers (Brooklyn NY)
Locate S,1 (Athens GA)
Lola Tried (Austin TX)
Lonesome Dave Fisher (Baltimore MD)
Loose Articles (Manchester UK-ENGLAND)
lovetempo (Brooklyn NY)
LÜCY (Taipei TAIWAN)
Maiya The Don (Brooklyn NY)
Majozi (Cape Town SOUTH AFRICA)
Manny Walters (Cape Town SOUTH AFRICA)
Mass Minor (Austin TX)
Mauskovic Dance Band (Amsterdam NETHERLANDS)
McKinley Dixon (Chicago IL)
M Field (London UK-ENGLAND)
Michigander (Nashville TN)
Militarie Gun (Los Angeles CA)
The Minks (Nashville TN)
Miss Grit (New York NY)
Model/Actriz (New York NY)
Monophonicos (Barranquilla COLOMBIA)
Moody Bank$ (Austin TX)
Moon Kissed (New York NY)
Moses Rockwell (Rochester NY)
Motherhood (Fredericton NB)
MOTHERMARY (Los Angeles CA)
Muck and the Mires (Boston MA)
my education (Austin TX)
Nanocluster [Immersion + Thor Harris] (Brighton UK-ENGLAND)
Nathan & the Zydeco Cha Chas (Lafayette LA)
Nat Vazer (Melbourne AUSTRALIA)
NEEVE (Heilbronn GERMANY)
Nemegata (Austin TX)
New Order (Manchester UK-ENGLAND)
Neysa Blay (Cabo Rojo PUERTO RICO)
Night Glitter (Austin TX)
Nitefire (Los Angeles CA)
NOISY (Worthing UK-ENGLAND)
November Rose (Atlanta GA)
Ojerime (London UK-ENGLAND)
OKAN (Toronto ON)
O Tortuga (Mexico City MEXICO)
Patriarchy (Los Angeles CA)
Patricia Vonne (Austin TX)
Peelander-Z (Austin TX)
Peel Dream Magazine (Los Angeles CA)
Peter One (Nashville TN)
PINES (Adelaide AUSTRALIA)
Piquete (Santurce PUERTO RICO)
PJ Sin Suela (Ponce PUERTO RICO)
Porcelain (Austin TX)
Primer (Los Angeles CA)
Protomartyr (Detroit MI)
Rainbow Chan (Sydney AUSTRALIA)
Rakky Ripper (Granada SPAIN)
Ramona (Tijuana MEXICO)
Ramon Chicharron (Montreal QC)
Ratboys (Chicago IL)
Redbud (Austin TX)
Rich Aucoin (Halifax NS)
Rikas (Stuttgart GERMANY)
River Boy (Fitzroy North AUSTRALIA)
Robert Ellis (Houston TX)
Rodeo Boys (Lansing MI)
Roosevelt [DJ Set] (Cologne GERMANY)
R Tyler (San Francisco CA)
Ryan Cassata (Los Angeles CA)
Sabrina Ellis (Austin TX)
Sabrina Song (Brooklyn NY)
Sans Soucis (London UK-ENGLAND)
Sara Curruchich (San Juan Comalapa, Chhimaltenango GUATEMALA)
Satya (Oakland CA)
Savannah Ré (Toronto ON)
Scout Gillett (Kansas City MO)
Sea Moya (Cologne GERMANY)
Seán Barna (Philadelphia PA)
Semihelix (Austin TX)
Sevyn (Los Angeles CA)
The Sewing Club (Nashville TN)
Shaina Hayes (Montreal QC)
Shaylee (Portland OR)
Shelly Fairchild (Nashville TN)
Shoeb Ahmad (Canberra AUSTRALIA)
Shred Flintstone (Jersey City NJ)
Side Effect (Yangon MYANMAR)
SiNNER MOON (Taipei TAIWAN)
SIPHO (Birmingham UK-ENGLAND)
Sir Woman (Austin TX)
Softee (Brooklyn NY)
Soran (Montreal QC)
Sports Team (London UK-ENGLAND)
Steve'n'Seagulls (Jyväskylä FINLAND)
Steve Riley and the Mamou Playboys (Lafayette LA)
Strange Ranger (New York NY)
Summer Dean (Fort Worth TX)
Sunny War (Nashville TN)
Superfónicos (Austin TX)
Tangerine Dream (Berlin GERMANY)
Tangowhiskyman (Santo Domingo DOMINICAN REPUBLIC)
Teenage Joans (Adelaide AUSTRALIA)
Teethe (Dallas TX)
THEBROSFRESH (Baton Rouge LA)
Thee Sacred Souls (San Diego CA)
Then Comes Silence (Stockholm SWEDEN)
They Are Gutting A Body Of Water (Philadelphia PA)
Thor Harris (Austin TX)
THUS LOVE (Brattleboro VT)
TiaCorine (Winston-Salem NC)
Totalement Sublime (Montreal QC)
Town Mountain (Asheville NC)
Tropa Mágica (Los Angeles CA)
Trucha Soul (Austin TX)
True Body (Richmond VA)
Tuyo (São Paulo BRAZIL)
Twain (Austin TX)
Tylor & the Train Robbers (Boise ID)
unÁnima (San Juan PUERTO RICO)
Up Around The Sun (Austin TX)
Urban Heat (Austin TX)
Venbee (Chatham UK-ENGLAND)
Veronica Fusaro (Thun SWITZERLAND)
The Virginia Valley (Medellín COLOMBIA)
Virginie B (Montreal QC)
Vision Video (Athens GA)
VivaOla (Setagaya JAPAN)
Warren Hood (Austin TX)
Water Damage (Austin TX)
Weensey (Washington DC)
Wez Atlas (Oita JAPAN)
Yaw Appiah (Los Angeles CA)
Yung D3mz (Tema GHANA)

Join Us at SXSW 2023
Be sure to check out the first and second rounds of Showcasing Artists then dive into the SXSW Schedule to build your own Favorites list of music performances and more events. Stay tuned for 2023 SXSW Music Festival announcements throughout the season!
2023 SXSW Music Festival Schedule
Register for SXSW 2023 from March 10-19 to experience live music performances, Conference sessions, Exhibitions, screenings, and much more.
Keep up with the latest from SX – follow us on Facebook, Twitter, Instagram, TikTok, and SXSW News.
Teaser Photo: New Order - SXSW 2023 - Photo by Warren Jackson