Noor Tagouri, Rainn Wilson, Ruth Vitale & More Added to the SXSW Conference Lineup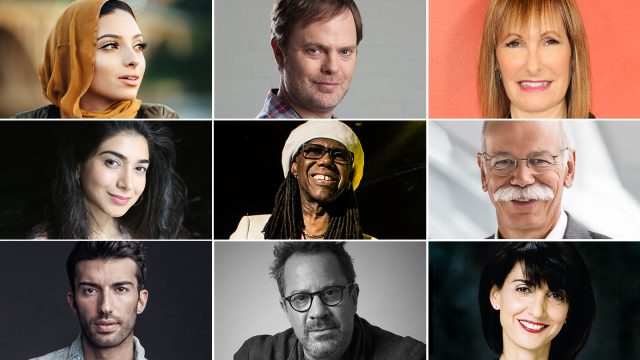 Industry leaders Justin Baldoni, Richard Gladstein, Gale Anne Hurd, Noor Tagouri, Ruth Vitale, Rainn Wilson, and Dr. Dieter Zetsche become the newest additions for the 2017 SXSW Conference Featured Session lineup. Also announced today, multi-Grammy Award-winning composer, producer, and guitarist Nile Rodgers joins the SXSW Conference as a Keynote Speaker (Music).
Structured around the various themes and trends at the SXSW Conference, Featured Sessions present a snapshot of the most transformative ideas shaping our future, while enabling creatives from across industries to achieve their goals. Learn about a range of ideas and cutting-edge technologies that are rapidly shaping the world around us, from the future of mobility to creating art on a budget while surviving the digital age, and more. Explore these sessions below and then add them to your "favorites" on the online SXSW Schedule to start planning for March today.
Register to attend by Friday, November 18 and save $300 on the walk-up rate. When you register you will gain access to this exciting, new programming and more during the 2017 SXSW Conference & Festivals from March 10-19 in Austin, TX.
---
How to Make Art, Pay the Rent, and Survive Piracy
Gale Anne Hurd, Richard Gladstein, and Ruth Vitale
Very few artists – be they musicians, filmmakers, show-runners, photographers, or novelists – aspire to create one piece of art, release it out into the world, and call it a day. Most artists view each and every project as one step in a life-long journey of creative expression – and hope to actually make a living from their art. For that reason, creativity and the protection of creative works are inextricably connected. In this panel, established filmmakers and show-runners will talk to you about building a career in the arts by determining how your works are distributed.
Speakers include Academy Award-winning film producer and CEO of Valhalla Entertainment Gale Anne Hurd; Academy Award-nominated film producer and the Founder and President of FilmColony Richard Gladstein; and CEO of CreativeFuture Ruth Vitale.
Shake Up the Industry by Entertaining with Empathy
Rainn Wilson and Justin Baldoni
(Entertainment Influencers Track)
Wayfarer Entertainment, founded by actor/entrepreneur Justin Baldoni, creates purpose-driven TV and digital content to elevate the human experience. Wayfarer's mission is use visual storytelling that can inspire audiences to change the world. With Rainn Wilson's SoulPancake, a company whose mission is to also open your heart and make you think, both companies use visual storytelling to stir the soul and inspire us to do more. Panelists Justin and Rainn discuss how these projects provide an opportunity for people to rethink the industry. The panelists will explain that giving back is a responsibility for us all and how we can start now, using influence and business acumen.
Dr. Dieter Zetsche in Conversation
Dr. Dieter Zetsche has been a member of the Board of Management of Daimler AG since December 16, 1998, and Chairman of the Board of Management of Daimler AG since January 1, 2006. Zetsche is also Head of Mercedes-Benz Cars Division.
During his Featured Session, Dr. Dieter Zetsche will focus on the ever growing importance and opportunities of maps for future mobility. Add this session to your schedule, and browse similar sessions we have "RIYL" (recommended if you like). As date, time, and session description become available it will automatically update on your schedule.
RIYL: Designing Infrastructure for Autonomous Cars, One Answer to Driverless Cars: Keeping the Driver, Uncovering Autonomy's Blind Spot, and Responsive Cities > Smart Cities
A Conversation with Noor Tagouri
Since launching the viral #letnoorshine campaign in 2012, first generation Libyan-American, Noor Tagouri has gained international attention as one of the most talked about young adults around the world. From graduating at one of the top journalism schools at the age of 20 to traveling across the world as a motivational speaker, Tagouri has embarked on a unique journey to achieve her dreams, breaking down significant barriers in the process.
Keynote Nile Rodgers (Music)
Having already established a legacy as a composer, producer, arranger, and guitarist with multiple Grammy Award wins, Nile Rodgers is considered exceptional among music legends. As a cultural icon and music innovator with more than 200 production credits to his name – including Sister Sledge, David Bowie, Madonna, Diana Ross, Mick Jagger, Michael Jackson, and more recently Daft Punk, Pharrell Williams, Avicii, Sam Smith, Keith Urban, Pitbull, and more – he transcends all styles of music across generations. Learn more about Nile Rodgers and other 2017 SXSW Conference Keynote Speakers here.
Beyond the SXSW Conference experience, check out the latest round of Showcasing Artists from the SXSW Music Festival.
---
Register for SXSW 2017
Experience fantastic speakers, sessions, and discover what's next at SXSW 2017. Register by Friday, November 18 at 11:59pm PT to save $300 on the walk-up rate and book your hotel to get the best available housing rates and selections. Browse the continuously updated online schedule and start building your own personalized schedule.
This year's event includes expanded access for all badge types – take the Tracks Quiz to select conference programming tracks and festivals that most interest you to discover what badge fits your needs. For more information, review the badge comparison chart and watch our badge types video specifying the changes.
Stay tuned to SXSW News, follow us on Twitter, and sign up for newsletters to stay up-to-date on the latest SXSW happenings.
All speakers subject to change.
2017 SXSW Conference Featured Session Speakers (l-r) Noor Tagouri - Photo by Kate Warren, Rainn Wilson - Photo by SoulPancake, Gale Anne Hurd, Shiza Shahid, Niles Rodgers, Dr. Dieter Zetsche - Photo by Diamler AG, Justin Baldoni - Photo by TJ Manou, Richard Gladstein, and Ruth Vitale.
---
Related News: