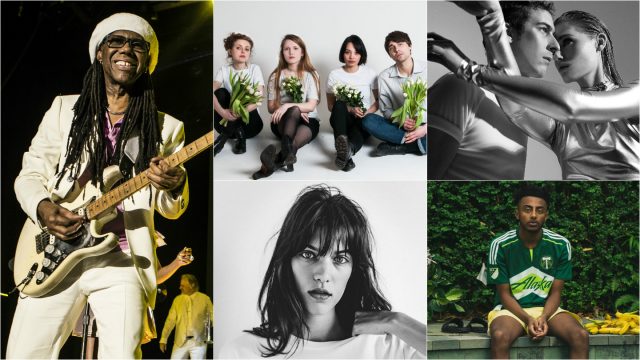 We have big news for you! Nile Rodgers – the multi-Grammy Award-winning composer, producer, arranger, guitarist, and creator of the We Are Family Foundation – has been confirmed as a Keynote Speaker (Music) for the 2017 SXSW Conference. Adding to the excitement, we are thrilled to share 210 more artist confirmations for the Music Festival today.
Cultural icon, music innovator, and legendary producer Nile Rodgers' legacy knows no bounds. With more than 200 production credits to his name – including Sister Sledge, David Bowie, Madonna, Diana Ross, Mick Jagger, Michael Jackson, and more recently Daft Punk, Pharrell Williams, Avicii, Sam Smith, Keith Urban, Pitbull and more – he transcends all styles of music across generations.
Turning our attention to the list of newly announced artists, as usual, we have a diverse collection of acts in terms of both sound and nationality. Acts like Australia's recent Sub Pop signing Rolling Blackouts Coastal Fever, German neo-classical composer Sven Helbig, Brazilian R&B group Liniker e os Caramelows, UK psych-rock band Temples, buzzing hip-hop artists such as Portland's Aminé and South Korea's XXX, acclaimed Austin-based singer-songwriter Walker Lukens, Disney star turned pop singer Bridgit Mendler, and Israeli multi-instrumentalist and producer Noga Erez make up just a small portion of our overall program.
Discover Showcasing Artists
I know what you're thinking: 210 artists is too many to discover on my own. Well, you've come to the right place:
SXSW 2017 Registration Info
The best way to experience SXSW is with a badge. Register for your Music badge by this Friday, November 18 and you will save $300 off the walk-up rate. The badge gets you so much more than just primary access into Music Festival showcases. Over the course of 10 days, you also have:
Access to all Interactive, Film and Music Conference sessions, including Music Keynotes Zane Lowe and Nile Rodgers
Access to most networking events and parties
Assistance with booking your hotel room
Access to SXsocial for pre- and post-event networking
Access to Trade Shows & Exhibitions
Newly Announced 2017 SXSW Showcasing Artists
Start adding these acts to your SXSW schedule below, or check out the full list of announced Showcasing Artists for 2017.
424 (San José COSTA RICA)
4x4 (Bogotá COLOMBIA)
Agrupacion Cariño (Mexico City MEXICO)
Federico Albanese (Berlin GERMANY)
ALI AKA MIND (Bogotá COLOMBIA)
Altre di B (Bologna ITALY)
Aminé (Portland OR)
Apache (Cara VENEZUELA)
Avi Buffalo (Long Beach CA)
Baskery (Stockholm SWEDEN)
Beach Slang (Philadelphia PA)
Jean-Michel Blais (Montreal CANADA)
The Blind Suns (Angers FRANCE)
Betty Bonifassi (Quebec CANADA)
The Britanys (New York NY)
Brodka (Warsaw POLAND)
Caddywhompus (New Orleans LA)
Calliope Musicals (Austin TX)
Charlotte Cardin (Montreal CANADA)
Josh Cashman (Melbourne AUSTRALIA)
Catholic Action (Glasgow UK-SCOTLAND)
The Chamanas (El Paso TX)
Cherry Glazerr (Los Angeles CA)
CHINAH (Copenhagen DENMARK)
Gabriella Cohen (Melbourne AUSTRALIA)
Communist Daughter (Minneapolis MN)
COMPLETE (Fort Worth TX)
The Cool Kids (Chicago IL)
Cotton Mather (Austin TX)
Dark Times (Oslo NORWAY)
Dawg Yawp (Cincinnati OH)
Dead Leaf Echo (New York NY)
Death Valley Girls (Los Angeles CA)
DEM YUUT (Minneapolis MN)
Desert Mountain Tribe (London UK-ENGLAND)
Die Heiterkeit (Hamburg GERMANY)
The Dig (Brooklyn NY)
Dirty Lungs (Birmingham AL)
Dizzyride (New York NY)
DJ Yoda (London UK-ENGLAND)
Dream Wife (London UK-ENGLAND)
Dude York (Seattle WA)
Dyan (Los Angeles CA)
Sergio Echenique (Santo Domingo DOMINICAN REPUBLIC)
Edison (Denver CO)
Billie Eilish (Highland Park CA)
Noga Erez (Tel Aviv ISRAEL)
False Advertising (Manchester UK-ENGLAND)
False Witness (New York NY)
The fin. (Tokyo JAPAN)
The Fontaines (Los Angeles CA)
Future Elevators (Birmingham AL)
Gabylonia (Caracas VENEZUELA)
GoGo Penguin (London UK-ENGLAND)
Gona (Caracas VENEZUELA)
Greenbeard (Austin TX)
Nick Hakim (Washington DC)
Halfalib (Milan ITALY)
Hanba! (Cracow POLAND)
Aldous Harding (Christchurch NEW ZEALAND)
The Heart Collectors (Murwillumbah AUSTRALIA)
HECK (Nottingham UK-ENGLAND)
Hector (Berlin GERMANY)
Sven Helbig (Dresden GERMANY)
Oliver Heldens (Amsterdam NETHERLANDS)
Her's (Liverpool UK-ENGLAND)
Hockey Dad (Wollongong AUSTRALIA)
Ian Sweet (Brooklyn NY)
Indrajit Banerjee (Austin TX)
Jah9 (Trelawny JAMAICA)
Andrew Jansen, LOUD SUN (Minneapolis MN)
Jared & the Mill (Phoenix AZ)
Alice Jemima (Exeter UK-ENGLAND)
Wesley Jensen and The Penny Arcade (Denton TX)
Jim and Sam (Los Angeles CA)
Meilyr Jones (Aberystwyth UK-WALES)
Yussef Kamaal (London UK-ENGLAND)
Klyne (Eindhoven NETHERLANDS)
Sarathy Korwar (London UK-ENGLAND)
Ciaran Lavery (Aghagallon UK-N. IRELAND)
Chad Lawson (Charlotte NC)
Luna Lee (Seoul SOUTH KOREA)
Lewis Del Mar (Rockaway Beach NY)
Liniker e os Caramelows (São Paulo BRAZIL)
Living Body (Carleton MI)
Walker Lukens (Austin TX)
Holly Macve (Brighton UK-ENGLAND)
Magnolian (Ulaanbaatar MONGOLIA)
Mal Blum & The Blums (Brooklyn NY)
Mau Mau Chaplains (Austin TX)
Damien McFly (Padova ITALY)
Bridgit Mendler (Los Angeles CA)
Modern English (London UK-ENGLAND)
The Molochs (Los Angeles CA)
Monareta (Bogotá COLOMBIA)
Moses Boyd Exodus (London UK-ENGLAND)
Mr. Blaky (Mazatlán MEXICO)
Mt. Wolf (London UK-ENGLAND)
Mullally (Norfolk UK-ENGLAND)
Muncie Girls (Exeter UK-ENGLAND)
The Mystery Lights (Brooklyn NY)
Native Dancer (London UK-ENGLAND)
Neon Bunny (Seoul SOUTH KOREA)
New Portals (Belfast UK-N. IRELAND)
No Joy (Montreal CANADA)
Nothing For Breakfast (Florence ITALY)
Novedades Carminha (Santiago de Compostela SPAIN)
Ofeliadorme (Bologna ITALY)
Tunde Olaniran (Flint MI)
Omni (Atlanta GA)
Orkestar Kriminal (Montreal CANADA)
Oum Shatt (Berlin GERMANY)
The Parrots (Madrid SPAIN)
Phoria (Brighton UK-ENGLAND)
Plantation Band (Austin TX)
Quiet Company (Austin TX)
Rainbrother (Copenhagen DENMARK)
Rat Fancy (Los Angeles CA)
Raymundo (Los Angeles CA)
Robocobra Quartet (Belfast UK-N. IRELAND)
Rolling Blackouts Coastal Fever (Melbourne AUSTRALIA)
Roselit Bone (Portland OR)
SadGirl (Los Angeles CA)
Joel Sarakula (London UK-ENGLAND)
Shedrach Rowery & The Levites (Austin TX)
Shinobi Ninja (Brooklyn NY)
Silvastone (London UK-ENGLAND)
Simian Ghost (Stockholm SWEDEN)
Slaves (London UK-ENGLAND)
Slingshot Dakota (Bethlehem PA)
SLØTFACE (Oslo NORWAY)
Small Time Giants (Copenhagen DENMARK)
Caitlyn Smith (Nashville TN)
The Sore Losers (Hasselt BELGIUM)
SORNE (Los Angeles CA)
Special Explosion (Seattle WA)
STELLA (Bay Area CA)
Sun And The Wolf (Berlin GERMANY)
Sunset (Chicago IL)
Sweet Crude (New Orleans LA)
SX (Kortrijk Flanders)
Tei Shi (Vancouver CANADA)
Tempers (New York NY)
Temples (Kettering UK-ENGLAND)
Ten Tonnes (Hertford UK-ENGLAND)
TIGER! SHIT! TIGER! TIGER! (Foligno ITALY)
Triangulo de Amor Bizarro (La Coruña SPAIN)
Tribu Baharu (Bogotá COLOMBIA)
United Vibrations (London UK-ENGLAND)
Uyarakq x Peand-eL x Tarrak (Nuuk GREENLAND)
Valley Hush (Detroit MI)
Vargas (Caracas VENEZUELA)
Mariana Vega (Miami FL)
Verdiana Raw (Firenze ITALY)
David Vincent (Georgetown TX)
Lewis Watson (Oxford UK-ENGLAND)
Weaves (Toronto CANADA)
Jess Williamson (Austin TX)
Windy City (Seoul SOUTH KOREA)
Wintertime (Orlando FL)
Wood & Wire (Austin TX)
XXX (Seoul SOUTH KOREA)
Kristeen Young (New York NY)
Yung Beef (Barcelona SPAIN)

Everything subject to change.
Photo credits, clockwise from left:
Nile Rodgers by The1point8
Die Heiterkeit by Malte H M Spindler
SX by Zeb Daemen
Aminé courtesy of the artist
Charlotte Cardin by John Londono