SXSW Trade Show Featured Exhibitors: AWEX and Thailand's NIA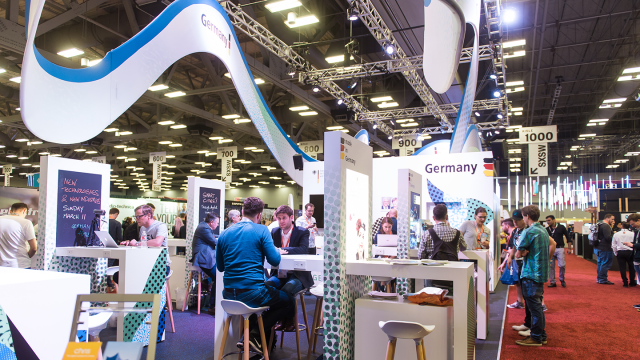 The Trade Show is just a month away, and we're preparing to host more international exhibitors than ever before! Our largest exhibition and a convergence of everything SXSW, the Trade Show hosts the brightest and most innovative companies from around the world and includes some exciting areas, such as Next Stage, Job Market, Startup Village, and the International Innovation Platform.
Browse the full SXSW Trade Show exhibitor list and stay tuned as we feature select exhibitors in the coming weeks. This week's features are the Wallonia Trade and Investment Agency (AWEX) and Thailand's National Innovation Agency (NIA).
Wallonia Trade and Investment Agency (AWEX)
The delegation from Wallonia -- the southern region of Belgium -- is organized by Wallonia Trade and Investment Agency (AWEX) and their agency for international relations, Wallonia-Brussels International (WBI).
If you were lucky to experience their chocolate 3D printer in 2018, you won't be disappointed this year! Swing by their booth at the Trade Show and get the chance to meet their exhibiting companies active in the AI, VR, Gaming, Interactive Arts, and esports sectors. Outside the Trade Show, the Wallonia delegation will host a Belgian Beer Café event together with FIT and Hub Brussels. Join them to enjoy Austin-brewed Belgian beer and the music of Belgian showcasing artists. Their delegates will also participate in conferences and partnership announcements. Stay tuned for more information in the coming weeks.
Thailand's National Innovation Agency (NIA)
Thailand's National Innovation Agency (NIA) is committed to developing innovative programs to make Thailand the next startup hub of Southeast Asia. Swing by their space on the Trade Show floor to learn about Startup Thailand — the biggest tech conference in Southeast Asia — and Bangkok Music City, Thailand's first conference and showcase festival focused on music, arts and recreation. While you're there, don't miss the chance to meet with four hot Thai startups:
Cookly — a global community of foodies
Local Alike — get the local experience on your next trip to Thailand
Zipevent — an event community and platform
MYBAND — making it easier for bands to get hired and also fairly paid
Follow the NIA's Startup Thailand on Twitter and their offical page on Facebook.
Stay tuned for more features in the coming weeks, and catch updates on everything Trade Show here.
Join Us for SXSW 2019
Register to attend and book your hotel to begin your SXSW adventure! Get ready to help us write the next chapter of SXSW during March 8-17, 2019.
The Attendee Services Hub is your guide through SXSW resources to help you prepare for the adventure ahead. Once you are registered, dive into the suite of tools we have created to help you navigate and access conference and festival events.
To stay in the SX know, sign up for SXSW Event Updates and read SXSW News for announcements, deadline reminders, programming features, and beyond throughout the 2019 season.
Follow us in all the usual social spots for daily updates – Twitter, Facebook, and Instagram.
Photo by Lauren Lindley