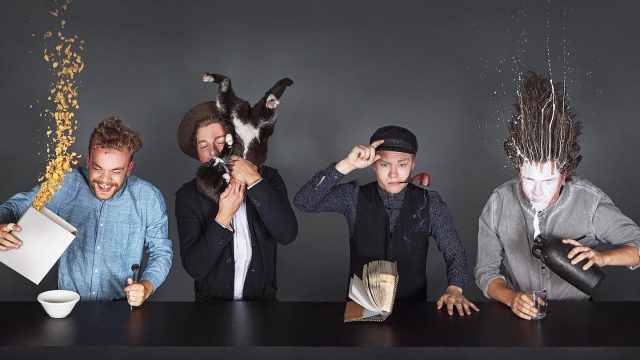 Once we begin artist announcements, we will be highlighting a different Showcasing Artist each weekday leading up to the 2018 SXSW Music Festival. In the meantime, take a moment to dig back through the artists who made the list for 2017.
Carnival Youth photo by Martins Cirulis
Browse by week
Week of March 6 | Week of February 27 | Week of February 20 | Week of February 13 | Week of February 6 | Week of January 30 | Week of January 23 | Week of January 16 | Week of January 9 | Week of January 2 | Week of December 19 | Week of December 12 | Week of December 5 | Week of November 28 | Week of November 21 | Week of November 14 | Week of November 7 | Week of October 31 | Week of October 24 | Week of October 17 | Week of October 10 | Week of October 3 | Week of September 26
Week of March 6
Happy Meals (Glasgow, SCOTLAND)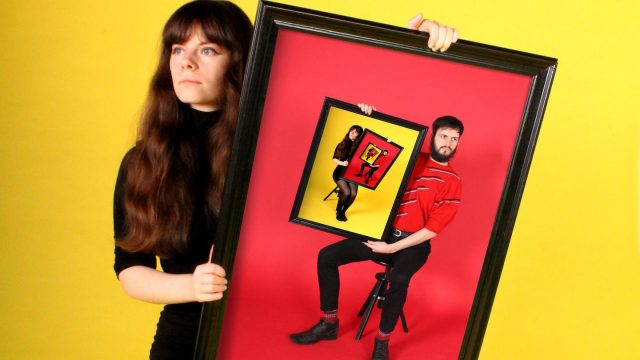 True to the name, Happy Meals curates a psychedelic, funky, and energetic sound that radiates warmth and good vibes. The duo features Suzanne Rodden's alluring voice weaving French and English lyrics throughout the euphoric beats of Lewis Cook. Their 2016 album Fruit Juice is a trip of waxing/waning synths mixed with popping electronics, and we can't wait to experience the surrealism live next week!
RIYL: Marie Davidson, Essaie Pas
Happy Meals by Tara Masterson Hally
Ash Koosha (Iran / London UK)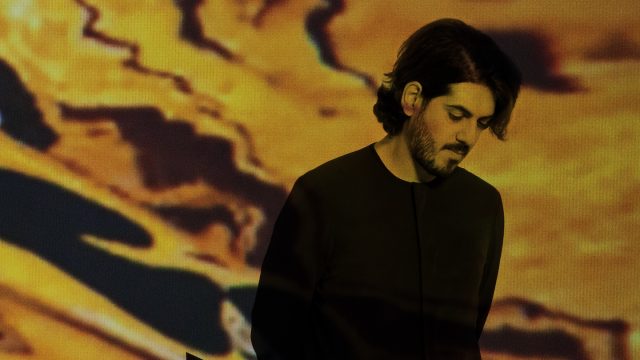 Ash Koosha is an Iranian born, London-based electronic musician appearing in the SXSW ContraBanned: #MusicUnites Showcase. As a multimedia artist, he has experimented with film and taken an interest in the virtual reality of electronic music. When moving to London, Koosha began making sample-based sonic experiments of unknown sounds. His most recent and second full-length album I AKA I breaks down samples into blips of sound, creating unrecognizable sound into rhythmic figures.
RIYL: Oneohtrix Point Never, Flying Lotus
Ash Koosha photo by Bardia Koushan
Ron Gallo (Nashville, TN)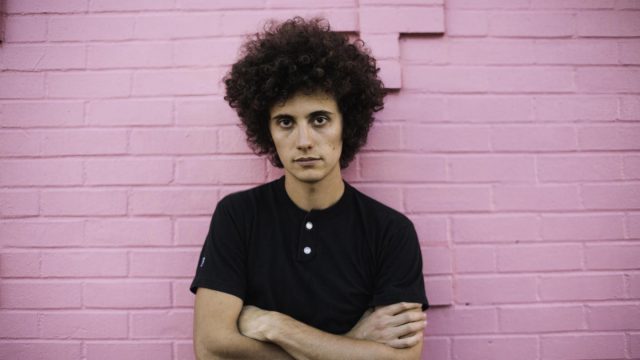 Ron Gallo, former member of Toy Soldiers, returns to SXSW. Gallo recently released his second full-length album Heavy Meta this February. Ron and his new band, made up of drummer Dylan Sevey and bassist/producer Joe Bisirri, embrace their love for 70's punk and garage-rock confronting their frustration and anger into the songs and sound. NPR reviewed the album as a "burst of literate electricity." Gallo has previously been featured among USA Today's "Bands to Watch," Paste Magazine's "Philly Bands You Should Listen to NOW" and has garnered appearances on PBS SUN Studio Special, Daytrotter, Audiotree, and many more.
RIYL: Toy Soldiers, The Stooges
Ron Gallo photographed by Tim Duggan
Week of February 27
A Giant Dog (Austin, TX)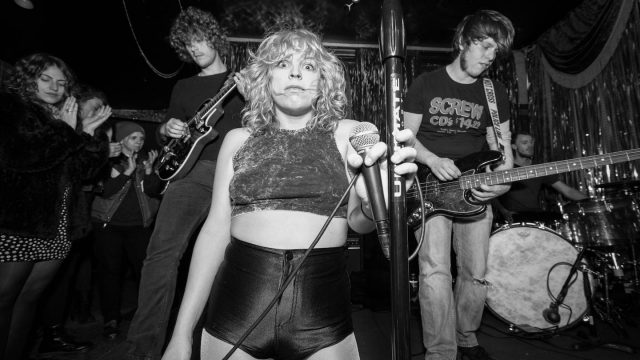 Austin-based rockers A Giant Dog, comprised of Andrew Cashen, Andy Bauer, Danny Blanchard, Graham Low, and Sabrina Ellis, are bound to kill it again this year at SXSW. In 2012, AGD impressed fellow Austinite and Spoon frontman, Britt Daniel, enough that he took them on tour as support to start demolishing concert halls across the USA. Since then, AGD has released three albums including their most recent and acclaimed album Pile. Pitchfork reviewed the album as "a rare cocktail that mixes sloppy punk passion with precision."
RIYL: Flesh Lights, Sweet Spirit
A Giant Dog credited by Steven Ruud
Warbly Jets (Los Angeles, CA)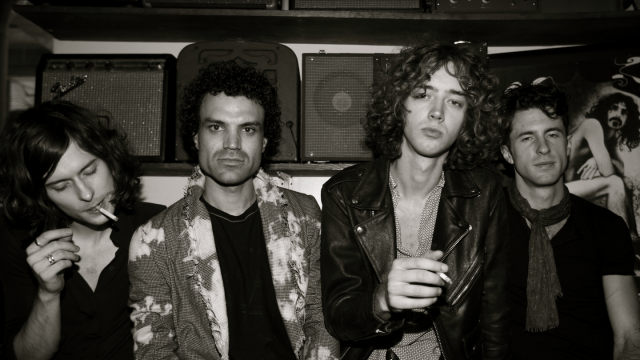 L.A.'s Warbly Jets will be rocking it this year at SXSW. The band came out with their debut single "Alive" premiering on Matt Wilkinson's Apple Music Beats1 radio show last October. "Alive" is essentially a collective self-affirmation that aspiring to create in the face of all circumstances with blends of 90's grunge-rock, electronic components, and energetic vocals.They are currently on tour, and NPR even called them "the band to watch in 2017."
RIYL: The Shelters, Blood Royal
Warbly Jets photographed by Moni Haworth
Noname (Chicago, IL)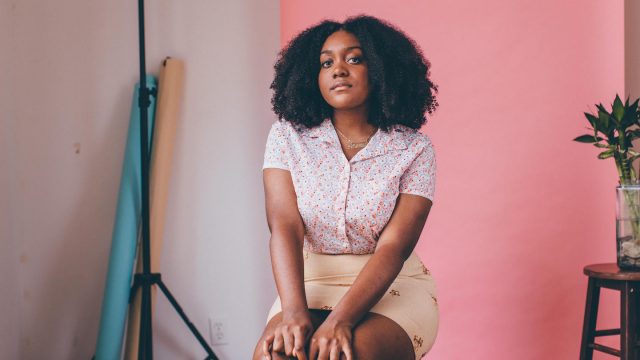 Fatimah Warner, better known as Noname, will be performing at SXSW for her first time. Her music marries jazz-funk instrumentals with her rapid-fire poetic verses. Noname gained recognition in her appearance on the track "Lost" from Chance the Rappers's Acid Rain album. In 2016, she released her debut album Telefone, which has been acclaimed by Pitchfork as a rich, somber, and incredibly intimate album.
RIYL: Mick Jenkins, Chance the Rapper
Noname photo courtesy of the artist
Jean-Michel Blais (Montreal, Canada)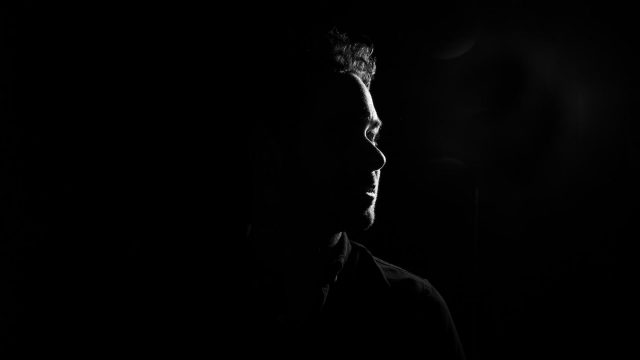 Canadian pianist, Jean-Michel Blais will be performing at SXSW along with electronic producer CFCF. Blais's enchanting instrumental compositions are influenced by the works of Erik Satie and minimalist virtuosos including Lubomyr Melnyk and Philip Glass. The modernist composer shows his avant skills in the changes of moods throughout his melodies. Blais and CFCF recently released their single "Hypocrite" from their up-coming collaborative EP Cascades, releasing April 12 by Arts and Crafts.
RIYL: CFCF, Dmitry Evgrafov
Jean-Michel Blais photo by Isis Essery
Week of February 20
Charlie Heat (Woodbury, NJ)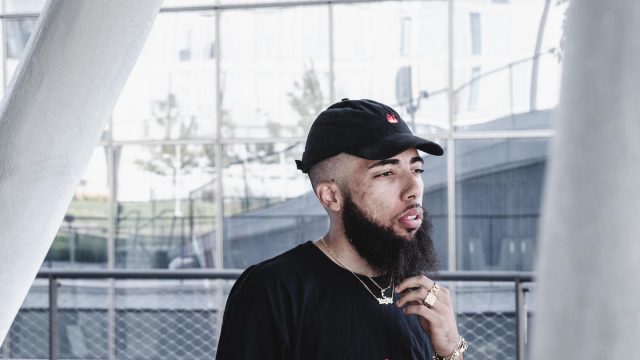 New Jersey's own Ernest Brown, better known as Charlie Heat, is a Grammy nominated music producer signed to G.O.O.D. Music. Known for his production on Kanye West's album The Life Of Pablo, he has also produced for Madonna, Pusha T, ASAP Ferg, Future and more. Charlie recently came out with an EP of his own No Rain No Flowers this January with vocalist Ant Beale.
RIYL: Travis Scott, Kanye West
Charlie Heat photo courtesy of the artist
Hunter Sharpe (Austin, TX)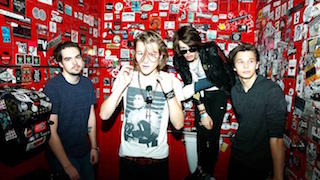 Austin's very own Hunter Sharpe will be returning to SXSW! The up-and-coming indie-rocker has been gaining recognition across the nation with performances in Georgia, NYC, New Jersey, Ohio, Alabama, and Tennessee recently. Hunter and his band, consisting of Marlon Sexton, son of Charlie Sexton, Colton Kincaid, and Hunter Pierce, recently released a new EP Forced Landings this February. Forced Landings is an illustration of youthful alternative rock and an evolution of their sound.
RIYL: The Hives, The White Stripes
Hunter Sharpe photo by Piper Ferguson
Suzanne Ciani (San Francisco, CA)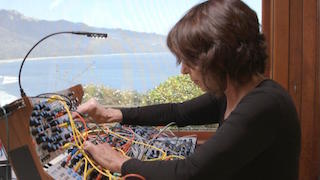 Long-time composer and recording artist Suzanne Ciani is without a doubt one of the synthesizer pioneers. She has been nominated five times for "Best New Age Album" at the Grammys, has received a Golden Globe, and has been recognized the "New Age Keyboardist of the Year" by Keyboard Magazine. Throughout her successful career she has released 15 solo albums, including her most recent live electronic album retrospective Buchla Concerts 1975. A documentary about Ciani's life and work, "A Life in Waves" by filmmakers Brett Whitcomb and Bradford Thomason, will also be premiering this year at SXSW.
RIYL: Delia Derbyshire, David Lanz
Suzanne Ciani photographed by Sean Hellfritsch
Hot Sugar (New York City, NY)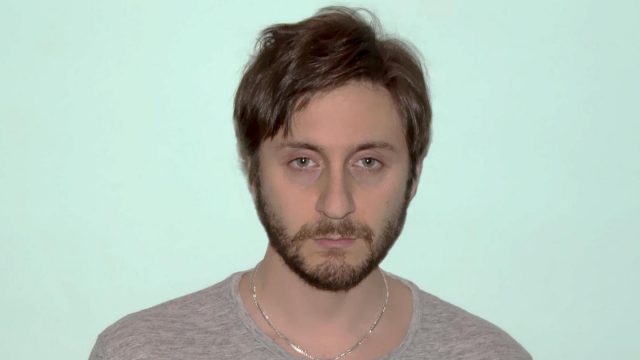 Nick Koenig is a multidisciplinary artist best known for his music under the name Hot Sugar. As an innovative electronic musician, Koenig creates what he refers to as "associative music." His works captures sounds from everyday surroundings which he then processes into recording samples. Not only will Hot Sugar be performing at SXSW, he will also be premiering his latest project "The Melody of Dust." The interactive VR musical experience places you inside a castle inhabited by the composer where you will unlock elusive songs by combining objects to create layered melodies, with a total of 87 songs to discover!
RIYL: Shlohmo, Sweet Valley
Hot Sugar photo by CVS passport services
Khruangbin (Houston, TX)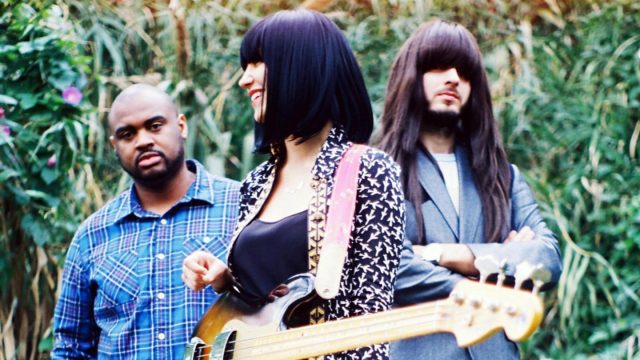 Thai-style surf rockers Khruangbin will be performing at SXSW again this year. The reverb-washed funk band hails from Houston, but exports their music around the world with notable stops at Glastonbury and Boiler Room recently. Check out their acclaimed debut album, The Universe Smiles Upon You, released in 2015.
RIYL: Santo & Johnny, Can
Khruangbin photo courtesy of the artist
Week of February 13
Ayo Jay (Lagos, Nigeria)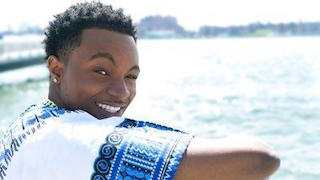 Ayo Jay, also known as "Boy Wonder," will be performing for his first time at SXSW. The wavy Nigerian-born U.S.-based rapper was recently named one of the "10 Artists You Need To Know" by Rolling Stone. Ayo Jay signed his first record deal with One Nation Records and released his first single "Your Number" in 2013. Since then, his Afrobeat-infused jams have made a viral splash among fans due to their infectious melodies.
RIYL: Sean Tizzle, Maleek Berry
Ayo Jay photo courtesy of One Nation/RCA
Bilal (Philadelphia, PA)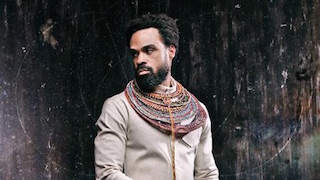 Philadelphia's Bilal is coming to SXSW this year and he's bringing his award-winning voice with him. His sound embodies his love for jazz, though his classically trained voice and creative approach to music allows him to effortlessly incorporate elements from other genres like hip-hop, rock, blues, and electronic. Although Bilal has been able to collaborate with other extraordinary artists, from Beyoncé to Jay-Z to Kendrick Lamar, he's cultivated a style of his own that's just as strong by itself.
RIYL: Gallant, Jonny P
Bilal photo courtesy of the artist
Las Kellies (Buenos Aires, Argentina)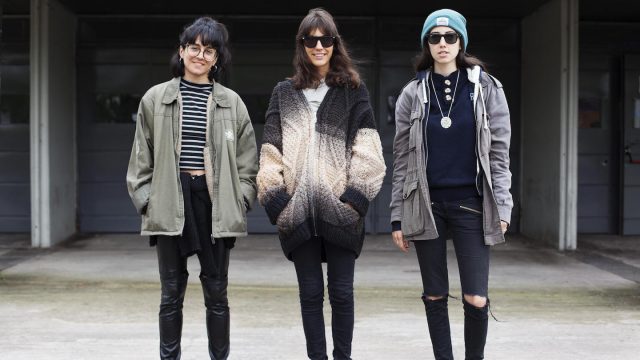 The post-punk girl band from Argentina Las Kellies, formed in 2005, will perform at SXSW for their first time. Singing in Spanish, English, German, Japanese, Portuguese, Catalan, and French, Las Kellies blend garage-psych with infectious pop beats. They released their third album Friends And Lovers album this past year and are currently on their sixth European tour.
RIYL: Las Piñas, ESG
Las Kellies photographed by Miguel Nikolov
Muncie Girls (Exeter, UK)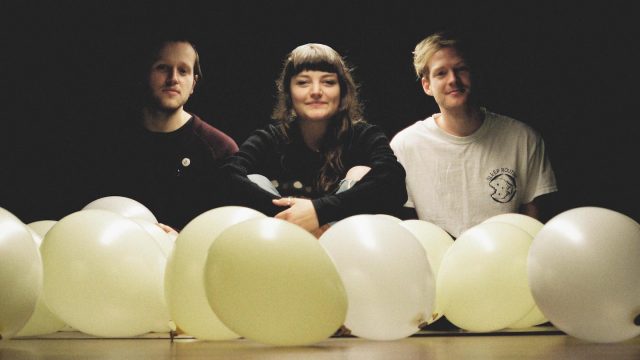 The U.K. trio, Muncie Girls, embody a charismatic and emotional exploration of punk rock in a modern context. They released their highly acclaimed debut album From Caplan To Belsize in March 2016. With its energetic vocals and catchy pop-punk sound, the album has received attention from the likes of Kerrang!, Stereogum, The A.V. Club, Noisey, Rock Sound, DIY, The Line of Best Fit & Punktastic.
RIYL: Shit Present, The Tuts
Muncie Girls photo by Phil Randall
James Chance & The Contortions (New York, NY)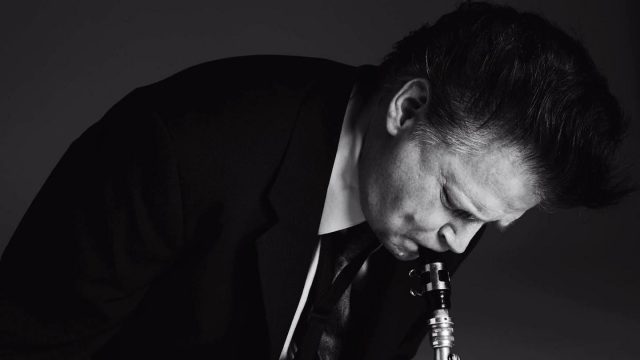 Jazz and punk come together to give us the noisy and funky tunes of James Chance & The Contortions. He's been captivating listeners with his voice and improv saxophone solos since the late 70's, when he began his musical career with a band called Flaming Youth. Decades later, James Chance proves that he hasn't lost his touch with the release of his groovy and lively album The Flesh Is Weak.
RIYL: Suicide, Was (Not Was)
James Chance & The Contortions photo by Hedi Slimane
Week of February 6
Maleek Berry (London, UK)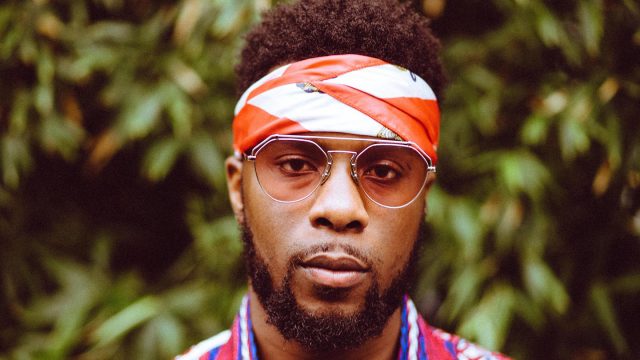 Uk artist Maleek Berry has enjoyed new attention in the U.S. thanks to his recent single "Kontrol". Berry enjoyed early success in Nigeria when he produced the hit "Carolina" in 2011, and has since repeated the feat regularly in Nigeria. However, this may be the year that the young producer solidifies his name as a producer in U.S. markets, and reaches his goal to "create timeless music that will hopefully last longer than his generation."
RIYL: Ayo Jay, Wande Coal
Maleek Berry photo courtesy of the artist
Los Outsaiders (Lima, Peru)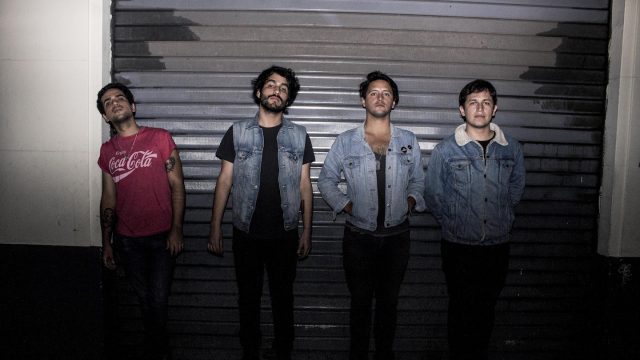 Los Outsaiders, an Indie rock band from Lima, Peru, are back for their second year performing at SXSW. Los Outsaiders was formed in 2011 by Charlie VTW., Juan Carlos Calderón a.k.a. "El Perro", Renzo Pinedo and Dani Catello. Their self-titled debut album perfectly captures their restless energy and puts it to a catchy beat, and their follow-up Insaiders sees them refining their songwriting process even more.
RIYL: Autobus, The Strokes
Los Outsaiders photo by Simonne Santos Lapel
Marie Davidson (Montreal, Canada)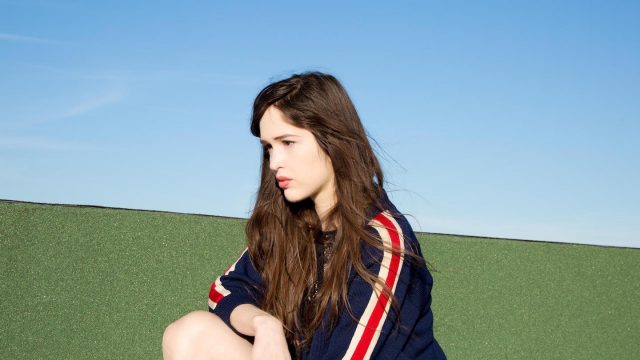 Canadian producer and vocalist Marie Davidson makes dance music for smaller rooms. At a time when many artists are soundtracking massive stadiums in their imagination, her songs have an intimacy that can go missing in electronic music. Her third solo album Adieux Au Dancefloor was released last October on Cititrax. In their review of the album, Pitchfork observed her "near exponential growth in her ability as a writer and producer."
RIYL: Nina Kraviz, Matias Aguayo
Marie Davidson photo by Corinne Schiavone
Fat Tony (San Francisco, CA)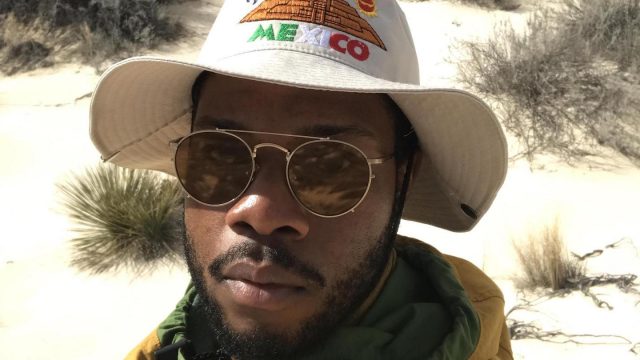 Houston based indie rapper Fat Tony became a key player in Houston's music scene as a casual and confident rapper. Heavily influenced by local rappers and independent artists in other styles like the Ramones, his debut album served as a new sound for Houston. The Nigerian-American rapper won the award for Best Underground Hip Hop at the Houston Press Music Awards in 2008, 2009, 2010, and 2013.
RIYL: KOOL A.D., Shabazz Palaces
Fat Tony photo by Anthony Obi
Sarah Bethe Nelson (San Francisco, CA)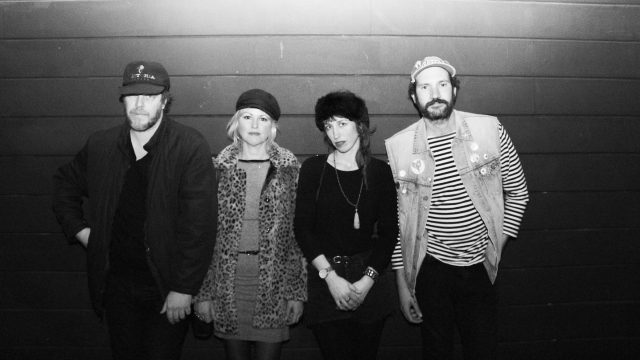 Singer-songwriter, Sarah Bethe Nelson is releasing her new album Oh Revolution February 24th on Burger Records. Nelson explores love, life, relationships, and the self in her new album. The San Francisco native will be performing at SXSW for her third time this year, bringing back more of her day bright indie rock melodies.
RIYL: Houndstooth, Quilt
Sarah Bethe Nelson photo by Justin Frahm
Week of January 30
Chicano Batman (Los Angeles, CA)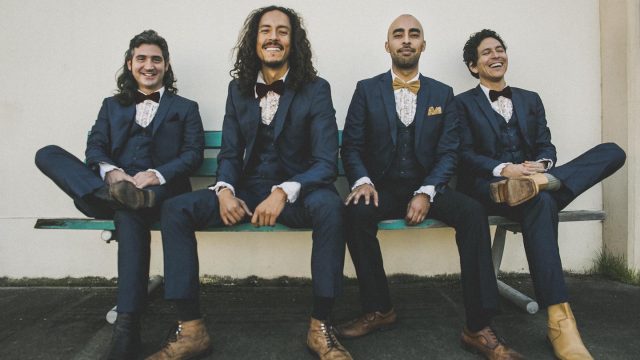 The four men in vintage formalwear return to SXSW this year. Chicano Batman mixes psychedelic soul with Brazilian Tropicalia reference points, creating their own funky groove since 2008. The L.A. band will be releasing their third album Freedom Is Free March 3.
RIYL: Los Angeles Negros, Mayer Hawthorne
Chicano Batman photo by Josue Rivas
Let's Eat Grandma (Norwich, UK-England)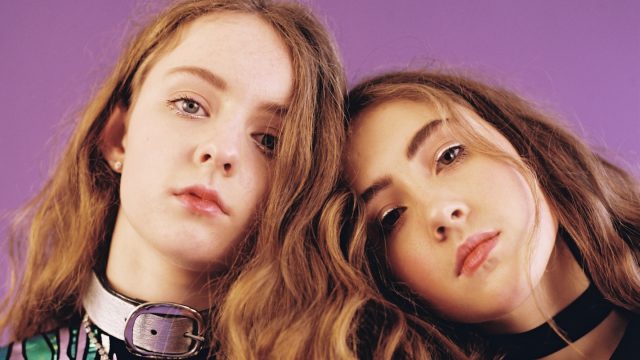 Let's Eat Grandma, comprised of 17-year-old multi-instrumentalists Rosa Walton and Jenny Hollingworth, create off-kilter pop fit for soundtracking a Salvador Dali exhibit. This teenage experimental-pop duo made quite the impression last June with their debut album I, Gemini released by Transgressive Records and reviewed by Pitchfork as both chilling and impressive.
RIYL: CocoRosie, Japanese Breakfast
Let's Eat Grandma photo by Francesca Allen
The Outfit, TX (Dallas, TX)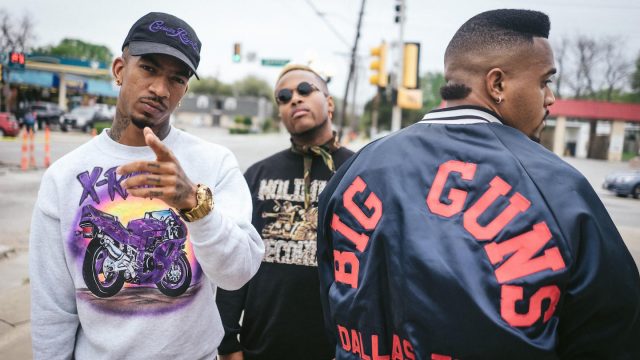 The Outfit, TX members Dorian, JayHawk, and Mel may be from Dallas, but there's no place for southern charm in this hip-hop trio's hard industrial beats. Since the release of their 2012 project, Starships & Rockets: Cooly Fooly Space Age Funk, they've sparked a new age of southern rap, one they currently reign over with their recent EP, Breakfast at Rudy's.
RIYL: ASAP Mob, Maxo Kream
The Outfit, TX photo by Karlo Ramos
Ryan Playground (Montreal, Canada)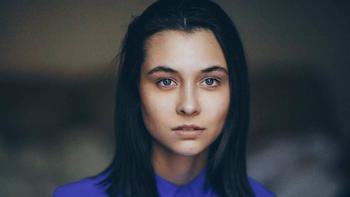 Vocalist and music producer RYAN Playground crafts intricate worlds of sonic swells and cascading percussion that compels the body to move. It's impossible to not lose yourself in the depth of her meticulous sound layering, as well as the depth of emotion at every song's core. Her 2016 album, Elle, displays her effortless skills as both a singer and a producer, and she's expected to release more material this year.
RIYL: Kroy, Ryan Hemsworth
Ryan Playground photo by Rupert Lamontagne
Priests (Washington, D.C.)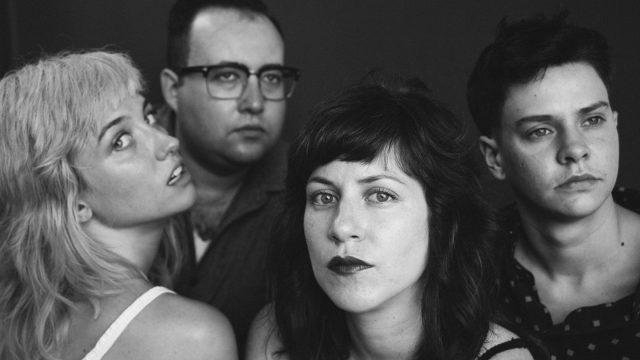 With their new album Nothing Feels Natural, Washington, D.C. punk group Priests presents a collection bursting with eclectic rhythms that hammer at your ears in the most satisfying fashion. Noisy instrumentals, heavy vocals, and insane energy prove the perfect soundtrack to begin your week with.
RIYL: Potty Mouth, Skinny Girl Diet
Priests photo courtesy of the artist
Week of January 23
Red Velvet (Seoul, South Korea)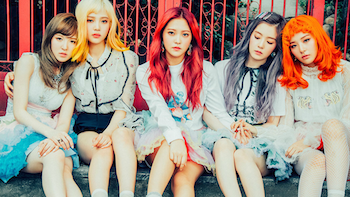 One of South Korea's most notable K-Pop Girl Group's, Red Velvet, will be making their SXSW debut this year. Their recent EP Russian Roulette was well received, and their 4th Mini Album Rookie is set to release February 1st. Known for their music's colorful imagery and unique performance, they're an act not to be missed at this year's K-Pop Night Out, celebrating it's fifth anniversary.
RIYL: BLACKPINK, HyunA
Red Velvet photo courtesy of SM Entertainment Co., Ltd.
R.LUM.R (Nashville, TN)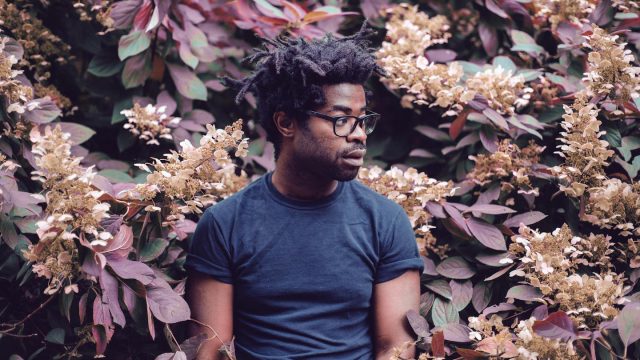 Soulful artist R.LUM.R has been changing R&B ever since he graced the world with his 2016 single, "Frustrated". Though his tunes are catchy and his lyrics heartfelt, R.LUM.R stands out for his inclusion of electronica and pop elements, which result in passionate and compelling tracks laced with synths or instrumentals made from his own powerful vocals. His fresh and emotional style has grabbed the fans of blues, pop, and soul, and he won't be loosening his grip anytime soon.
RIYL: Gallant, The Weeknd
R.LUM.R photo by Tyler Babin
Cloud Castle Lake (Dublin, Ireland)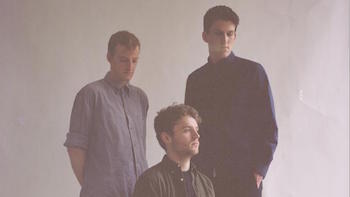 The tunes of Dublin trio Cloud Castle Lake feature hauntingly melodic falsetto weaving through a mix of indie rock and downbeat jazz. Moody and levitating, the group creates sounds that wax and wane, jitter and still, all the while hypnotizing you with their otherworldly vocals. The group released their first EP, Dandelion, in 2014 and Glaciers in 2015, and we can't wait to see how they'll captivate us this year.
RIYL: Radiohead, Sigur Rós
Cloud Castle Lake photo by Richard Gillian
Lyric Michelle (Houston, TX)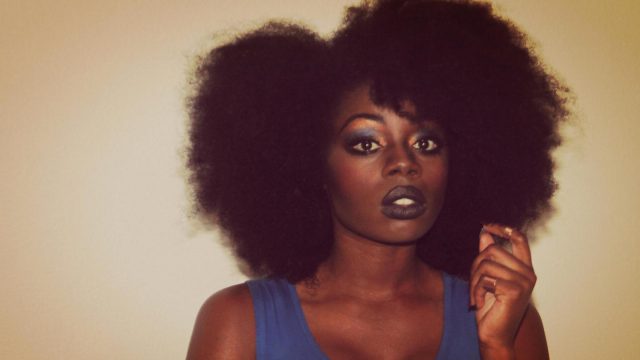 Houston's Lyric Michelle is returning to SXSW with her sultry voice and thought-provoking raps. Though she originally pursued a career in poetry, Lyric hasn't looked back since falling in love with rap, and she incorporates her skills with rhythm and verse into her effortless flows. Her songs, like "Weekend (La Di da Di)" and "The Motive", dive straight into the heart of meaningful and current topics while delivering beats that dance on the surface, proving her a force to be reckoned with in the rap game.
RIYL: Lizzo, The Suffers
Lyric Michelle photo courtesy of the artist
Mundaka (Lima, Peru)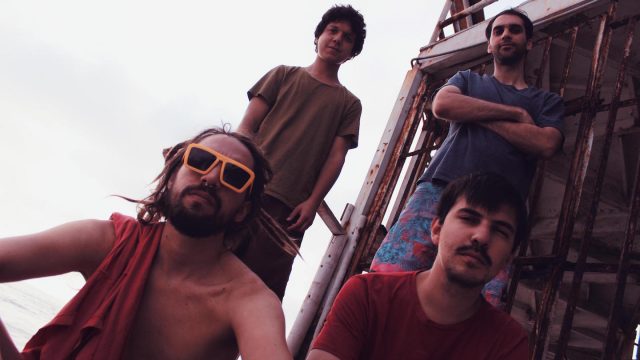 Indie rock group Mundaka is a breath of fresh air with their cool vibes and guitar riffs. Hailing from Lima, Peru, the band began in 2010 and finally released their first LP this past year, Tropical Sonata of the Arctic, and now they're bringing their wave of soothing Peruvian indie to conquer the heat of Austin.
RIYL: Las Ligas Menores, Gomas
Mundaka photo by Valeria Landavere
Week of January 16
Maggie Rogers (Brooklyn, NY)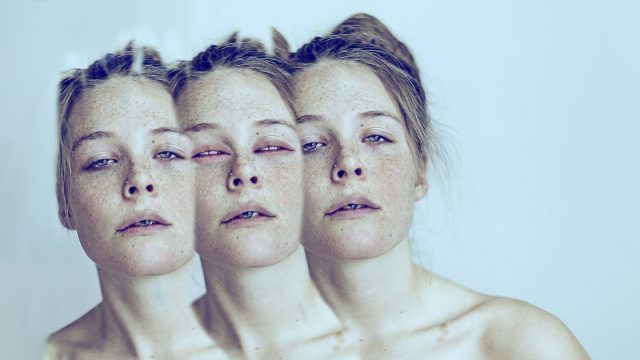 The year has only began, but it already belongs to emotional and earthy pop artist, Maggie Rogers. She first turned the heads of millions with 2016 hit singles "Alaska" and "Dog Years", and she's officially won over their hearts with the 2017 release of "On + Off". Her folksy banjo background, fused with elements of indie, electronic pop, and dance, creates a versatile aura that both uplifts and weighs down all who listen.
RIYL: Banks, Låpsley
Maggie Rogers photo courtesy of the artist
Radiocaliente (Medellín, Colombia)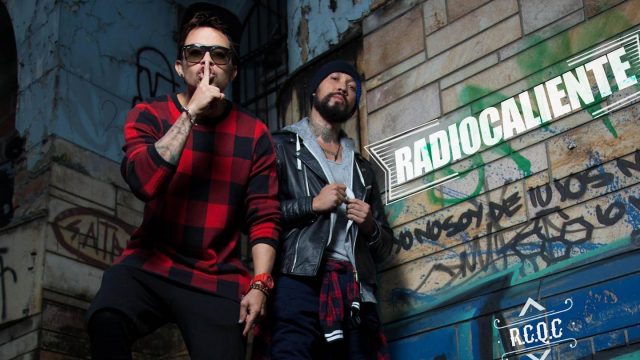 Hip-hop meets Latin to create energetic urban beats in the world of Colombian duo Radiocaliente. Hilder Brando, also known as KillaBeatMaker, and Wey Ramirez began experimenting with their signature genre fusion as DJ and MC before releasing their first single "Caliente" in 2011. By mixing elements of electronica and dance with sounds from the streets of Medellín, Radiocaliente represents the traditions of Latin America in today's age of music that speaks to every culture.
RIYL: Calle 13, Bomba Estereo
Radiocaliente photo courtesy of the artist
Field Trip (Los Angeles, CA)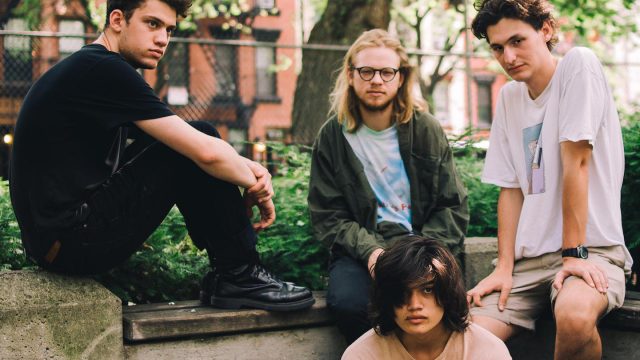 True to the name, Field Trip is a psychedelic adventure of dreamy synths and groovy guitar riffs. Drawing inspiration from '90s bedroom pop and alternative rock, the group cultivates sound that seems to resonate from the deepest parts of the mind, and their spacey, blissful tunes are only more far out in their 2016 album, Horror Vacui.
RIYL: M83, Home
Field Trip photo by Ben Searles
NOIA (Barcelona, Spain)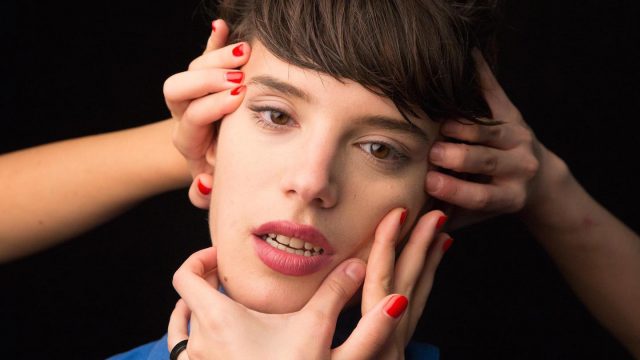 Joining elements of dancehall, tropicalia, and R&B in her songs, Gisela Fulla-Silvestre (aka NOIA) comes from a studious background. After finishing up a degree in sound design at Berklee, the producer moved to New York City to work in music and film. She released her Habits EP in October.
RIYL: Empress Of, DIANA
NOIA photo by Max Lakner
Dre Prince (Austin, TX)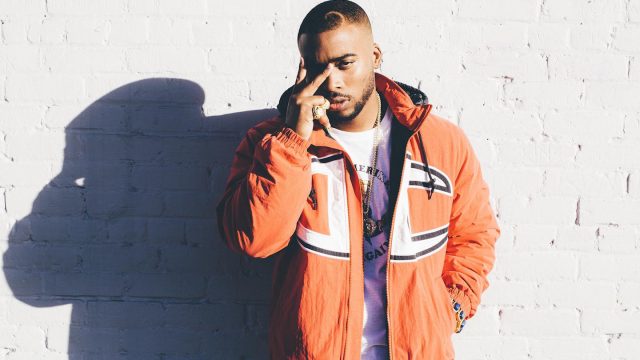 Illustrating Austin's growing hip-hop scene, Dre Prince has seen well-deserved success on a national level over the past couple of years. Since releasing his first solo project in 2011, Dre Prince has shared the stage with Kendrick Lamar, Ab-Soul, Denzel Curry, and more. The hip-hop artist recently made a move to New York City and released his second album Golden Child to acclaim from XXL and Mass Appeal last year.
RIYL: ScHoolboy Q, Isaiah Rashad
Dre Prince photo courtesy of the artist
Week of January 9
The Big Moon (London, UK-England)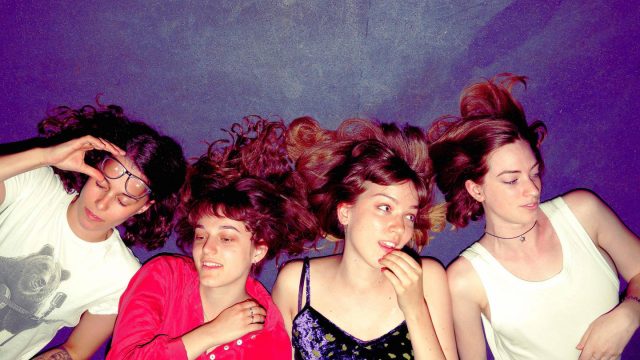 As we gaze at tonight's full moon, we'll be blasting The Big Moon's fun indie rock songs. This London quartet is certainly one to keep an eye on this year: they were recently featured as one of Clash's Next Wave artists and included in NME's new music tips for 2017. They've finished up a US tour with fellow 2017 Showcasing Artist The Japanese House, and are looking towards SXSW and their debut album (Love in the 4th Dimension) this spring.
RIYL: Wolf Alice, Cherry Glazerr
The Big Moon photo by Laura Allard-Fleischl
Alexandra Savior (Portland, OR)
Website | Add to your Schedule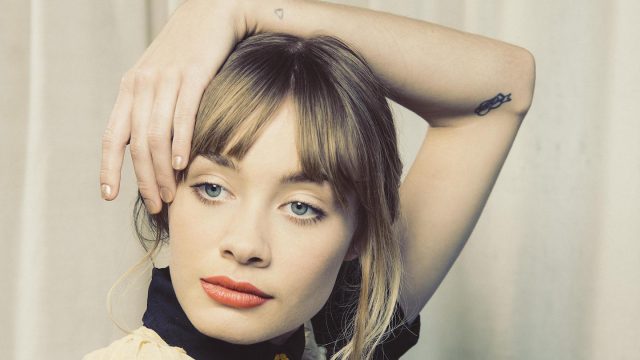 Portland, Oregon native and blossoming singer-songwriter Alexandra Savior is poised for a big year. The 21-year-old's music has often been described as desert rock, but her crafty pop sensibilities push her songs in exciting and unexpected directions. Savior deservedly received a lot of press attention towards the end of 2016–from the likes of Paste Magazine, NME, and others–on the heels of three highly successful singles. She's on tour with Hamilton Leithauser this month, and her debut album (Belladonna of Sadness) will be out shortly after her appearance at SXSW 2017.
RIYL: Melody's Echo Chamber, Mitski
Alexandra Savior photo courtesy of the artist
Flamingods (London, UK-England)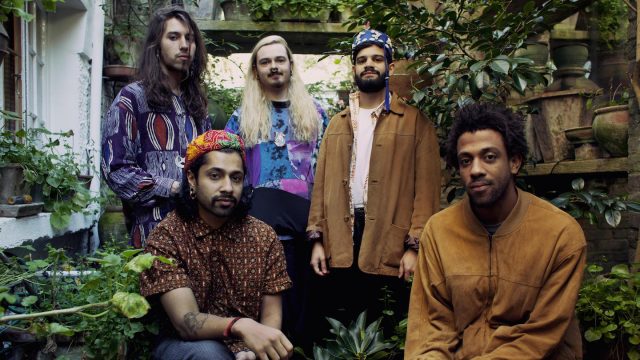 Bahrain-via-London quintet Flamingods have created a truly shimmering blend of exotic psychedelia and tropical pop using a variety of instruments from all over the world. Their newest album Majesty was released last June via Soundway Records to acclaim from DIY Mag, Clash, and more.
RIYL: Woodsman, Amen Dunes
Flamingods photo by Elle Hardwick
Week of January 2
Plush (San Francisco, CA)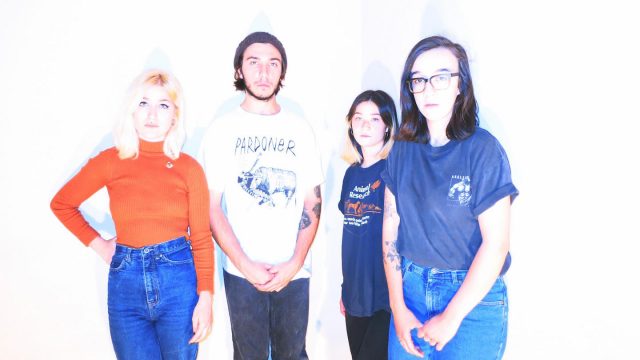 Featuring members of Bay Area band The She's, Plush adds an edge to a laid-back indie pop sound. The band received praise from The Fader, Stereogum, and more on their latest EP, Please, which was released via Father/Daughter Records last spring. Plush is currently working on a new full-length album.
RIYL: Ian Sweet, Pinegrove
Plush photo courtesy of the artist
BOOHER (Austin, TX)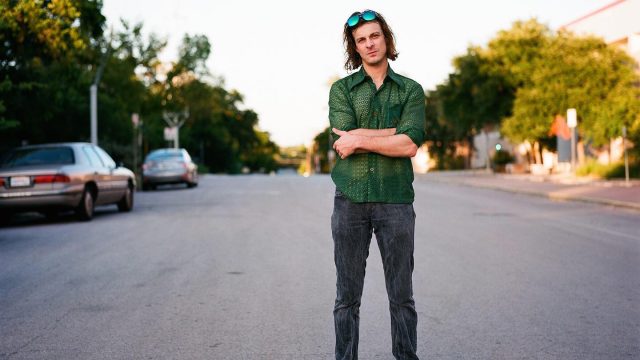 BOOHER is the new project from Michael Booher, former singer and main songwriter for Austin's beloved Zykos. Their debut LP, Funny Tears, is due out this month on Old Flame Records. Funny Tears was produced by Mike McCarthy (Spoon, Heartless Bastards) and features a hit squad of some of Austin's (and beyond) finest musicians.
RIYL: Ian Moore, A. Sinclair
BOOHER photo courtesy of the artist
Temples (Kettering, UK-England)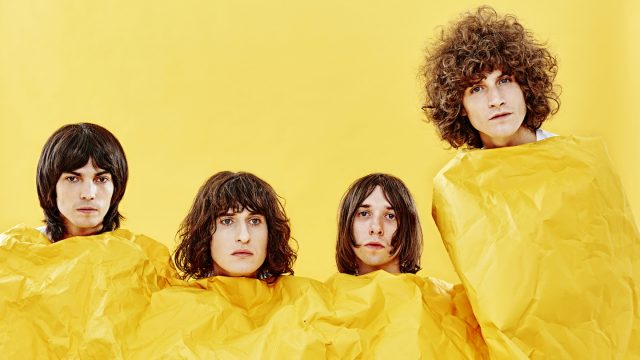 In some ways, Temples' second album, Volcano, is a departure from their acclaimed 2014 debut Sun Structures. For their new single "Certainty", they've traded in electric 12-strings for synths. Moving past the distinctive lo-fi throwback sound that characterized Sun Structures, Temples have begun to utilize a much broader sonic palette still organized around dreamy psychedelic melodies.
RIYL: Tame Impala, The Flaming Lips
Temples photo by Ed Miles
Week of December 19
Rat Fancy (Los Angeles, CA)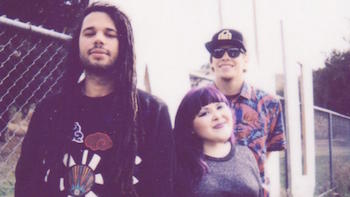 We felt like it would be appropriate for the final SXSW Artist of the Day for 2016 to be an act who recently put out a couple of Christmas songs: LA indie pop band Rat Fancy. The new project featuring ex-Sweater Girls guitarist/vocalist Diana Barraza formed just this past summer. The trio is putting the finishing touches on their debut EP, and targeting an early 2017 release.
RIYL: Veronica Falls, The Pains of Being Pure at Heart
Rat Fancy photo by Alex Dayo
SX (Kortrijk, Belgium)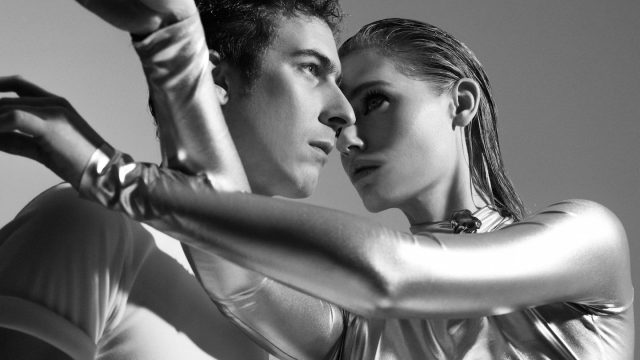 It's easy to lose yourself in the surreal musical world of Belgian duo SX. Producer and "sonic witchdoctor" Benjamin Desmet's beats mixed with the soothing voice of Stefanie Callebaut make for some captivating avant-pop tracks. SX just released their acclaimed second album, Alphabet, in Belgium last month, with an eye on an international release just in time for SXSW 2017.
RIYL: FKA Twigs, Sevdaliza
SX photo by Zeb Daemen
Walker Lukens (Austin, TX)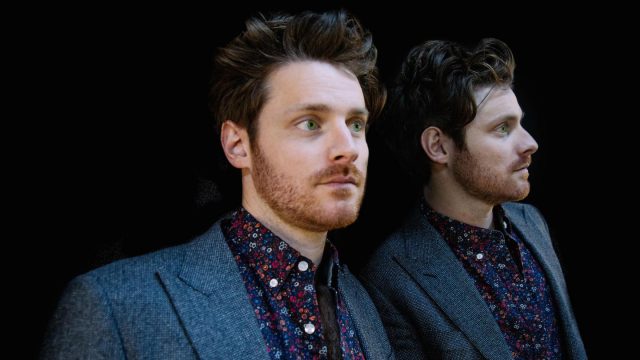 Austin native Walker Lukens takes command of every crowd with his bouncing, noisy doo-wop beats and soulful voice. From recording in his garage to playing on festivals like Austin City Limits, Lukens' passion for music is taking him places. His 2016 EP, Never Understood, features a unique love triangle of sounds between pop, blues, and indie, and we're falling for him a little more with every listen.
RIYL: The Roosevelts, The Eastern Sea
Walker Lukens photo by Chris Corona
Week of December 12
Die Heiterkeit (Hamburg, Germany)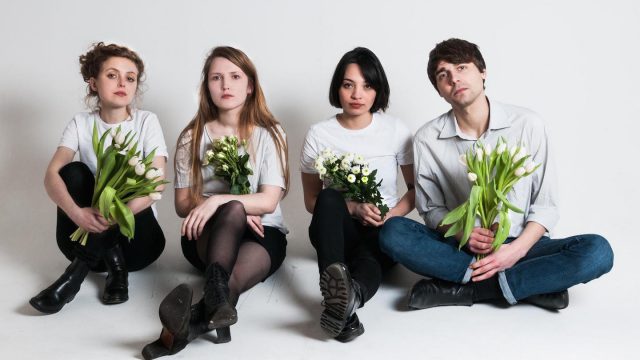 Die Heiterkeit, which translates to "the cheerfulness", is anything but cheerful. The band's downbeat, melancholy arrangements are brought to life by Stella Sommer's somber vocals, Hanitra Wagner's leisurely bass, Sonja Deffner's beautiful keyboarding, and Phillip Wulf's softcore drumming. The German pop group recently released their third album, Pop & Tod I+II, a warmer collection of delicate melodies that creates an almost hopeful atmosphere.
RIYL: The Japanese House, Locas In Love
Die Heiterkeit photo by Malte H M Spindler
Dyan (Los Angeles, CA)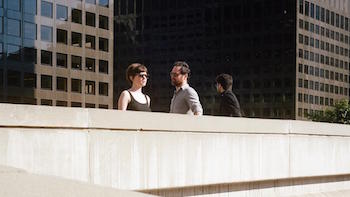 For those late night drives, any song by Dyan will make the road feel infinite. Their levitating blend of synthpop and indie rock is a cool and steady fire always threatening to unleash bursts of energy. From "Looking For Knives" to "The Push", Dyan's sounds peek into a sedate yet buzzing realm of emotion that satisfies the ear and heart.
RIYL: Prinze George, Daughter
Dyan photo by Sinziana Velicescu
Sven Helbig (Dresden, Germany)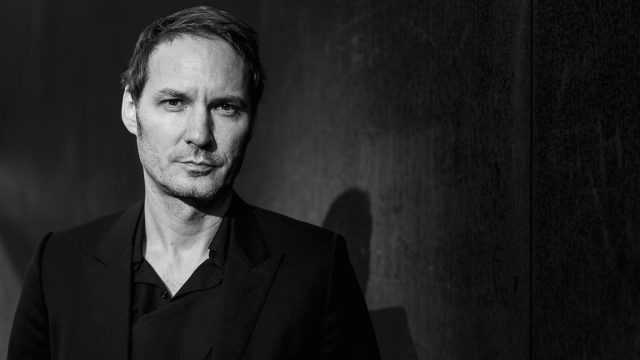 Composer and producer Sven Helbig may write classical music, but that doesn't mean he's old-fashioned. From the symphony orchestra to electronic compositions, Sven has mastered it all, bringing the art, technique, and depth of the classics into contemporary times. He's partnered with many artists, such as 2015 SXSW Keynote Snoop Dogg and the Pet Shop Boys, and he's recently released his album, I Eat the Sun and Drink the Rain, a collection of hauntingly beautiful compositions.
RIYL: Federico Albanese, Christian Naujoks
Sven Helbig photo by Claudia Weingart
Week of December 5
Aminé (Portland, OR)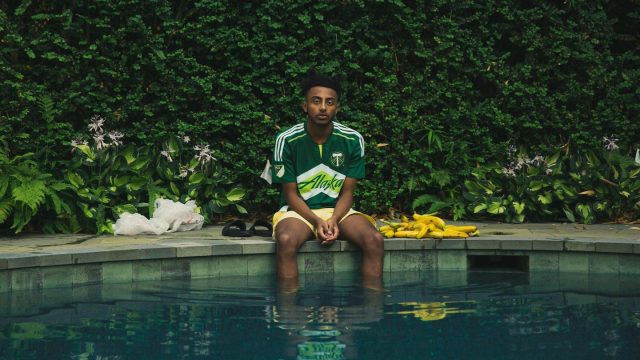 Portland, Oregon native Aminé is new to the scene but his music proves he's here to stay. The rapper's funky, rhythmic beats, mixed with the heart of his Ethiopian heritage (not to mention clever lyrics that reference Quentin Tarantino) produces a feel-good vibe like none other. His 2016 debut single "Caroline" has the whole world grooving, and we can't wait to see what else he has in store for us.
RIYL: Kodak Black, Travis Scott
Aminé photo courtesy of the artist
Her's (Liverpool, UK-England)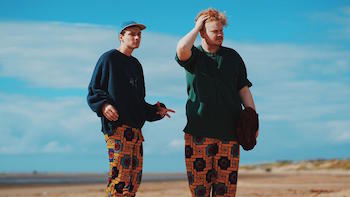 Stephen Fitzpatrick and Audun Laading grew up as outsiders from small towns on opposite coastlines in the UK, meeting for the first time a few years ago as students in Liverpool. Using Ariel Pink and Mac DeMarco as influences, the pair formed a leftfield indie pop project called Her's. The band has experienced a strong year, sharing the stage with the likes of Whitney and Ezra Furman and releasing three singles, one of which earned recognition from The Line of Best Fit.
RIYL: Mac Demarco, Ariel Pink
Her's photo by Ryan Jafarzadeh Khamneh
Missio (Austin, TX)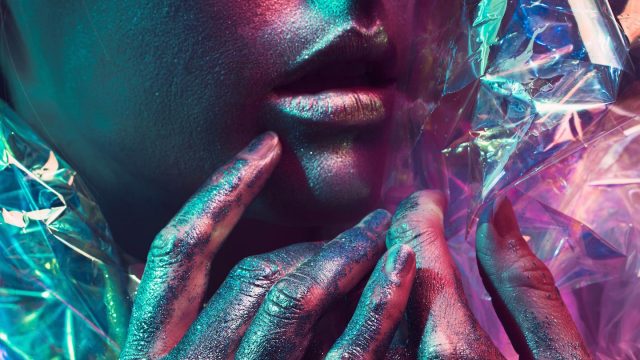 Another example of Austin's burgeoning electronic music scene, Matthew Brue and David Butler, aka Missio, experienced quick growth after their music made it's way onto Apple's "Best of the Week" playlists and Spotify's viral charts. They've also had songs featured on MTV's hit shows 'Finding Carter' and 'Scream', toured with SAFIA and K.Flay, and are currently working on new music for the new year.
RIYL: BASECAMP, Astronomyy
Missio photo by Philip Edsel
Robocobra Quartet (Belfast, UK-N. Ireland)
Website | Add to your Schedule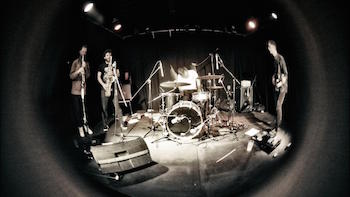 Between saxophone solos and expressive verses, there's a lot to love about Belfast's Robocobra Quartet. The group's brooding bass and jazzy tones bring life to their hardcore and poetic lyrics, which are sung/spoken/hollered by drummer and vocalist Chris Ryan. Drawing inspiration from various genres, Robocobra Quartet fuses the intensity of punk, the brass of jazz, and the raw nature of contemporary together to create a sound like none other.
RIYL: Skinny Girl Diet, Pill
Robocobra Quartet photo by SCAN
Week of November 28
STELLA (Bay Area, CA)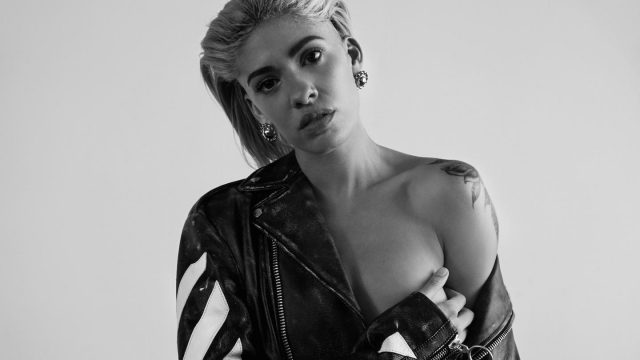 Dreamlike and sultry, STELLA's voice carries the style of classic R&B, but the young artist uses airy synths and percussion to modernize her soulful tunes. It's impossible to not sway along to STELLA's recent debut album, Selfish, a smoky collection of alluring rhythms and moody lyrics about recovering from heartbreak.
RIYL: The Weeknd, Sinead Harnett
STELLA photo by Alexander Black
Tunde Olaniran (Flint, MI)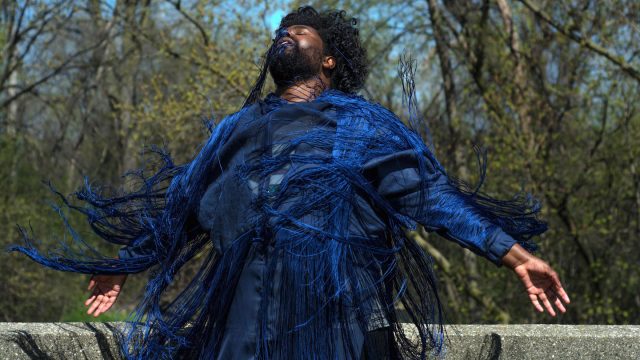 Flint, Michigan native Tunde Olaniran shatters the boundaries of genre with his spectrum of musical talents. A brilliant rapper and singer, Olaniran effortlessly switches between different vocals and styles within a song, activating a powerful R&B falsetto one moment and then delivering sick, meaningful hip-hop lyrics in the next. His 2015 album, Transgressor, features an intelligent mix of electronic, punk, rap, and R&B, with a song for every emotion.
RIYL: Lizzo, Big Grams
Tunde Olaniran photo by Timothy Jagielo
Billie Eilish (Highland Park, CA)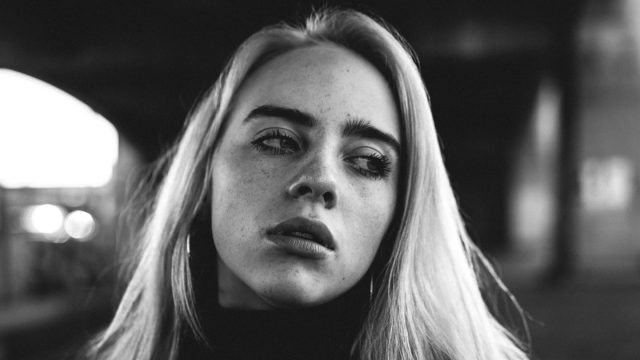 While she may be 14 years old, Billie Eilish has a mature and almost haunting sound that defies her age. Her mellow yet powerful voice, combined with simple electric vibes and emotional lyrics, co-written by her brother Finneas O'Connell, has brought in a large fanbase and set the stage for success. Billie first captivated listeners with her dynamic single, "Ocean Eyes", which she posted herself on Soundcloud, and we're all eager to see what the young indie pop sensation will accomplish next.
RIYL: Aurora, Glades
Billie Eilish photo by Jack McKain
Yussef Kamaal (London, UK-England)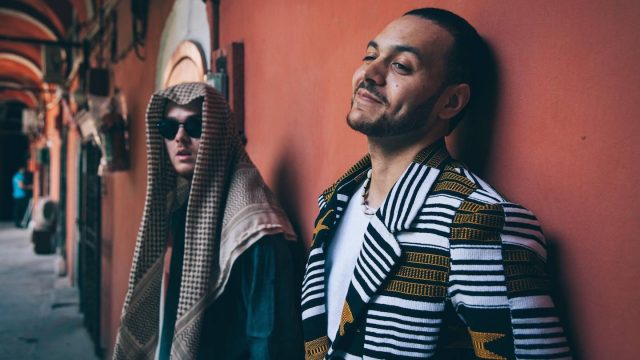 For the first time in decades, jazz music in the UK is thriving, and the duo of Yussef Dayes and Kamaal Williams – known collectively as Yussef Kamaal – is at the heart of it all. Following positive coverage from the likes of Clash and OkayAfrica earlier this year, Yussef Kamaal released their debut LP, titled Black Focus, at the beginning of November. They're currently on tour in Europe and will be heading to Austin for their first performance at SXSW in March.
RIYL: BadBadNotGood, Moses Boyd
Yussef Kamaal photo courtesy of the artist
Rolling Blackouts Coastal Fever (Melbourne, Australia)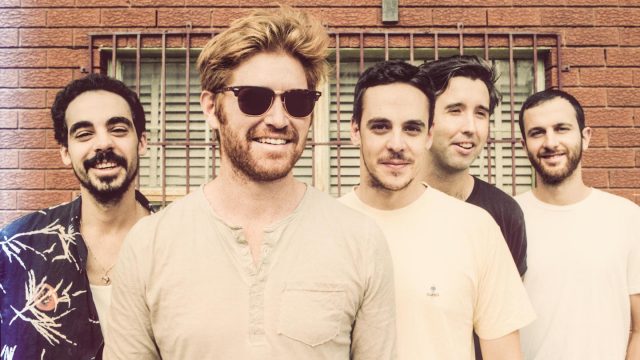 The music of Rolling Blackouts Coastal Fever is perfectly synonymous with their name. Starting with a solid base of upbeat rock, the recent Sub Pop-signing incorporates elements of surf, psych, and pop throughout their tunes. Rolling Blackouts Coastal Fever released a mini LP earlier this year (Talk Tight), which earned praise from Pitchfork and Stereogum, and are readying a follow-up EP and debut LP for release in 2017.
RIYL: The Fresh & Onlys, Twerps
Rolling Blackouts Coastal Fever photo by McLean Stephenson
Week of November 21
Noga Erez (Tel Aviv, Israel)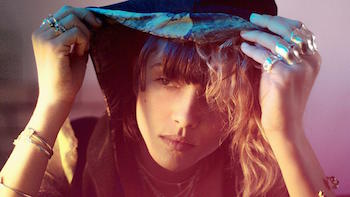 Israeli singer-songwriter and multi-instrumentalist Noga Erez only recently came out with her first single "Dance While You Shoot," yet her sophisticated themes and dynamic electronic sounds are already putting her on the map. She effortlessly mixes her political edge with escapism to produce creative and metallic beats that will make anyone dance.
RIYL: New Gen, Adam Vida
Noga Erez photo by Tonje Thilesen
Apache (Caracas, Venezuela)
Website | Add to your Schedule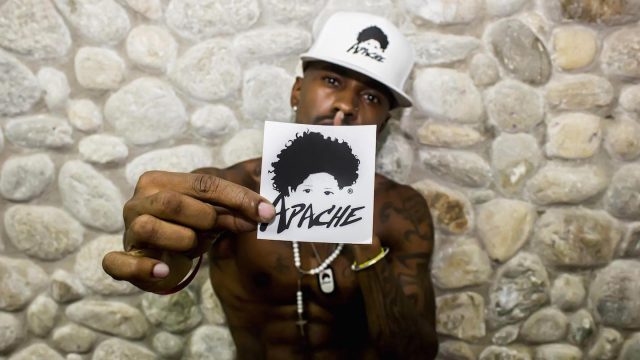 Apache has been representing Venezuelan hip-hop since 1999, when he was a member of the group Cuarto Poder. Ever since he went solo in 2008, Apache has released five albums, such as Sin A Nar Mucho and Anando. His smooth, clever lyrics are a perfect blend of playful and serious, drawing attention to the corruption in his country while simultaneously guaranteeing a good time for anyone who's listening.
RIYL: Lil Supa, Canserbero
Apache photo courtesy of the artist
Week of November 14
Bridgit Mendler (Washington, DC)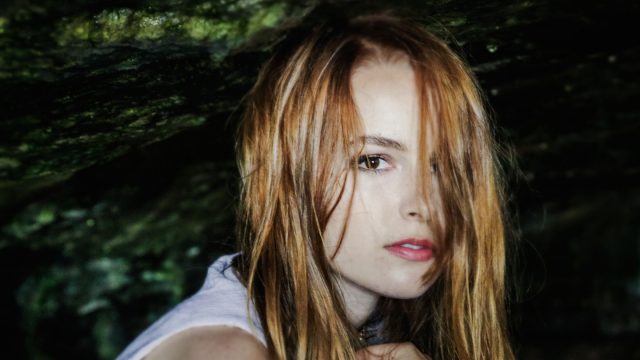 Singer and actress Bridgit Mendler is paving the way with soulful and rhythmic sounds as she explores her emotional depths. Over the past four years since her upbeat 2012 album, Hello My Name Is…, heartbreaks and a renewed sense of self have fueled a new style for Mendler. These bittersweet beats, infused with pop, R&B, and indie rock, can be heard in her recent single "Atlantis," as well as in her new EP, Nemesis, which comes out today (November 18).
RIYL: Hayley Kiyoko, Zendaya
Bridgit Mendler photo by Myriam Santos
Oliver Heldens (Amsterdam, Netherlands)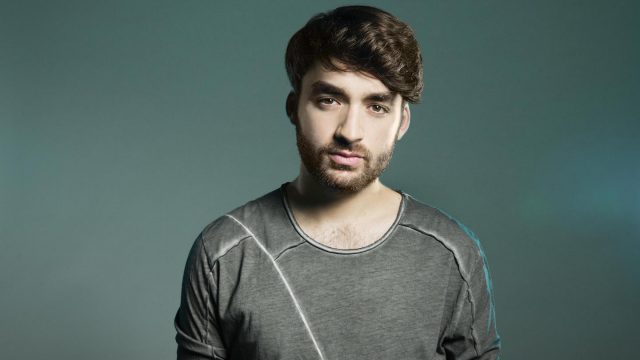 Dutch producer and DJ Oliver Heldens is catching the attention of legends throughout the music industry. The 21-year-old was first noticed by Tiësto back in 2013 and he's since gone on to produce several top 10 singles. Heldens is now focusing on expanding his repertoire beyond club hits, underscored by a recent collaboration with video game developer Ubisoft and an unreleased project with 2017 SXSW Keynote Speaker Nile Rodgers.
RIYL: Disclosure, Green Velvet
Oliver Heldens photo by Piper
Cherry Glazerr (Los Angeles, California)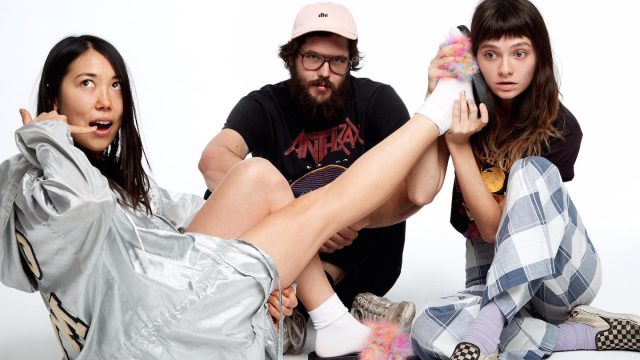 Eccentric, hard-hitting, and catchy, Cherry Glazerr is known for their off-kilter tunes that aren't only fun, but also full of thoughtful and progressive lyrics. Though the trio, named after NPR radio reporter Chery Glaser, has had time to grow since their 2014 album, Haxel Princess, their sound is as intoxicating as ever. Now, drummer Tabor Allen, multi-instrumentalist Sasami Ashworth, and vocalist Clementine Creevy are carrying Cherry Glazerr into 2017, when their newest and best album yet, Apocalipstick, will make its debut.
RIYL: Bleached, Peach Kelli Pop
Cherry Glazerr photo by Felisha Tolentino
Week of November 7
Supermoon (Vancouver, Canada)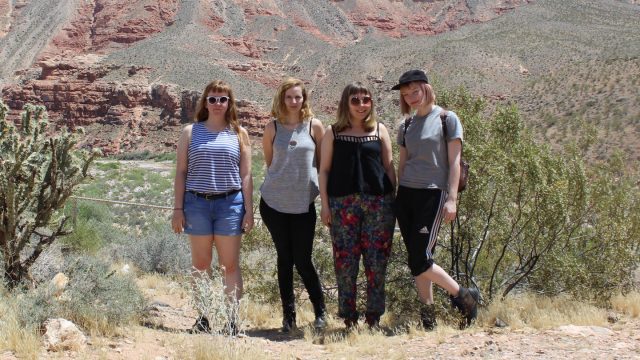 Indie pop group Supermoon is one of Vancouver's up-and-coming artists, and they're bringing their quick riffs, drumming bass, and cool energy to the table this year. Their 2016 album, Playland, showcases swift and smooth melodies, backed by moody lyrics and alluring vocals which suggest a darkness behind their sugar-coated sounds. All in all, an excellent soundtrack to accompany the supermoon on November 14th – the biggest one in over seven decades!
RIYL: Speedy Ortiz, Beverly
Supermoon photo by Adrienne LaBelle
Sammus (Ithaca, New York)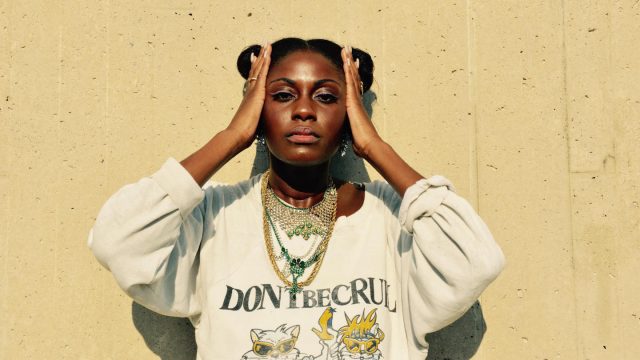 In the middle of working towards her Ph.D. at Cornell, rapper and producer Enongo Lumumba-Kasongo, aka Sammus, found time to release a new album last month (Pieces In Space) via Don Giovanni Records. The LP, which bridges the gap between empowering hip-hop and nerdcore, just entered three Billboard charts this week.
RIYL: Junglepussy, Lizzo
Sammus photo by Zoloo Brown
The Dumplings (Zabrze, Poland)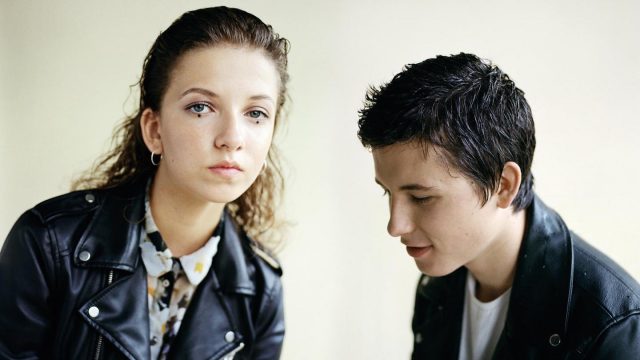 Electronic pop duo The Dumplings have quickly become one of Poland's best young artists. The pair of Justyna Święs and Kuba Karaś has released two acclaimed full-length albums through Warner Music Poland, and they've recently released a deluxe version of their second album with new material. Their latest single, "Kto Zobaczy," stands at 230k-plus plays after just one month.
RIYL: Sylvan Esso, Purity Ring
The Dumplings photo by Bartek Wieczorek
Week of October 31
Lincoln Durham (Austin, TX)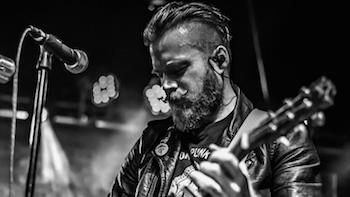 Armed with old bastardized mid-century guitars, hand-me-down fiddles and banjos, home-made contraptions with just enough tension on a string to be considered an instrument and any random percussive item he can get his claws or hooves on, Lincoln Durham is an amped up Southern-Gothic Psycho-Blues Revival-Punk One-Man-Band preaching the good word of depravity.
RIYL: Hayes Carll, Shinyribs
Lincoln Durham photo by Jay Trevino
Trill Sammy (Houston, TX)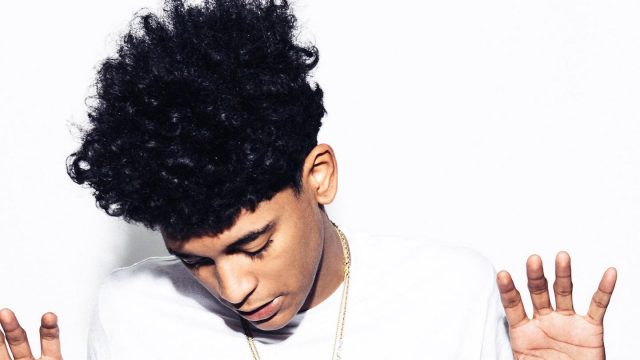 Trill Sammy – along with frequent collaborator Dice Soho, who we covered a couple weeks ago – represent the new generation of Houston hip-hop. Sammy is finishing up a big year with massive streaming plays, recent coverage from FADER, and a couple of new mixtapes on the way.
RIYL: Migos, Riff Raff
Trill Sammy photo courtesy of the artist
Carnival Youth (Riga, Latvia)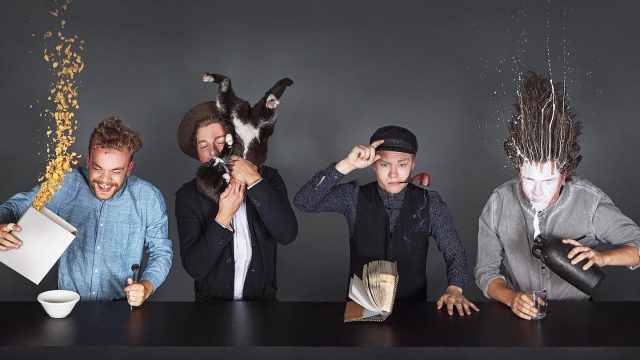 Already gaining a reputation as one of the most successful indie rock bands from Latvia, and the Baltic region as a whole, ever after winning The European Border Breakers award at Eurosonic 2016. Since getting started in 2012, the band have performed all over the world, released two full-length albums, and earned acclaim from Noisey, BBC, and more. Their second album, Propeller, was released in the States this fall.
RIYL: Arctic Monkeys, The Killers
Carnival Youth photo by Martins Cirulis
Emily Wolfe (Austin, TX)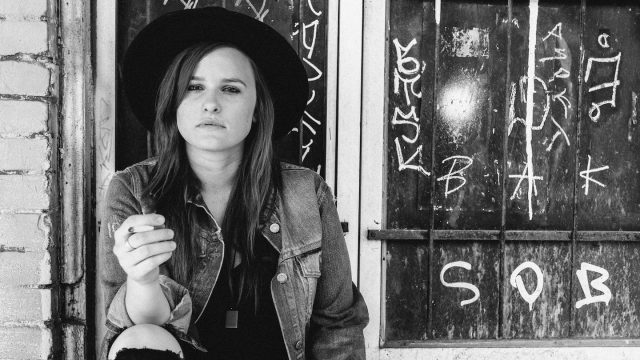 If you haven't heard Emily Wolfe yet, it's likely you will soon. The Austin-based rocker has been working hard since she started performing back in 2012, with recent accolades coming from NPR and UPROXX. With opening slots for the likes of Gary Clark Jr. and Heart under her belt, and new music coming in time for SXSW 2017, Wolfe is poised for a huge year.
RIYL: Jenny Lewis, Jack White
Emily Wolfe photo by Whitney Hensley
Pastel Ghost (Brooklyn, NY)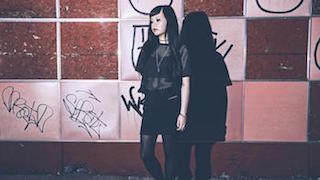 While critics may struggle to define Pastel Ghost's music with tidy descriptors like witch-rave or blog-house, it's evident thatthe Brooklyn-based artist is creating sounds that take flight beyond any genre boundaries. On her debut LP ABYSS (80s Ladies Records), Pastel Ghost laces elements of dream-pop, post-punk, and electronica to create sounds that can only be described as otherworldly.
RIYL: My Bloody Valentine, Ritualz
Pastel Ghost photo by Chad Kamenshine
Week of October 24
SWEAT (London, UK-England)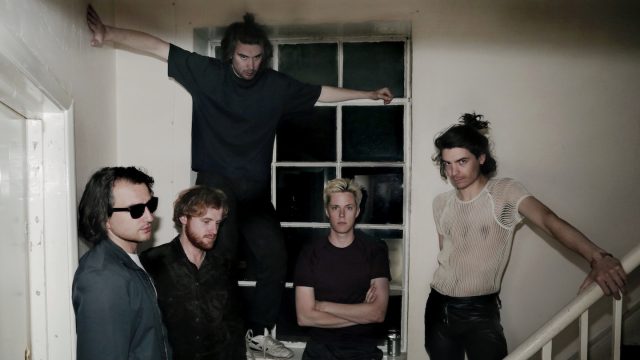 Following in the footsteps of fellow Londoners Pumarosa, SWEAT are the next indie dance crossover act already building a strong reputation with their psyched-tinged music. Their latest single, "PLW VIP," is an epic 6 minute journey across a plethora of genres, culminating in a pulsing synth bassline that everyone from DIY to NME to The Line of Best Fit are raving about.
RIYL: Jungle, Let's Eat Grandma
SWEAT photo by Beatrix Blaise
PAWS (Glasgow, UK-Scotland)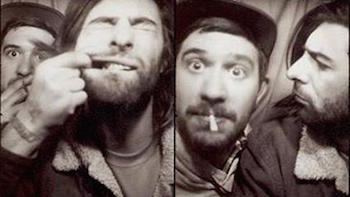 Glaswegians PAWS know how to play, and their fast paced punk tunes, reminiscent of early 2000s pop-punk, make for a raucous live show. Combine that with their recent killer third LP, No Grace, released on the excellent Brighton-based FatCat Records, and it's clear to see why they're getting so much attention. After playing two packed out shows at SXSW 2013, it's about time for them to come back and show Austin why the Scottish punk scene is so healthy right now.
RIYL: The Spook School, Cloud Nothings
PAWS photo by Phillip Taylor
Week of October 17
Mozart's Sister (Montreal, Canada)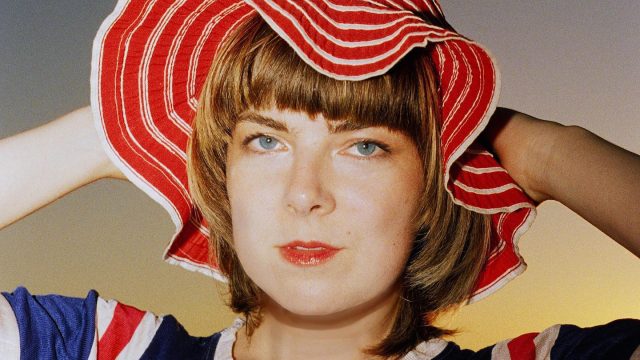 I actually got turned on to Calia Thompson Hannat, aka Mozart's Sister, prior to her performance on the Pop Montreal showcase for SXSW 2013. The Quebecois pop songstress is big on energy and anyone who claims Ace of Base as an influence is a winner in my book.
RIYL: Austra, TOPS
Mozart's Sister photo by Rebecca Storm
Middle Kids (Sydney, Australia)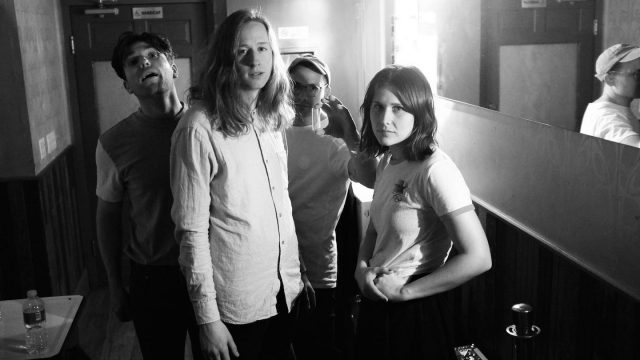 Being the youngest, I don't have first-hand experience with middle kid syndrome, but if it is what compelled these young Aussies together, then I'm happy it's a thing. They make a fantastic mix of indie-pop rock with a touch of Americana (the slide guitar is perfection) and the added excitement of booming anthemic sing-a-long choruses.
RIYL: Julia Jacklin, Future Generations
Middle Kids photo courtesy of the artist
Mothers (Athens, GA)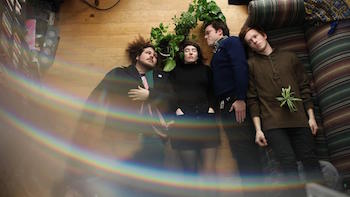 Kristine Leschper is not short of talents, lemme tell you that. A visual artist, self-taught songwriter and multi-instrumentalist, her voice is lilting and vulnerable while simultaneously powerful and controlled, bringing something fresh to her aughts-inspired indie rock expressions. Mothers had huge success with their SXSW 2016 debut and I'm excited for them to come back in March.
RIYL: Whitney, Mitski
Mothers photo by Erez Avissar
La Dame Blanche (Pinar Del Rio, Cuba)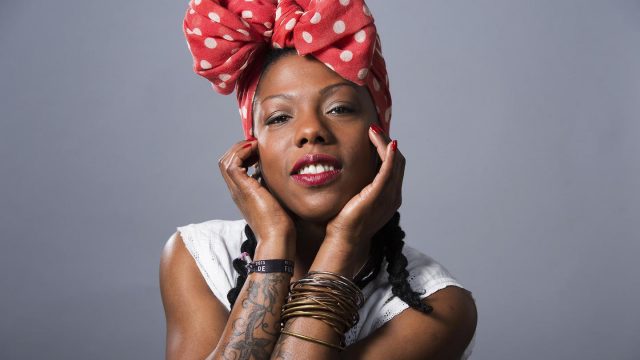 Coming to SXSW for the first time in 2017, Cuban rapper, singer, and multi-instrumentalist La Dame Blanche channels immense passion into her work. She had a big year in 2016, with a lot of momentum off her performance at LAMC this summer, and she's poised for an even bigger year in 2017. La Dame Blanche is currently writing music for her next album.
RIYL: Ana Tijoux, Bomba Estéreo
La Dame Blanche photo by Victor Delfim
Tasha the Amazon (Toronto, Canada)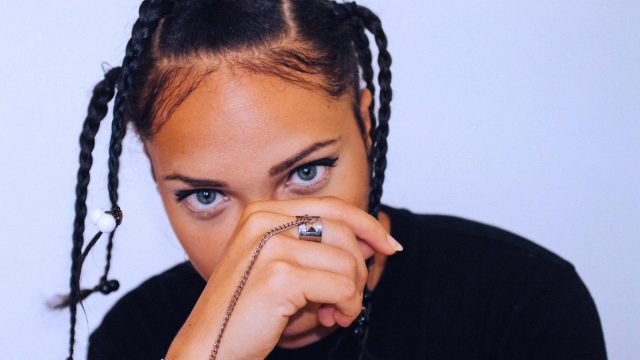 One of the hottest new rappers out of Toronto's burgeoning hip-hop scene, Tasha the Amazon will bring her gritty, modern style back to Austin for SXSW next March. She's had a couple of online hits earlier this year, most recently "Prayer," and will be featured on the official Broad City soundtrack dropping later this month.
RIYL: Jazz Cartier, Young M.a.
Tasha the Amazon photo by James Ellis
Dice Soho (Houston, TX)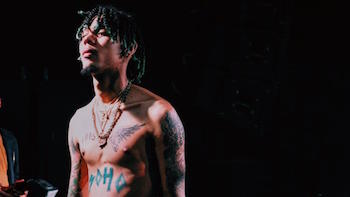 Dice Soho began his rap career at the age of nine, building a steady buzz in Houston's famous hip-hop scene over the past 10+ years. Now aged 21, Dice, along with frequent collaborator Trill Sammy (who we'll tell you about later), recently earned acclaim from FADER for pushing Houston rap beyond what it's been known for on their latest track "No Reason." He's currently working on a pair of mixtapes, which will be out in time for SXSW 2017.
RIYL: Kirko Bangz, Rich Homie Quan
Dice Soho photo courtesy of the artist
Week of October 10
Kweku Collins (Evanston, IL)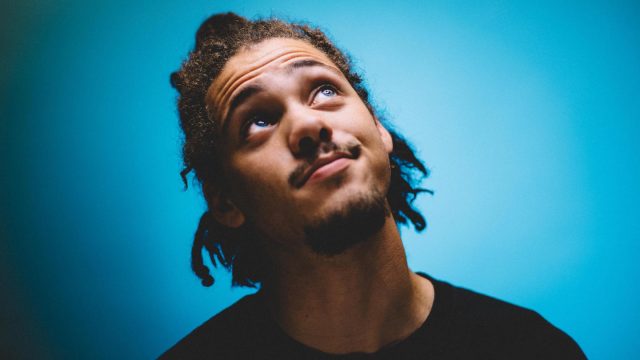 Hailing from a city mere miles north of Chicago, 20-year-old rapper Kweku Collins has received heavy praise from the likes of Pitchfork, Noisey, and others for his left-field debut album Nat Love, which dropped back in April. He's followed it up with a busy schedule: the Closed Sessions artist is currently finishing up a US tour before heading to Europe for a show on the Pitchfork Music Festival in Paris.
RIYL: Anderson .Paak, Chance the Rapper
Kweku Collins photo by Andrew Zeiter
Biznaga (Madrid, Spain)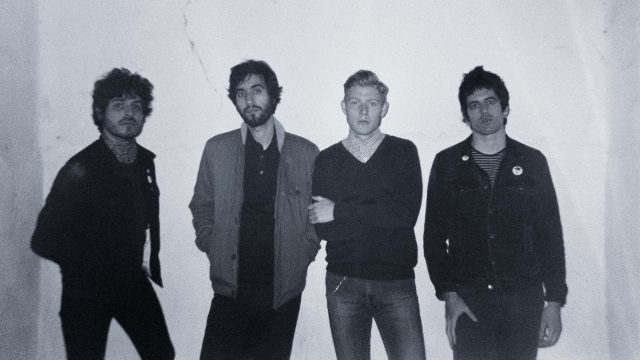 Ending today's Four on the Floor post with a bang, meet Spanish garage-rockers Biznaga. There's plenty of buzz surrounding these guys as they ready their next album for release in early 2017 via Slovenly Records, just in time for what's sure to be a rowdy debut at SXSW in March.
RIYL: WALL, Juventud Juché
Biznaga photo by María Díaz
Agnes Obel (Berlin, Germany)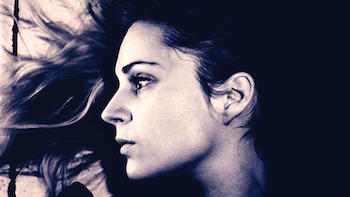 Drawing from a diverse set of influences, ranging from Chopin to PJ Harvey, Danish singer-songwriter Agnes Obel recently returned with a few captivating singles, including "Golden Green," ahead of the release of her third studio album, Citizen of Glass, on October 21. Later this month, Obel will take her alluring, atmospheric ballads on the road for a month-long European tour before returning to the US for SXSW 2017.
RIYL: Laura Marling, José González
Agnes Obel photo courtesy of the artist
Yoke Lore (Brooklyn, NY)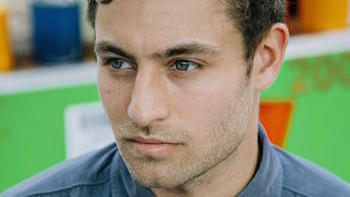 A native Brooklynite, Adrian Galvin has been an artist his entire life, digging into painting, photography, modern dance, and, of course, music. The former member of Yellerkin is making waves with his solo indie folk project Yoke Lore. He released his debut EP Far Shore in May and is planning a new release for early 2017 ahead of his first solo appearance at SXSW.
RIYL: Animal Collective, Dirty Projectors
Yoke Lore photo by DeSean McClinton-Holland
Alex Lahey (Melbourne, Australia)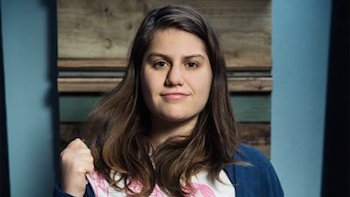 One of the founding members of Aussie indie pop band Animaux, Alex Lahey has gone solo with fuzzy rock singles like "Let's Go Out" and "You Don't Think You Like People Like Me," both of which have earned her critical acclaim from DIY and Pitchfork. Her debut EP B-Grade University, which she funded by selling her car, was released over the summer.
RIYL: Courtney Barnett, Diet Cig
Alex Lahey photo courtesy of the artist
Adam Torres (Austin, TX)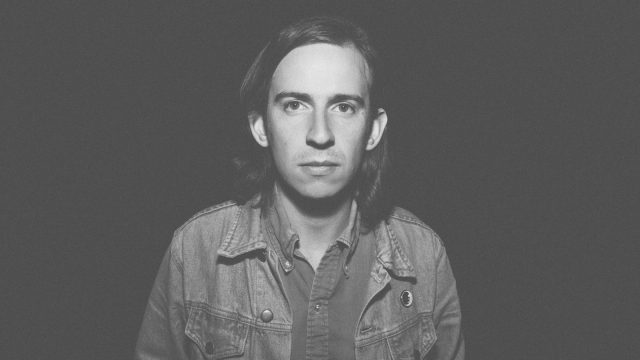 The desert-folk sounds of Austin-based Adam Torres are catching the ears of quite a few music fans and press outlets, with praise on his new album (Pearls To Swine) coming from Stereogum, NPR Music, and others. Torres is right in the middle of a long North American tour, so you might be able to catch before his first official performance at SXSW next March.
RIYL: Iron & Wine, The Tallest Man on Earth
Adam Torres photo by Bryan C. Parker
Week of October 3
Throttle (Melbourne, Australia)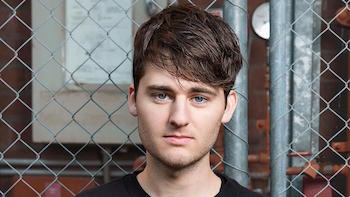 Inspired by Earth, Wind and Fire and disco's heyday, young Australian producer Throttle is a pioneer in the "Dirty Disco" scene. His tracks have been charting high on Hype Machine and Beatport since he began releasing hits in 2013, garnering support from Rolling Stone and other tastemakers. Just this year, the DJ and producer signed an exclusive deal with Spinnin Records, collaborated with Oliver Heldens, and released a follow-up single ("Money Maker") which is still gaining a lot of steam.
RIYL: Pharrell Williams, Cut Copy
Throttle photo courtesy of the artist
Running Touch (Melbourne, Australia)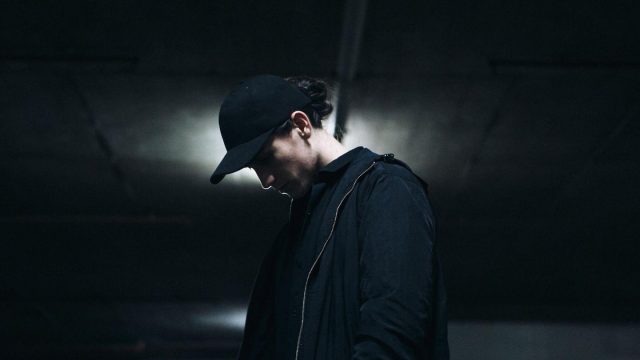 Australian producer Running Touch brings a progressive electronic sound to the table while overseeing every aspect of his celestial, forward-thinking compositions, all the way down to playing all of the instruments himself and directing his own music videos. With earnest support from triple j and recent signing of a global deal with Universal Music Group, Running Touch is ready to enter the US market at SXSW 2017. Look for his debut album in the spring.
RIYL: Louis The Child, Zayn
Running Touch photo by Shevin D. Photography
Vera Blue (Forbes, Australia)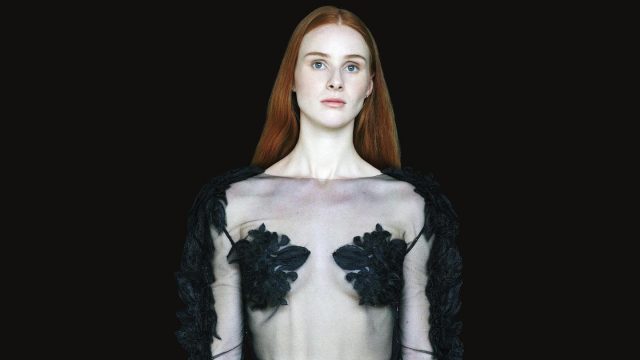 While Vera Blue's sweet, soaring voice has always been the focal point of her tracks, her music has evolved from stripped-back acoustic guitar songs into flourishing folk-electronica productions. Her candid debut EP, Fingertips, has really taken off on Spotify, putting her in prime position to make new fans when she performs in the US for the first time at SXSW 2017.
RIYL: Lana Del Rey, Carly Rae Jepsen
Vera Blue photo courtesy of the artist
Forth Wanderers (Montclair, NJ)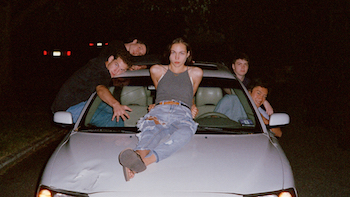 The easy-going indie pop sounds of Forth Wanderers were born from the hallways of a high school in Montclair, New Jersey. All five members of the band, led by vocalist Ava Trilling, are not yet old enough to legally drink in the US, yet their refined songs make it seem like they've been at it for a while. Look for a new EP, titled Slop, this November while they continue to work on their full-length debut.
RIYL: Mitski, Bully
Forth Wanderers photo by Grace Rossi-Conaway
Hoops (Bloomington, IN)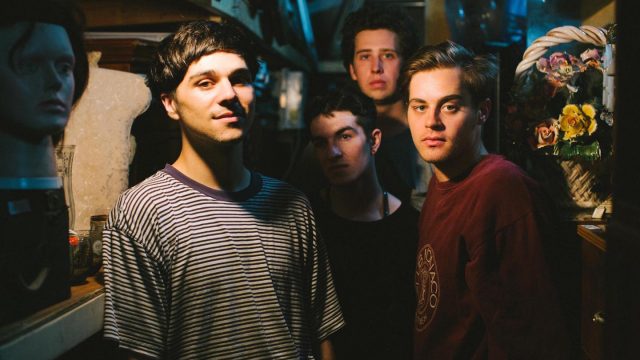 Hoops grew from founding member Drew Auscherman's ambient project into a breezy psych-pop quartet in 2014. The band earned props from outlets like FADER and Gorilla vs. Bear before even signing a deal with Fat Possum. Recently, Hoops released their debut EP on the label and the first single from the record ("Cool 2") hit #2 on Spotify's US and Global Viral 50 charts.
RIYL: Wild Nothing, The Amazing
Hoops photo by Daniel Topete
Chain of Flowers (Cardiff, UK-England)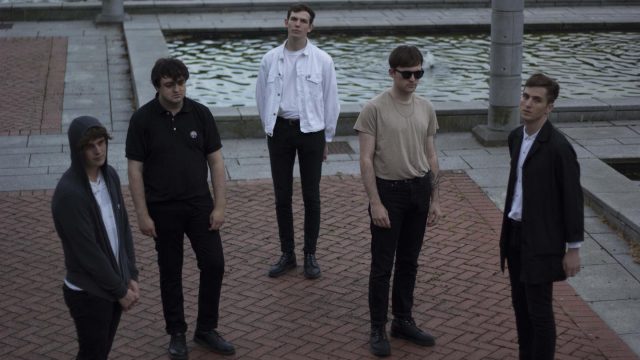 We're kicking things up a notch with the raw power and energy of UK band Chain of Flowers. The six-piece received praise from Stereogum, Noisey, and others for their raucous debut, Alter, following its release last fall; they even netted a KEXP "Song of the Day" for "Death's Got A Hold On Me" this past May. The band is currently readying their second full-length album for a spring 2017 release.
RIYL: Preoccupations, Bloody Knives
Chain of Flowers photo courtesy of the artist
Week of September 26
Hard Proof (Austin, TX)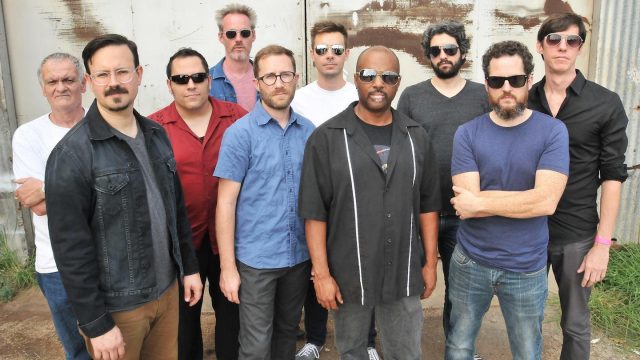 This instrumental 10-piece Afro-funk band has been known around town for its energetic live shows for the better part of a decade, winning the 2014 and 2015 Austin Music Awards for "Best World Music Band" in the process. Before Hard Proof gets the crowd moving at SXSW 2017, they'll be releasing a new LP on Modern Outsider in January.
RIYL: Hypnotic Brass Ensemble, Menahan Street Band
Hard Proof photo by Stevan Alcala
Akina Adderley & The Vintage Playboys (Austin, TX)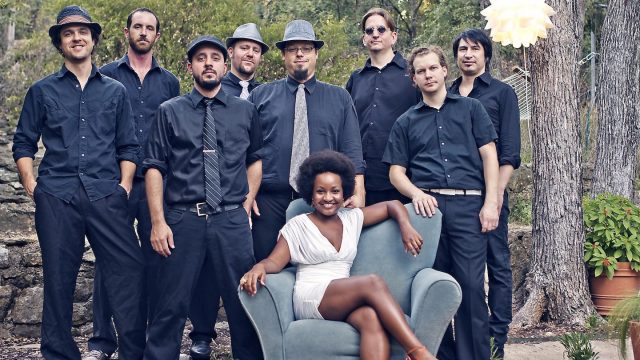 Another regular fixture of Austin's vibrant music scene, Akina Adderley & The Vintage Playboys are a sonic force to be reckoned with. The band has perfected their '60s- and '70s-inspired soul/funk fusion sound, led by Akina's soaring voice, and are currently working on a new album for release in 2017. We're excited to (hopefully) hear some new material at SXSW!
RIYL: The Supremes, Sharon Jones & The Dap-Kings
Akina Adderley & The Vintage Playboys photo by Shana Berenzweig
Tameca Jones (Austin, TX)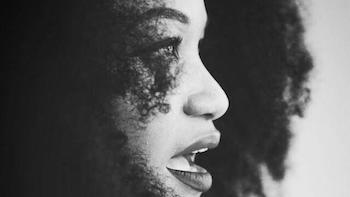 Tameca Jones has been at it for a while, first starting out in Austin band 8 Million Stories in 2005 before going solo a few years later, but the singer is starting to build momentum, and once you hear her smooth voice you'll begin to see why. Her music is focused yet diverse in style, a tight mixture of soul, pop, and rock, all showcased on her new EP Naked. With fans like Gary Clark Jr., Billboard, and more, Tameca seems poised for a big 2017.
RIYL: The Suffers, Macy Gray
Tameca Jones photo by Eryn Brooke
Miss Lavelle White and the L Men (Austin, TX)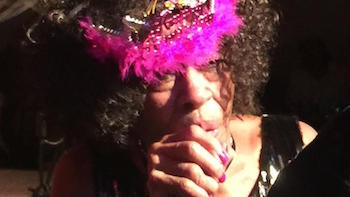 Miss Lavelle White is truly a living legend. She began her career in the 1950s on the prolific Houston label Duke Records, growing to become a queen of blues and soul while sharing the stage with legendary acts such as Sam Cooke, Otis Redding, Buddy Guy, Aretha Franklin, and more over the decades. She has served as the house singer at the Kingston Mines in Chicago and held a residency at Antone's here in Austin in the 1980s, before releasing the first of three solo albums in 1994.
RIYL: Lou Ann Barton, Patti LaBelle
Miss Lavelle White and the L Men photo courtesy of the artist
Rocky Banks (Houston, Texas)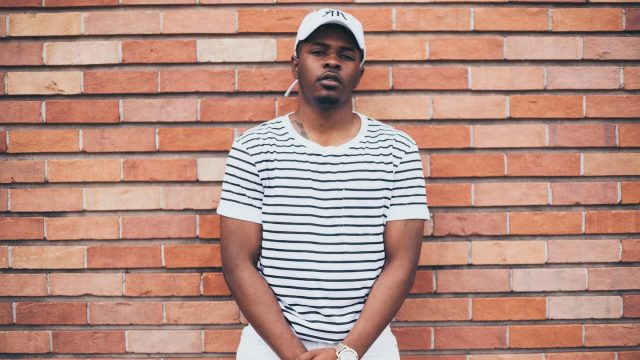 Rocky Banks proves Houston, Texas is still a hotbed for hip-hop. He's been at it for a few years, but the buzz around Banks has started to hit its stride this year with the release of his "In Other News I Don't Do Drugs Anymore" project and another single ("Hi And Bye") earning support from Fader and L.A. Leakers.
RIYL: Kendrick Lamar, Que
Rocky Banks photo by Hector Mendoza
Chain Wallet (Bergen, Norway)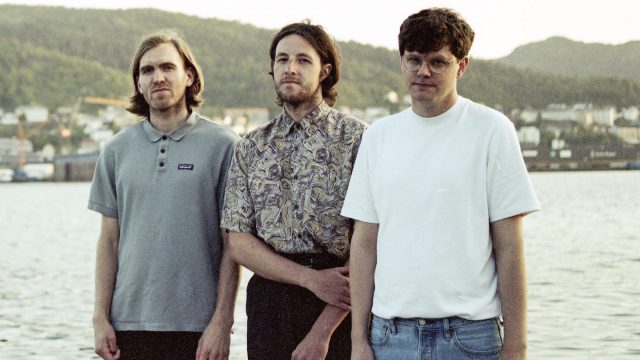 Norwegian psych-pop trio Chain Wallet are extremely new to the scene, but they've already honed their sound. The recent Jansen Plateproduksjon-signing has received praise from the likes of Clash and Nylon for their 2016 singles "Muted Colors" and "Faded Fight". Look for their self-titled debut album on October 7.
RIYL: The Mary Onettes, Real Estate
Chain Wallet photo by Synne Sofi Bønes