Destigmatizing Mental Health with Health & MedTech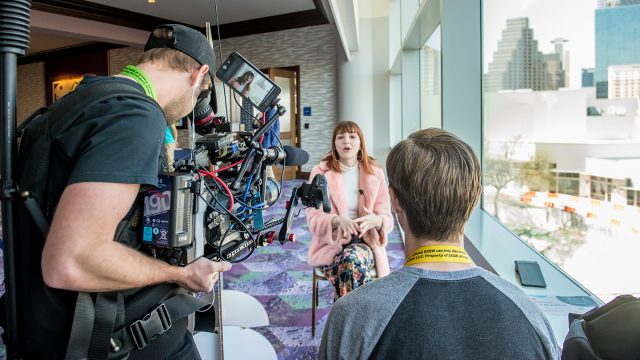 For too long, mental health has been on the list of topics to avoid in polite conversation. During the Health & MedTech Track, we're setting out to change that by focusing on new tech and ideologies being utilized in every element of health, medicine, and well-being that impacts the communities where we live, work, and play.
Get involved in discussions on topics ranging from advancements in medicine to wearable tech during the SXSW Conference from March 8-12. These sessions will highlight different ways to destigmatize mental health, the discussions converging around mental health, and how to improve your own mental health as well as support those around you in their own journey to stable mental health.
Health & MedTech Session Highlights
What the F- is Wrong With My Teenager
Remember when you were a teenager and the world just didn't understand you? Did you grow up just to have a similar disconnect between you and your own teenage child? It's not a secret that the adolescent brain is complicated – but what exactly is going on in there that leads to the drastic mood swings and the erratic and at times impulsive behavior? In this session, Nick Allen, Ph.D. will attempt to unpack some of the brain chemistry behind the still-growing teenage brain. As an added bonus, Caroline Fitzgerald, the Team Lead at HopeLab will discuss her project that's seeking to help reduce loneliness on college campuses – as well as Glen Coopersmith, Ph.D. will break down understanding mental health data and even predict suicide risk by understanding language usage.
Feed Your Soul: Creating Wellness & Permanent Change
Ever notice that the countless diets, cleanses, and 30-day challenges that are supposed to help people lose weight, heal their digestion, and feel more energy always seem to fall short of their promises? Carly Pollack noticed, too – that's why the holistic wellness expert, and Founder of Nutritional Wisdom, created her own approach on how to make permanent change. After this session, you'll leave knowing how to take massive action and how to create the health and life you deserve.
Generation Lonely: 10,000 Followers and No Friends
In an era where we're more connected and can communicate faster than ever before, individuals report feeling lonelier and more disconnected from one another. This session will look into what generates feelings of social isolation and loneliness (and how those two differ from each other), as well as what can be done to change these feeling before they impact the body physically – for example, doctors now think it's connected to the huge increase in inflammatory diseases. Dawn Fallik of the University of Delaware and Julianne Holt-Lunstad of Brigham Young University will examine the medical and mental ramifications of being lonely as well as discuss the stigma of loneliness and why it's so difficult to create programs that offer help.
Advancing Mental Wellbeing in Communities of Color
In communities of color, the stigma against mental health has been passed down for multiple generations. This panel will bring together the voices of various nonprofit leaders who are utilizing creative, innovative, and timely strategies to tackle the stigma, lack of education, and awareness surrounding mental health in communities of color. This candid discussion will also focus on the need to implement programs and initiatives that positively impact mental health wellness on the individual, institutional, and systemic levels. Lauren Carson, Executive Director of the Lee Thompson Young Foundation and Black Girls Smile Inc., Shanti Das, CEO and Founder of Silence the Shame, Nadia Richardson, Executive Director and Founder of No More Martyrs, and David Rivera, Sr. Medical Advisor to The Steve Fund, will discuss the importance of outreach methods that allow communities of color to heal from generational trauma and proactively improve wellness through culturally appropriate methods and interventions.
Biohacking for a Healthy Brain
We've been talking about the importance of mental health, but how do you keep the actual brain, the physical body part, healthy? Researchers are clarifying the best practices, but not fast enough for those facing diseases right now. In the meantime, we all experiment with our health via "lifestyle medicine" through practices like manipulating diet, exercise, sleep, and stress. Though this seems to work for some, it lacks strong scientific backing or a personalized approach. In this session, hear from Brian Duggan, as he tells the story of his journey towards a healthier brain – and how what he learned can apply to each individual.
Check out other Health & MedTech sessions as well as other Keynotes and Featured Speakers including Cindy Eckert, Maria Shriver, Michael Pollan, and Kevin Hart, Sarah Martin, David Ko & Vicki Strickland:
Browse More Health & MedTech Sessions
Enjoy primary access to all Health & MedTech sessions as well as other Conference Sessions with a Platinum or Interactive Badge, and secondary access to most other events.
Crossover Track Recommendations
Learn more and unlock your badge's full potential when you explore sessions on the other 25 Conference Tracks that relate back to Health & MedTech:
Attend SXSW 2019
Get your SXSW Badge and reserve your hotel today to attend SXSW 2019 and experience these Conference sessions along with 10 days of screenings, showcases, exhibitions, networking, and more this March 8-17 in Austin, TX.
Follow us on Facebook, Twitter, Instagram, and SXSW News to stay current with all things SXSW.
Featured Image by Amanda Stronza