2019 Convergence Tracks: Cannabusiness, Media & Journalism, Sports and More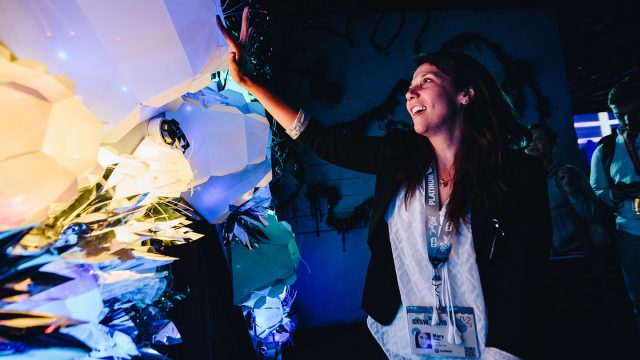 Each year at SXSW, diverse groups of creatives across interactive, film, and music industries come together to push past conventional boundaries and explore different industries and ways of thinking. At the heart of the SXSW Conference, Convergence programming features a range of topics that straddle the intersection of culture and technology.
If you've always dreamed of entering a session idea and becoming a bigger part of SXSW, now's the time! PanelPicker® is the official SXSW user-generated session proposal platform. This easy, two-step online process allows the SXSW community to have a voice in what programming is scheduled at SXSW. Propose 2019 SXSW session ideas through PanelPicker® before the final deadline on Sunday, July 22 at 11:59pm PT.
Take a look at our Convergence Tracks below to see which track most interests you and would be the best fit for your session idea.
2019 Convergence Tracks
March 14-16 | Navigate the technological, cultural, and political ecosystem surrounding the future of cannabis-focused enterprise. As cannabis becomes more widely legalized, there is immense opportunity for entrepreneurs to seek funding and grow their businesses within a rapidly evolving industry.
March 8-11 | The Cities, Government & Politics Track focuses on innovative city development, privacy issues, and how politics plays a role in shaping policy on all levels of government.
March 14-16 | Designed for US-based attorneys, entrepreneurs, and beyond – the Continuing Legal Education Track will include up to 12 hours of accredited sessions available at no extra cost to SXSW registrants. Delve into sessions covering hot-button legal issues across the music, film and emerging technologies industries.
March 8-10 | Investigate how experimental strategies are redefining the ways in which audiences experience their world.
March 11-13 | Chefs, entrepreneurs, activists, farmers, scientists, and enthusiasts come together in the Food Track to explore ways in which technology and innovation can be leveraged to change the way we grow, cook and consume food to create a more sustainable and healthier world.
March 8-14 | Explore how journalism, analysis, and content distribution are being impacted by technology and culture. This track will examine the fast-changing media landscape, as older institutions and newer organizations battle for consumer attention.
March 8-13 | The Social & Global Impact Track highlights innovations and initiatives that are contributing to a better and more equitable world.
March 8-10 | Dive into topics such as diversity and equality in sports, the implications of legal gambling, and athlete entrepreneurship. The Sports Track explores the future of sport from a cultural, philosophical, and technological perspective.
March 11-13 | Virtual reality, augmented reality and mixed reality are pioneering new ways to dramatically enhance how we experience the world around us. Learn about our current capabilities with these interfaces as well as where these systems are heading in the next few years.
PanelPicker Proposal Information
Once you've selected a track for your idea, your next step on the journey to SXSW is to decide your session format. PanelPicker proposals can be entered in a variety of session formats including panels, solo presentations, workshops, and more. Visit the SXSW PanelPicker page for more information.
While you prepare to enter your session idea for SXSW 2019, take a look back at a few Convergence sessions from SXSW 2018 for inspiration.
Branded Cities: Can We Avoid an Urban Dystopia? (Cities Summit Track) – 21st century cities are emerging as labs of brand-led innovation. From corporate-funded public transport in Boston and Baltimore to branded regeneration projects in South Korea and wellness developments in Italy, businesses are stepping in where governments are failing to reshape cities. This session explores the future of a branded city and the everyday lives of its citizens, from the sensory experience of walking down the street to a new value exchange between businesses and residents.

Breaking the 4th Wall: Drone Swarms in Art (Experiential Storytelling Track) – Drones are increasingly becoming our eyes and ears in the world, where they are proving indispensable tools in several industries. But what if drones ceased to be the medium and instead became the message? A handful of artists, designers, and engineers thus put arrays of drones, or synthetic swarms, on stage, performing in unison with human performers and all forms of stage technology. The unusual advantage? A completely untethered act, evoking powerful and unbeknown emotions among spectators.

2018 Emerging Tech Trends Report (Startup & Tech Sectors Track) – You've undoubtedly studied trends within your own industry, but how can you prepare yourself and your business for what's next in a world of continuous disruption? In order to see the future of one technology, you must look at the interconnected future of many technologies. In this provocative session, futurist Amy Webb, professor at NYU Stern School of Business and founder of the Future Today Institute, will release her 11th annual Tech Trends Report. She'll provide a data-driven analysis for the emerging tech trends that need to be on your radar in 2018.
Read the PanelPicker FAQ for important information about SXSW, the PanelPicker entry process, and valuable tips. Propose 2019 SXSW session ideas through PanelPicker® before the final deadline on Sunday, July 22 at 11:59pm PT.
Join Us in March 2019
Applications are now open for showcasing artists, film submissions, Interactive Innovation Awards, SXSW Pitch, and more. Learn about all the ways you can participate at SXSW here.
Mark your calendars for August 1 when registration and housing opens for the 2019 SXSW season. Until then, explore our YouTube Channel for inspiration from 2018 Keynotes, Featured Sessions, Red Carpets, and Q&A's.
Follow us on Facebook, Twitter, Instagram, and SXSW News for the latest SXSW coverage.
Meow Wolf: Fractallage - Photo by Judy Won