Announcing 600+ Community Sourced PanelPicker Sessions for 2020 SXSW Conference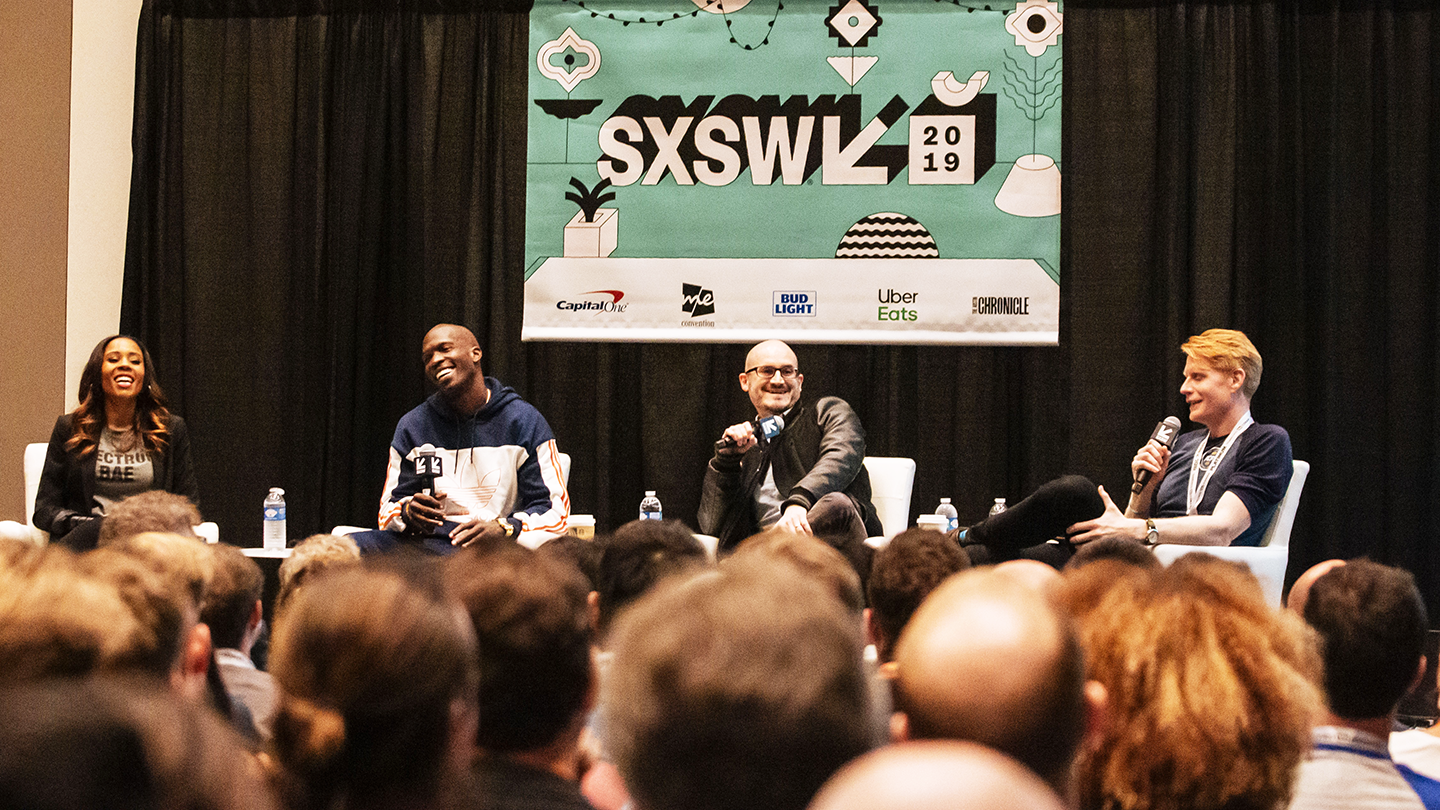 Each year, the SXSW Conference kicks off the season by calling on its community to help source the lion's share of programming by entering session ideas through the PanelPicker® proposal process. We've spent the last few months using a mix of community votes and input from the SXSW Staff and Advisory Board members to meticulously sort through the over 4,440 entries and curate the best of the best – by the SX community, for the SX community. We are pleased to present to you 600+ sessions for SXSW 2020.
"The strength of today's announcement reflects the thousands of strong PanelPicker® entries that we received in July," said Hugh Forrest, Chief Programming Officer. "Culling so many strong speaking proposals to the 600+ sessions that we are announcing today has been difficult but very exciting work. We are particularly thrilled with the quality of programming that we have pulled together for several of the tracks that occur in the second half of the week, including Future of Music (March 16-21), Game Industry (March 16-18), Professional Development (March 16-21), Space (March 18-20), and Cannabusiness (March 18-21)."
Sessions that are part of today's announcement include top-level speakers from notable companies like Google, TikTok, Insomniac Games, Leafly, Magic Leap, NASA, NPR, Universal Music Group, Unity Technologies, and Quibi.
The new tracks for SXSW 2020 – including Connection & Culture, Fantastic Future, Game Industry, Professional Development, and Space – add to the in-depth conversations happening between industry experts across all 22 Tracks of Conference programming. Explore the different Conference formats including Keynotes, Featured Speakers, presentations and panels, podcasts, book readings, and more.
Topics during the SXSW Conference span all aspects of the event including Convergence, Interactive, Film, and Music. Check out selected highlights below by track and use the full SXSW Schedule to plan your 2020 SXSW experience.
Today's announcement follows recently confirmed Keynotes Kim Gordon and Reggie Fils-Aimé as well as Featured Speakers Chip and Joanna Gaines, Robert Rodriguez, and more. Stay tuned as more speakers, mentors, special events, and beyond are announced throughout the season. Register to attend SXSW early to access this exciting lineup of programming at a great rate and find the best hotel selections.
Browse highlights from Convergence, Interactive, Film, and Music Tracks below. Take a deeper dive into all confirmed programming on the SXSW Schedule and add favorites to your own customized schedule.
Stay tuned for more session and speaker highlights on SXSW News, Twitter, Facebook, LinkedIn, and Instagram.
2020 SESSION HIGHLIGHTS BY TRACK
Convergence Tracks grant primary access for all SXSW Badges.
March 18-21 | Learn about the technological, cultural, financial, legal and political ecosystems that are defining the cannabis-focused enterprises of both today and tomorrow. The Cannabusiness Track includes content that will appeal to more experienced professionals in this rapidly evolving industry, as well as to newcomers who are just starting to enter this space.
March 13-18 | The Climate & Social Action Track highlights innovations that contribute to a more socially equitable and environmentally sustainable world. With updated studies putting climate change front and center in the global conversation, leaders and scientists from a variety of organizations will cover their challenges and successes in trying to affect lasting positive social, economic, and environmental change.
Climate & Social Action Sessions »
March 13-18 | New for 2020, the Connection & Culture Track addresses the challenges of interpersonal relationships in a world that too often favors online interactions. Along with examining how we connect with each other, this track also covers the arts via food, style, and other endeavors that unite us on a cultural level.
Connection & Culture Sessions »
March 13-15 | The Experiential Storytelling Track investigates how new and experimental strategies are redefining and re-imagining the methods in which creators develop cutting-edge narrative structures. While blending more traditional methods of storytelling with technology-enhanced mediums, audiences can explore new worlds and experiences.
Experiential Storytelling Sessions »
March 16-18 | New for 2020, the Game Industry Track examines the exponentially-increasing influence that the making, marketing, and distribution of video games is having on international culture, tech businesses, and traditional entertainment media including film and music.
March 13-16 | The Government & Politics Track aims to discuss issues that affect the lives of all citizens. Topics focus on questions surrounding technology regulation, livable cities, privacy issues, and the challenges of maintaining civil engagement in the age of social media. These sessions also address the difficulties of creating policies that encourage competition and economic growth while balancing legacy systems.
Government & Politics Sessions »
March 13-17 | The Media & Journalism Track explores how the process of news, analysis, and content distribution are being impacted by technology and society. These sessions also examine the fast-changing media industry landscape, as older institutions and newer organizations battle for consumer attention.
March 16-21 | New for 2020, the Professional Development Track offers learning and accreditation opportunities across the range of industries represented at SXSW. From Continuing Legal Education credits to cloud services workshops, this track provides in-depth and specialized education.
Professional Development Sessions »
March 13-16 | The Sports Track explores the future of game-playing from a cultural, philosophical, and technological perspective. Topics will include how esports is challenging our traditional understanding of competitive athletes, big data's role in revolutionizing various areas within the sports industry, and reimagining the state of fan engagement.
March 16-18 | Focusing on current capabilities with immersive interfaces, the XR Track explores where these mind-expanding systems are heading. Also referred to as Extended Reality, XR covers virtual reality (VR), augmented reality (AR), and mixed reality (MR). Formerly known as VR/AR/MR, this track complements the Virtual Cinema programming.
Interactive Tracks grant primary access for Platinum and Interactive Badges; secondary access to Film and Music Badges.
March 13-18 | As traditional marketing formats continue to lose relevance, creative leaders must re-frame their approaches by building emotional connections with consumers through unique and compelling experiences. The Advertising & Brand Experience Track features creative strategists sharing insights on developing effective campaigns using data, neuroscience, storytelling, and the most current technological advances.
Advertising & Brand Experience Sessions »
March 13-18 | The Design Track covers all aspects of this industry, from futuristic product design to design-thinking approaches that can be applied to numerous other disciplines, businesses, and organizations. This programming will examine how design informs our interactions, shapes our experiences, and plays a critical role in problem-solving.
March 16-21 | New for 2020, the Fantastic Future Track spotlights the extraordinary new ideas that inspire us to get excited about tomorrow. From quantum computing to the next generation of touchless interfaces, these sessions offer a platform to discuss and preview what life will be like over the next few decades.
March 13-17 | The Health & MedTech track focuses on the new advances and approaches being applied to medicine and well-being, including a deep dive into how the ecosystem of patients, providers, and payers interface with technology to improve outcomes in the communities where we live, work, and play.
March 18-20 | Humans have always been awed and inspired by the dream of exploring other planets, other worlds, and other dimensions. The Space Track will celebrate the possibilities of the next wave of inter-galactic travel, as well as cover how new space-related technologies will propel tomorrow's most innovative ecosystems here on earth.
March 13-17 | The Startups Track brings together founders and funders of all stages to talk about current best practices. This track showcases the most exciting new companies, new products, new services, and new business models across many different verticals and industries.
March 16-21 | The Tech Industry & Enterprise Track looks at today's most cutting edge ideas covering both software and hardware. Innovators and executives from a variety of industries will discuss the evolving landscape of technology-driven products and services in the B2C and B2B marketplaces.
Tech Industry & Enterprise Sessions »
March 13-17 | The Workplace Track brings together HR specialists, futurists, designers, and others to discuss forward-thinking initiatives that will enhance the offices and productivity centers of today and tomorrow. Topics discussed will include workforce inclusion, leadership and advocacy methods, and the effects of increased automation.
Film Tracks grant primary access for Platinum and Film Badges; secondary access to Interactive and Music Badges.
March 13-17 | Explore the current and future states of film and television, as seen through the independent lens. Sessions in the Film & TV Industry Track cover topics including distribution, financing, representation, technological advancements, and the ever-changing nature of this creative medium.
March 13-17 | Covering the range of film and television creation from script to post-production, these sessions are designed to guide filmmakers through the strategies and techniques that are crucial in crafting these media. Hear from a range of speakers, including industry experts and legends, as they share their experiences in shaping groundbreaking work.
Making Film & Episodics Sessions »
Music Tracks grant primary access for Platinum and Music Badges; secondary access to Interactive and Film Badges.
March 18-21 | The landscape for musicians has undergone seismic shifts as the traditional industry base has changed over the last two decades. How can musicians and publishers navigate, survive, and thrive in this dynamic space? The Creating & Monetizing Music Track will educate, inform, and equip everyone from artists to executives with the skills and tools they need to develop new opportunities.
Creating & Monetizing Music Sessions »
March 16-21 | Emerging technologies and cultural trends are transforming the music industry more rapidly than ever before. The Future of Music Track examines these issues by exploring all aspects of the industry, from rights management and immersive live performances to experiential marketing campaigns and more.
Attend SXSW 2020
Join us for SXSW from March 13-22, 2020. Check out how to attend, plan your housing, and stay up-to-date on SXSW 2020 news.
SXSW values fostering creative and professional growth for students, artists, and industry professionals alike. Currently enrolled students may apply to purchase a SXSW Badge at a special discounted price.
Wanting to attend but still need clearance from your company? We put together a handy, form letter with event statistics to use as a resource to convince your boss to send you to Austin in March.
Stay up-to-date on the latest from SXSW – follow us on Twitter, Facebook, LinkedIn, and Instagram.
Register early for the best savings of the season and hotel availability. See you in March!
*2019 SXSW Session, An Indie Filmakers Guide to Directing Television - Photo by John Feinberg *