Welcome to the 2018 SXSW Conference & Festivals – Explore Programming & Resources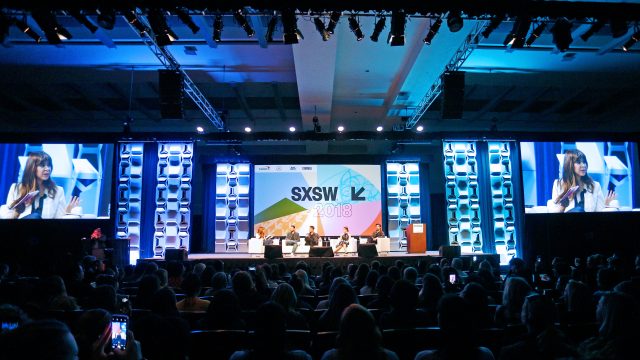 Welcome to the 2018 SXSW Conference & Festivals! Get ready to explore ten days of Conference sessions, film screenings, showcases, exhibitions, networking, and beyond.
Explore what's streaming on SXSW Live from the Conference and Festivals below and learn of more ways to connect to SXSW to maximize your experience. Before you set off on your SXSW adventure, take a moment to browse all of the attendee resources available to you.
Connect with SXSW
Browse through all confirmed programming for the 2018 SXSW Conference & Festivals on the online SXSW Schedule and begin building your personal schedule. Check out the Schedule Help page for further information on logging in, filtering events, and adding events to your schedule.
Download the SXSW GO mobile app to sync your online schedule with your mobile device, so your info will always be up-to-date. Plus, get schedule recommendations based on favorited events, networking contacts, and more. New for 2018, we've made it easy for you to check the current status of a room or a venue's remaining capacity for conference sessions and festival events. Browse more SXSW GO features including event navigation tools here.
Can't make it to Austin? Keep an eye on our live streaming coverage at sxsw.com/live to experience a bit of SXSW magic from all around downtown Austin.
2018 SXSW Programming Highlights
SXSW is the premier destination for thousands of creatives from a vast and diverse range of industries to discover what's next. From compelling conversations with industry heavy weights and forging new connections, to buzz-worthy film screenings and fresh new sounds at showcases, SXSW fosters creative and professional growth.
For the SXSW Conference, virtual and augmented reality pioneer Nonny de la Peña joins the lineup as a Convergence Keynote with previously announced Keynotes Darren Aronofsky, Ta-Nehisi Coates, Lyor Cohen, Melinda Gates, Barry Jenkins​, Sadiq Khan, Esther Perel, and whurley.
In addition, the newest round of Featured Speakers includes The Daily host Michael Barbaro; Black-ish creator Kenya Barris; New York Times foreign correspondent Rukmini Callimachi; Ready Player One author Ernest Cline; actress Dakota Fanning, CBS This Morning co-host Gayle King; music legend Nile Rodgers; Vermont Senator Bernie Sanders; actor and former Governor of California Arnold Schwarzenegger; CNN anchor and chief Washington correspondent Jake Tapper; rapper and founding Wu-Tang Clan member U-GOD; Ireland's Taoiseach (Prime Minister) Leo Varadkar T.D.; and many more.
Building on an impressive Conference lineup, these speakers represent many of the developing trends expected to come out of SXSW 2018. Explore our 12 top trends for SXSW 2018 through the lens of tech and culture.
The SXSW Film Festival rolled out the red carpet with the announcement of the 2018 Features Lineup and Opening Night Film A Quiet Place along with 2018 Midnighters, Shorts, VR, Inaugural Independent Episodics and more. The North American premiere of Wes Anderson's highly-anticipated Isle of Dogs will close the 2018 Film Festival. The full lineup will include 132 Features, 44 films from first-time filmmakers, 86 World Premieres, 11 North American Premieres, and 5 U.S. Premieres. Additional titles will continue to be announced up until March. Take a look back at the past 25 Years of the SXSW Film Festival with weekly spotlights on careers launched, artists discovered, powerful performances, and more from featured alumni.
Dive into the latest round-up of Showcasing Artists announcements from the SXSW Music Festival including Kurtis Blow, Tinashe, Action Bronson, Nancy Whang, Preservation Hall Jazz Band, and more. Listen to weekly SXSWfm's specialty shows highlighting 2018 Showcasing Artists and tune into SXSW News for weekly announcements now through March.
Beyond downtown venues, cut a rug during three days of music in the park at The SXSW Outdoor Stage Presented by MGM Resorts with performances by Grammy-winning, Latin-infused East LA supergroup Los Lobos, soulful roots band Nathaniel Rateliff & The Night Sweats, 13th Floor Elevators vocalist and psychedelic cult hero Roky Erickson, and, of course, many more.
The SXSW Comedy Festival features comedy's rising stars and established names within its uniquely diverse programming including live showcases, podcast recordings, conversations, and more. Browse the initial lineup including Nick Offerman, Jim Gaffigan, Rachel Bloom, Dick Cavett, James Davis, Vanessa Gonzalez, Bill Hader, Joe Pera, and many more. Plus, special programs from ASSSSCAT, Comedy Bang! Bang!, Comedy Central's Corporate Retreat, Doug Loves Movies and more. The SXSW Comedy Festival is open to all SXSW Badges, Music Festival and Film Festival Wristbands.
Throughout the season, finalists have been announced for each of the many prestigious SXSW Awards. Award ceremonies that are part of the SXSW Interactive Festival honor some of the industry's most important innovators. Watch exciting live pitch competitions, explore startup and tech demos, and catch the winners at Awards events such as the Interactive Innovation Awards, Accelerator Awards, Release It Awards, and Community Service Awards. Also, don't miss the Film Awards during the SXSW Film Festival
From March 9–17, SXSW hosts various exhibitions that connect people from all over the world. While at SXSW, take your discovery a step further with the SXSW Trade Show, Spotlights, Gaming Expo, Job Market, Flatstock, SXSW Marketplace, SXSW Wellness Expo, and SouthBites. From March 13-15, immerse yourself in the latest VR/AR storytelling from some of the most creative minds in the world at the Virtual Cinema. Plus, experience one-of-a-kind art installations by both established and emerging artists at SXSW venues and throughout Austin from the SXSW Art Program.
Register and book your hotel today! With expanded access to events for all registrants, attendees will receive primary access to programming associated with their badge type but now also enjoy secondary entry to most other SXSW events.
Sign up for SXSW Event Updates and follow us on Twitter, Facebook, and Instagram for exclusive coverage of SXSW and the latest updates.
SXSW Film Festival Teaser Photo by Michael Buckner