SXSW Music Weekly Round-Up: Kurtis Blow, Tinashe, Action Bronson, Nancy Whang, Preservation Hall Jazz Band, & More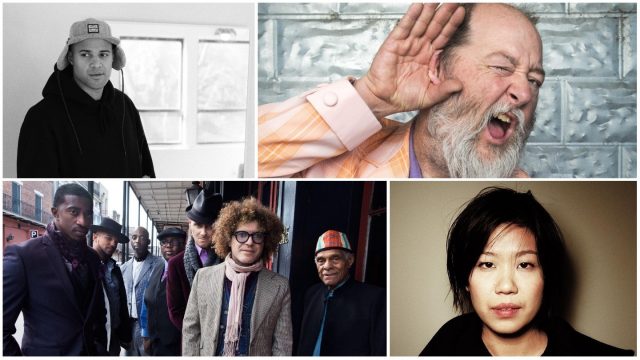 We're one week away! No time for chit-chat, let's get into this week's announcements for the 2018 SXSW Music Festival.
New additions for the Conference this week includes How About A Little Fanfare?, which features a freewheeling performance and conversation about the creative process with Todd Rundgren, Matthew Caws (Nada Surf), Matt Lowell (Lo Moon) alongside some very special guests. We've also added hip-hop legend Kurtis Blow to the panel From Bronx To Billions: A Hip-Hop History Lesson.
This week we have added 190+ Showcasing Artists, with highlights including a large batch of excellent rap and R&B artists such as Tinashe, Action Bronson, Talib Kweli, Homeboy Sandman & Edan, Smooky MarGielaa, Trae Tha Truth, Wretch 32, and more, as well as indie rock veteran Ted Leo, buzzy pop singer MAX, legendary 13th Floor Elevators vocalist Roky Erickson, and New Orleans iconic Preservation Hall Jazz Band.
NPR Music are teaming up with iZotope for their annual their Stubbs takeover on Wednesday, March 14. The showcase will feature a musically diverse lineup on both the inside and outside stages including hip-hop supergroup August Greene (Common / Robert Glasper / Karriem Riggins), slowcore legends Low, UK collective Superorganism, indie-folk act Okkervil River, NPR Tiny Desk favorites Tank and the Bangas, modern soul singer Liz Brasher, mellow rapper WebsterX, carefree rock group Mt. Joy, and more. Other highlights from our recently announced showcases include Vinyl Me, Please: Rising, Double Fluffer Pit Party, Berlin Beats presented by Musicboard Berlin, globalFEST presents "Global Future", and more.
SXSW starts next week - register now for your Music Badge if you plan on joining us this year. Once you've done that, you'll want to start favoriting artists and sessions in your schedule to stay informed on when and where everything is happening. The Music Badge provides you with primary access to hundreds of showcases and sessions, secondary access to Interactive and Film Conference Tracks, and much more, so you'll have plenty of choices to make on how you'd like to spend your time in Austin. If you've already registered, visit our Attendee Services Hub for helpful guides and tips on how to make make the most of SXSW 2018.
We've announced 1800+ Showcasing Artists, and we understand that it's quite a feat to listen to all of them before SXSW begins next week. To help guide you in the right direction, we curate these tools for musical discovery: fresh SXSW Spotify genre-based playlists, the SXSWfm Specialty Show focused on artists from this announcement, and our YouTube Music Video playlist featuring artists from all SXSW 2018 announcements. Add new favorites to your SXSW Schedule to make planning out your days at SXSW as easy as possible.
New 2018 Conference Additions (Music)
How About A Little Fanfare? w/ Todd Rundgren, Matthew Caws, Matt Lowell & More
SXSW Songs: Co-Write!
Tangible Fandom
Beyond Chance: The New, Secret Economy of Music

New 2018 Showcasing Artist Additions
[istandard] presents: #TRAKHOUSESXSW (Brooklyn NY)
ABSTRACT (Amsterdam NETHERLANDS)
Action Bronson (Queens NY)
A Giant Dog (Austin TX)
AJ DeGrasse (San Diego CA)
AKA (Johannesurg SOUTH AFRICA)
Amanze (Bronx NY)
American Folk - Joe Purdy & Amber Rubarth (Los Angeles CA)
American Grime (Miami FL)
Andrew Parsons (Austin TX)
Angel (London UK-ENGLAND)
Annalise Azadian (New York NY)
Anti-Lilly (Houston TX)
Ardalan (Tehran IRAN)
Arlie (Nashville TN)
A Tribute to Blaze Foley (w/ Ben Dickey, The Texas Gentlemen, Gurf Morlix, Alynda Segarra [Hurray for the Riff Raff], Nikki Lane, JT Van Zandt and more) (Austin TX)
Audio Push (Inland Empire CA)
August Greene (Common / Robert Glasper / Karriem Riggins) (Los Angeles CA)
Aztec Death (Dallas TX)
BADYOSHI (Seattle WA)
BbyMutha (Chattanooga TN)
Bea Troxel (Nashville TN)
Ben Dickey (Little Rock AR)
Bidi Bidi Banda (Austin TX)
Black Pistol Fire (Toronto ON)
Blushing (Austin TX)
Born Gifted (Harlem NY)
Buddy Lofton (Brentwood NY)
Buenos Diaz (Austin TX)
Caamp (Columbus OH)
CAPYAC (DJ Set) (Los Angeles CA)
Casual Strangers (Austin TX)
Casual T (Austin TX)
Catz 'N Dogz (Szczecin POLAND)
Cha Cha Malone (Seattle WA)
Chagall (London UK-ENGLAND)
The Chamanas (El Paso TX)
Chris Stylez (Toronto ON)
Cirque Noir [Live] (Houston TX)
City Woods (Lima PERU)
Cool Nutz (Portland OR)
Corduroi (Austin TX)
Cory Kendrix (Denver CO)
Crayondroids (Dallas TX)
Curley Taylor and Zydeco Trouble (Sunset LA)
Da Church (Detroit MI)
Da Deacon (Miami FL)
Damar Jackson (Deridder LA)
Dawn and Hawkes (Austin TX)
Daylyt (Watts CA)
Decosi Fields (Decatur GA)
Dice Soho (Houston TX)
DillanPonders (Toronto ON)
Diverse Character (Trenton NJ)
Dj Anarchy (Houston TX)
Dj El Indio (World Hood Set) (Sacramento CA)
DJ Enuff (New York NY)
DJ Juls (London UK-ENGLAND)
DJ Mix Master David (Atlanta GA)
DJ Novela (Sacramento CA)
DJ Pumkin (Seoul SOUTH KOREA)
DJ ROCRYTE (Seattle WA)
DJ Zetroc b2b All Day Ray (Austin TX)
Drama Diablo (Toronto ON)
Dray South (Austin TX)
DYLN (Brooklyn NY)
Eimaral Sol (Killeen TX)
Elegante & La Imperial (lima PERU)
EMBRZ (Dublin IRELAND)
Erva Carter (Beaumont TX)
FLAVIA (Los Angeles CA)
Girl Ultra (Mexico City MEXICO)
G Perico (Los Angeles CA)
Great Good Fine Ok (Brooklyn NY)
Haulm (Brooklyn NY)
The Heirs (Los Angeles CA)
Hiss Golden Messenger (Durham NC)
Holland Patent Public Library (Brooklyn NY)
Homeboy Sandman & Edan (New York NY)
Honey Soundsystem (San Francisco CA)
The Hood Internet (Chicago IL)
Hoodtronics (Austin TX)
The Hooten Hallers (Columbia MO)
Hop Along (Philadelphia PA)
HY$T (Indianapolis IN)
Isabel Davis (San Antonio TX)
Ivy Sole (Charlotte NC)
IZÄR (Pittsburgh PA)
Jasper Bones (Pasadena CA)
Jay Jones (New Orleans LA)
JiMMY BRiCKZ (Toronto ON)
Joe Purdy (Los Angeles CA)
John Acquaviva (London ON)
Johnny OZ (Broward County FL)
Josiah Bell (Windsor ON)
Jourdan Thibodeaux et Les Rôdailleurs (Cypress Island LA)
JPEGMAFIA (Baltimore MD)
Jukebox the Ghost (New York NY)
Junoflo (Los Angeles CA)
K'Coneil (New York NY)
Kane Brown (Fort Oglethorpe GA)
Kayla Briët (Cypress CA)
Kayper (London UK-ENGLAND)
Kiefer (Los Angeles CA)
Kinda Super Disco (Houston TX)
Lani Love (Los Angeles CA)
Larry June (San Francisco CA)
Leikeli47 (Brooklyn NY)
Letta J (Brooklyn NY)
Lex Empress (Amsterdam NETHERLANDS)
Lil Freaky aka Dripset Freaky (Atlanta GA)
Lions Ambition (Seattle WA)
The Living Museum (Amsterdam NETHERLANDS)
London Reyes (Los Angeles CA)
Los Outsaiders (Lima PERU)
Louis Futon LIVE (Philadelphia PA)
LPX (Between Sets) (Brooklyn NY)
Lucky Loc (Hillsboro TX)
Ludo (Montreal QC)
Lyons & Co. (Chicago IL)
M. Rivers (Los Angeles CA)
M3CCA (Houston TX)
MAX (New York NY)
Mayah Dyson (Manassas VA)
Migrant Kids (Austin TX)
Mike Gz (Decatur GA)
Lindsey Mills (West Palm Beach FL)
Millyz (Cambridge MA)
Miss Krystle (Phoenix AZ)
Missy D (Vancouver BC)
Moira Mack (Madison WI)
MONOGEM (Los Angeles CA)
Motel Mirrors (Memphis TN)
The Movement (Columbia SC)
MPR Riche Rich (Atlanta GA)
Mr Wired Up (Houston TX)
MY!GAY!HUSBAND! (DJ Between Sets) (Vancouver BC)
Nancy Whang (Brooklyn NY)
Nani Castle (Staten Island NY)
Noochie (Washington DC)
NUE (Toronto ON)
Off The Dome (Tacoma WA)
OMB Bloodbath (Houston TX)
OSHUN (Washington DC)
Otis the Destroyer (Austin TX)
Parker Millsap (Purcell OK)
Party Boi Rok (Austin TX)
Pat Lok (Vancouver BC)
Peanut No Jam (New York NY)
Penguin Prison (New York NY)
Pepe Mogt ( Nortec) (San Diego CA)
Phase One (Bronx NY)
Philharmonik (Sacramento CA)
Picture My Vision Entertainment (Missouri City TX)
Pønce (Mexico City MEXICO)
Poppies (New York NY)
Porcelan (Memphis TN)
Preservation Hall Jazz Band (New Orleans LA)
Private School (Miami FL)
Q Money (Cleveland OH)
Rachel Mason (Los Angeles CA)
Radio Galaxy (Houston TX)
Reeves Gabrels & His Imaginary Friends (Nashville TN)
Rico Davis (Camden NJ)
Roky Erickson (Austin TX)
Roxy Roca (Austin TX)
Saweetie (Hayward CA)
Secret Sands (Houston TX)
SETI X (Los Angeles CA)
Shetler Jones (Cleveland OH)
Shinyribs (Austin TX)
Shy Beast (Austin TX)
Sian Anderson (London UK-ENGLAND)
Siimba Liives Long/Haile Supreme (Brooklyn New York AA)
Smooky MarGielaa (Bronx NY)
SoulGroupUniverse (Queens NY)
Steelyone (New Rochelle NY)
Stephanie Rice (Houston TX)
Stev Camo (Staten Island NY)
Steve Hauschildt (Chicago IL)
SXSW SLUGFEST - A Night of Pro Boxing and Music (Austin TX)
Talib Kweli (Brooklyn NY)
Taliwhoah (Los Angeles CA)
Ted Leo (Bloomfield NJ)
Ted Park (Madison WI)
Thutmose (Brooklyn NY)
Tinashe (Los Angeles CA)
Tommy 2 Stix (Austin TX)
Topaz Jones (Montclair NJ)
Trae Tha Truth (Houston TX)
Trinidad Jame$ (Atlanta GA)
Troy Garrick (Denton TX)
TYFS (Thank You For Sweating) DJ Crew (Austin TX)
Ursa Major (Long Island NY)
Val Fleury (Monrovia LIBERIA)
Vintage Lee (Boston MA)
Walt Wilkins & The Mystiqueros (Austin TX)
Wretch 32 (Tottenham UK-ENGLAND)
YehMe2 (Chicago IL)
Yonatan Gat (New York NY)
Yung Bans (Atlanta GA)
Ziibiwan (Toronto ON)

Everything subject to change
Photo credits, clockwise from top left:
Homeboy Sandman - Photo courtesy of the Artist
Shinyribs - Photo by Wyatt McSpadden
Nancy Whang - Photo courtesy of the Artist
Preservation Hall Jazz Band - Photo courtesy of the Artist