SXSW Comedy Festival Announces Initial 2017 Lineup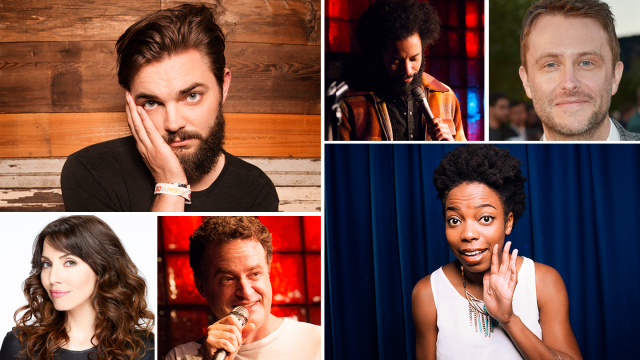 The SXSW Comedy Festival celebrates its tenth edition this year and we're excited to kick things off with the initial 2017 lineup of SXSW Comedy participants.
With access to the Film, Interactive, and Music festivals, SXSW Comedy has pulled guests from all corners of the entertainment industry, growing from a single night's celebration of comedy's rising stars and established names into a week-long festival filled with exclusive and diverse programming, including live shows, podcast recordings, broadcast tapings, and more.
Explore programming highlights below and stay tuned for another announcement from SXSW Comedy, which will include additional performers, showcases, and events. Full details and lineups at sxsw.com/comedy/2017.
2017 SXSW Comedy Participants:
Al Madrigal • Big Jay Oakerson • Bob Odenkirk • Bonnie McFarlane • Brendon Walsh • Chris Hardwick • Dan Harmon • Dave Hill • Doug Benson • Doug Stanhope • Dulce Sloan • Glenn Wool • Eddie Pepitone • Guy Branum • Hannibal Buress • Horatio Sanz • Janeane Garofalo • Jason Mantzoukas • Jessica McKenna • Joe DeRosa • Joel Kim Booster • John Hodgman • Jon Gabrus • Liza Treyger • Matt Besser • Matt Walsh • Matteo Lane • Michael Ian Black • Mike Lawrence • Morgan Murphy • Nate Bargatze • Nick Swardson • Nick Thune • Nicole Byer • Phoebe Robinson • Rich Vos • Robert Kelly • Sasheer Zamata • Scott Aukerman • Scott Thompson • Sean Patton • Shane Mauss • Shaun Diston • Tim Dillon • Tom Lennon • Wanda Sykes • Whitney Cummings • Wyatt Cenac • and more to come.
SXSW Comedy Festival Special Programs Featuring:
Above Average • @midnight • ASSSSCAT • Comedy Bang! Bang! • Doug Loves Movies • Doug Stanhope and Friends • HarmonQuest • Improv4humans • The Laugh Button Live w/ Gotham Comedy Club • My Wife Hates Me • Night Train • Talk Show the Game Show • What's Your F@%kin' Deal? • and more.
This year's festival kicks off on Friday, March 10 at ACL Live with Comedy Central's @midnight with Chris Hardwick Live, a very special SXSW edition of the Emmy-award winning interactive late night game show. Featuring contestants Tom Lennon, Whitney Cummings, and Nick Swardson.
NBCUniversal's Seeso will bring a full slate of shows to this year's lineup. Returning to the fest is Dan Harmon's live fantasy role-playing show, HarmonQuest, an improvised Dungeons & Dragons game that takes a cast of characters–Harmontown mainstays Jeff B Davis, Erin McGathy, and Dungeon Master Spencer Crittenden, and a special guest–on a dragon-slaying journey. Another Seeso favorite, Wyatt Cenac's Night Train showcase is here for the very first time, bringing a dose of New York's best comedic talent to the SXSW Comedy stage, with the musical stylings of Night Train regular DJ Donwill. Last but not least, Big Jay Oakerson's What's Your F@%king Deal? will return to the SXSW stage—unlike any other showcase, these comedians will rely solely on crowd work, mining the audience for their material.
Seeso will also record back-to-back performances of Doug Stanhope and Friends, featuring a lineup of some of his favorite comedians, hosted by the stand-up legend himself. All SXSW attendees are invited to be part of the live audience for two shows at 10pm and midnight on Tuesday, March 14 at Esther's Follies.
truTV returns to give a taste of one of their newest shows, Talk Show the Game Show. Featuring creator Guy Branum and judges Casey Schreiner and Wanda Sykes, this mash-up of two tried and true TV formats (Talk show and Game show) takes contestants through various talk show-inspired challenges, judged and roasted by a panel of comedian judges to ultimately crown the "Best Guest of the Night."
Some long-running SXSW favorites are back again this year: The Laugh Button Live! with Gotham Comedy Club will continue their tradition of exhibiting some of New York City's sharpest comics. We'll also see the return of Above Average, whose showcases have attracted SNL alumni and UCB regulars in years past. And comedy legends the Upright Citizens Brigade Theatre will host events all week, including their flagship improvised show, ASSSSCAT, as well as 420 with Matt Besser, which provides weed comedy for stoners and friends of stoners, and GE's ImprovScience, which mixes knowledgeable experts with improv genius.
This year's festival will also feature a variety of independent shows, like Good Trip w/ Shane Mauss, which explores the comedian's life-long relationship with psychedelics that's part stand-up, part storytelling, and part TED Talk. Rich Vos and Bonnie McFarlane will host Would You Bang Him?, a comedy game show that, with the help of female judges, aims to answer the titular question for a batch of competing male comedians. Dave Hill will also bring Witch Taint, a comedic live reading and concert detailing his account of what happens when you pose as a Black Metal guitarist online and try to get signed by a record label. Turns out, you can get pretty far.
In addition, Audible will present Audible Impact, a charitable comedy and music event in support of critical First Amendment issues, hosted by Michael Ian Black. Of course, there will also be plenty of podcast recordings. SXSW Comedy will highlight Earwolf favorites Comedy Bang! Bang! and improv4humans. Plus, live episodes of Harmontown, My Wife Hates Me, Doug Loves Movies, and more!
View 2017 SXSW Comedy Schedule
SXSW Film Festival
Crossovers between film and comedy at this year's festival include The Big Sick, the result of a collaboration between producer Judd Apatow and writer Kumail Nanjiani, who first met on a podcast recording at SXSW in 2012. Some of our showcase comedians are also flexing their multi-hyphenate muscles. Night Train host Wyatt Cenac stars in Fits and Starts, the story of a writer who can't seem to escape his wife's literary success. Also be on the lookout for Austin's own SNL Alumni Noel Wells, who will bring her first major directing effort Mr. Roosevelt to the fest, in which she stars alongside comedian Nick Thune and Doug Loves Movies host Doug Benson.
SXSW Conference
The SXSW Conference will also feature a selection of comedy-related sessions throughout the week. The cast of Veep will be in attendance, featuring Anna Chlumsky, David Mandel, Gary Cole, Julia Louis-Dreyfus, Matt Walsh, Reid Scott, Sam Richardson, Timothy Simons, and Tony Hale. Actresses Gillian Jacobs and Phoebe Robinson will be hosting a panel on the growing body positivity movement in comedy. In addition to his SXSW Comedy Bang! Bang! and ASSSSCAT appearances, actor/comedian Bob Odenkirk will be featured in an exclusive panel, A Conversation with Bob Odenkirk.
Join Us in March
The SXSW Comedy Festival is open to all SXSW badges as well as Music Festival and Film Festival Wristbands.
Experience fantastic showcases, speakers, screenings, special events, and much more. Register to attend and discover what's next at SXSW 2017.
SXSW Comedy lineup (l-r) Nick Thune - Photo by Mindy Best; Wyatt Cenac - Photo by Mindy Best; Chris Hardwick - Photo courtesy Comedy Central; Whitney Cummings - Photo courtesy of Comedy Central; Matt Besser - Photo by Mindy Best; and Sasheer Zamata - Photo by Mindy Best.
---
Related News: