SXSW International Women's Day: Q&A with Celebration Speakers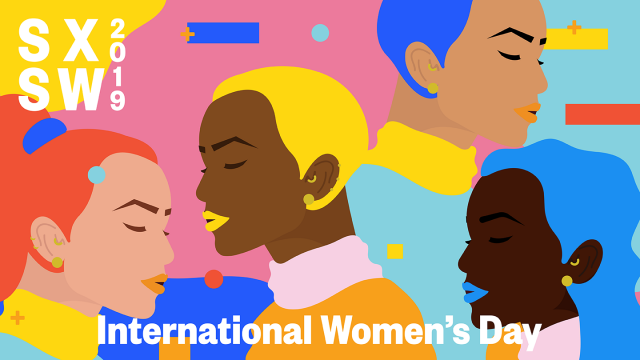 The SXSW International Women's Day Celebration is today! We reached out to some of our brilliant speakers with questions centered around the modern women's empowerment movement. Below is the compelling insight you can look forward to during #IWD programming at SXSW 2019.
Make sure to stop by the European Union House today, March 8, to join the celebration. The day kicks off at 2:30pm and programming continues to 8:30pm. Then, stick around for an epic party featuring a performance from Flint Eastwood!
What are the benefits of bodies of women joining forces, and how can we make these communities all-inclusive?
The benefits of bodies of women joining forces are that in doing so, we not only create a trusted space of support for one another, but we also unify to tackle matters that affect the world. The only way to ensure a female focused community is all-inclusive is to hire and work with women of all races, shapes and sexual orientations. If there isn't enough diversity in your community, try casting a wider net by making your space available online or hosting events in more segregated communities where LGBTQ and/or women of color reside. Women have to be brave enough to leave their comfort zones if we are ever to unite as an undivided front.
– Rebecca Hamm
Why is it important to remain mindful in our activism?
It is imperative that we remain mindful in our activism as a means to ensure that our actions are aligned with our intentions, and that our intentions come from a space of informed, authentic integrity. If we cannot tolerate challenges, we are not able to do the deep, inner work that is first required in order to dismantle racist heteropatriarchy. The work doesn't start "out there," it starts within, by unearthing our own privileges and prejudices and internalized oppression then committing to our own healing work to process and unlearn so we can get out there and spend our privilege serving the most marginalized.
– Rachel Ricketts
How can a woman take ownership of her/their sexuality each day?
There is an amazing public conversation happening right now where women are reclaiming their right to say no to unwanted sexual interaction. But I'm even more excited for the next phase of the conversation where we start to talk about what we do want and desire sexually. Women can prepare for this by talking with their girlfriends about what they want or by watching my TEDx talk "Reclaiming Female Sexual Desire" or by reading books about female sexuality like Girl Boner by August McLaughlin or Come As You Are by Emily Nagoski.
– Pam Costa
What is our duty to children as women?
As women, we have many duties to our children. First and foremost, it's to love, nurture and protect them. We need to present our best self since they often emulate us. We need to sow the right seeds so they grow up stewarding mind, body & soul. We need to demonstrate what self-care looks like & explain why it should be valued. Let's be clear, women are strong, but there's no shame in asking for help or seeking psychotherapy to cope with life's storms or saying I need a respite and taking one when you're overwhelmed, worshipping your temple through healthy behaviors and lifestyle and ensuring that your partner honors your body too.
– Desiree Walker
What are key skills that are vital to women when pursuing entrepreneurship?
I learned early on about the importance of hard work, balanced with humility. In the early days of Kendra Scott, I tried to be everything to everyone. I took on too much and I made myself frantic. Eventually, I had to learn to hire brilliant people who were strong where I was weak, and then trust them to lead in that area. I soon saw that it also gave opportunity to the next group of female leaders to build experience and confidence in their role. It all comes back to you, as the leader, having the humility to trust in your team to spread their wings and grow into the next great female leader.
– Kendra Scott
How has womanhood strengthened your resilience?
Being a woman is tough. Being a human is tough. Growing up with the constant pressure to prove myself helped to build my resilience. As women we often have prove to the world that we are tough enough, strong enough, capable enough to handle what life throws at us without breaking. Sometimes we break anyway, but I've learned that those cracks and breaks are not irreparable, and they are not end points. Rather, they are places where we're made stronger and where we grow the most in our abilities to handle the next hardship that life will inevitably throw our way.
– Erin Price Schabert
You can experience this wisdom first-hand on Friday, March 8 at The Palm Door on Sixth from 2:30pm to 8:30pm. Join us as our speakers engage in thoughtful discussion of issues and victories for women across the globe. Don't forget about the epic after party to follow our day of programming. We can't wait to celebrate the empowerment of women with you.