2018 SXSW Film Festival Announces Audience Awards Winners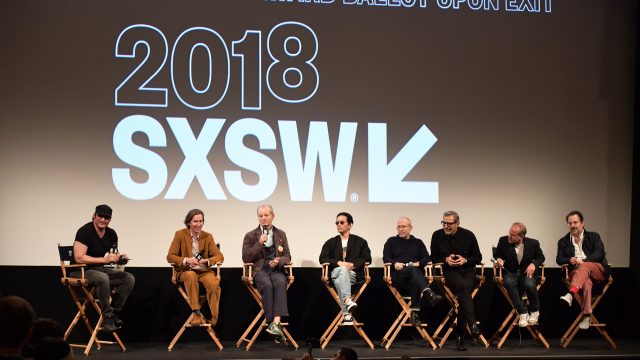 The SXSW Film Festival announced the Audience Awards winners on Saturday, March 17 from the Narrative Feature Competition, Documentary Feature Competition, Narrative Spotlight, Documentary Spotlight, Visions, Midnighters, Episodic, 24 Beats Per Second, Global, Festival Favorites, and Design Award categories.
We are thrilled to announce the addition of Isle of Dogs, directed by Wes Anderson as our Audience Award winner for Headliners!
Audience Awards results for all categories were certified by the accounting firm of Maxwell Locke & Ritter. The SXSW Film Awards are presented by FilmStruck.
The Audience Awards follow the previously announced 2018 Jury Awards, which included Grand Jury Winners Thunder Road for Narrative Feature and People's Republic of Desire for Documentary Feature.
2018 SXSW Film Festival Audience Awards Winners:
Narrative Feature Competition: First Match
Director: Olivia Newman
Documentary Feature Competition: TransMilitary
Directors: Gabriel Silverman, Fiona Dawson
Headliners: Isle of Dogs
Director: Wes Anderson
Narrative Spotlight: All Square
Director: John Hyams
Documentary Spotlight: The Dawn Wall
Director: Josh Lowell, Peter Mortimer
Visions: Profile
Director: Timur Bekmambetov
Midnighters: Upgrade
Director: Leigh Whannell
Episodic: Vida
Director: Alonso Ruizpalacios, So Yong Kim
24 Beats Per Second: Ruben Blades Is Not My Name
Director: Abner Benaim
Global: Virus Tropical
Director: Santiago Caicedo
Festival Favorite: Science Fair
Director: Cristina Costantini, Darren Foster
Excellence in Title Design: #19 – Offf Barcelona 2017
Directors: Eve Duhamel, Julien Vallee
Browse the full list of 2018 SXSW Film Festival Announces Jury and Special Awards winners and stay tuned to SXSW News and the SXSW YouTube Channel for continued 2018 event coverage.
Isle of Dogs Q&A - Photo by Matt Winkelmeyer/Getty Images