Chris Caldwell and Zeek Earl Talk About Their SXSW Award-Winning Film Prospect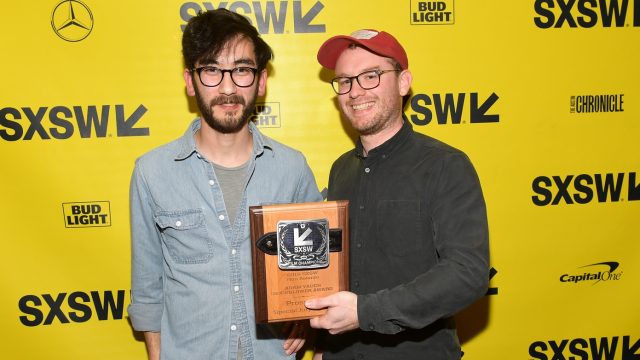 Filmmakers Chris Caldwell and Zeek Earl first came to SXSW with the world premiere of their short film In the Pines. In 2014 the pair world premiered Prospect, which would later be turned into a feature starring SXSW alum Jay Duplass. Prospect made its world premiere in the Visions section of the 2018 SXSW Film Festival program. Caldwell and Earl won the Adam Yauch Hörnblowér Award, an award given to filmmakers who demonstrate unique individuality in their work.
Prospect opens in select theaters on November 2 and nationwide on November 9. Check out our interview with this talented filmmaking duo before you head to the theater!
In your own words, what does this film mean to you?
Team Prospect: For Prospect, a group of people got together and spent years throwing their lives into developing and building an original universe. It was truly a DIY effort, fueled by passion and grit, carefully conceived and handmade by a bunch of off-the-grid artists up in Seattle. We hope it shows in the details and serves as an inspiration to others who have worlds of their own simmering in their brains.
What motivated you to tell this story?
TP: We wanted to make a certain kind of sci-fi. At it's heart, it's a the small, intimate story of a teenage girl's coming-of-age in the frontier, but set against the rich backdrop of a sprawling, fantastic universe. While a lot of science fiction fixates on heroes battling over the fate of humanity, Prospect is about blue-collar people on the fringe of society, struggling to scrape by.
What do you want the audience to take away?
TP: Our hope was to make the kind of film that taps into the joys of immersion, that drops you into the deep end of a crazy universe and lets you soak it all in. We grew up on Blade Runner, Alien, and the Star Wars Visual Encyclopedia, poring over all the guns and ships and suits, absorbing the details of fringe characters and outer-rim worlds. We tried to channel a lot of that feeling into this film and hope it connects with others as well.
What were you doing when you found out you were coming to SXSW?
TP: We were in the middle of post-production. It was a great motivator for the daunting amount of work we still had yet to finish.
What made you choose SXSW to showcase your film to the world?/ Do you have a past experience at SXSW that impacted your decision to come back?
TP: Getting accepted felt like a homecoming. SXSW was our first ever festival when our first short In the Pines premiered in 2012 and the experience was nothing short of life-changing. Neither of us went to film school and up to that point had been quietly working on our own in Seattle. SXSW introduced us to a real community of filmmakers for the first time and we left exhilarated, overwhelmed, and inspired. We knew it'd be the perfect audience for our weird sci-fi and couldn't imagine a better fit for Prospect.
Describe what you were feeling during your SXSW premiere?
TP: Anxiety. It was our first time showing the film to the uninitiated public and had no idea how people would react, but were blown away by the response.
What was going through y'all's mind when Prospect won the Adam Yauch Hörnblowér Award?
TP: Honestly, we had kind of written it off. We didn't really think we had a chance, so it was a huge surprise. It was incredibly validating for us and for the whole community that brought the film to life. The award really recognized the massive group effort and the highly unconventional process by which the film was made.
Join Us For SXSW 2019
Register and book your hotel now to save! The Film Badge gets you primary access to all SXSW Film events including Film Keynotes and Featured Sessions, world premieres, round tables, workshops, parties, and more. Over the course of nine days, the SXSW Film Festival hosts over 450 screenings! Film registrants also have primary access to Convergence events, including the Comedy Festival and nine unique Conference tracks, as well as secondary access to most Interactive and Music events.
Follow us on Facebook, Twitter, Instagram, and SXSW News for the latest SXSW coverage.
See you in March!
Film Award Winner Prospect - Photo by Matt Winkelmeyer/Getty Images