Patrick Brice, Kevin McManus & Joel Potrykus – SXSW Film Festival Alumni Stories
At SXSW 2018 we celebrated the 25th Edition of the SXSW Film Festival and had the pleasure of sharing stories, memories, and reflections from our distinguished alumni. We had a blast telling these tales and want to keep the party going! Today we spotlight Patrick Brice, Kevin McManus, and Joel Potrykus.
Patrick Brice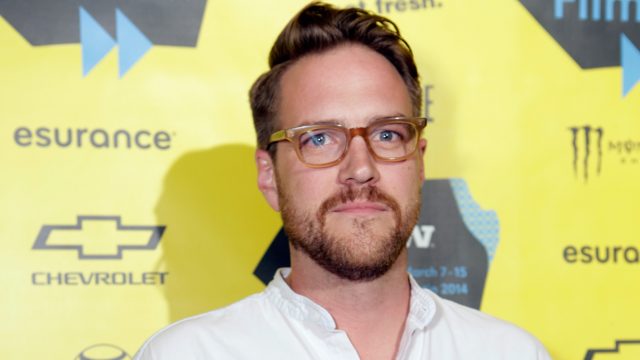 Brice world premiered his first feature film Creep at SXSW 2014. In addition to directing, he acted and co-wrote the film with fellow alum Mark Duplass. In 2015, the festival screened his next feature The Overnight. Recently, he made the sequel to Creep, titled Creep 2, and directed two episodes of the Duplass Brothers hit show Room 104. Brice's third feature Corporate Animals is set to come out next year.
"SXSW changed my life by being the perfect place to premiere my first feature and essentially launch my career. The audiences at the festival are like no other. Incredibly eager and excited for films that might feel out of place otherwise. I'm beyond grateful to have had the experience of screening my movies there and can't wait to do it again."
Kevin McManus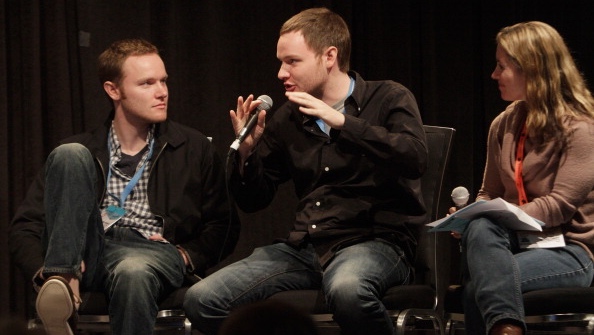 Kevin McManus, along with his brother Matthew world premiered his first feature film Funeral Kings at SXSW 2012.. His latest work includes the Netflix original series American Vandal, where he served as a writer and producer. McManus was nominated for a Primetime Emmy in 2018 for Outstanding Writing for a Limited Series, Movie, or Dramatic Special for the series with Matthew.
"It sounds hyperbolic, but SXSW really changed our lives. We'll never forget the feeling of receiving the acceptance email. We must have read it three or four times before we believed it was actually happening. It was such a surreal experience.
Our whole team was so dead broke, we drove two days just to attend the festival, and then packed eight guys in a single hotel room. Despite all that, it will always go down as one of the best weeks of our lives.
It was the jumping off point of our careers. We met an incredible film community, got representation, and found a small distributor to get our film some more exposure. We'll always be so grateful for the SXSW community, and to those who really championed our little film."
Joel Potrykus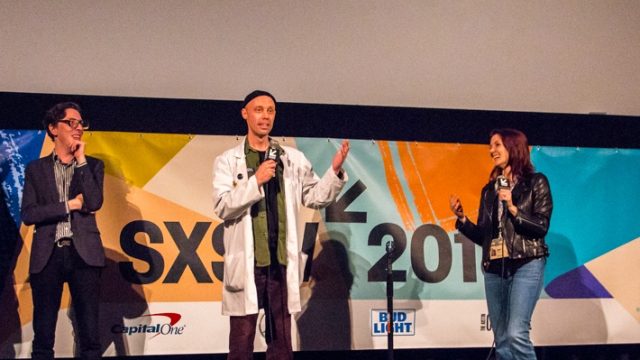 Potrykus has world premiered three films at SXSW: Buzzard (2014), The Alchemist Cookbook (2016), and most recently Relaxer (2018). In addition to writing and directing these films, Potrykus also edited these features.
"Our first day at SXSW with Buzzard, as Josh Burge and I waited to board the bus to Troublemaker Studios, I spotted two familiar faces. 'It's Sophia Takal from VHS! And she's with Lawrence Levine also from VHS! And they're getting on our bus!' It was my introduction to the coolest festival on the planet. By the end of the festival it was Sophia and Larry, my friends. And that's how it goes. After three world premieres, SXSW has come to be the birthplace for my films, and where I begin coming up with the next one with friends. I've met some of my favorite collaborators at the fest - Bryan Reisberg and Andrew Corkin, who helped produce The Alchemist Cookbook, and superstar David Dastmalchian who acts alongside Burge in Relaxer. Sometimes I wonder if I keep making movies just to get back to Austin."
Join Us For SXSW 2019
Register and book your hotel now to save! The Film Badge gets you primary access to all SXSW Film events including Film Keynotes and Featured Sessions, world premieres, round tables, workshops, parties, and more. Over the course of nine days, the SXSW Film Festival hosts over 450 screenings! Film registrants also have primary access to Convergence events, including the Comedy Festival and nine unique conference tracks, as well as secondary access to most Interactive and Music events.
Follow us on Facebook, Twitter, Instagram, and SXSW News for the latest SXSW coverage.
See you in March!