Rodney Evans Discusses His Deeply Personal Documentary Vision Portraits – SXSW Filmmaker In Focus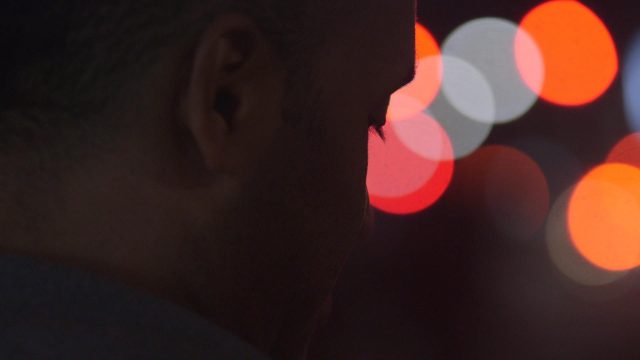 Dive into our Q&A with director Rodney Evans, as he tells us about his film Vision Portraits, which world premiered in the Documentary Feature Competition. Watch this film in select theaters now!
In your own words, what does this film mean to you?
Rodney Evans: The film is a personal artistic, psychological and scientific journey about the ways that blind and visually impaired artists create art. This is conveyed through exploring the creative paths of John Dugdale (photographer), Kayla Hamilton (dancer), Ryan Knighton (writer), and myself as a filmmaker with no peripheral vision and minimal night vision. How does someone continue to create in spite of severe obstacles. This was the main question I was asking myself in the making of the film and engaging with each artist in it.
What motivated you to tell this story?
RE: I think as a filmmaker with limited vision I always had to collaborate with my cast and crew in unique ways in making my previous fiction features,Brother To Brother and The Happy Sad. I began to think about how I would continue to make films if my vision deteriorated further and I did eventually become completely blind. So I reached out to two blind artists, John Dugdale who makes beautiful photographs utilizing nineteenth century techniques and Ryan Knighton who wrote a very powerful memoir called Cockeyed about slowly losing his vision at eighteen over the course of several years, but still works as a journalist, educator, essayist and screenwriter.
I was looking for a deep understanding of how they continued to create work. Later I decided to incorporate a dancer with low vision, Kayla Hamilton, since that work felt so inherently dangerous and brave in that it centers on the body traversing space when you don't have the capability to fully see the space and the potential obstacles that may cause you harm during a performance. All this was happening as I began pursuing the preservation of my vision with the latest cutting edge technology at the Center for Vision Restoration in Berlin.
What do you want the audience to take away?
RE: I really wanted to use the medium of film to put the audience inside the creative process of each of the four blind/low vision artists portrayed in the film. So I could use mattes, film roll outs, flares and other subjective cinematic techniques to put the viewer in the visual perspective of the blind and low vision artists. You could literally perceive the world as they did in specific moments. It was also important for me that the audience understand that there are gradations between being fully blind and fully sighted and many people live in that in between space. Hopefully the film expands what we think of as "vision" beyond just the ocular to include a combination of the processes involving brain, the heart, the eyes and the imagination.
Lastly, in the non-stop conversations about diversity and inclusion over the last few years, characters with disabilities just seem to be completely left out although close to 20% of the population can be defined as "disabled". According to recent USC polling less than 2% of characters in Film and TV are seen living with a disability. This lack of representation really keeps people living in fear and shame feeling like their lives and experiences have no value. So hopefully the film contributes to changing that landscape and empowering this community that is largely unseen in terms of media representation.
RE: Ryan Knighton had written a screenplay of his memoir Cockeyed that was part of the Sundance Screenwriting Lab in 2008. Since we have the same genetic eye condition and I was immensely moved by his book, Michelle Satter, the artistic director of the Sundance Labs, connected us. At that point, he didn't have a director for the project so we met in that capacity and became fast friends. I met Kayla Hamilton through a mutual dancer/choreographer friend Jumatata Poe who knew I was looking for a dancer with low vision to be in the film. My brother's best friend, Darrell, was in a relationship with the photographer in the film, John Dugdale, for ten years. I always loved his photographs so he was nice enough to connect me with John.
What were you doing when you found out you were coming to SXSW?
RE: I was eating dinner so I finished swallowing and then screamed with joy when I heard the news!
What made you choose SXSW to showcase your film to the world?
RE: I'm interested in SXSW as a festival that is dedicated to the filmmaker's journey over the long haul and encouraging us to push cinematic boundaries, discover new languages and tell vital stories no matter what our financial means may be. I think SXSW embodies those values and cultivates a community of filmmakers that share those beliefs and commitments.
Do you have a past experience at SXSW that impacted your decision to come back??
RE: Ironically my first fiction feature Brother To Brother played at SXSW in 2004, but we only had one screening and I missed my connecting flight. By the time I would have arrived I would have missed the Q&A so I actually turned around and went back to the artist residency where I was writing at the time. If anything it made me more determined to be there in person this time. I was also on a grant panel for the Austin Film Society a while ago and liked the vibe and people I met in Austin so I have wanted to come back since then!
Join Us For SXSW 2020
Register and book your hotel now to save! The Film Badge gets you primary access to all SXSW Film events including Film Keynotes and Featured Sessions, world premieres, round tables, parties, and more. Over the course of nine days, the SXSW Film Festival hosts over 450 screenings! Film registrants also have primary access to Convergence events, including the Comedy Festival and nine unique Conference tracks, as well as secondary access to most Interactive and Music events.
Vision Portraits - Photo by Kjerstin Rossi