Back for SXSW 2019: Faith-Based Series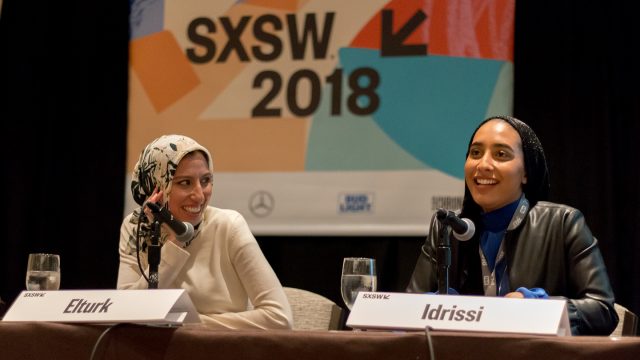 At SXSW we're exploring the ways that faith has empowered and informed change – from social justice to public policy, and beyond – during the Social & Global Impact Track at the SXSW Conference.
Join us in The Line, Topaz Ballroom 1-2-3 on March 11-12 to hear how individuals are bridging the differences between their varying religions to come together to create lasting change that benefits the world as a whole.
Faith-Based Series Session Highlights
Tikkun Olam: How Faith Informs Social Justice
The Hebrew phrase Tikkun Olam is from the Mishnah, a body of classical rabbinic teachings compiled in the 3rd Century and translates roughly to "world repair." It is a concept defined by acts of kindness performed to perfect or repair the world, and in modern times, it has become synonymous with the notion of social action and the pursuit of social justice. Blair Imani, Founder of Equality for HER, Jeffrey Marsh, Author, Bree Newsome, Founder of Charlotte Uprising, and Milana Vayntrub, Founder of Can't Do Nothing, will explore the impact of their differing faiths on their work for social justice and their fight for human rights.
Can Faith and Feminism Coexist?
Let's have the conversation about two F words that never seem to be put together: Faith and Feminism. Dyllan McGee, Founder and Executive Producer of MAKERS, and Nadia Bolz-Weber, the tattooed, foul-mouthed, founding pastor of House for All Sinners and Saints, will engage in a candid conversation about how faith is feminist and how these two seemingly opposite worlds shape one another.
Combating Islamophobia with Marketing and Tech
With Islamophobia on the rise on one end and extremism on the rise on the other, the public perception of Islam has been distorted into an irrational and incompatible with modern civilization – not to mention it's been misunderstood to be inherently violent. This has forced Muslims into a defensive position where they find themselves constantly having to justify their convictions while fighting off natural doubts and insecurities that arise from such a climate. Yaqeen Institute has built a content marketing engine to address these topics by putting out articles, infographics, podcasts, videos, web and mobile applications, and a prolific social media presence to create content that dispels myths and misconceptions around Islam and Muslims. Join Mouyyad Abdulhadi, Partner at Link Marketing Studio, Zeena Alkurdi, Director of Marketing, Yaqeen Institute for Islamic Research, and Nida Khan, Creative Director for Yaqeen Institute for Islamic Research as they discuss enabling Muslims with the education and resources to participate in the public discourse.
Sanctuary: Documenting Faith-Based Social Movements
Faith-based collaborations were integral parts of many historic social justice movements including the Abolitionist movement, the Civil Rights Movement, etc. – so then how are interfaith collaborations being used today in the fight for immigration rights? Adrian Montgomery, Chief Creative Officer and Co-Owner of Distant Peak Productions, Theo Rigby, Founder of iNation Media, Pilar Timpane, Creative Producer and Director, and Nina Vizcarrondo, Director and Editor at Média Luna Media will discuss how documentary filmmakers from across the country are covering the stories of undocumented immigrants who take Sanctuary, as documentary filmmakers themselves, and the faith communities who have made places of worship available to them. They will discuss the methods and challenges of filmmaking around their work as well as strategies of faith communities taking steps forward as progressive and powerful allies in this movement. They will discuss the broader way in which documentary films can be used to engage locally and nationally, even potentially building a case for pathways for stays of deportation for their subjects.
Muslim Jewish Sisterhood and Public Policy
Beth Gendler, Executive Director of the National Council of Jewish Women Minnesota, and Nausheena Hussain, Executive Director of Reviving the Islamic Sisterhood of Empowerment, share a goal to build a shared power to make change in the progressive policy areas in which their beliefs and values intersect. They do their work rooted in faith with the understanding that their voices together are greater than the sum of their parts. In this session, you will learn how Muslim and Jewish women came together, set aside differences, and work on progressive policy.
Explore the rest of the Faith-Based Series and we'll see you in March!
Browse More Faith-Based Series Sessions
Attend SXSW 2019
Get your SXSW Badge and reserve your hotel today to attend SXSW 2019 and experience these Conference sessions along with 10 days of screenings, showcases, exhibitions, networking, and more this March 8-17 in Austin, TX.
Follow us on Facebook, Twitter, Instagram, and SXSW News to stay current with all things SXSW.
Featured Image by Manuel Gonzales Jr