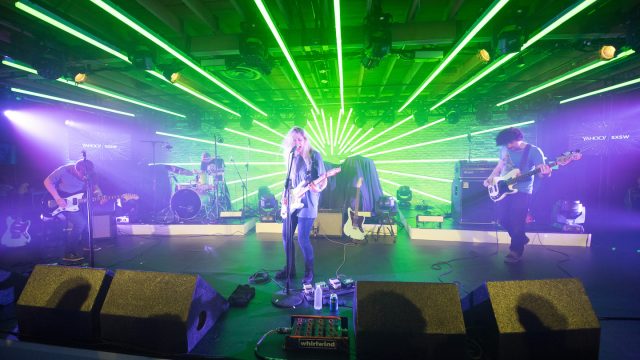 We're celebrating the arrival of fall, and luckily we will have many new releases from past SXSW Showcasing Artists this month to soundtrack the new season. Each week we will highlight fresh albums from SXSW artists and link to a new Spotify playlist inspired by one of the releases to keep the SXSW community in-the-know. We provide these resources to help you discover new favorites as well as to check back in with veteran artists.
October 20 Releases
This Friday welcomes ten fresh releases from past #SXSW Showcasing Artists. Canada's Destroyer returns with their 12th studio album ken. Edgy synth-rock band Odonis Odonis will release the aptly titled No Pop. Norwegian producer Lindstrom drops another sprawling dance album called It's Alright Between Us As It Is. To round things out, Florida-based metal band Trivium will release The Sin and the Sentence.
After taking a look at the weekly releases, we pick one new album and make a playlist for fans incorporating new music from past SXSW Showcasing Artists for them to discover. This week's playlist features grungy indie rock and is inspired by Bully, whose new album Losing is dropping this Friday. Check it out because these playlists will only be active for seven days before we pick a new artist to focus on.
Keep up with our playlists on the official SXSW Spotify channel, and be sure to follow the playlist.
Past Showcasing Artist October 20 Releases
Bully – Losing
Odonis Odonis – No Pop
Margo Price – All American Made
Destroyer – ken
And So I Watch You Fom Afar – The Endless Shimmering
Makthaverskan – III
Trivium – The Sin and the Sentence
I the Mighty – Where the Mind Wants to Go / Where You Let it Go
Lindstrom – It's Alright Between Us As It Is
Matthew Good – Something Like A Storm

October 13 Releases
We're back with our spookiest list yet. This week we have 13 new releases from SXSW alumni set for release on October 13. Courtney Barnett & Kurt Vile are combining their powers to release Lotta Sea Lice. Canadian indie pop act Stars will drop their new album There Is No Love In Fluorescent Light. Prolific electronic pop duo SISTERS release Wait Don't Wait, their second album of 2017. Rock icon Robert Plant returns with Carry Fire to round out a strong week for album releases.
Past Showcasing Artist October 13 Releases
Beck – Colors
Courtney Barnett & Kurt Vile – Lotta Sea Lice
Enslaved – E
Robert Plant – Carry Fire
SISTERS – Wait Don't Wait
St. Vincent – MASSEDUCTION
Stars – There Is No Love In Fluorescent Light
Tegan and Sara – The Con X: Covers
Terra Lightfoot – New Mistakes
The Barr Brothers – Queens Of The Breakers
The Pack A.D. – Dollhouse
The Rural Alberta Advantage – The Wild
Wu-Tang Clan – Wu-Tang: The Saga Continues

October 6 Releases
This week's release list from past SXSW Showcasing Artists features an eclectic mix with a focus on electronic pop albums. A new album full of eccentric jazz beats from Shigeto titled The New Monday also arrives on Friday. Singer/songwriter Tamara Lindeman, who performs as The Weather Station, will release a new self-titled album. Canadian electronic pop act Blue Hawaii will drop Tenderness. Sunny indie-pop act Cults are back with Offering. LA electronic artist TOKIMONSTA drops Lune Rouge. New Zealand natives Yumi Zouma release their new indie pop album called Willowbank.
Past Showcasing Artist October 6 Releases
Alex Lahey – I Love You Like A Brother
Blue Hawaii – Tenderness
Citizen – As You Please
Cults – Offering
Ducktails – Jersey Devil
Kelela – Take Me Apart
Shigeto – The New Monday
Sound of Ceres – The Twin
The Darkness – Pinewood Smile
The Weather Station – The Weather Station
The White Buffalo – Darkest Darks, Lightest Lights
TOKiMONSTA – Lune Rouge
Weaves – Wide Open
Whitney Rose – Rule 62
Yumi Zouma – Willowbank

While we are happy to share music from past SXSW Showcasing Artists with you, the best way to be current is to attend SXSW 2018 in March. Now is the best time to sign up for the lowest rates on badges as well as your hotel. If you're considering applying to showcase at the 2018 SXSW Music Festival, I recommend taking the plunge now, we process applications in the order they are received and so it is always best to apply as early as possible.
Bully – Photo by Alejandro "Tico" Mendoza
St. Vincent – Photo by Michael Loccisano/Getty Images for SXSW
Kelela – Photo by Heather Kennedy/Getty Images for SXSW