Q&A and Portrait Gallery: Ringo Deathstarr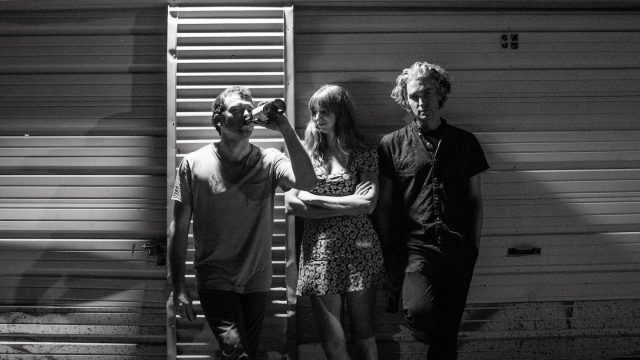 All photos by Dylan O'Connor
The SXSW portrait series focuses on one SXSW alumni band, either local or traveling through Austin on tour, to find out what they have in the pipelines and shoot some cool photographs.
Local shoegaze mainstays, Ringo Deathstarr, have performed at SXSW multiple times over the last decade, and toured all over the world. We recently met up with them to take some photos and talk about their experiences performing at SXSW, new music on the horizon, and their recent performances.
Read on and browse through the gallery.
Q&A
When we visited your studio you were in the middle of recording. How does the music you are working on fit in with what you've already released?
The new songs are a diverse batch that we've all been working on over the past year and a half. To me this feels kind of like Mauve in a way but time will tell. We are recording on a Tascam 388 tape machine so that has made the recording process all the more tedious/rewarding. I think it will end up being a dreamy/heavy/real-band-sounding masterwork.
The band has done quite a bit of touring over the years, where has been your favorite country to visit and perform?
I think we all agree that Japan is our number one favorite place to visit/perform. The shows there are the best and the schedule is so comfortable!
Ringo Deathstarr has been an official SXSW Showcasing Artist 7 times, any interesting stories from these showcases?
To be honest, they all kind of blend together. We have done SXSW where we played like 12 shows in 3 days. Now we take it a little slower. It's better that way. The weirdest SXSW memory I have personally was seeing Yoko Ono at Elysium. It was a very surreal experience.
What does the fall have in store for you all?
We just got back from a lil' mini tour of Shanghai, Tulsa, and Ames, Iowa. The rest of the fall will see us recording and playing gigs around town unless something else pops up!
Portrait Gallery
All photos by Dylan O'Connor