SXSW Music Weekly Round-Up: 140+ Showcasing Artists, 7 Conference Additions, Spoon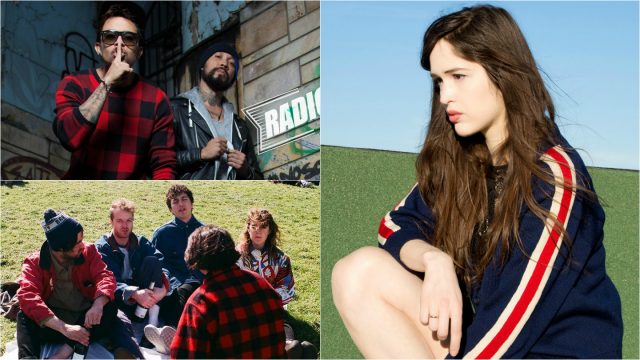 Somehow, we're more than halfway through the month of January. Even though SXSW seems like it's just around the corner, there are still so many Showcasing Artists and Music Speakers left to announce! We'll try to keep you in the know with these weekly updates.
This week's additions for music-focused conference programing include a look back at 20 years of UK label Bella Union with its founder Simon Raymonde and Midlake's Eric Pulido, the annual Demo Listening Sessions (where artists can sign up to have their music critiqued in front a live audience), and more.
Now turning our attention to 2017 Showcasing Artists, following last week's massive announcement, we have 140+ acts to add to the ever-growing lineup. Highlights include Canadian spoken-word and electronic artist Marie Davidson, Brooklyn grunge band Charly Bliss, Colombian Latin hip-hop duo Radiocaliente, and more. Also, in case you missed it, we made an announcement that Austin's own Spoon will be holding a three-night residency (with special guests) during SXSW, March 14-16, at The Main.
You can read through the list of artist names all you want, but you really need to hear their music to get the full effect. That's kind of the point, right? Luckily, our radio channel SXSWfm and our weekly Spotify playlist are here for you.
Why not take it one step further and see these artists and speakers in-person at SXSW 2017? The best way to experience SXSW is with a Music badge: Register today, save $100 off the walk-up price, and get access to official Music Festival showcases, invigorating talks from respected members of the industry, networking events and parties, plus most Interactive and Film events.
New 2017 Conference Additions (Music)
Bella Union at 20
Listen Up: Why Your Hearing Really Does Matter
One Fan at a Time?
The Dreams Behind the Music
Demo Listening Session 1
Demo Listening Session 2
Demo Listening Session 3
New 2017 Showcasing Artist Additions
Nea Agostini (Santiago CHILE)
American Opera (Brooklyn NY)
Hamish Anderson (Melbourne AUSTRALIA)
Ben Aqua (Austin TX)
Audri Nix (San Juan PUERTO RICO)
Aurum (Guadalajara MEXICO)
B-Les (Oklahoma City OK)
Breanna Barbara (Brooklyn NY)
Dan Bettridge (Ogmore-by-Sea UK-WALES)
Gutxi Bibang (Bilbao SPAIN)
Boo Seeka (Sydney AUSTRALIA)
Keedren Boston (San Antonio TX)
Broken Gold (Austin TX)
Sammy Brue (Ogden UT)
Canon (Atlanta GA)
Canyon City (Nashville TN)
Charly Bliss (Brooklyn NY)
China Gate (Memphis TN)
The Commonheart (Pittsburgh PA)
The Convalesecence (Toledo OH)
Cotillon (New York NY)
Crayondroids (Dallas TX)
Crunk Witch (Presque Isle ME)
Curved Light (Austin TX)
D.J. Gaines (Austin TX)
Dat Boi T (Houston TX)
Marie Davidson (Montreal CANADA)
Defy The Tide (Pittsburg PA)
DJ Baby Roo (Houston TX)
Dominican Jay (Austin TX)
EDF (Houston TX)
El Dusty (Corpus Christi TX)
Elijah Ford (Austin TX)
Fraaek (Guatemala City GUATEMALA)
Frontier Folk Nebraska (Cincinnati OH)
Ghostpizza (San Antonio TX)
Gina Chavez (Austin TX)
Go Fever (Austin TX)
Great Dane (Los Angeles CA)
GRUMBY (New York NY)
The Head (Atlanta GA)
Hideout (New York NY)
Robyn Hitchcock (London UK-ENGLAND)
Hoan (Montréal CANADA)
Ray Wylie Hubbard (Wimberley TX)
I-Taweh (Kingston JAMAICA)
ILISH (Miami FL)
Kent Jones (Miami FL)
Kabaka Pyramid (Kingston JAMAICA)
Kadence (Oklahoma City OK)
Cory Kendrix (Denver CO)
Kamau Kenyatte (Washington DC)
Mikal kHill (Charlotte NC)
Kosha Dillz (Edison CA)
Kozee (Sacramento CA)
Kajmir Kwest (Wichita KS)
Gaelynn Lea (Duluth MN)
Leggy (Cincinnati OH)
Le Matos (Montréal CANADA)
The Lighthouse and the Whaler (Cleveland OH)
Malcolm London (Chicago IL)
Los Profetas (New York NY)
Lud Foe (Chicago IL)
Lane Mack (Lafayette LA)
Marlys (Panamá PANAMA)
Massive Scar Era (Cairo EGYPT)
Carson McHone (Austin TX)
Mega Ran (Phoenix AZ)
Messiah El Artista (New York City NY)
Lyric Michelle (Houston TX)
Mignon (Nashville TN)
Mirror Travel (Taos NM)
Claire Morales (Denton TX)
Mr Eazi (Port Harcourt RI)
Mundaka (Lima PERU)
Kate Nash (London UK-ENGLAND)
Sarah Bethe Nelson (San Francisco CA)
New Fame with DJ Skulz (NYC NY)
nobigdyl (Nashville TN)
No Brain (Seoul SOUTH KOREA)
The Nude Party (Boone NC)
One Week Wonder (Reykjavík ICELAND)
Tasha Page-Lockhart (Detroit MI)
Palo Duro (Austin TX)
Paralandra (Springfield MO)
K Phillips (Nashville TN)
The Pooches (Glasgow UK-SCOTLAND)
Radiocaliente (Medellín COLOMBIA)
Rattletree (Austin TX)
Al Rocco (Hong Kong Island CHINA)
Schaffer the Darklord (New York NY)
The Secret Sisters (Florence AL)
Seldom (Houston TX)
Sertified (Austin TX)
SHAED (Washington DC)
The Shondes (Brooklyn NY)
Sierra León (Tepic MEXICO)
A. Sinclair (Austin TX)
Slow Caves (Fort Collins CO)
Eli Sostre (Brooklyn NY)
Spiral Stairs (Stockton CA)
Spoon (Austin TX)
Spurz (Vancouver CANADA)
Stary Olsa (Minsk MI)
Stoppa (Houston TX)
Stuyedeyed (Brooklyn NY)
Sweet Spirit (Austin TX)
T2 "The Ghetto Hippie" (Houston TX)
Ta'East (Russellville KY)
Aaron Lee Tasjan (Nashville TN)
Terminal A (San Pedro CA)
Jonathan Terrell (Austin TX)
Eric Tessmer (Austin TX)
Third Root (San Antonio TX)
This Be The Verse (London UK-ENGLAND)
Tuomo & Markus (Helsinki FINLAND)
The Unlikely Candidates (Fort Worth TX)
Walshy Fire (Miami FL)
Wande (Austin TX)
Tank Washington (Austin TX)
Wet Baes (Mexico City MEXICO)
White Violet (Athens GA)
Yes We Mystic (Winnipeg CANADA)
Pegi Young & The Survivors (La Honda CA)
Yucky Duster (Brooklyn NY)
Zeta (Puerto La Cruz VENEZUELA)