2019 SXSW Radio Day Stage and International Day Stage Lineups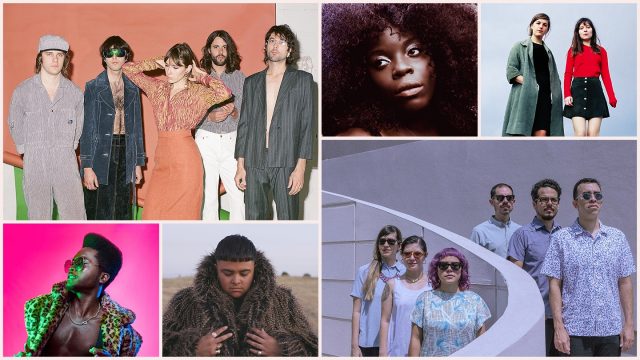 This year's lineups for the 2019 SXSW Radio Day Stage and the International Day Stage are live! Located on the 4th floor of the Austin Convention Center, the stages feature performances from some of the best musical talent at SXSW in an intimate setting, close to all the daytime action.
In addition to being a great place to hear music, the Radio Day Stage, in Austin Convention Center in Ballroom D, is also the perfect respite between sessions and workshops as well as a great place to have a drink or send off a few emails on the free wi-fi. Each year we partner with radio stations that help curate the lineups and broadcast the performances live. This year's partners are NPR AltLatino / KCRW, 88.5FM Southern California, KUTX / KKXT / Radio Milwaukee, and The Lot Radio.
The International Day Stage plays host to talent from around the world playing a variety of styles on the fourth floor of the Austin Convention Center in Ballroom G. This year will feature artists from Australia, Brazil, Canada, Colombia, Cuba, Denmark, Germany, Mexico, Nigeria, Norway, South Korea, Spain, Thailand, and the UK.
The Radio and International Day Stages are open to all Music and Platinum Registrants as well as all Showcasing Artist wristband holders.
Radio Day Stage - ACC Ballroom D
Wednesday, March 13 - Presented by NPR AltLatino / KCRW
12:00 PM - Eme Alfonso
1:00 PM - Balún
3:00 PM - Pavo Pavo
4:00 PM - Tamino
5:00 PM - Yola

Thursday, March 14 - Presented by 88.5 FM Southern California
12:00 PM - J.S. Ondara
1:00 PM - John Paul White
2:00 PM - Oh Pep!
3:00 PM - Sam Morrow
4:00 PM - Jamie N Commons
5:00 PM - John The Martyr

Friday, March 15 - Presented by KUTX / KKXT / Radio Milwaukee
2:00 PM - Broken Social Scene
3:00 PM - Jealous of the Birds
4:00 PM - Black Pumas
5:00 PM - Cautious Clay

Saturday, March 16 - Presented by The Lot Radio
12:00 PM - Celeste
12:40 PM - Beshken
1:40 PM - Graham Van Pelt
2:30 PM - Oscar Jerome

International Day Stage - ACC Ballroom G
Wednesday, March 13
12:00 PM - Daniel Brandt
1:00 PM - Das Body
2:00 PM - Elder Island
3:00 PM - Duo Bud
4:00 PM - Mojo Juju
5:00 PM - Cimafunk


Thursday, March 14
12:00 PM - Simi
1:00 PM - La Mojarra Electrica
2:00 PM - St. Woods
3:00 PM - Xenia França
4:00 PM - APRE
5:00 PM - Lowly

Friday, March 15
12:00 PM - Anemone
1:00 PM - I Know Leopard
2:00 PM - Her's
3:00 PM - TBA
4:00 PM - Emerson Snowe
5:00 PM - Fernanda Takai

Saturday, March 16
12:00 PM - Penelope Isles
1:00 PM - Yemi Alade
2:00 PM - Efelante

Photo credits, clockwise from top left:
Anemone - Photo by Maya Fuhr
Yola - Photo by Alysse Gafkjen
Oh Pep! - Photo courtesy of the artist
Balún - Photo by SUPAKID
Mojo Juju - Photo by Claudia Sangiorgi Dalimore
Cimafunk - Photo by La pistola de Moník

(Teaser photo) Anemone - Photo by Maya Fuhr