Get Expert Advice From SXSW Eco Mentors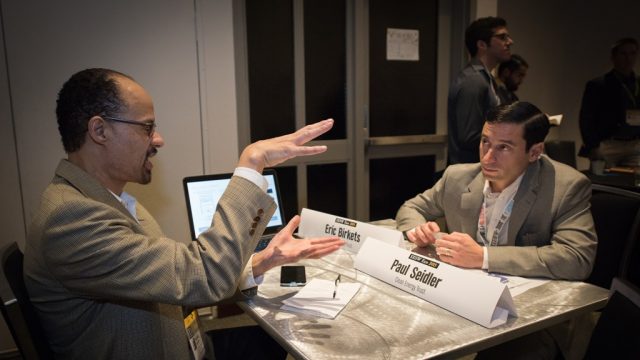 Written by Ari Roth
The SXSW Eco Conference highlights innovative ideas and new ways of addressing critical challenges at both the local and global levels. Participate in one of the cornerstones of SXSW Eco and take advantage of a mentor session. Mentor sessions are seven-minute, one-on-one, consultations that allow you to cultivate new ideas, refine business plans, and have your questions answered by renowned experts in branding, communications, business, design, and funding.
SXSW Eco Mentor Sessions provide an opportunity to receive personalized career advice and make connections that will advance your aspirations and expand your professional horizons.
SXSW Eco Mentors
Funding and philanthropy experts including John Marcicky of Rock Ventures and Carey Meyers of the Rockefeller Foundation.
Communications and storytelling professionals like Adam Albright-Hanna, contributor to The Onion and Clickhole, Pheobe Gavin of ThinkProgress, and Sasha Markov Creative Director at Mother.
Leaders in business including Jonathan Atwood, Unilever's Vice President of Sustainable Living and Corporate Communications, North America. Chat with Jonathan and learn from the best on topics such as global issue management, consulting, and strategic design.
Register to Attend
Explore all that SXSW Eco has to offer this fall and join us in Austin from October 10-12.
Make sure to register by September 16 to save 25% off the walkup rate!
SXSW Eco Mentors | Photo by Nicole Burton