2017 SXSW Accelerator Winners Pioneering Solutions to Tomorrow's Problems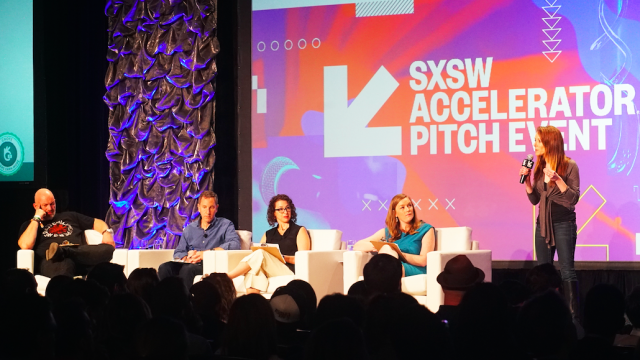 Content provided by Tamara Bell
"What's your market?" is typically a softball question for startups. But for many of the 50 companies pitching in ten categories during the ninth annual SXSW Accelerator Pitch Event, defining the ideal customer for their pioneering innovations wasn't so easy.
Fortunately, we all benefit from the inventive and ingenious minds solving tomorrow's problems in industries like health, virtual reality, and cyber security today. View the list of all finalists and alternates here.
Congratulations to this year's ten category winners, who were announced at the SXSW Accelerator Awards ceremony after the two-day competition.

2017 SXSW Accelerator Pitch Event Winners
Enterprise and Smart Data
Deep 6 Analytics
Pasadena, CA
Deep 6 AI applies artificial intelligence to medical records to find more patients for clinical trials faster, getting cures to the people who need them more quickly.
Transportation
SPLT
Austin, TX
SPLT is a transportation platform changing the way people commute worldwide through enterprise carpooling in a closed network and in partnership with Lyft, providing non-emergency medical transportation.
Social and Culture
Lily
San Diego, CA
Lily helps women discover and buy clothes that make them look and feel their best.
Entertainment and Content
Laugh.ly
San Francisco, CA
Laugh.ly is the first and only streaming app dedicated to stand-up comedy.
Health and Wearable
Sound Scouts
Sydney, New South Wales, Australia
Sound Scouts utilizes game-based technology to deliver an accessible, reliable, low cost hearing screening solution to eliminate undetected hearing loss and elevate life outcomes.
Sports
Brizi
Toronto, Canada
Brizi automates and monetizes fan content in stadiums.
Payment and FinTech
CNote
Oakland, CA
CNote earns you a 40x better return on your savings with 100% social impact.
Security and Privacy
UnifyID
San Francisco, CA
UnifyID revolutionizes authentication by discovering what makes us unique.
Augmented and Virtual Reality
Lampix
San Francisco, CA
Lampix is a software, hardware and cloud platform that makes augmented reality without glasses by transforming surfaces into smart surfaces.
Innovative World
Thimble.io
Buffalo, NY
Thimble teaches beginners a basic understanding of building electronics through a monthly kit with carefully curated and easy to follow instructions.
Best Bootstrap Company – "The company who has done the most with least"
Kymira
Reading, United Kingdom
KYMIRA have developed a disruptive business model do deliver medical innovation through their Sportswear brand.
Most Innovative Company
Helixworks Technologies
Cork, Ireland
Helixworks makes synthetic DNA for research in Biotech and has developed a technology to store digital data in DNA.
Best One Minute Speed
Lexody
New York, NY
Learning a foreign language? Practice any language with a native speaker, in person, at one of Lexody's suggested local meeting places.
If you missed any of the pitches this weekend you can still meet each of the 50 finalists at the Accelerator Demo Days Monday, March 13, from 11 AM to 1:30pm in Salon C at the Hilton Hotel.
But we're not done yet. New this year is a Super Accelerator Pitch Event at 5pm Monday in Ballroom EFG at the Austin Convention Center. All ten category winners will be back on stage to pitch once again in front of a new audience and a new set of judges. This competition will select the 2017 Best Startup Pitch Company.
Hats off to the winners and judges for a job well done. And, we hope to see you at the Super Accelerator Pitch Event!
For more information about Accelerator, go to our website at sxsw.com/awards/sxsw-accelerator. Learn more about the Monday, March 13 winner of the first ever SXSW Super Accelerator Pitch Competition, CNote, here.
SXSW Accelerator - Photo by Hannah Edleman