Avocados From Mexico Brings Happiness to SXSW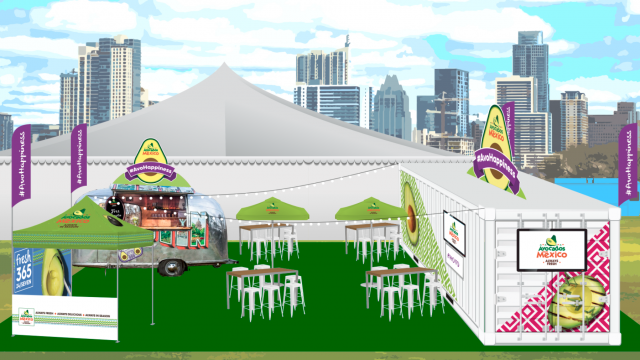 If being in Austin for SXSW doesn't make you happy enough, Avocados From Mexico guarantees its takeover of SouthBites® Trailer Park will take your happiness to the next level.
If you're in the pursuit of happiness and love avocados, Avocados From Mexico has got you covered!
The 5th annual SouthBites® Trailer Park not only features some of the best food trucks from Texas and across the U.S. but it also hosts the Avo-Matic: a futuristic rolling-restaurant brought to you by Avocados From Mexico. The Avo-Matic is loaded with an unlimited supply of that creamy, nutritious, delicious, healthy fresh green fruit. Taste that green-goodness multiple times per day (if you wish), from Friday, March 10 through Saturday, March 18 from 11am to midnight.
Not that your happiness won't be obvious once you enter the SouthBites® Trailer Park, but just for the record, the Avo-Matic will measure your happiness and capture it in a photo keepsake. Should you like it so much that you decide to share it on social media using #AvoHappiness, you will be entered for the chance to win an ultimate concert package.
One thing to be aware of is that you won't be able to fool the Avo-matic. Its emotion measurement technology is able to recognize human emotions based on facial cues. However, if you truly feel happy while you wait for your free avocado treat, follow the prompts and you could win one of the grand prizes. Each prize will offer a $3,000 On-the-Go Travel Reward Card (which can be used to book air travel, hotel and rental car), a $1,000 Ticketmaster card, and a $500 gift card.
The fun at SouthBites doesn't end there. Avocados From Mexico will be giving away a bunch of other stuff from free temporary avo tattoos to free avocados and everything in between as long as it starts with "avo".
Content and image provided by Avocados From Mexico
---
Related News: