Are Our Cell Phones Blocking Connections IRL?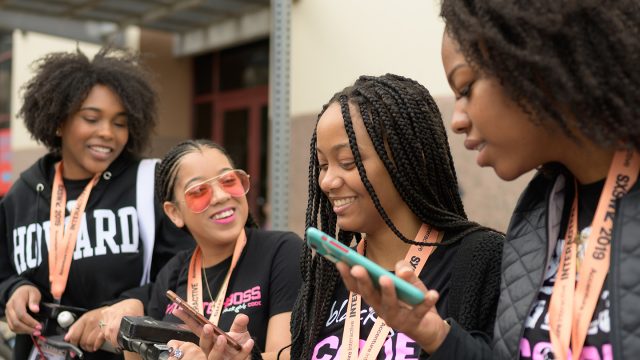 Technology is developed to make our lives easier, to facilitate connections and bridge the gap with those far away from us – or so we thought. What once required handwritten letters or phone calls can now be communicated within a matter of seconds with modern messaging, but has this tech gone too far? With reports coming out that apps are continually being manufactured and refined to keep our brains engaged and glued to the screen – what is happening to the very connections that we've been trying to cultivate?
New for 2020, the Connection and Culture Track aims to spark conversations around the very things that make us human – interpersonal relationships, food, art, and style. Dive into Connection and Culture sessions that examine the impact of apps on interpersonal connections with one of the most prevalent examples being dating apps, found on most consumer's phones.
With one in four people using dating apps, how do we find a balance between technology and real life? It's time to step out from behind the screen and embrace the world.
Dating Apps and Technology Are Getting Put in the Hot Seat
The discrepancies between romantic ideals presented by popular media and culture and the reality of love in today's digital world can lead to immense pressure to find "the one." When all the different options become too much – put the dating app down. Swiping Right in the Era of Digital Love will use data to dive into the science of the algorithms that power some of the top dating apps in an effort to make sense of the new ways we find love. The women at the top of these online dating companies – including Dr. Helen Fisher (Match.com), Melissa Hobley (OKCupid), Bre Rossetti (Havas Media), and Dhanusha Sivajee (The Knot) – will use this panel as a forum to analyze love in a more modern context.
Most of us share intimacy on a daily basis with robots – and before you say no, remember that your smartphone is a robot. As the definition of love and intimacy shifts, our reliance on algorithms to find partners goes under the microscope in Erotic Love in a Robotic Age. How has love been shaped in our capitalist, consumerist, and tech-driven society, and how do we understand the possibilities and impacts of intimate relationships with robots? Is anyone else getting major Her vibes?
The most challenging part of it all is the apps that we're using to increase our human connections and find love are actually designed to keep our brains glued to the screen. In Playing Cupid in a Modern World, individuals behind some of the post popular apps – including Founder & CEO of Hinge, Justin McLeod – talk about ways to put the phones down and connect where it counts – face-to-face.
Putting the Phone Down and Meaning It
If your phone is the first thing you see in the morning and the last thing you see before you go to bed – let's be honest, most of us are guilty of this at some point – it's time we all developed a healthier relationship with our mobile devices. How to Break Up With Your Phone will go into the tricks app makers use to leverage biochemistry against us and the consequences of binge using our phones. New York Times journalist Kevin Roose and author Catherine Price discuss how to develop "screen/life balance" that's sustainable for the longterm.
In 2020, let's all make a resolution to dedicate more time to making meaningful connections in person instead of from behind a screen. Social media can make us question whether this is still possible – but in Your Real Social Network is Offline, examine how this can still happen. It's imperative that we reexamine our own relationship to the online world and scale back in favor for meaningful person-to-person connections.
Browse More Connection & Culture Sessions
To see more sessions like this and learn from those driving culture with organic – and often unplugged – methods, browse through more Connection & Culture sessions. This Convergence Track is open to all SXSW Badges.
Across our 22 tracks of Conference programming, browse all sessions on the SXSW Schedule and add events to your Favorites list.
Attend SXSW 2020
Join us for SXSW 2020 from March 13-22 in Austin, TX. Check out how to attend, plan your housing, and stay up to date on SXSW 2020 news by following us on Twitter, Facebook, LinkedIn, and Instagram.
Photo by Tico Mendoza