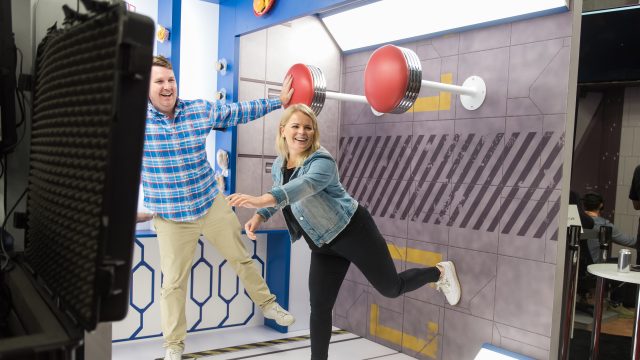 Every year, the SXSW Trade Show acts as the pivot for exploration, networking, and learning. Attending the Trade Show gives registrants a first hand look at the latest concepts and creations by companies and brands from around the world. With 23 pavilions and an abundance of booths to explore, stopping by the Trade Show is sure to ignite sparks of inspiration to anyone in attendance.
Several areas throughout the Trade Show are dedicated to promoting discovery and inspiration in specific areas. With SXSW less than five months away, it's never too early to find out what to expect at the 2020 Trade Show.
Meet Up Pavilion
Interested in casual networking opportunities with industry professionals? Look no further than the Meet Up Pavilion, back for another year. The Meet Up Pavilion offers attendees and exhibitors the chance to network and explore topics across the creative industries.
Hub
Resting in Exhibit Hall 2, the SXSW Trade Show Hub is a multitasker's paradise, offering Trade Show attendees a lively space to grab a seat and catch up on emails while viewing a live stream of in-demand sessions. The Hub is also home base for high-profile book signings and connecting with fellow attendees. Whether you're an avid reader or need a quick recharge, The Hub is the place to be.
Next Stage
The Next Stage draws inspiration from the creative industries to feature presentations and performances that span the SXSW themes of Interactive, Film, and Music. These sessions showcase the inventive, emerging talent participating at SXSW, including cross-industry panels with diverse speakers.
Simulcast Lounge
Skip the lines and save some time! With the Trade Show Simulcast Lounge, there's no need to run across town to make it in time for your favorite session. The Simulcast Lounge gives attendees the opportunity to watch the most anticipated, packed sessions in real time. Check out your pavilion of interest in the Trade Show, then make way to the Simulcast Lounge to learn more about that track-aligned pavilion through our diverse and carefully curated panels.
International Pavilion
In 2019, the Trade Show saw 25 countries represented on the show floor from Brazil to Japan and Korea to Australia. With 26% of total SXSW attendees coming from outside the United States, the Trade Show serves as a creative platform for international brands, showcasing the most engrossing, innovative products and ideas from all over the world. Make way to the International Pavilion to learn and seek inspiration from our neighbors.
Join us for SXSW from March 13-22, 2020. Stay up-to-date on the latest from SXSW – follow us on Twitter, Facebook, LinkedIn, and Instagram.
Photo by Lauren Lindley