SXSW Film Festival Announces 2017 Features Lineup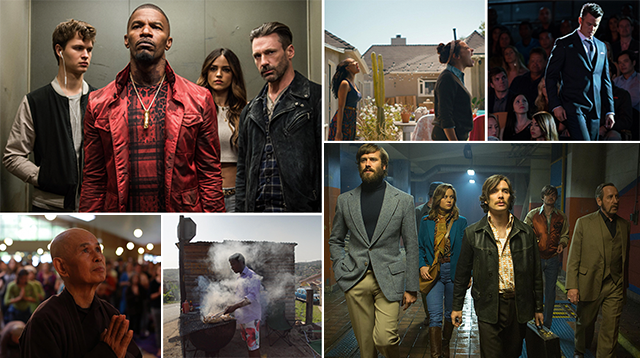 And we're off! We are thrilled to announce the Features Lineup for the 24th edition of the SXSW Film Festival.
During nine days of the SXSW Film Festival, 125 features will screen, with additional titles yet to be announced. The full lineup includes a whopping 84 World Premieres, 11 North American Premieres, and 6 US Premieres. First-time filmmakers account for 51 films, continuing our tradition of unearthing the emergent talent of tomorrow.
A selection of highlights include Baby Driver directed by Edgar Wright; Becoming Bond directed by Josh Greenbaum; Free Fire directed by Ben Wheatley; Gemini directed by Aaron Katz; Hot Summer Nights directed by Elijah Bynum; May it Last: A Portrait of the Avett Brothers directed by Judd Apatow and Michael Bonfiglio; Mr. Roosevelt directed by Noël Wells; Muppet Guys Talking directed by Frank Oz; Prevenge directed by Alice Lowe; Stranger Fruit directed by Jason Pollock; The Big Sick directed by Michael Showalter; Unrest directed by Jennifer Brea; Win it All directed by Joe Swanberg; and many, many more.
Explore the epic list of newly announced films by screening sections: Narrative Feature Competition, Documentary Feature Competition, Headliners, Narrative Spotlight, Documentary Spotlight, Visions, Episodic, 24 Beats Per Second, Global, Festival Favorites, and Special Events. Midnighters, along with Short Film and the VR Program, will be announced on February 7.
Before you dive into our announcement below, don't forget to grab your seat in the front-row for discovery at SXSW 2017 – register to attend before February 10 and save. Learn more here »
2017 Film Festival Features Lineup
Narrative Feature Competition
Ten world premieres; ten unique ways to celebrate the art of storytelling. Selected from 1,407 narrative feature submissions in 2017.
A Bad Idea Gone Wrong (World Premiere)
Director/Screenwriter: Jason Headley
Two would-be thieves forge a surprising relationship with with an unexpected housesitter when they accidentally trap themselves in a house they just broke into. Cast: Matt Jones, Eleanore Pienta, Will Rogers, Jonny Mars, Sam Eidson, Jennymarie Jemison.
A Critically Endangered Species (Poland, United States) (World Premiere)
Directors/Screenwriters: Zachary Cotler, Magdalena Zyzak
An internationally respected poet announces she is going to kill herself and needs an heir and executor. Young writers drive up the mountain to compete for the position and are challenged intellectually, emotionally, and erotically. Cast: Lena Olin, Rosanna Arquette, Jordan Gavaris, Alexander Koch, Nathan Keyes, Chris Voss.
Dara Ju (World Premiere)
Director/Screenwriter: Anthony Onah
A young Nigerian-American financier struggles with love, family, and a prescription drug dependency as his ambitions steer him down a criminal path. Cast: Aml Ameen, Lucy Griffiths, Michael Hyatt, Peter Vack, Hope Olaidé Wilson, Souléymane Sy Savané, Craig muMs Grant, Bill Sage.
Fits and Starts (World Premiere)
Director/Screenwriter: Laura Terruso
A struggling writer can't seem to escape his wife's literary success. When a road trip to a publisher's salon takes an unexpected turn, he has to face his own creative shortcomings and find a way to regain control of his life and work. Cast: Wyatt Cenac, Greta Lee, Maria Dizzia, Alex Karpovsky, Ben Sinclair, Onur Turkel, John Rothman, Louis Cancelmi, Larry Murphy, Sam Seder.
La Barracuda (World Premiere)
Directors: Julia Halperin, Jason Cortlund, Screenwriter: Jason Cortlund
A strange woman comes to Texas to meet her half-sister and stake a claim to the family music legacy—one way or another. Cast: Allison Tolman, Sophie Reid, JoBeth Williams, Luis Bordonada, Larry Jack Dotson, Butch Hancock, Bob Livingston, The Mastersons.
The Light of the Moon (World Premiere)
Director/Screenwriter: Jessica M. Thompson
After her world is irrevocably changed, a successful New York City architect struggles to regain intimacy and control in her life. Cast: Stephanie Beatriz, Michael Stahl-David, Conrad Ricamora, Catherine Curtin, Olga Merediz, Cindy Cheung, Susan Heyward, Craig Walker, Cara Loften, Michael Cuomo.
Like Me (World Premiere)
Director/Screenwriter: Rob Mockler
A reckless loner, desperate for human connection, sets out on a crime spree that she broadcasts on social media. Her reality quickly splinters into a surreal nightmare as her exploits spiral out of control. Cast: Addison Timlin, Ian Nelson, Larry Fessenden, Jeremy Gardner, Stuart Rudin, Nicolette Pierini.
MFA (World Premiere)
Director: Natalia Leite, Screenwriter: Leah Mckendrick
The accidental death of her rapist sets an art student on a course for justice, fueling the inspiration for her thesis exhibition. Cast: Francesca Eastwood, Clifton Collins Jr, Peter Vack, Leah Mckendrick, Marlon Young, David Sullivan, Michael Welch.
Most Beautiful Island (Spain, United States) (World Premiere)
Director/Screenwriter: Ana Asensio
An undocumented young woman struggling to begin a new life in New York City is offered an opportunity she can't pass up. But as day turns to night she discovers she's been lured to the center of a dangerous game. Cast: Ana Asensio, Natasha Romanova, David Little, Nicholas Tucci, Larry Fessenden, Caprice Benedetti.
The Strange Ones (World Premiere)
Directors: Lauren Wolkstein, Christopher Radcliff, Screenwriter: Christopher Radcliff
Mysterious events surround the travels of two brothers as they make their way across a remote American landscape. On the surface all seems normal, but what appears to be a simple vacation soon gives way to dark and complex truths. Cast: Alex Pettyfer, James Freedson-Jackson, Emily Althaus, Gene Jones.
Documentary Feature Competition
The ten world premieres in the Documentary Feature Competition find intimacy and insight in finely crafted stories that are at once universal, personal and revelatory.
Bill Frisell, A Portrait (Australia) (World Premiere)
Director/Screenwriter: Emma Franz
An intimate, behind-the-music portrait of one of the most unassuming yet influential creative artists of our time, guitarist Bill Frisell. Frisell said of the film, "It's like the inside of my brain!"
The Blood is at the Doorstep (World Premiere)
Director: Erik Ljung
After Dontre Hamilton, a black, unarmed man diagnosed with schizophrenia, was shot 14 times and killed by police in Milwaukee, his family embarks on a quest for answers, justice and reform as the investigation unfolds.
Dealt (World Premiere)
Director: Luke Korem, Screenwriters: Bradley Jackson, Luke Korem
Sixty-two year old Richard Turner is renowned as one of the world's greatest card magicians, yet he is completely blind. This is an in-depth look at a complex character who is one of magic's greatest hidden treasures.
I Am Another You (World Premiere)
Director/Screenwriter: Nanfu Wang
Through the eyes of a young drifter who rejects society's rules and intentionally chooses to live on the streets, Chinese filmmaker Nanfu Wang explores the meaning of personal freedom – and its limits.
Let There Be Light (Canada) (World Premiere)
Director/Screenwriter: Mila Aung-Thwin
Let There Be Light follows the story of dedicated scientists working to build a small sun on Earth, which would unleash perpetual, cheap, clean energy for mankind. After decades of failed attempts, a massive push is now underway to crack the holy grail of energy.
Maineland (China, United States) (World Premiere)
Director: Miao Wang
Chinese teenagers from the wealthy elite, with big American dreams, settle into a boarding school in small-town Maine. As their fuzzy visions of the American dream slowly gain more clarity, their relationship to home takes on a poignant new aspect.
Mommy Dead and Dearest (World Premiere)
Director: Erin Lee Carr
Child abuse, mental illness, and forbidden love converge in this mystery involving a mother and daughter who were thought to be living a fairy tale life that turned out to be a living nightmare.
Served Like A Girl (World Premiere)
Director: Lysa Heslov
Five women veterans who have endured unimaginable trauma in service create a shared sisterhood to help the rising number of stranded homeless women veterans by entering a competition that unexpectedly catalyzes moving events in their own lives.
The Secret Life of Lance Letscher (World Premiere)
Director: Sandra Adair
Witness the collision of memory, color, and chaos in this unprecedented journey through the visionary mind of collage artist Lance Letscher.
The Work (World Premiere)
Directors: Jairus McLeary, Gethin Aldous
Set entirely inside Folsom Prison, The Work follows three men during four days of intensive group therapy with convicts, revealing an intimate and powerful portrait of authentic human transformation that transcends what we think of as rehabilitation.
Headliners
Big names, big talent: Headliners bring star power to SXSW, featuring red carpet premieres and gala film events with major and rising names in cinema.
Baby Driver (World Premiere)
Director/Screenwriter: Edgar Wright
A talented, young getaway driver relies on the beat of his personal soundtrack to be the best in the game. But after being coerced into working for a crime boss, he must face the music when a doomed heist threatens his life, love and freedom. Cast: Ansel Elgort, Kevin Spacey, Lily James, Jon Bernthal, Eiza González, Jon Hamm, Jamie Foxx.
Free Fire (UK) (U.S. Premiere)
Director: Ben Wheatley, Screenwriters: Ben Wheatley, Amy Jump
Bold, breathless and wickedly fun, Free Fire is an electrifying action comedy about an arms deal that goes spectacularly and explosively wrong. Directed by Ben Wheatley. Starring Brie Larson, Armie Hammer, Cillian Murphy, Sharlto Copley, Jack Reynor. Cast: Sharlto Copley, Armie Hammer, Brie Larson, Cillian Murphy, Jack Reynor, Babou Ceesay, Enzo Cilenti, Sam Riley, Michael Smiley, Noah Taylor.
On The Road (UK) (North American Premiere)
Director/Screenwriter: Michael Winterbottom
Michael Winterbottom follows acclaimed British rock band and Grammy nominees Wolf Alice on their tour, recording their gigs as well as the romance and routine of their daily life backstage.
Song to Song (World Premiere)
Director: Terrence Malick
In this modern love story set against the Austin, Texas music scene, two entangled couples -- struggling songwriters Faye and BV, and music mogul Cook and the waitress whom he ensnares -- chase success through a rock 'n' roll landscape of seduction and betrayal. Cast: Rooney Mara, Ryan Gosling, Michael Fassbender, Natalie Portman, Cate Blanchett.
Narrative Spotlight
High profile narrative features receiving their World, North American or U.S. premieres at SXSW.
The Archer (World Premiere)
Director: Valerie Weiss, Screenwriter: Casey Schroen
Archer champion Lauren Pierce escapes a corrupt juvenile correctional facility with Rebecca, a fierce but alluring inmate and together they must survive a desperate warden who is bow-hunting his prey to make sure his secret stays buried. Cast: Bailey Noble, Bill Sage, Jeanine Mason, Michael Grant Terry, Kurt Fuller, Dendrie Taylor, Grace Victoria Cox, Andrew Caldwell.
The Ballad of Lefty Brown (World Premiere)
Director/Screenwriter: Jared Moshé
Aging sidekick Lefty Brown (Bill Pullman) has ridden with Eddie Johnson (Peter Fonda) his entire life. But when a rustler kills Eddie, Lefty is forced from his partner's shadow and must confront the ugly realities of frontier justice. Cast: Bill Pullman, Kathy Baker, Jim Caviezel, Tommy Flanagan, Peter Fonda, Joe Anderson, Diego Josef, Michael Speers, Lewis Pullman, Joseph Anderson.
Daphne (UK) (North American Premiere)
Director: Peter Mackie Burns, Screenwriter: Nico Mensinga
Daphne is London. Daphne is the crowd of faceless strangers we brush past everyday. Daphne is being young and always searching for more. Daphne is life, an unpredictable mixture of comedy and tragedy. Cast: Emily Beecham, Geraldine James, Tom Vaughan-Lawlor, Nathaniel Martello-White.
Easy Living (World Premiere)
Director/Screenwriter: Adam Keleman
Sherry Graham, a self-destructive makeup saleswoman, hopes a new man and business venture will provide her a fresh start. After her plans are foiled, she takes control of her life in a dramatic turn of events. Cast: Caroline Dhavernas, McCaleb Burnett, Elizabeth Marvel, Charlie Hofheimer, Jen Richards, Daniel Eric Gold, C.J. Wilson, Taylor Richardson, Mary Catherine Garrison.
Gemini (World Premiere)
Director/Screenwriter: Aaron Katz
A heinous crime tests the complex relationship between a tenacious personal assistant and her Hollywood starlet boss. As the assistant unravels the mystery, she must confront her own understanding of friendship, truth, and celebrity. Cast: Lola Kirke, Zoë Kravitz, John Cho, Greta Lee, Michelle Forbes, Nelson Franklin, Reeve Carney, Ricki Lake, Jessica Parker Kennedy, James Ransone.
Going to Brazil (France) (International Premiere)
Director: Patrick Mille, Screenwriters: Julien Lambroschini, Sabrina Amara, Patrick Mille
Four childhood friends are reunited at a wedding in Rio. But when they accidentally kill a young man during a party that gets out of hand, they are forced to flee the city in a crazy adventure. Cast: Alison Wheeler, Vanessa Guide, Margot Bancilhon, Philippine Stindel, Patrick Mille.
Hot Summer Nights (World Premiere)
Director: Elijah Bynum
A lonely teenage boy is sent away to Cape Cod where he befriends the town rebel, falls in love and becomes entangled in a drug ring all over the course of one summer in 1991. Cast: Timothee Chalamet, Maika Monroe, Alex Roe, Maia Mitchell, William Fichtner, Thomas Jane, Emory Cohen.
Hounds of Love (Australia) (North American Premiere)
Director/Screenwriter: Ben Young
In the mid 1980's seventeen-year-old Vicki Maloney is randomly abducted from a suburban street by a disturbed couple. As she observes the dynamic between her captors she quickly realizes she must drive a wedge between them if she is to survive. Cast: Ashleigh Cummings, Emma Booth, Stephen Curry, Susie Porter, Damian de Montemas, Harrison Gilbertson, Fletcher Humphrys.
Lane 1974 (World Premiere)
Director: SJ Chiro, Screenwriters: SJ Chiro, Clane Hayward
At 13 years old and the eldest of three kids, Lane struggles to keep her family together as her iconoclast mother moves without warning through the communes and dusty back woods of Northern California. Cast: Sophia Mitri Schloss, Katherine Moennig, Sara Coats, Linas Phillips, Jasmin Savoy Brown, Sarah-Eve Gazitt, Annette Toutonghi, Harry Curtis, Ronin West, Shayla Timbermoon.
Madre (Chile) (North American Premiere)
Director/Screenwriter: Aaron Burns
A pregnant woman, who is taking care of her son with development problems, is at her breaking point when a caregiver from the Philippines steps into her life. Diana suspects that she's using voodoo against her after the quick improvements of her son. Cast: Daniela Ramirez, Cristobal Tapia Montt, Aida Jabolin, Matias Bassi, Ignacia Allamand, Nicolás Durán.
Most Hated Woman In America (World Premiere)
Director: Tommy O'Haver, Screenwriters: Tommy O'Haver, Irene Turner
Darkly funny, true story of the rise and untimely demise of Madeline Murray O'Hair—crank, swindler, iconoclast, and America's most outspoken atheist. Cast: Melissa Leo, Adam Scott, Juno Temple, Vincent Kartheiser, Josh Lucas, Peter Fonda.
Mr. Roosevelt (World Premiere)
Director/Screenwriter: Noël Wells
After a death in her family, struggling LA-based comedian Emily Martin returns to Austin. There she finds herself in the awkward position of staying with her ex and his new girlfriend until the funeral, while trying to close old doors from her past. Cast: Noël Wells, Nick Thune, Britt Lower, Daniella Pineda, Andre Hyland, Doug Benson, Armen Weitzman, Sergio Cilli.
Small Crimes (World Premiere)
Director: Evan Katz, Screenwriters: Evan Katz, Macon Blair
Small Crimes is a delightfully suspenseful, blackly comic tale that follows a disgraced former cop, fresh off a six-year prison sentence for attempted murder, who returns home looking for redemption but winds up trapped in the mess he left behind. Cast: Nikolaj Coster-Waldau, Jacki Weaver, Robert Forster, Gary Cole, Molly Parker, Macon Blair, Pat Healy.
Small Town Crime (World Premiere)
Directors/Screenwriters: Ian Nelms, Eshom Nelms
Ex-cop, Mike Kendall, finds the body of a young woman and, in an act of self-redemption, becomes hellbent on finding the killer. While his uncouth, quirky detective style helps break the case, his dogged determination puts his family in danger. Cast: John Hawkes, Anthony Anderson, Octavia Spencer, Robert Forster, Clifton Collins, Jr., Michael Vartan, James Lafferty, Daniel Sunjata, Caity Lotz, Jeremy Ratchford.
This Is Your Death (World Premiere)
Director: Giancarlo Esposito, Screenwriters: Kenny Yakkel, Noah Pink
This Is Your Death is an unsettling look at reality T.V. where a disturbing hit game show has its contestants ending their lives for the public's enjoyment. It captures the sad truths about the world's desire to be famous. Cast: Josh Duhamel, Famke Janssen, Giancarlo Esposito, Sarah Wayne Callies, Caitlin Fitzgerald, James Franco.
Us and Them (UK) (World Premiere)
Director/Screenwriter: Joe Martin
Working class Danny aims to kick start a revolution by turning the tables on the establishment with a deadly game of chance. Cast: Jack Roth, Tim Bentinck, Andrew Tiernan, Daniel Kendrick, Sophie Colquhoun, Paul Westwood, Carolyn Backhouse, Louis Dempsey.
Win It All (World Premiere)
Director: Joe Swanberg, Screenwriters: Joe Swanberg, Jake Johnson
Small time Chicago gambler, Eddie Garrett, agrees to watch a duffel bag for an acquaintance who is heading to prison. When he discovers cash in the bag, he hatches a plan to win big, against the advice of his gambling sponsor and his brother. Cast: Jake Johnson, Aislinn Derbez, Joe Lo Truglio, Keegan-Michael Key.
Documentary Spotlight
Shining a light on new documentary features receiving their World, North American or U.S. premieres at SXSW.
Barbecue (Australia) (World Premiere)
Director: Matthew Salleh
Barbecue is about more than grilling a piece of meat. It's a ritual performed religiously across the world. For some it's a path to salvation. It is the pride of nations. And the stories told around the fires become a way to bring the world together.
Bill Nye: Science Guy (World Premiere)
Directors/Screenwriters: David Alvarado, Jason Sussberg
A famous television personality struggles to restore science to its rightful place in a world hostile to evidence and reason.
Disgraced (World Premiere)
Director: Pat Kondelis
The untold story of the summer of 2003 at Baylor University that exposes the attempted cover-up, and the corruption that became the most bizarre scandal in college sports history.
Kim Dotcom: Caught in the Web (New Zealand) (World Premiere)
Director: Annie Goldson
Discover the story of the most wanted man online.
Meth Storm: Arkansas USA (World Premiere)
Directors: Craig Renaud, Brent Renaud
With unparalleled access on both sides of the law, METH STORM: Arkansas USA is a thrilling non-fiction cops and robbers drama told from inside the American drug war.
Muppet Guys Talking - Secrets Behind the Show the Whole World Watched (World Premiere)
Director: Frank Oz
Five of the original Muppet performers come together for the first time ever to share behind-the-scenes secrets of the Muppets. Includes rare performance footage, surprising stories and insights into how Jim led his team to produce legendary work.
Pornocracy (France) (World Premiere)
Director: Ovidie
Never before have we watched as much porn as today yet the traditional porn industry is dying. The arrival of web sites showing amateur clips has transformed the way porn is made and consumed. Behind this transformation lies one opaque multinational.
Spettacolo (World Premiere)
Directors: Jeff Malmberg, Chris Shellen, Screenwriter: Chris Shellen
Once upon a time there was a tiny hill town in Tuscany that found a remarkable way to confront their issues - they turned their lives into a play.
Stranger Fruit (World Premiere)
Director/Screenwriter: Jason Pollock
What happened on August 9th, 2014 in Ferguson, Missouri? On that hot summer day, Officer Darren Wilson killed 18-year-old Michael Brown. Stranger Fruit is the unraveling of what took place that day, told through the eyes of Mike Brown's family.
Todrick Hall Documentary (World Premiere)
Director: Katherine Fairfax Wright
After building an empire on YouTube, Todrick Hall leaps beyond his comfort zone and deep within his own backstory to create his most dazzling and vital work yet, but with only a few weeks and a few coins, will he crush it or will it crush him?
The Untold Tales of Armistead Maupin (World Premiere)
Director: Jennifer M. Kroot
The Untold Tales of Armistead Maupin celebrates one of the world's most beloved storytellers, following his evolution from a conservative son of the Old South into a gay rights pioneer whose novels inspired millions to reclaim their lives.
Walk With Me (UK) (World Premiere)
Directors: Max Pugh, Marc J. Francis
Narrated by Benedict Cumberbatch, Walk With Me is a cinematic journey into the world of a monastic community who practice the art of mindfulness with Zen Buddhist master Thich Nhat Hanh.
Visions
Visions filmmakers are audacious, risk-taking artists in the new cinema landscape who demonstrate raw innovation and creativity in documentary and narrative filmmaking.
Assholes (World Premiere)
Director/Screenwriter: Peter Vack
Adah and Aaron are recovering addicts who are struggling to stay sober. After meeting in their psychoanalyst's waiting room, they fall in love, relapse on poppers, and become the biggest assholes in New York City. Cast: Betsey Brown, Jack Dunphy, Peter Vack, Patrick LaBella, Jane Brown, Ron Brown, Eileen Dietz.
Becoming Bond (World Premiere)
Director/Screenwriter: Josh Greenbaum
The stranger-than-fiction true story of George Lazenby, a poor Australian car mechanic who, through an unbelievable set of circumstances, landed the role of James Bond despite having never acted a day in his life.
California Dreams (North American Premiere)
Director: Mike Ott
A look at how the American Dream and Hollywood affect those they touch. Cast: Cory Zacharia, Patrick Llaguno, Neil Harley, Kevin Gilger aka K-Nine Dog the Impersonator, Carolan J. Pinto, Mark Borchardt.
DRIB (Norway) (World Premiere)
Director/Screenwriter: Kristoffer Borgli
The inside story of how Amir (29) scammed his way to viral fame, fooled an advertising agency, and almost became the international face of a well-known energy drink - before everything went wrong. Cast: Amir Asgharnejad, Brett Gelman, Adam Pearson, Annie Hamilton, Alexandra Marzella, Hugo Armstrong, Joe Hartzler, Andrew Lauer.
Flesh and Blood (World Premiere)
Director/Screenwriter: Mark Webber
Mark Webber boldly explores family dynamics using his real family as the cast and real-life situations for the story. Combining reality with fiction he exposes a disturbing truth: his family tree is full of broken branches that may never be repaired. Cast: Mark Webber, Cheri Honkala, Guillermo Santos, Madeline Brewer.
Infinity Baby (World Premiere)
Director: Bob Byington, Screenwriter: Onur Tukel
A comedy about babies that don't age. Cast: Kieran Culkin, Trieste Kelly Dunn, Nick Offerman, Martin Starr, Kevin Corrigan, Megan Mullaly, Noel Wells, Stephen Root.
Inheritance (World Premiere)
Directors/Screenwriters: Laura E. Davis, Jessica Kaye
A woman learns her estranged father has died and returns with her brother and new lover to her childhood home of Belize, where she must face her past while fighting for intimacy in the present. Cast: Jessica Kaye, Daniel Ahearn, Mark Webber, Shamira Gill-Card, Myrna Manzanares, Louis Oberlander.
Lucky (World Premiere)
Director: John Carroll Lynch, Screenwriters: Logan Sparks, Drago Sumonja
Lucky follows the spiritual journey of a 90 year old atheist (Harry Dean Stanton), having outlived and out smoked his contemporaries, as he comes to terms with his own mortality, and searches for ever elusive enlightenment. Cast: Harry Dean Stanton, David Lynch, Ron Livingston, Ed Begley Jr., Tom Skerritt, Beth Grant, James Darren.
Paa Joe & The Lion (Ghana, United Kingdom) (North American Premiere)
Director: Benjamin Wigley
A true story about the art of love and death. A thought provoking and cinematic documentary film rooted in the universal themes of love, death and legacy set against one of the most beautiful art-forms in the world - Ghana's very own fantasy coffin.
Rat Film (U.S. Premiere)
Director/Screenwriter: Theo Anthony
Across walls, fences, and alleys, rats not only expose our boundaries of separation but make homes in them. "Rat Film" is a feature-length documentary that uses the rat—as well as the humans that love them, live with them, and kill them.
The Relationtrip (World Premiere)
Directors: Renée Felice Smith, C.A. Gabriel, Screenwriters: C.A. Gabriel, Renée Felice Smith, Dana Scanlon
After bonding over their mutual disinterest in relationships, self-proclaimed loners, Beck and Liam, decide to go away together on a 'friend' trip where things get weird. Really, really weird. Cast: Renée Felice Smith, Matt Bush, Eric Christian Olsen, Linda Hunt, Nelson Franklin, Brandon Kyle Goodman, Sally Struthers, Georgia Mischak, Owain Rhys Davies.
Signature Move (World Premiere)
Director: Jennifer Reeder, Screenwriters: Fawzia Mirza, Lisa Donato
A secret new romance with Alma forces Zaynab to confront her complicated relationship with her recently widowed mother. In this coming-of-age Muslim melodrama, Zaynab copes by taking up Lucha-style wrestling. Cast: Fawzia Mirza, Shabana Azmi, Sari Sanchez, Audrey Francis, Charin Alvarez, Mark Hood, Molly Brennan.
Sylvio (World Premiere)
Directors: Albert Birney, Kentucker Audley, Screenwriters: Albert Birney, Kentucker Audley, Meghan Doherty
A small town gorilla joins a local TV program and a series of on-air mishaps threaten to shatter his identity, sending him on an adventure of self-discovery where reality and fantasy start to blend. Cast: Albert Birney, Kentucker Audley, Tallie Medel, Meghan Doherty.
Episodic
Featuring innovative new work aimed squarely at the small screen, Episodic tunes in to the explosion of exciting material on non-theatrical platforms, including serialized TV, webisodes and beyond. (New for 2017: Open to all badgeholders)
American Gods (World Premiere)
Director: David Slade, Screenwriters: Bryan Fuller, Michael Green
Adapted from Neil Gaiman's award-winning novel, American Gods follows Shadow Moon (Ricky Whittle) and Mr. Wednesday (Ian McShane) in a hidden world where a battle is brewing between Old Gods and New. Cast: Ricky Whittle, Ian McShane, Emily Browning, Pablo Schreiber, Bruce Langley, Yetide Badaki, Jonathan Tucker, Mousa Kraish, Betty Gilpin, Gillian Anderson.
Dear White People
Director/Screenwriter: Justin Simien
Based on the critically-acclaimed 2014 film by the same name, Dear White People is a send-up of the now post "post-racial" America that weaves together a universal story of finding one's own identity, as told from a biting millennial point of view. Cast: Logan Browning, Brandon P. Bell, Antoinette Robertson, DeRon Horton, John Patrick Amedori.
I LOVE BEKKA & LUCY (World Premiere)
Director/Screenwriter: Rachael Holder
Two inseparable and idiosyncratic best friends face the evolution of their friendship when one of them gets engaged. Cast: Jessica Parker Kennedy, Tanisha Long, Alexis Denisof, Christopher Nicholas Smith.
i'm Dying up here (World Premiere)
Director: Jonathan Levine, Screenwriter: Dave Flebotte
Set in L.A.'s celebrated, infamous stand-up comedy scene of the 1970s, this new series delves into the inspired and damaged psyches that inhabit the hilarious, but complex business of making an audience laugh. Executive produced by Jim Carrey. Cast: Melissa Leo, Ari Graynor, Clark Duke, Michael Angarano, Andrew Santino, Stephen Guarino, Erik Griffin, RJ Cyler, Al Madrigal, Dylan Baker.
Nobodies (World Premiere)
Showrunner, Director: Michael McDonald, Pilot Director: Ben Falcone, Screenwriters: Hugh Davidson, Larry Dorf, Rachel Ramras
The series is inspired by the real lives of Hugh Davidson, Larry Dorf and Rachel Ramras, who watched as their friends from The Groundlings went on to star in blockbuster comedies and win Oscars, while they were waiting for their one big break. Cast: Hugh Davidson, Larry Dorf, Rachel Ramras.
The Son (World Premiere)
Director: Tom Harper
Based on the New York Times best-selling and Pulitzer Prize finalist novel, The Son is a sweeping family saga that spans 150 years and three generations of the McCullough family. Cast: Pierce Brosnan, Jacob Lofland, Henry Garrett, Paola Nunez, Carlos Bardem, Zahn McClarnon, Jess Weixler, David Wilson Barnes, Sydney Lucas.
24 Beats Per Second
Showcasing the sounds, culture and influence of music & musicians, with an emphasis on documentary.
As I Walk Through The Valley (World Premiere)
Directors: Ronnie Garza, Charlie Vela
As I Walk Through The Valley is a journey into the underground music scene of Texas' southernmost border-region. Follow four generations of Valley musicians as they struggle to find a voice of their own in the land of charro beans and Tejano legends.
G-Funk (World Premiere)
Director/Screenwriter: Karam Gill
G-Funk is the untold story of three childhood friends from East Long Beach who helped commercialize hip hop by developing a sophisticated and melodic new approach - merging Gangsta Rap with elements of Motown, Funk, and R&B.
Give Me Future (aka Incoming Transmission) (United States, Cuba)
Director: Austin Peters
Cuba as you have never seen it before.
A Life in Waves (World Premiere)
Director: Brett Whitcomb, Screenwriter: Bradford Thomason
A Life in Waves explores the life and innovations of composer and electronic music pioneer, Suzanne Ciani.
Long Strange Trip
Director: Amir Bar-Lev
Emerging from the Bay Area's vibrant 1960s counterculture, the Grateful Dead were a motley crew whose unique sound sprang from an eclectic blend of influences: bluegrass, folk ballads, R&B, free-form jazz, classical, and jug band.
May It Last: A Portrait of the Avett Brothers (World Premiere)
Directors: Judd Apatow, Michael Bonfiglio
An intimate portrait of the acclaimed North Carolina band the Avett Brothers, as they create their hit album "True Sadness."
Patti Cake$
Director: Geremy Jasper
Straight out of Jersey comes Patricia Dombrowski, a.k.a. Killa P, a.k.a. Patti Cake$, an aspiring rapper fighting through a world of strip malls and strip clubs on an unlikely quest for glory. Cast: Danielle Macdonald, Bridget Everett, Siddharth Dhananjay, Mamoudou Athie, Cathy Moriarty.
Residente (Armenia, Burkina Faso, China, Georgia, Mongolia, Niger, Russian Federation, USA) (World Premiere)
Director: René Pérez Joglar
After taking a DNA test, Latin America's most decorated artist - Rene Perez (AKA Residente), embarks on a global adventure, to trace the footsteps of his ancestors and record his latest album.
Thank You, Friends: Big Star's Third Live... and More (World Premiere)
Director: Benno Nelson
A celebration of the musical legacy of Memphis' best-known secret - Big Star - performed by a collective featuring members of Big Star, the dB's, Let's Active, the Posies, R.E.M., Semisonic, Wilco and Yo La Tengo with the Kronos Quartet and more.
Global
A diverse selection of International filmmaking talent, featuring innovative narratives, artful documentaries, premieres, festival favorites and more.
Bad Lucky Goat (Colombia) (World Premiere)
Director/Screenwriter: Samir Oliveros
After accidentally killing a bearded goat with their father's pick-up truck, two incompatible siblings in their teenage years, embark on a journey of reconciliation. Cast: Honlenny Huffington, Kiara Howard, Elkin Robinson, Michel Robinson, Ambrosio Huffington, Jean Bush.
The Challenge (France, Italy) (North American Premiere)
Director/Screenwriter: Yuri Ancarani
In The Challenge, the director crosses the Persian Gulf to accompany a falconer to an important competition. Among SUVs, Lamborghini, private jets and Mad Max-like dune bashing contests, the film tells the story of an intense weekend in the desert.
The Cloud Forest (Mexico) (World Premiere)
Director/Screenwriter: Mónica Álvarez Franco
A small community in Veracruz is the guardian of one of the ecosystems facing the most risk: the cloud forest. By redesigning their needs, education and relationship with other people and with nature, they search for a simpler and sustainable life.
Divine Divas (Brazil) (North American Premiere)
Director: Leandra Leal, Screenwriters: Carol Benjamin, Leandra Leal, Lucas Paraizo, Natara Ney
Eight iconic performers of the first generation of Brazilian transvestite artists go on stage to celebrate their 50th career jubilee. The film depicts the human, personal dimension behind these icons, deconstructing gender stereotypes.
Inflame (Turkey) (North American Premiere)
Director/Screenwriter: Ceylan Ozgun Ozcelik
Her nightmare is reality, and the reality is a nightmare. Cast: Algi Eke, Ozgur Cevik, Kadir Cermik, Asiye Dincsoy, Selen Ucer, Ipek Turktan Kaynak.
Satan Said Dance (Poland) (North American Premiere)
Director/Screenwriter: Kasia Roslaniec
Satan Said Dance is an Instagram film in times of the selfie. A kaleidoscope of moments from life of Karolina - a scandalous writer obsessed with parties, drugs, sexuality and complex relationships, on her way to self-destruction. Cast: Magdalena Berus, Lukasz Simlat, Tygo Gernandt, Hanna Koczewska, Marta Nieradkiewicz, Danuta Stenka.
Tormentero (Colombia, Dominican Republic, Mexico) (U.S. Premiere)
Director: Rubén Imaz, Screenwriters: Fernando del Razo, Rubén Imaz
Romero Kantún is a retired fisherman, who lives mired in nostalgia, but feels that it is time to reclaim what he lost decades ago, when he discovered the great oilfield that ended fishing on his island and won him the fishermen's rejection. Cast: José Carlos Ruiz, Gabino Rodríguez, Mónica Jiménez, Waldo Facco.
Win By Fall (Germany) (North American Premiere)
Director: Anna Koch, Screenwriters: Anna Koch, Julia Lemke
At the age of 12, Janny, Lisa, Debby and Michelle leave their home for a sports school in the East German province to become wrestlers. A documentary about coming-of-age between boarding school corridors, wrestling gyms and boy band posters.
Festival Favorites
Acclaimed standouts & selected previous premieres from festivals around the world.
78/52
Director/Screenwriter: Alexandre O. Philippe
A feature-length documentary about the iconic shower scene in Alfred Hitchcock's PSYCHO, 78/52 takes an unprecedented look at the 'man behind the curtain' and the screen murder that profoundly changed the course of world cinema.
The Big Sick
Director: Michael Showalter, Screenwriters: Emily V. Gordon and Kumail Nanjiani
A couple deals with their cultural differences as their relationship grows. Cast: Kumail Nanjani, Zoe Kazan, Holly Hunter, Ray Romano, Anupani Euler, Zienobia Sfiroff, Adeel Akfitar, Bo Burnhani, Mary Aidy Bryant, Kurt Braunohler.
Chasing Coral
Director: Jeff Orlowski, Screenwriters: Davis Coombe, Vickie Curtis, Jeff Orlowski
Coral reefs around the world are vanishing at an unprecedented rate. A team of divers, photographers and scientists set out on a thrilling ocean adventure to discover why and to reveal the underwater mystery to the world.
Colossal
Director/Screenwriter: Nacho Vigalondo
An unapologetic party girl (Anne Hathaway) dreams of a fresh start only to discover a mysterious and fantastical connection between herself and a city-wrecking monster on the other side of the globe. Cast: Anne Hathaway, Jason Sudeikis, Dan Stevens, Austin Stowell, Tim Blake Nelson.
GORAN (Croatia) (U.S. Premiere)
Director: Nevio Marasović, Screenwriter: Gjermund Gisvold
Some good news lead to chaos. Cast: Franjo Dijak, Nataša Janjić, Janko Popović Volarić, Goran Bogdan, Milan Štrljić.
The Hero
Director: Brett Haley, Screenwriters: Brett Haley, Marc Basch
The Hero tells the story of movie star Lee Hayden whose career high as Western film icon is now several decades in the past. Cast: Sam Elliott, Laura Prepon, Krysten Ritter, Nick Offerman, Katharine Ross.
Lemon
Director: Janicza Bravo, Screenwriters: Janicza Bravo, Brett Gelman
A man watches his life unravel after he is left by his blind girlfriend. Cast: Brett Gelman, Judy Greer, Michael Cera, Nia Long, Shiri Appleby, Rhea Perlman, Fred Melamed, Gillian Jacobs, Martin Starr, David Paymer.
Nobody Speak: Trials of the Free Press
Director/Screenwriter: Brian Knappenberger
The trial between wrestler Hulk Hogan and Gawker Media pitted privacy rights against freedom of the press, but ended up as a case study in how big money can silence media through legal means. An examination of the free press in an age of inequality.
Prevenge (UK)
Director/Screenwriter: Alice Lowe
Alice Lowe (Sightseers) is a triple threat as the writer, director and star of this pitch-black comedy about a pregnant woman whose unborn child spurs her on to murder. Cast: Alice Lowe, Dan Renton Skinner, Jo Hartley, Tom Davis, Leila Hoffman, Kate Dickie, Kayvan Novak, Mike Wozniak, Tom Meeten, Gemma Whelan.
The Transfiguration (North American Premiere)
Director/Screenwriter: Michael O'Shea
This atmospheric New York tale about love, loss, and vampires follows Milo, a 14-year-old boy with a dark secret. The surprise of the Cannes Film Festival 2016. Cast: Eric Ruffin, Chloe Levine, Aaron Moten, Carter Redwood, Danny Flaherty, Larry Fessenden, Lloyd Kaufman.
Unrest
Director: Jennifer Brea
When Harvard PhD student Jennifer is struck down at 28 by a fever that leaves her bedridden, doctors tell her it's "all in her head." Determined to live, she turns her camera on herself and a hidden world of millions confined to their homes.
Walking Out
Directors/Screenwriters: Andrew Smith, Alex Smith
Based on the masterpiece, American short story, Walking Out, follows David (Josh Wiggins), a typical teenage urbanite as he travels to rural Montana to go hunting with his estranged, 'off the grid' father, Cal (Matt Bomer). Cast: Matt Bomer, Josh Wiggins, Bill Pullman, Alex Neustaedter, Lily Gladstone, Ken White, Scott McMillion.
Special Events
Live soundtracks, cult re-issues & much more. Our Special Events section offers unusual, unexpected and unique one-off film events.
Alien
Director: Ridley Scott, Screenwriter: Dan O'Bannon
In space, no one can hear you scream. Cast: Tom Skerritt, Sigourney Weaver, Veronica Cartwright, Harry Dean Stanton, John Hurt, Ian Holm, Yaphet Kotto.
Cartoon Network Screening (U.S. Premiere)
Join Cartoon Network for fun, games and NEW, NEW, NEW, NEW episodes of The Amazing World of Gumball, We Bare Bears, Ben 10 and Teen Titans Go! But don't go anywhere before the big surprise!!
Earth (with live score by DakhaBrakha) (Ukraine)
Director: Alexander Dovzhenko
Earth. This 1930's silent film tells the story of farmers resisting Stalin's plan to collectivize their farms. This performance features DakhaBrakha playing their own live score for this classic of Soviet cinema.
Ghost in the Shell
Director: Mamoru Oshii
Ghost in the Shell questions human existence in the fast-paced world of the information age, this award-winning, cyber-tech thriller has established itself as one of the leading Japanese animation films of all time. Cast: Atsuku Tanaka, Akio Otuska, Koichi Yamadera, Yukaka Nakano, Tamio Oki, Tessho Genda, Namaki Masakazu, Iemasa Kayumi.
Hype!: 20th Anniversary Screening
Director: Doug Pray
Hype! rocks the definitive story of the birth and explosion of the Pacific NW music scene known globally as "grunge." With humor and intense live performances, "Hype!" immerses you in the vibrant subculture and media madness of early '90s Seattle.
Le Ride
Director: Phil Keoghan, Screenwriters: Phil Keoghan and Louise Keoghan
Television personality Phil Keoghan retraces the 1928 Tour de France riding an original vintage bicycle, with no gears, as he tells the forgotten 'underdog' story about the first English speaking team to take on the toughest sporting event on earth.
Experience 9 days, 13 screens, and 250+ Films
The SXSW Film Festival running March 10-19, 2017 in Austin, Texas, brings together creatives of all stripes over nine days to experience a diverse lineup and access to thousands of Conference sessions. Previously announced Keynotes and Featured Speakers include Lee Daniels, Gareth Edwards, Cheryl Boone Isaacs, Jill Soloway, the Game of Thrones showrunners David Benioff and D.B. Weiss, and more.
New for 2017, the Interactive, Film, and Music badges will now include expanded access to more of the SXSW Conference & Festivals experience. Attendees will still receive primary entry to programming associated with their badge-type, but can now enjoy secondary access to most other SXSW events.
Set yourself up for the most enjoyable SXSW experience yet – register before February 10 at 11:59pm PT for access to nine days of sessions, film screenings, parties, and unparalleled networking opportunities.
2017 SXSW Films (l-r) Baby Driver - Photo by Wilson Webb; I Love Bekka & Lucy - Photo courtesy of the filmmaker; This Is Your Death - Photo courtesy of the filmmaker; Walk With Me - Photo courtesy of the filmmaker; Barbecue - Photo by Matthew Salleh; Free Fire - Photo courtesy of the filmmaker.
---
Related News: