Michael Tully – SXSW Film Festival Alumni Stories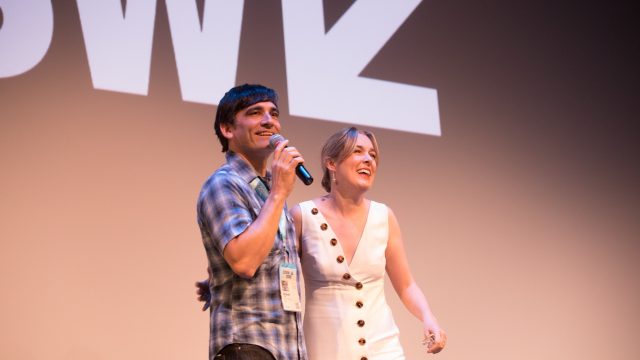 At SXSW 2018 we celebrated the 25th Edition of the SXSW Film Festival and had the pleasure of sharing stories, memories, and reflections from our distinguished alumni. We had a blast telling these tales and want to keep the party going!
Our first alum highlight is filmmaker Michael Tully. All of Tully's feature films have screened at the festival starting with the North American Premiere of his directorial debut Cocaine Angel in 2006. His 2007 24 Beats Per Second selection Silver Jew and 2018 Visions selection Don't Leave Home were world premieres. He's also acted in several alum films including Aaron Katz's Quiet City (World Premiere, 2007), and Natural Causes (World Premiere, 2008). Tully's latest film, Don't Leave Home is available to watch in theaters and On Demand now.
Read Tully's SXSW Alumni story below and stick with us throughout the season for more spotlights!
"In 2006, my life was forever changed when SXSW programmed my directorial debut, Cocaine Angel. I had never been to Austin before, and to be treated like a legitimate filmmaker (which I guess I finally was??) in that exhilarating environment (cinema! music! breakfast tacos! oh my!) provided me with a muchhhh-needed boost of self-assurance that has kept me going ever since.
It's crazy and humbling — it's crazy humbling, is what it is — to step outside myself and realize that the SXSW powers-that-be have chosen to program all of the features that I've directed thus far (Silver Jew [2007], Septien [2011], Ping Pong Summer [2014], Don't Leave Home [2018]), especially when you consider how different each of these projects are. But that's merely a testament to the film team's adventurousness of spirit. I am forever grateful to them for inviting me to the cine-table."
Join Us For SXSW 2019
Register and book your hotel now and save. The Film Badge gets you primary access to all SXSW Film events including Film Keynotes and Featured Sessions, world premieres, round tables, workshops, parties, and more. Over the course of nine days, the SXSW Film Festival hosts over 450 screenings! Film registrants also have primary access to Convergence events, including the Comedy Festival and nine unique conference tracks, as well as secondary access to most Interactive and Music events.
Follow us on Facebook, Twitter, Instagram, and SXSW News for the latest SXSW coverage.
See you in March!
Don't Leave Home World Premiere - Photo by Michael Caulfield