SXSW Film Festival Announces 2018 Features and Opening Night Film A Quiet Place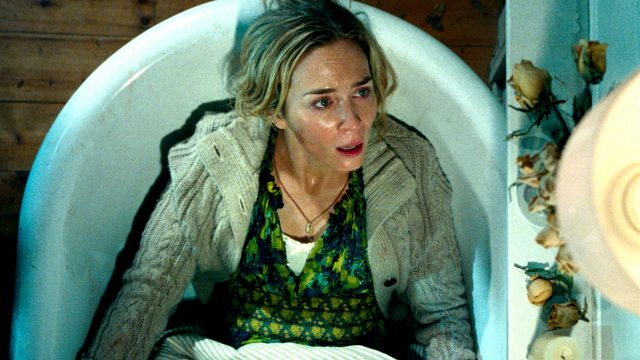 It's here! We are excited to announce the Features lineup for the 25th edition of the SXSW Film Festival.
During the nine days of SXSW, 132 Features will be shown, with additional titles yet to be announced. The full lineup will include 44 films from first-time filmmakers, 86 World Premieres, 11 North American Premieres, and 5 U.S. Premieres. These films were selected from 2,458 feature-length film submissions, with a total of 8,160 films submitted this year.
"2018 marks the 25th edition of the SXSW Film Festival and my tenth year at the helm. As we look back on the body of work of talent discovered, careers launched and wonderful films we've enjoyed, we couldn't be more excited about the future," said Janet Pierson, Director of Film. "This year's slate, while peppered with works from many of our alumni, remains focused on new voices, new directors and a range of films that entertain and enlighten."
A selection of other highlights include: The Bill Murray Stories: Life Lessons Learned From A Mythical Man directed by Tommy Avallone; Blockers directed by Kay Cannon; Boundaries directed by Shana Feste; The Dawn Wall directed by Josh Lowell and Peter Mortimer; Fast Color directed by Julia Hart; A Little Wisdom directed by Yuqi Kang; Nossa Chape directed by Jeff and Michael Zimbalist; Paradox directed by Daryl Hannah; Profile directed by Timur Bekmambetov; A Quiet Place directed by John Krasinski; A Vigilante directed by Sarah Daggar Nickson; Wild Nights With Emily directed by Madeleine Olnek. In Episodics: Barry directed by Bill Hader; The Last O.G. created by Jordan Peele, Warriors of Liberty City directed by Evan Rosenfeld and Andrew Cohn; Vida directed by Alonso Ruizpalacios, and So Yong Kim.
Explore the list of newly announced films by screening sections: Narrative Feature Competition, Documentary Feature Competition, Headliners, Narrative Spotlight, Documentary Spotlight, Visions, Episodic, 24 Beats Per Second, Global, Festival Favorites, and Special Events.
Midnighters, along with Short Film, VR, and the inaugural Independent Episodic section will be announced on February 7.
2018 FILM FESTIVAL FEATURES LINEUP
Narrative Feature Competition
Ten world premieres; ten unique ways to celebrate the art of storytelling. Selected from 1,408 narrative feature submissions in 2018.
Family (World Premiere)
Director/Screenwriter: Laura Steinel
When an emotionally stunted 30 year-old woman is tasked with watching her awkward and bullied 12 year old niece for the week, she finds her life unfurling when the girl runs away to be a juggalo. Cast: Taylor Schilling, Bryn Vale, Brian Tyree Henry, Jessie Ennis, Blair Beeken, Matt Walsh, Allison Tolman, Eric Edelstein, Kate McKinnon, Fabrizio Guido.
First Match (World Premiere)
Director/Screenwriter: Olivia Newman
Hardened by years in foster care, a teenage girl from Brooklyn's Brownsville neighborhood decides that wrestling boys is the only way back to her estranged father. Cast: Elvire Emanuelle, Yahya Abdul-Mateen II, Colman Domingo, Jharrel Jerome, Jared Kemp.
Jinn (World Premiere)
Director/Screenwriter: Nijla Mu'min
A shape-shifting, pepperoni-loving, black teenage Instagram celebrity explores her identity and sexuality in the midst of her mother's conversion to Islam. Cast: Zoe Renee, Simone Missick, Kelvin Harrison, Jr., Hisham Tawfiq, Kelly Jenrette, Dorian Missick, Ashlei Foushee, Maya Morales, Damien D. Smith.
The New Romantic (Canada)(World Premiere)
Director/Screenwriter: Carly Stone
Frustrated with the lack of chivalrous guys her own age, a college senior gives up on dating for love to date an older man in exchange for gifts instead. Cast: Jessica Barden, Hayley Law, Brett Dier, Timm Sharp, Avan Jogia, Camila Mendes.
SADIE (World Premiere)
Director/Screenwriter: Megan Griffiths
While her father is away serving in the military, Sadie battles to preserve his place on the home front when her mother takes an interest in a new man. Cast: Melanie Lynskey, Sophia Mitri Schloss, John Gallagher Jr., Danielle Brooks, Tony Hale, Keith Williams, Tee Dennard.
Shotgun (World Premiere)
Directors/Screenwriters: Hannah Marks, Joey Power
A young couple's relationship develops quickly when one of them is diagnosed with a life-changing illness. Cast: Maika Monroe, Jeremy Allen White, DeRon Horton, Marisa Tomei, Sasha Lane, Joe Keery, Gina Gershon, Dean Winters, Olivia Luccardi.
Summer '03 (World Premiere)
Director/Screenwriter: Becca Gleason
On her deathbed, Jamie's grandmother leaves her with two pieces of information: one involves a baptism, the other a blowjob. This sets Jamie and her family on an emotional roller coaster ride while she falls for the wrong guy at the wrong time. Cast: Joey King, Andrea Savage, Paul Scheer, Jack Kilmer, Erin Darke, Stephen Ruffin, Kelly Lamor Wilson, Logan Medina, June Squibb.
Thunder Road (World Premiere)
Director/Screenwriter: Jim Cummings
Officer Arnaud loved his Mom. Cast: Kendal Farr, Jim Cummings, Nican Robinson, Jocelyn DeBoer, Macon Blair, Bill Wise, Jordan Fox, Chelsea Edmondson.
The Unicorn (World Premiere)
Director: Robert Schwartzman, Screenwriters: Nick Rutherford, Kirk C. Johnson, Will Elliott
Facing the fourth year of their engagement, an indecisive couple is thrust into the most uncomfortable night of their lives by intentionally and unintentionally involving a third party in their relationship. Cast: Lauren Lapkus, Nick Rutherford, Lucy Hale, Beck Bennett, Dree Hemingway, Beverly D'Angelo, John Kapelos, Maya Kazan, Darrell Britt-Gibson, Kyle Mooney.
Write When You Get Work (World Premiere)
Director/Screenwriter: Stacy Cochran
Write When You Get Work is a comedy of money and access, a NY love story set in the Bronx and at a pricey school for girls on the Upper East Side of Manhattan. Years after they've parted ways, Jonny Collins pursues Ruth Duffy for love -- and profit. Cast: Emily Mortimer, Finn Wittrock, Rachel Keller, Scott Cohen, Jessica Hecht, James Ransone, Andrew Schulz, Tess Frazer, Afton Williamson, Zarif Kabier.
Documentary Feature Competition
Ten world premieres: ten real world stories that demonstrate innovation, energy and bold voices. Selected from 1,050 feature documentary submissions in 2018.
Chi-Town (World Premiere)
Director: Nick Budabin
An underdog basketball player from Chicago goes on a meteoric rise to become one of the best college point guards in the nation. But while he pursues dreams of the NBA, his success contrasts with the effects of gun violence on his friends back home.
Garry Winogrand: All Things are Photographable (World Premiere)
Director: Sasha Waters Freyer
Artist. Iconoclast. Man of his time. All Things are Photographable is a revealing documentary portrait of the life and work of acclaimed photographer Garry Winogrand – the epic storyteller in pictures of America across three turbulent decades.
The Gospel of Eureka (World Premiere)
Directors: Michael Palmieri, Donal Mosher, Screenwriter: Donal Mosher
Love, faith, and civil rights collide in a southern town as evangelical Christians and drag queens step into the spotlight to dismantle stereotypes and explore the meaning of belief. Gospel drag shows and passion plays set the stage for one hell of a show.
¡Las Sandinistas! (Nicaragua, United States)(World Premiere)
Director: Jenny Murray
¡Las Sandinistas! uncovers the disappearing stories of women who shattered barriers to lead combat and social reform during Nicaragua's 1979 Sandinista Revolution, and who continue to lead Nicaragua's current struggle for democracy and equality.
People's Republic of Desire (China)(World Premiere)
Director: Hao Wu
In China's popular live-streaming showrooms, three millennials – a karaoke singer, a migrant worker and a rags-to-riches comedian – seek fame, fortune and human connection, ultimately finding the same promises and perils online as in their real lives.
Social Animals (World Premiere)
Director: Jonathan Ignatius Green, Screenwriters: Carol Martori, Jonathan Ignatius Green, Peter Garriott
A daredevil photographer, an aspiring swimsuit model, and a midwest girl next door are all looking for the same things from their Instagram accounts––a little love, acceptance and, of course, fame––and they'll do just about anything to get it.
This One's For The Ladies (World Premiere)
Director: Gene Graham
This One's For The Ladies explores the sexual and social identity of contemporary black America through intimate, eye opening and often hilarious accounts from women and men who find love and community in the underground world of exotic dancing.
TransMilitary (World Premiere)
Directors: Gabriel Silverman, Fiona Dawson, Screenwriters: Jamie Coughlin, Gabriel Silverman
At a time when transgender people are banned from serving in the U.S. military, four of the thousands of transgender troops risking discharge fight to attain the freedom they so fiercely protect.
Weed The People (World Premiere)
Director: Abby Epstein
Weed the People captures the uplifting and heart-wrenching struggles of families who treat their cancer-stricken children with marijuana, some with astonishing results.
The World Before Your Feet (World Premiere)
Director: Jeremy Workman
For over 6 years, Matt Green, 37, has been walking every street in New York City – a total of more than 8000 miles. The World Before Your Feet tells the story of one man's unusual quest and the journey of discovery, humanity, and wonder that ensues.
Headliners
Big names, big talent: Headliners bring star power to SXSW, featuring red carpet premieres and gala film events with major and rising names in cinema.
A Quiet Place (World Premiere)
Director: John Krasinski, Screenwriters: Bryan Woods, Scott Beck, and John Krasinski, Producers: Platinum Dunes
If they can't hear you, they can't hunt you. Cast: Emily Blunt, John Krasinski, Noah Jupe, and Millicent Simmonds.
Blockers (World Premiere)
Director: Kay Cannon, Screenwriters: Brian Kehoe & Jim Kehoe, Jon Hurwitz & Hayden Schlossberg, Eben Russell
When three parents discover their daughters' pact to lose their virginity at prom, they launch a covert one-night operation to stop the teens from sealing the deal. Cast: Leslie Mann, Ike Barinholtz, John Cena, Kathryn Newton, Geraldine Indira Viswanathan, Gideon Adlan.
Boundaries (World Premiere)
Director/Screenwriter: Shana Feste
Laura and her troubled son Henry are forced to drive her estranged, pot-dealing, carefree father Jack across country after being kicked out of a nursing home. Cast: Vera Farmiga, Christopher Plummer, Lewis MacDougall, Bobby Cannavale, Kristen Schaal, Dolly Wells, Yahya Abdul-Mateen , Christopher Lloyd, Peter Fonda.
PARADOX (World Premiere)
Director/Screenwriter: Daryl Hannah
A loud Poem. A whimsical western tale of music and love. Cast: Neil Young, Lukas Nelson, Micah Nelson, Corey McCormick, Anthony LoGerfo, Tato Melgar, Willie Nelson, Charris Ford, Dulcie Clarkson Ford.
Final Portrait (United Kingdom, United States) (North American Premiere)
Director/Screenwriter: Stanley Tucci
Final Portrait is the story of the touching and offbeat friendship between world renowned artist Alberto Giacometti and American writer and art-lover James Lord, based on Lord's memoir. Cast: Geoffrey Rush, Armie Hammer, Clémence Poésy, Tony Shalhoub, Sylvie Testud.
Narrative Spotlight
High profile narrative features receiving their World, North American or U.S. premieres at SXSW.
6 Balloons (World Premiere)
Director/Screenwriter: Marja Lewis Ryan
Over the course of one night, a woman drives across LA with her heroin addict brother in search of a detox center, with his two year old daughter in tow. Cast: Abbi Jacobson, Dave Franco, Charlotte Carel, Madison Carel, Jane Kaczmarek, Dewan Owens, Tim Matheson, Jen Tullock, Maya Erskine, Heidi Sulzman.
All Square (World Premiere)
Director: John Hyams, Screenwriter: Timothy Brady
A down-on-his-luck bookie befriends an ex-girlfriend's son and gets the bright idea to take bets on his youth league baseball games; only to realize he's killed what's pure about the sport as the games turn ugly when money is on the line. Cast: Michael Kelly, Josh Lucas, Pamela Adlon, Tom Everett Scott, Isiah Whitlock Jr., Harris Yulin, Yeardley Smith, Jesse Ray Sheps, Jay Larson, Craig Walker.
Anchor and Hope (Spain) (North American Premiere)
Director/Screenwriter: Carlos Marques-Marcet
When the best friend of a bohemian lesbian couple agrees to be their surrogate, the three friends set out on an unconventional journey to start a family. Cast: Natalia Tena, Oona Chaplin, David Verdaguer, Geraldine Chaplin.
A Bluebird in My Heart (Belgium, France) (World Premiere)
Director/Screenwriter: Jérémie Guez
Attempting to lead a quiet reformed life, an ex-con finds refuge in a motel run by a single mother and her daughter Clara. The peace and freedom he has found in this safe haven disappears when Clara is assaulted, forcing him to face his old demons Cast: Roland Moller, Veerle Baetens, Lola Le Lann, Lubna Azabal.
The Breaker Upperers (New Zealand) (World Premiere)
Directors/Screenwriters: Jackie van Beek, Madeleine Sami
Two women run a business breaking up couples for cash but when one develops a conscience their friendship unravels. Cast: Jackie van Beek, Madeleine Sami, Celia Pacquola, James Rolleston, Ana Scotney.
Fast Color (World Premiere)
Director: Julia Hart, Screenwriters: Julia Hart, Jordan Horowitz
In this genre-bending supernatural drama, a woman is forced to go on the run when her extraordinary abilities are discovered. Years after having abandoned her family, the only place she has left to hide is home. Cast: Gugu Mbatha-Raw, Lorraine Toussaint, Saniyya Sidney, Christopher Denham, David Strathairn.
First Light (Canada) (World Premiere)
Director/Screenwriter: Jason Stone
A close encounter with mysterious lights sends two teens on the run after one discovers she has extraordinary but dangerous powers. Cast: Stefanie Scott, Theodore Pelerine, Said Taghmaoui.
The Legacy of a Whitetail Deer Hunter (World Premiere)
Director: Jody Hill
The great hunter Buck Ferguson (Josh Brolin) and his trusted cameraman Don (Danny McBride) set out for an epic weekend adventure to reconnect with Buck's young son (Montana Jordan). Cast: Josh Brolin, Danny McBride, Scoot McNairy, Montana Jordan.
Neurotic Quest for Serenity (Brazil) (North American Premiere)
Directors/Screenwriters: Paulinho Caruso, Teodoro Poppovic
Kika is going through a lot. She's a famous actress. She has millions of fans. She's about to star in a post apocalyptic soap opera. And she has obsessive compulsive disorder. Cast: Tatá Werneck, Vera Holtz, Bruno Gagliasso, Daniel Furlan.
Outside In (U.S. Premiere)
Director: Lynn Shelton, Screenwriters: Lynn Shelton, Jay Duplass
An ex-con struggling to readjust to life in his small town forms an intense bond with his former high-school teacher. Cast: Jay Duplass, Edie Falco, Kaitlyn Dever, Ben Schwartz.
Support The Girls (World Premiere)
Director/Screenwriter: Andrew Bujalski
The general manager at a highway-side 'breastaurant' has her incurable optimism and faith--in her girls, her customers, and herself--tested over the course of a long, strange day. Cast: Regina Hall, Haley Lu Richardson, Shayna McHayle, James LeGros, Dylan Gelula, AJ Michalka, Brooklyn Decker, Lea DeLaria, Jana Kramer, John Elvis.
Unlovable (World Premiere)
Director: Suzi Yoonessi, Screenwriters: Charlene deGuzman, Sarah Adina Smith, and Mark Duplass
A sex- and love-addicted woman learns what real intimacy is when she starts making music with a reclusive man. Cast: Charlene deGuzman, John Hawkes, Melissa Leo, Paul James, Ellen Geer, Gigette Reyes.
A Vigilante (World Premiere)
Director/Screenwriter: Sarah Daggar Nickson
A once abused woman, Sadie (Olivia Wilde), devotes herself to ridding victims of their domestic abusers while hunting down the husband she must kill to truly be free. Cast: Olivia Wilde, Morgan Spector, Kyle Catlett, CJ Wilson, Tonye Patano, Chuck Cooper, Betsy Aidem, Judy Marte.
Who We Are Now (U.S. Premiere)
Director/Screenwriter: Matthew Newton
Beth, recently released from prison, tries to get custody of her son again and find her way back into the outside world, along the way realizing who she is isn't about where she's been, it's about where she's going. Cast: Julianne Nicholson, Emma Roberts, Zachary Quinto, Jess Weixler, Jimmy Smits, Jason Biggs, Lea Thompson, Scott Cohen, Octavia Chavez-Richmond, J. Mallory McCree.
Wild Nights With Emily (World Premiere)
Director/Screenwriter: Madeleine Olnek
Molly Shannon plays Emily Dickinson in Wild Nights With Emily, a humorous drama. This independent film explores her vivacious, irreverent side that was covered up for years — most notably Emily's lifelong romantic relationship with another woman.Cast: Molly Shannon, Amy Seimetz, Susan Ziegler, Brett Gelman, Jackie Monahan, Kevin Seal, Dana Melanie, Sasha Frolova, Lisa Haas, Al Sutton.
WILDLING (World Premiere)
Director: Fritz Bohm, Screenwriters: Fritz Bohm, Florian Eder
A blossoming teenager uncovers the dark secret behind her traumatic childhood. Cast: Bel Powley, Brad Dourif, Liv Tyler, Collin Kelly-Sordelet, James Le Gros, Troy Ruptash, Arlo Mertz, Aviva Winick.
You Can Choose Your Family (World Premiere)
Director: Miranda Bailey, Screenwriter: Glen Lakin
A seventeen-year-old boy blackmails his father after discovering his secret second family. Cast: Jim Gaffigan, Logan Miller, Anna Gunn, Samantha Mathis, Alex Karpovsky, Hayes MacArthur, Michelle Hurd.
Documentary Spotlight
Shining a light on new documentary features receiving their World, North American or U.S. premieres at SXSW.
Agave: The Spirit of a Nation (Mexico, United States) (World Premiere)
Directors: Nicholas Kovacic, Matthew Riggieri, Screenwriter: Chantal Martineau
In Mexico, families have passed down the tradition of distilling agave for generations and now, this once obscure Mexican drink is everywhere. Discover, how one delicate plant has carried the weight of a nation and the people trying to protect it.
Ali & Cavett: The Tale of the Tapes (World Premiere)
Director: Robert Bader, Screenwriters: Robert S. Bader, Dick Cavett
The life and times of Muhammed Ali shown through the lens of his numerous appearances on The Dick Cavett Show. The film features new interviews with Dick Cavett, Rev. Al Sharpton, and Larry Merchant, as well as archival material from the Cavett Show.
Alt-Right: Age of Rage (World Premiere)
Director/Screenwriter: Adam Bhala Lough
In the first year of Trump's Presidency, Daryle Lamont Jenkins, an Antifa activist, combats the rise of the Alt-Right movement, while Richard Spencer, an Alt-Right leader, fights to gain ground, culminating in a tragic showdown in Charlottesville.
The Bill Murray Stories: Life Lessons Learned From A Mythical Man (World Premiere)
Director: Tommy Avallone, Screenwriters: Tommy Avallone and Max Paolucci
One man's journey to find meaning in Bill Murray's many unexpected adventures with everyday people, rare and never-before seen footage of the comedic icon participating in stories previously presumed to be urban legend.
Brewmaster (World Premiere)
Director/Screenwriter: Douglas Tirola
Brewmaster follows a young ambitious New York lawyer who struggles to chase hiAmerican dream of becoming a brewmaster and a Milwaukee-based professional beer educator, as he attempts to become a Master Cicerone.
Daughters of the Sexual Revolution: The Untold Story of the Dallas Cowboys Cheerleaders (World Premiere)
Director: Dana Adam Shapiro
Daughters of the Sexual Revolution is the never-before-told story of Suzanne Mitchell, the fiercely-loyal den mother of the original Dallas Cowboys Cheerleaders.
The Dawn Wall (Austria, United States) (North American Premiere)
Directors: Josh Lowell, Peter Mortimer
Legendary free climber Tommy Caldwell tries to get over heartbreak by scaling 3000ft of an impossible rock face: the Dawn Wall of El Capitan.
From All Corners (Japan) (World Premiere)
Director: Ryusuke Okajima
Fuyuki Shimazu, the cardboard picker and artist, creates wallets made from used cardboard which he picks up from 25 countries. His wallets travel around the world to advocate the concept of "upcycling" which is the mind beyond recycling or re-use.
Getting Over (World Premiere)
Director/Screenwriter: Jason Charnick
A man discovers a box of interviews with his father, a lifelong heroin addict who died of AIDS in 1997. What he finds will uncover generations of family secrets, forcing him to redefine his own past, doubt his present, and question his future.
Nossa Chape (Brazil, Colombia, United States) (World Premiere)
Directors/Screenwriters: Jeff Zimbalist, Michael Zimbalist
Nossa Chape tracks the rebuilding of the Chapecoense football club in Brazil after an airplane carrying the team crashed on November 28th, 2016, and left all but three of the players dead.
Operation Odessa (World Premiere)
Director: Tiller Russell
The stranger-than-fiction true story of a Russian mobster, a Miami playboy, and a Cuban spy who teamed up in the early 90's to sell a Soviet submarine to the Cali Carte.
Take Your Pills (World Premiere)
Director: Alison Klayman
Every era gets the drug it deserves. In America today, where competition is ceaseless from school to the workforce and everyone wants a performance edge, Adderall and other prescription stimulants are the defining drugs of this generation.
Time Trial (United Kingdom) (North American Premiere)
Director: Finlay Pretsell
Time Trial takes us into the final races of cyclist David Millar's career, leading to his last encounter with the Tour de France. The film reveals how the human spirit is driven by forces deeper than success and glory.
Visions
Visions filmmakers are audacious, risk-taking artists in the new cinema landscape who demonstrate raw innovation and creativity in documentary and narrative filmmaking.
1985 (World Premiere)
Director/Screenwriter: Yen Tan
A young man goes home for the holidays and struggles to reveal a distressing secret to his loved ones. Cast: Cory Michael Smith, Virginia Madsen, Michael Chiklis, Jamie Chung, Aidan Langford, Ryan Piers Williams.
Don't Leave Home (World Premiere)
Director/Screenwriter: Michael Tully
An American artist's obsession with a disturbing urban legend leads her to an investigation of the story's origins at the crumbling estate of a reclusive painter in Ireland. Cast: Anna Margaret Hollyman, Lalor Roddy, Helena Bereen, David McSavage, Karrie Cox.
Elizabeth Harvest (United Kingdom) (World Premiere)
Director/Screenwriter: Sebastian Gutierrez
Elizabeth Harvest is a science fiction reimagining of the French folktale of Bluebeard, in which a violent nobleman in the habit of murdering his wives is confronted by a new wife trying to avoid the fate of her predecessors. Cast: Abbey Lee, Ciaran Hinds, Carla Gugino, Matthew Beard, Dylan Baker.
Friday's Child (World Premiere)
Director/Screenwriter: A.J. Edwards
Fresh out of foster care at age 18, a young drifter turns to petty crime to survive, and discovers an impossible love in an unlikely friend. Cast: Tye Sheridan, Imogen Poots, Jeffrey Wright, Caleb Landry Jones.
Meow Wolf: Origin Story (Word Premiere)
Directors: Morgan Capps, Jilann Spitzmiller, Screenwriters: Jilann Spitzmiller, Morgan Capps, Christina Procter
A group of artists, punks, and weirdos create a subversive DIY collective to disrupt the art establishment in Santa Fe, NM, which in the face of internal turmoil evolves into a cultural phenomenon on the path to becoming a global creative empire.
More Human Than Human (Belgium, Netherlands, United States) (World Premiere)
Directors:Tommy Pallotta, Femke Wolting
More Human Than Human explores what it means to live in the age of intelligent machines. During this quest, the filmmaker finds out how much of his creativity and human values are at stake as he builds his own robot to replace himself as a filmmaker.
Perfect (World Premiere)
Director: Eddie Alcazar, Screenwriter: Ted Kupper
A young man with a violent past enters a mysterious clinic where the patients wildly transform their bodies and minds using genetic engineering. Cast: Garrett Wareing, Courtney Eaton, Tao Okamoto, Maurice Compte, Abbie Cornish, Martin Sensmeier, Sarah McDaniel, Chris Santos, Leonardo Nam, Regan 'Busdriver' Farquhar.
Pet Names (World Premiere)
Director: Carol Brandt, Screenwriter: Meredith Johnston
When her ill mother urges her to take a vacation from her caretaking, grad-school-dropout Leigh invites her ex along on the camping trip. The two soon find that confronting old wounds during a weekend in the woods is anything but restful. Cast: Meredith Johnston, Rene Cruz, Stacy Parish, Chelsea Norment, Jake Bradley, Lilliana Winkworth, Christina Seo.
Profile (North American Premiere)
Director: Timur Bekmambetov, Screenwriters: Britt Poulton, Timur Bekmambetov, Olga Kharina
Looking to investigate recruitment techniques of ISIS to lure women into Syria, Amy Whitaker, a journalist, creates a Facebook profile of a Muslim convert. When an ISIS recruiter contacts her online character, she experiences the process first hand. Cast: Valene Kane, Shazad Latif, Christine Adams, Morgan Watkins, Amir Rahimzadeh.
Prospect (Canada, United States) (World Premiere)
Directors/Screenwriters: Zeek Earl, Chris Caldwell
A teenage girl and her father travel to a remote moon on the hunt for elusive riches. But there are others roving the moon's toxic forest and the job quickly devolves into a desperate fight to escape. Cast: Sophie Thatcher, Pedro Pascal, Jay Duplass, Andre Royo, Sheila Vand, Anwan Glover.
Relaxer (United States) (World Premiere)
Director/Screenwriter: Joel Potrykus
Y2K is approaching fast, but Abbie can't get off the couch until he beats an unbeatable level on Pac-Man. Cast List: Joshua Burge, David Dastmalchian, Andre Hyland, Adina Howard, Amari Cheatom.
Rukus
Director: Brett Hanover, Screenwriters: Brett Hanover, Alanna Stewart, Rukus
A hybrid of documentary and fiction, Rukus is a queer coming-of-age story set in the liminal spaces of furry conventions, southern punk houses, and virtual worlds.
Thy Kingdom Come (World Premiere)
Director: Eugene Richards
A cancer patient mad at God; a Klansman seeking redemption; a mother blamed for her baby's death; an elderly woman never not in love; a priest who doesn't pass judgment, who listens: Interwoven, unscripted stories of life in a small mid-America town. Cast: Javier Bardem, Callie Eldred, Tasia Moore, Joshua Collins, Adam Watters, Samantha Jo Chism Watters, Melvin Kemp, Melvin Cook, Kathryn Von Glahn, Eric Eudy.
Wild Honey Pie! (United Kingdom) (World Premiere)
Director/Screenwriter: Jamie Adams
Gillian and Oliver have reached the Seven Year Itch moment in their Marriage, being of the melodramatic persuasion they itch till their relationship bleeds! Cast: Jemima Kirke, Alice Lowe, Sarah Solemani, Brett Goldstein, Joanna Scanlon, Richard Elis, Dan Clark, William Thomas.
Wobble Palace (World Premiere)
Director: Eugene Kotlyarenko, Screenwriters: Story by Dasha Nekrasova and Eugene Kotlyarenko
A week before the 2016 election, a couple on the verge of a nervous break-up decide to split their home over the weekend and test the waters of independence. Cast: Dasha Nekrasova, Eugene Kotlyarenko, Jack Kilmer, Paige Elkington, Caroline Hebert, Casey Jane Ellison, Vishwam Velandy, Janiva Ellis, Kim Ye, Elisha Drons.
Episodic
Featuring innovative new work aimed squarely at the small screen, Episodic tunes in to the explosion of exciting material on non-theatrical platforms, including serialized TV, webisodes and beyond.
Barry (World Premeire)
Director: Bill Hader, Screenwriters: Alec Berg and Bill Hader
Barry features Bill Hader as a low-rent hitman from the Midwest. Lonely and dissatisfied in his life he begrudgingly travels to Los Angeles to kill someone and ends up finding an accepting community in a group of eager hopefuls within the LA theater scene. Cast: Bill Hader, Henry Winkler, Stephen Root, Sarah Goldberg, Glenn Fleshler, Anthony Carrigan.
Condor (World Premiere)
Directors: Lawrence Trilling, Andrew McCarthy, Screenwriters: Jason Smilovic and Todd Katzberg
Inspired by Paramount's Sydney Pollack 1975 political thriller Three Days of the Condor. Condor follows Joe Turner (Max Irons), a young CIA analyst whose idealism is tested when he stumbles onto a terrible plan that threatens millions of lives. Cast: Max Irons, William Hurt, Leem Lubany, Mira Sorvino, Brendan Fraser, Bob Balaban, Angel Bonnani, Katherine Cunningham, Christina Moses, Kristen Hager.
Krypton (World Premiere)
Directors: Colm McCarthy, Ciaran Donnelly, Screenwriters: Cameron Welsh, Damian Kindler and David S. Goyer, Story by David S. Goyer, Ian Goldberg
What if Superman had never existed? Seg-El, Superman's grandfather, is faced with a conflict: Save Krypton? Or let it be destroyed in order to secure the future of his grandson-to-be? Cast: Cameron Cuffe, Georgina Campbell, Elliot Cowan, Ann Ogbomo, Aaron Pierre, Rasmus Hardiker, Wallis Day, Blake Ritson, Ian McElhinney, Shaun Sipos, Colin Salmon.
The Last O.G. (World Premiere)
Creator and Executive Producer: Jordan Peele, Executive Producers: Tracy Morgan and John Carcieri, Director: Jorma Taccone
The Last O.G. is a show about humanity, second chances and redemption. Morgan plays Tray an ex-con who is shocked to see just how much the world has changed when he returns to the free world after 15 years in prison. Cast: Tracy Morgan, Cedric the Entertainer, Allen Maldonado, Tiffany Haddish, Joel Marsh Garland, Gino Vento, Natalie Carter, Taylor Mosby, Ryan Gaul.
Vida (World Premiere)
Directors: Alonso Ruizpalacios, So Yong Kim, Screenwriters: Tanya Saracho, Santa Sierra
Vida is about two estranged Mexican-American sisters from the Eastside of Los Angeles who couldn't be more different. Circumstances force them to return home where they are confronted by the past and surprising truth about their mother's identity. Cast: Melissa Barrera, Mishel Prada, Ser Anzoategui, Chelsea Rendon, Carlos Miranda, Maria Elena Laas.
Warriors of Liberty City (World Premiere)
Directors: Evan Rosenfeld, Andrew Cohn
Warriors of Liberty City from showrunner Evan Rosenfeld follows a season with the Liberty City Warriors, a youth football program founded by an unlikely mentor: Luther Campbell, better known as Uncle Luke from 2 Live Crew. Cast: Luther "Uncle Luke" Campbell, Chad "Ochocinco" Johnson, Lavalrick Lucas, Jr., Lavalrick "Dread" Lucas, Sr. , George Harris, Jr. , George Harris, Sr., Barry Jenkins, Herbert Ritchie, Chatarius "Tutu" Atwell, Jr., Robert "Lamont" Beneby, Jr..
24 Beats Per Second
Showcasing the sounds, culture and influence of music & musicians, with an emphasis on documentary.
BLAZE
Director: Ethan Hawke, Screenwriters: Ethan Hawke, Sybil Rosen
The story of an unsung country music legend who gave up paradise for the sake of a song. Cast: Benjamin Dickey, Alia Shawkat, Charlie Sexton, Josh Hamilton, Wyatt Russell, Jenn Lyon, Kris Kristofferson, Sam Rockwell, Steve Zahn, Richard Linklater.
Elvis Presley The Searcher (Film 1 and 2) (World Premiere)
Director: Thom Zimny
The documentary focuses on Elvis Presley as a musical artist. It explores how he accumulated his influences, deconstructs why his sound and his style were so revolutionary and examines the creative and personal struggles that preceded his death.
Heavy Trip (Finland) (World Premiere)
Directors: Jukka Vidgren, Juuso Laatio, Screenwriters: Jukka Vidgren, Juuso Laatio, Aleksi Puranen, Jari Olavi Rantala
A young man is trying to overcome his fears by leading the most unknown heavy metal band in to the hottest metal festival of Norway. The journey includes heavy metal, grave robbing, Viking heaven and an armed conflict between Finland and Norway. Cast: Johannes Holopainen, Minka Kuustonen, Max Ovaska, Antti Heikkinen, Samuli Jaskio, Chike Ohanwe, Ville Tiihonen.
If I Leave Here Tomorrow: A Film About Lynyrd Skynyrd (World Premiere)
Director: Stephen Kijak
The story of Lynyrd Skynyrd; The Greatest American Rock Band Ever. We fly beyond Free Bird to celebrate the life & times of leader Ronnie Van Zant, from boogie-woogie beginnings in Jacksonville's Shantytown to a tragic end in a Mississippi swamp.
Making the Grade (Ireland) (North American Premiere)
Director: Ken Wardrop
A feel-good musical journey of piano playing from absolute beginner through to accomplished pianist.
Milford Graves Full Mantis (North American Premiere)
Directors: Jake Meginsky, Neil Young (Co-Director)
Milford Graves Full Mantis weaves blistering performance footage from Europe, Japan, and the U.S. with a sublimely restrained, intimate glimpse into a world-renowned jazz percussionist's singular voice and complex cosmology.
The Potential of Noise - Conny Plank (Germany) (North American Premiere)
Directors: Stephan Plank, Reto Caduff, Screenwriters: Stephan Plank, Reto Caduff, Zisak Riemann Movie about Conny Plank, the famous German music producer.
Rapture (World Premiere)
Directors: Sacha Jenkins, Ben Selkow, Geeta Gandbhir, Steven Caple Jr., Marcus A. Clarke, Gabriel Noble
Rapture showcases the definitive impact of hip hop on global culture. Over 8 episodes featuring Nas, Dave East, T.I., Rapsody, Logic, G-Eazy, A Boogie wit da Hoodie, 2 Chainz and Just Blaze.
Ruben Blades Is Not My Name (Panama) (World Premiere)
Director/Screenwriter: Abner Benaim
Ruben Blades Is Not My Name portrays one of Latin America´s most beloved singer-songwriters in a journey across his 50-year career. In an intimate way, the film gives us a chance to get to know the artist, his music, and the stories behind them.
A Tuba To Cuba (World Premiere)
Directors: T.G Herrington, Danny Clinch, Screenwriter: T.G Herrington
A son seeking to fulfill his late father's dream takes his band from the storied city of New Orleans to the shores of Cuba, where — through the universal language of music — dark and ancient connections between their peoples reveal the roots of jazz.
Global
A diverse selection of international filmmaking talent, featuring innovative narratives, artful documentaries, premieres, festival favorites and more.
A Little Wisdom (Nepal) (North American Premiere)
Director: Yuqi Kang
See the world through the eyes of five-year-old Tibetan novice monk Hopakuli and share in his joys and sorrows as he endures the rigors of monastic life. A Little Wisdom endeavors to tell a story of children who find happiness through religious life.
Martyr (Lebanon) (North American Premiere)
Director/Screenwriter: Mazen Khaled A heartfelt farewell to the beauty and sensuality of life, youth, friendship, and love. Cast: Carol Abboud, Hamza Mekdad, Mostafa Fahs, Hady Bou Ayash, Rachad Nassereddine, Rabih el Zaher, Raneem Mourad.
Number 37 (South Africa) (World Premiere)
Director/Screenwriter: Nosipho Dumisa
Number 37 is the story of Randall, wheelchair bound, playing a cat and mouse game blackmailing a powerful criminal whilst evading a sadistic loan shark who will kill him and his girlfriend if his loan is not paid back by the end of the week. Cast: Irshaad Ally, Monique Rockman, Ephraim Gordon, David Manuel, Sandy Schultz, Deon Lotz, Danny Ross, Amrain Essop, Elton Landrew, Jeff Moss.
Rush Hour (Mexico, Turkey, United States) (U.S. Premiere)
Director: Luciana Kaplan
Rush Hour is an intimate approach to personal stories of three commuters who spend hours of their lives going from home to work and back, reflection a common reality shared by billions of people.
Team Hurricane (Denmark) (U.S. Premiere)
Director/Screenwriter: Annika Berg
Team Hurricane – Radical Girls in an Ordinary World is a punk chick flick that mixes documentary material with highly stylized fiction. Cast: Eja Penelope Roepstorff, Ida Glitre, Ira Rønnenfelt, Maja Leth Bang, Mathilde Linnea Daugaard Jensen, Mia My Elise Pedersen, Sara Morling, Zara Munch Bjarnum.
Theatre of War (Argentina) (U.S. Premiere)
Director/Screenwriter: Lola Arias
Theatre of War is an essay on how to represent war, performed by former enemies. British and Argentinian veterans of the Falklands war come together to discuss, rehearse and re-enact their memories 35 years after the conflict.
Virus Tropical (Colombia)
Director: Santiago Caicedo
Born in a not-so-conventional family, Paola grows up between Ecuador and Colombia and finds herself unable to fit in any mold. With a unique feminine vision of the world, she will have to fight against prejudice and struggle for her independence.
Festival Favorites
Acclaimed standouts & selected previous premieres from festivals around the world.
American Animals (United States, United Kingdom)
Director/Screenwriter: Bart Layton
The unbelievable but true story of four young men who mistake their lives for a movie and attempt one of the most audacious art heists in US history. Cast: Evan Peters, Barry Keoghan, Blake Jenner, Jared Abrahamson, Ann Dowd, Udo Kier.
Chef Flynn
Director: Cameron Yates
Chef Flynn captures the coming of age of a prodigy chef, as he navigates a sea of sudden fame, bullying, and his mother's camera.
Constructing Albert (Spain)
Directors: Laura Collado, Jim Loomis, Screenwriter: Laura Collado
In the world of haute cuisine, the name Adrià is synonymous with creativity. Constructing Albert is a portrait of the younger brother Albert as he strives to establish his own reputation in the world of international haute cuisine after elBulli.
Damsel
Directors/Screenwriters: David Zellner, Nathan Zellner
An affluent pioneer ventures deep into the wilderness of the American West to join his fiancée. Cast: Robert Pattinson, Mia Wasikowska, David Zellner, Nathan Zellner, Robert Forster, Joe Billingiere.
Eighth Grade
Director/Screenwriter: Bo Burnham
Thirteen-year-old Kayla endures the tidal wave of contemporary suburban adolescence as she makes her way through the last week of middle school—the end of her thus far disastrous eighth grade year—before she begins high school. Cast: Elsie Fisher, Josh Hamilton, Emily Robinson, Jake Ryan.
First Reformed
Director/Screenwriter: Paul Schrader
The pastor of a small New England church (Ethan Hawke) spirals out of control after a soul-shaking encounter with an unstable environmental activist and his pregnant wife (Amanda Seyfried) in this taut, chilling thriller. Cast: Ethan Hawke, Amanda Seyfried, Cedric Kyles, Michael Gaston, Philip Ettinger, Victoria Hill
Generation Wealth
Director/Screenwriter: Lauren Greenfield
Simultaneously personal journey and historical essay, Lauren Greenfield's latest documentary bears witness to the global boom–bust economy, the corrupted American Dream, and the human costs of late stage capitalism, narcissism, and greed.
Half the Picture
Director/Screenwriter: Amy Adrion
Half the Picture is a feature length documentary about the dismal number of women directors working in Hollywood, featuring top female directors sharing their experiences in the industry.
Lean on Pete
Director/Screenwriter: Andrew Haigh
From acclaimed filmmaker Andrew Haigh (Weekend; 45 Years), and based on the beloved novel by Willy Vlautin, comes Lean on Pete —a deeply moving story about love, loneliness, family, and friendship, told through the unique prism of one boy's connection to a very special racehorse. Cast: Charlie Plummer, Chloë Sevigny, Steve Buscemi, Travis Fimmel.
Narcissister Organ Player
Director/Screenwriter: Narcissister
This hybrid performance/documentary film explores how the artist's complex family history, in particular her relationship with her mother, compelled her to create the masked, erotic performance character Narcissister.
Never Goin' Back
Director/Screenwriter: Augustine Frizzell
Jessie and Angela, high school dropouts, are taking a week off to chill at the beach. Too bad their house got robbed, rent's due, they're about to get fired and they're broke. Now to avoid eviction and get to the beach, no matter what! Cast: Maia Mitchell, Cami Morrone, Kyle Mooney, Joel Allen, Kendal Smith, Matthew Holcomb, Atheena Frizzell, Spencer Rayshon, Marcus Mauldin, Liz Cardenas.
On Her Shoulders
Director: Alexandria Bombach
Nadia Murad is a 23-year-old Yazidi survivor of genocide and sexual slavery by ISIS. Repeating her horrific story to politicians, the media, and the United Nations, she must navigate bureaucracy, politics and sudden fame to get the world to listen.
Pass Over
Director: Spike Lee, Screenwriter: Antoinette Nwandu
Academy Award nominee and Honorary Oscar winner Spike Lee captures the poetry, humor and humanity of this urgent and timely play about two young black men talking trash, passing the time, and dreaming of the promised land. A provocative riff on Waiting for Godot, Pass Over is written by newcomer Antoinette Nwandu. Cast: Jon Michael Hill, Julian Parker, Ryan Hallahan, Blake DeLong.
The Rider
Director/Screenwriter: Chloé Zhao
After a tragic riding accident, a young cowboy, once a rising star of the rodeo circuit, is warned that his competition days are over. Back home, he struggles to find himself when he can no longer do what what gives him a sense of purpose. Cast: Brady Jandreau, Tim Jandreau, Lilly Jandreau, Lane Scott, Cat Clifford.
Won't You Be My Neighbor?
Director: Morgan Neville
Won't You Be My Neighbor? looks at children's television host Mr. Rogers' hard-fought campaign to influence generations of kids and adults in the ways of kindness.
Special Events
Live soundtracks, cult re-issues & much more. Our Special Events section offers unusual, unexpected and unique one-off film events.
The Atomic Café (World Premiere)
Director: Kevin Rafferty, Jayne Loader & Pierce Rafferty
The Atomic Cafe is a cult classic documentary from 1982. This is the 4K digital restoration.
This Is Us (World Premiere)
Director: Various
Everyone has a family. And every family has a story. This grounded, life-affirming dramedy reveals how the tiniest events in our lives impact who we become, and how the connections we share with each other can transcend time, distance and even death. Cast: Milo Ventimiglia, Mandy Moore, Chrissy Metz, Sterling K. Brown, Justin Hartley.
Add films of interest to your schedule now and as the details for time, date, and venue become available, your personal schedule will be automatically updated.
Join Us For SXSW 2018
Grab your Film Badge today for primary access to all SXSW Film events including world premieres, roundtables, workshops, and parties. Register to attend by Friday, February 9 and save. Book your hotel through SXSW Housing & Travel for the best available rates.
Follow us on Facebook, Twitter, Instagram, and SXSW News for the latest SXSW coverage, announcements, and updates.
See you in March!
A Quiet Place Photo courtesy of Paramount Pictures