65 Finalists Announced for the 2017 Interactive Innovation Awards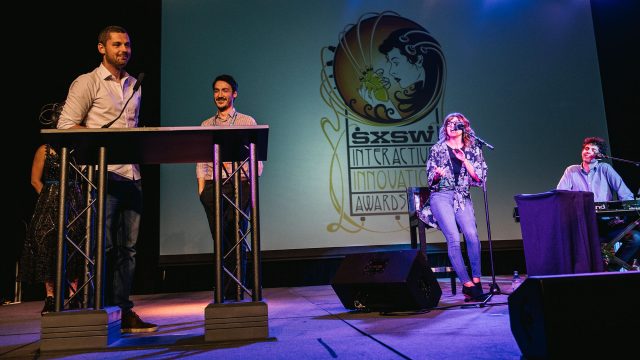 After reviewing hundreds of applications, our advisory board of SXSW Interactive Innovation Awards jurists selected the following 65 finalists. In each of the 13 categories, we've named the top 5 entries launched in 2016 — the connected world's best and most forward-thinking — in fields ranging from biotech to digital security to smart cities and beyond.
Be sure to come check out these groundbreaking new projects in-person at the 2nd annual Interactive Innovation Awards Finalist Showcase on Sunday, March 12. Register today and start building your personalized online schedule.
Congratulations to all the finalists!
2017 Interactive Innovation Awards Finalists
Health, Med & Biotech
Awarded for the new technology that best improves the quality, efficacy, and cost-effectiveness of prevention, diagnosis, treatment and care in health and medicine
DIY CRISPR Kit by The ODIN, San Francisco, CA
miniPCR by Amplyus, Cambridge, MA
Molekule by Molekule, San Francisco, CA
PRIME Needle Free Injector by Portal Instruments, Cambridge, MA
Voxel Bay by the Research Institute at Nationwide Children's Hospital, Columbus, OH
Innovation In Connecting People
Awarded for the best new way to connect and communicate with others
Blendoor by Stephanie Lampkin, San Francisco, CA
REWORD by Leo Burnett Melbourne, Southbank, VIC, AUS
Samsung: Bedtime VR stories by Unit9, London, UK
Sydney Opera House #comeonin by DDB Group Australia, Sydney, NSW, AUS
The Superbook by Sentio, San Francisco, CA
Innovative 3-DIY
Awarded for making 3D printing technology more accessible or affordable, or to the Maker using such technology in new and exciting ways
3Doodler PRO by 3Doodler, New York, NY
The FormBox by Makyu Industries, London, UK
Miia™ Truly Personalized CPAP by Metamason, Los Angeles, CA
Onyx One 3D Printer by Markforged Inc., Cambridge, MA
Original Prusa i3 MK2 by Prusa Research, Prague, CZE
Music & Audio Innovation
Awarded for 2016's best device or service that changes and improves the way we listen to and enjoy music
HOLOPLOT Wave Field Generator by Holoplot GmbH, Berlin, DEU
KSM8 Dualdyne™ Cardioid Dynamic Vocal Microphone by Shure Inc, Niles, IL
OSSIC X by OSSIC, San Diego, CA
The Sensel Morph by Sensel, Mountain View, CA
Vochlea: Protoyping Music by George Philip Wright, Leeds, UK
New Economy
Awarded to those redefining the exchange of goods and services, from the sharing economy, to virtual currency, to micro-finance, to mobile-device-payment systems and beyond
Blinker App by Blinker Inc, Denver, CO
Clever Kash by ASB Bank, ​Auckland, NZL
Funderbeam by Funderbeam, Tallinn, EST
Modo's COIN® Operated Digital Payments Hub by ModoPayments, Dallas, TX
Tokken: Cashless Cannabis app by Tokken, Denver, CO
Privacy & Security
Awarded for 2016's most progressive accomplishment in the way we go about securing our data and ensuring our privacy
Almond 3 Smart Home Wi-Fi System by Securifi, Reno, NV
D3CRYPT3D by PADECA LLC, Chamblee, GA
RedMorph Inc by RedMorph Inc, Cranberry Twp, PA
TunnelBear for macOS and Windows by TunnelBear, Toronto, ON, CAN
Wire's End-to-End Encrypted Platform by Wire Swiss GmbH, Zug, CHE
Responsive Design
Awarded for excellent digital design, creating the best-integrated interaction in terms of content, aesthetics, and functionality
Johnson & Johnson CaringCrowd by CI&T and R/GA, New York, NY
Lawren Harris: Where The Universe Sings by Secret Location | Bell Fund | White Pine Pictures | TVO | YesTV, various locations
Milk Street Kitchen by Upstatement, Boston, MA
My Grandmother's Lingo by SBS Online Australia, Sydney, NSW, AUS
The Outline by Code and Theory, New York, NY
Scifi No Longer
Awarded for the coolest scientific achievement or discovery that before 2015 was only possible in science fiction
Airobotics Automated Drone Platform by Airobotics, Petah Tikva, ISR
DuoSkin by MIT Media Lab, Cambridge, MA | Microsoft Research, Redmond, WA
Nanit Thinking Baby Monitor by Nanit, New York, NY
Navii / LoweBot by Fellow Robots, San Francisco, CA
Quantum UIX by Quantum Interface, Austin, TX
Smart Cities
Awarded for innovations in eco-friendly or sustainable energy, transportation, and IoT technology, making life in the connected world a smarter, cleaner, greener, and more efficient Internet of Everything
Cota Tile by Ossia, Bellevue, WA
Otto by Otto, San Francisco, CA
SoftServe BioLock by SoftServe, Austin, TX
Starship Technologies' Delivery Robots by Starship Technologies, Tallinn, EST
V3 by Pavegen, London, UK
Student Innovation
Awarded to the student with an exceptional interactive technology project or startup; both of which are the future
BionicM - Powering Mobility for All by Xiaojun Sun | JSK robotics lab at The University of Tokyo, Tokyo, JPN
Blinks by Move38, New York, NY
Landscaped Vision: Augmented Reality and the Chinese Garden by Zhihan Ying | Art Center College of Design, Sunnyvale, CA
The Internet of Consciousness by Elaine Cheung | Art Center College of Design, Los Angeles, CA
Undercurrent 360 by University of North Carolina at Chapel Hill, Chapel Hill, NC
Visual Media Experience
Awarded for content creation and delivery that moves beyond passive viewership by providing a more immersive and engaging entertainment experience
Beneath the Waves by Periscope Pictures | Hungry Sky | Western Australian Museum, Perth, WA, AUS
Change Perspective by Narrative_ | Visa Rush Card, New York, NY
JourneyMaker by The Art Institute of Chicago, Chicago, IL
The Field Trip to Mars by McCann New York | Framestore New York, NY | Lockheed Martin, Bethesda, MD
"Through The Dark" by R/GA Sydney | Google Australia, Sydney, NSW, AUS
VR & AR
Awarded for breakthroughs in augmented reality & virtual reality technology including the application of new hardware or software which truly make the Virtual a reality
Meta 2 Development Kit by Meta, San Mateo, CA
Notes On Blindness VR by Ex Nihilo | Archer's Mark | Arte France, Paris, FRA and London, UK
The Mill Blackbird by The Mill, London, UK
The Music Room by Chroma Coda, Melbourne, VIC, AUS
Tilt Brush by Google, San Francisco, CA
Wearable Tech
Awarded for the new hardware that revolutionizes the convenience, comfort, functionality, efficiency, and fashion of having a device literally "on you"
BLIND CAP by Cheil | Samsung | The Spanish Paralympic Committee, Madrid, ESP
Halo 2 Made for iPhone Hearing Aids by Starkey Hearing Technologies | Karten Design, Eden Prairie, MN
LINK AKC™ Smart Dog Collar by Link AKC, Stamford, CT
Music: Not Impossible by Not Impossible, Los Angeles, CA
Radar Pace by Intel & Oakley, Foothill Ranch, CA
Photo of the 2016 SXSW Interactive Innovation Awards by Merrick Ales.