This is What Past Startups Said About Participating in SXSW Pitch
SXSW Pitch strives to provide startups with a platform to showcase their innovative new technologies to a panel of industry experts, high-profile media professionals, venture capitalists, and angel investors. Apply now to be a part of the 12th annual SXSW Pitch before November 15 for your chance to be a part of the event.
Over the years, we launched our startup platform for finalists with great ideas with the goal of matching them with top investors both nationally and internationally. To date, SXSW Pitch Alums have gone on to raise over $6.6 billion in funding and 16% have been acquired through 2019, according to the Pitchbook Report.
Check out what winners from three of last year's 10 categories had to say about their experience at SXSW Pitch 2019.
Sarah Hill, CEO & Chief Storyteller of Healium by StoryUP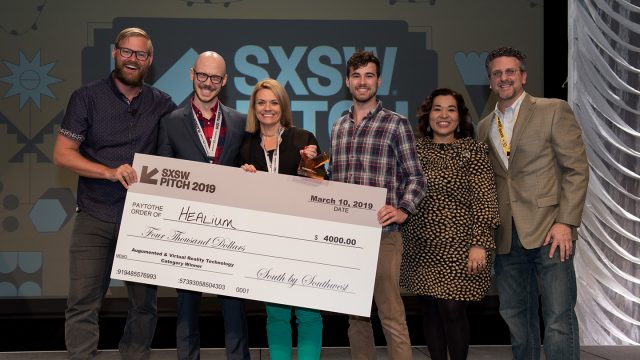 "After our first-place finish in the XR category at SXSW, our mentor Paulo Machado encouraged us to take a victory lap down 6th street with the big cardboard check to celebrate. People were coming out of the bars cheering for us when they saw the big check! After so many "no"s — more than a hundred to be exact — it was finally good to get a yes. The "yes"es kept coming for Healium. After SXSW, media exposure from our win helped us close additional investments and sales channel partners who were interested in our mind-powered drugless solution for stress. #grateful" – Hill
Hunter McDaniel, Founder & CEO of UbiQD, Inc.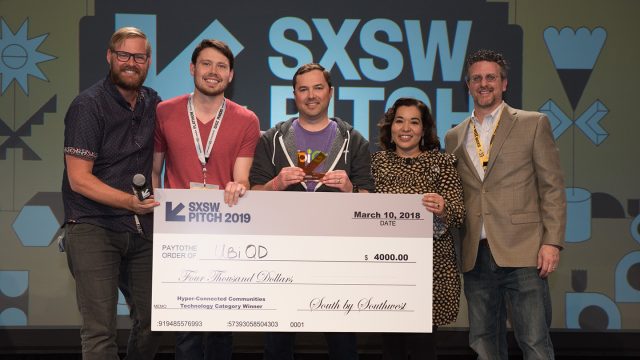 "Our experience at SXSW Pitch was excellent, and really moved the needle for our company. The coaching and build-up to the event caused me to have my pitch fully nailed down and ready to go at any moment. The actual pitch was great — I particularly enjoyed meeting the judges and have maintained several of those relationships. Finally, winning was huge! It was one of the most memorable experiences of my startup life and was transformational for UbiQD. A key inflection point." – McDaniel
Georges Aoude, Co-Founder & CEO of Derq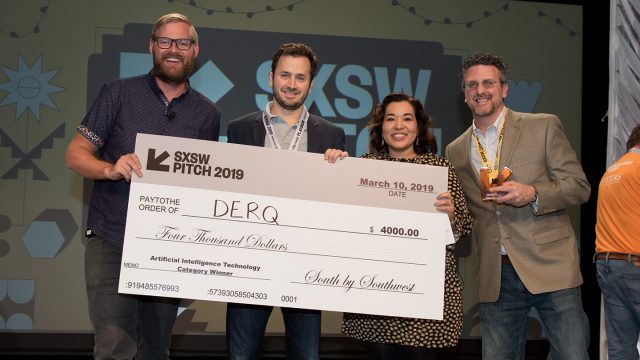 "Winning the SXSW Pitch Contest for the AI category has helped us accelerate our business at Derq as it has provided us with increased exposure and credibility with investors and partners. This award has been invaluable to us as we scale the deployment of our AI platform across the US and globally, and supports our mission to improve road safety and mobility." – Aoude
Attend SXSW 2020
Join us at SXSW from March 13-22, 2020. Check out how to attend, plan your housing, and stay up-to-date on SXSW 2020 news.
Register early for the best savings of the season and hotel availability. See you in March!
Follow us on Twitter, Facebook, LinkedIn, and Instagram.
Featured Image by Tico Mendoza