5 Reasons to Showcase at SXSW 2019: Final Deadline Oct. 28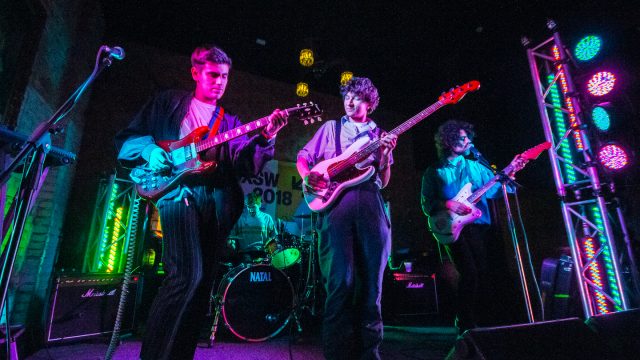 SXSW 2019 might seem a long way off, but now is the best time to move ahead with your Showcasing Artist Application. The final deadline to apply to showcase at SXSW 2019 is Sunday, October 28 – get your application in soon so that the Music Festival team can respond in a timely fashion and you'll still have plenty of time to make your plans for March.
If you're still on the fence about joining us at SXSW 2019, here are a few reasons to apply to showcase. If you've already made up your mind to apply, we recommend checking out these tips for applying from the SXSW Music Team.
Reasons to Apply to Showcase
Pursue Your Career Goals
According to our survey of artists who performed at SXSW 2018, main career goals include: sign to a label, sign with an agent, meet digital content producers, release an album, meet other artists for future collaborations, find a manager, and many more. While you may not achieve all of your goals in one week with us in Austin, the music festival provides an atmosphere ripe with opportunities to work toward these goals by bringing together so many music industry professionals.
Meet Fellow Musicians
Each year, connecting with fellow musicians is one of the most common reasons for performing cited by our domestic and international artists. With such a large and musically diverse lineup, SXSW is an excellent place to achieve this goal. We suggest doing your research on other artists attending the event before you arrive in Austin – once you get into town there will be so much going on to distract you from doing the homework. SXSW news and our Schedule page are both great resources to learn about the lineup. Of course, external media sources cover many of the artists as well, so keep an eye for features from music publications leading up to March.
Attend the SXSW Conference
Although time is the most precious resource during SXSW, we highly recommend saving time in your schedule to check out a few Conference sessions while you're in town. Showcasing Artists have access to the Music Tracks of the Conference with their artist wristbands. These sessions provide a look into the future of the music industry and will provide valuable information about how to make the best decisions with your career. We highly recommend looking through the Conference schedule before you arrive to identify any sessions that may be of interest to you.
Reach a New Audience
The number one reason among domestic artists for performing at SXSW was "expanding their audience", at 78.2%. The SXSW community is more diverse than traditional music festivals because of the Film, Conference, and Gaming components, as well as the international audiences that travel to Austin each year. Each year we continue to see more and more SXSW Interactive attendees checking out music showcases in the evenings after conference programming.
The Atmosphere
Performing at SXSW can be pivotal for your musical career for a variety of reasons, but ultimately we want it to be a fun experience to perform as well. We pride ourselves on putting together the best music festival that we possibly can each year. The time that you will have between performances at SXSW will give you an opportunity to experience it. From March 8-17, the city of Austin pulses with all the energy and creativity of the SXSW community. No matter how you spend your free time at SXSW, it is our hope that you will leave feeling inspired by the atmosphere that we have all created together.
Follow us on Facebook, Twitter, Instagram, and SXSW News for the latest SXSW coverage, announcements, application tips, and updates.
Register to attend SXSW 2019 – now is the best time to pick up your badge to save big on airfare and lodging. Looking for the best rates on hotels downtown? Contact our housing team and they will sort out a great room for you at a reasonable price.
Baywaves - Photo by Claudio Fox