SXSW Music Weekly Round-Up: Teddy Riley, Linda Perry, Sylvan Esso, Khalid, Speedy Ortiz, & More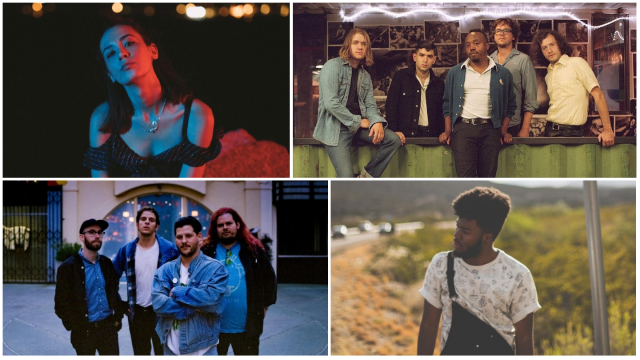 It's getting down to crunch time. As of this morning, we've confirmed 1650+ Showcasing Artists for the SXSW Music Festival, but still have more than a few surprises in store. Let's jump right in!
Recently announced Music Tracks Featured Speakers include Superchunk, Teddy Riley, Linda Perry, U-God of Wu-Tang Clan, Nile Rodgers, and more. Also new is The Future of A&R, a panel that discusses what's changed in the world of A&R – and what hasn't - in the boundless and boundary-less era of streaming. Stay tuned for more Conference additions coming soon!
Highlights from the 150+ Showcasing Artists added this week include El Paso R&B sensation Khalid, Carpark Records indie band Speedy Ortiz, Grammy nominated electronic pop duo Sylvan Esso, indie rock legends Superchunk, Matador Records Lucy Dacus, eclectic beatmaker Eliot Lipp, soul traditionalists Durand Jones & The Indications, and more.
This week we announced the 2018 SXSW Music Opening Party, where we will be kicking off the Music Festival with performances by Pussy Riot, Lali Puna, Starcrawler, and more. Other highlights include showcases from Gorilla vs. Bear, Sounds From Colombia, two Holodeck Records showcases, and an inaugural Cleopatra Records showcase.
If you haven't done so already, be sure to register for your Music Badge and book your hotel. With only 15 days before SXSW, you'll want to start filling your schedule with all the showcases and Music Track sessions you plan on attending. The Music Badge provides you with primary access to hundreds of showcases and sessions, secondary access to Interactive and Film Conference Tracks, and much more, so you'll have plenty of choices to make on how you'd like to spend your time in Austin. If you've already registered, visit our Attendee Services Hub for helpful guides and tips on how to make navigating SXSW 2018 a breeze.
Now that we have 1650+ Showcasing Artists live on the SXSW Schedule, you'll probably need a little guidance on where to start looking. To help you find your new favorite band, we offer these tools for musical discovery: jam our new SXSW Spotify genre-based playlists, tune into the SXSWfm Specialty Show focused on newly announced Showcasing Artists, and watch our YouTube Music Video playlist featuring artists from all SXSW 2018 announcements. Add new favorites to your SXSW Schedule to keep track of when and where they are performing in March.
New 2018 Conference Additions (Music)
Featured Sessions
Raw: U God's Journey into the WuTang
Featured Session: Superchunk
Music Business 101 - A Q&A with Legendary Music Icon Nile Rodgers
New Jack Swing: The Renaissance of Hip Hop and R&B
If The Artists Only Knew w/ KP the Great & David Banner
Merlin at 10: Independent Labels are Streaming Ahead
Artist Development & Longevity in 2018 w/ Linda Perry & Kerry Brown

Sessions
The Future of A&R
Latin America's Booming Music Industry
The Latin Urban Influence

New 2018 Showcasing Artist Additions
Abisha Uhl (Minneapolis MN)
The Afroknotts (Houston TX)
Alejandro Franco (Mexico City MEXICO)
Amy Becker (London UK-ENGLAND)
Ari (Mount Vernon NY)
A-Town GetDown (Austin TX)
August Eve (Los Angeles CA)
Ayuma (Austin TX)
B-Hi (Harlem NY)
B1 (Austin TX)
Barrie (Brooklyn NY)
Betonkust (Breukelen NETHERLANDS)
Big Ro (Austin TX)
Billa (New York NY)
Billie Eilish (Highland Park CA)
BLANG (Orange County CA)
Blvck Spvde (Saint Louis MO)
Bre-Z (Philadelphia PA)
Brooks Mosher b2b Submersible Machines (Austin TX)
Buffalo Blanco (Monterrey MEXICO)
BUHU (DJ Set) (Austin TX)
Buxton (Houston TX)
Calvin Martyr (Killeen TX)
Cha'keeta B (Austin TX)
Chaz-O (Bridgeport CT)
Cheryl Rivera (Puerto Rico PR)
Chris Anthony (Brooklyn NY)
Chris Berardo (Silvermine CT)
Chrissi Poland (Jersey City NJ)
Classixx (Los Angeles CA)
Clear Soul Forces (Detroit MI)
CLOVES (Melbourne AUSTRALIA)
Cold War Kids (Silverlake CA)
Colin Elmore & The Danville Train (Nashville TN)
The Compozers (London UK-ENGLAND)
Confucius Jones (Austin TX)
Dany F (Medellín COLOMBIA)
Dee Jay Silver (Nashville TN)
Deer Vibes (San Antonio TX)
Demo Taped (Atlanta GA)
The Digital Wild (Austin TX)
DJ Chip Banks (Youngstown OH)
DJ Costa (Boston MA)
DJ DB 405 (Oaklahoma City OK)
DJ RLE (Nacogdoches TX)
DJ TradeMark (Austin TX)
DMC (Queens NY)
Dontae (San Diego CA)
Doughbeezy (Houston TX)
Dr. Joe (Austin TX)
Dre' L.O.C. (San Antonio TX)
Duhrdy (Austin TX)
Durand Jones & The Indications (Bloomington IN)
Eliot Lipp (Austin TX)
Epic B (Brooklyn NY)
Eric Slick (Richmond VA)
Essaie Pas (Montréal CANADA)
Faze Miyake (London CA)
FEDEL (Tulsa OK)
Findlay (London UK-ENGLAND)
Finneas (Los Angeles CA)
Five 2 Oh (Corpus Christi TX)
Folk Family Revival (Houston TX)
Folk Uke (Austin TX)
Frank Waln (He Dog SD)
G-Jet (Austin TX)
Germans (Brooklyn NY)
G Flip (Melbourne AUSTRALIA)
grav3y (Austin TX)
Harddrive (Austin TX)
Hardwork Movement (Philadelpia PA)
Harry Edohoukwa (Dallas TX)
Homeboy Sandman (New York NY)
HorseShoe Gang (Long Beach CA)
I Am Bearwood (Austin TX)
iLL Fated Natives (Philadelphia PA)
Interstellar Funk (Amsterdam NETHERLANDS)
In The Valley Below (Grand Rapids MI)
Japandroids (Vancouver CANADA)
Jaykae (Birmingham UK-ENGLAND)
Jay Prince (London UK-ENGLAND)
Jillisa Lynn (Rochester NY)
Jim-E-O (Austin TX)
Jonathan Terrell (Austin TX)
Josh Rouse (Nashville TN)
Kadence (Oklahoma City OK)
Kajmir Kwest (Los Angeles CA)
Khalid (El Paso TX)
Kojo Funds (London UK-ENGLAND)
Kris Kasanova (Brooklyn NY)
Kwesta (Johannesburg SOUTH AFRICA)
Kxng Crooked (Long Beach CA)
Lawrence (New York NY)
LAX (Lagos NIGERIA)
Lee Fields & The Expressions (Brooklyn NY)
Levon (Nashville TN)
Lil' Buck Sinegal (Lafayette LA)
Loki (Austin TX)
Louis Futon (Philadelphia PA)
Lucette (Edmonton CANADA)
Lucy Dacus (Richmond VA)
MC Frontalot (Brooklyn NY)
Mic Taylor (Austin TX)
Miss Lavelle White and the L Men (Austin TX)
mluna (Austin TX)
Mosie (Boston MA)
Naaz (Rotterdam NETHERLANDS)
Nailah Blackman (Trinidad and Tobago TRINIDAD AND TOBAGO)
Navelle Hice (Chester PA)
Neila (Parkland FL)
Niena Drake (Chicago IL)
Niki Ellis (New Britain CT)
Noah Cyrus (Los Angeles CA)
No Parents (Los Angeles CA)
Old Crow Medicine Show (Nashville TN)
Olivia Noelle (Queens NY)
Oscar Black (Hartford CT)
Paul McDonald (Nashville TN)
Pixel Terror (Los Angeles CA)
Prophet (Los Angeles CA)
Pussy Riot (Moscow RUSSIA)
Red Dirt Rangers (Stillwater OK)
Redd Volkaert (Austin TX)
Rel (Charlotte NC)
Ricky Rebel (Los Angeles CA)
Riders Against the Storm (Austin TX)
RJ Comer (White Bluff TN)
RMBLR (Atlanta GA)
Ruby Ibarra (San Lorenzo CA)
Ruslan (San Diego CA)
Sam Himself (New York NY)
Savannah Ré (Toronto CANADA)
SERTIFIED (Austin TX)
Speedy Ortiz (Massachusetts MA)
The Steoples (Los Angeles CA)
Stimulator Jones (Roanoke VA)
STLNDRMS (Atlanta GA)
Street Hymns (Grand Prairie TX)
Superchunk (Chapel Hill NC)
Swoope (Akron OH)
Sylvan Esso (Durham NC)
Tall Juan (Far Rockaway NY)
Tall Paul/Mic Jordan (Minneapolis MN)
Tenille Townes (Nashville TN)
The Texas Gentlemen (Dallas TX)
TITAN (Dj Set) (Mexico City MEXICO)
Tree (Dallas TX)
Turn Up Broz (Rancho Cucamonga CA)
TX Connect (Dallas TX)
Ty Brasel (Memphis TN)
The Ugly Beats (Austin TX)
Uninamise (Brooklyn NY)
Veronica Ortuño (Austin TX)
Vivanativa (Puerto Rico PR)
Waker (Nashville TN)
WAVVES (San Diego CA)
Whiskey Shivers (Austin TX)
Zac Wilkerson (Killeen TX)

Everything subject to change
Photo credits, clockwise from top left:
Findlay - Photo courtesy of the Artist
Durand Jones & The Indications - Photo courtesy of the Artist
Khalid - Photo courtesy of the Artist
WAVVES - Photo courtesy of the Artist