2019 Hackathon Winners Announced at South By Southwest®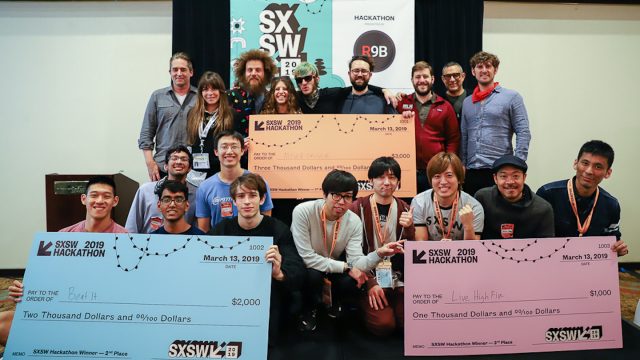 After an all night coding session at the SXSW Hackathon, a roster of 29 teams presented their projects to a large audience and group of industry judges on Wednesday afternoon at the Omni Hotel. The three top teams overall won a total of $6,000 in cash prizes.
2019 Winners
First Place: Mover Prover, where you can create your own dance moves, which are captured in video form with a machine learning program and then registered in the Mover Prover database. Each dance move is given a unique name so that it can be trademarked and owned by the creator.

Second Place: Beat IT. Based on a user's lyrics, Beat IT generates a beat, consisting of hi-hats, snares, kick, a melody and a set of chords, then the user can rap over this beat.

Third Place: Live High Five, a mobile app inspired by music fans high fiving each other. It senses your high five gesture and records when, where, and who you interacted with. Users can later browse who you high fived with, and tracks and artists they like.
One of the highlights of the presentations was Filmmakers-in-Residence Anya Raza's and Shaheen Nazerali's funny and engaging short film about Mover Prover's hack project, which showed them at work (and play) during various stages of their creative process.
Judges this year were Scot Barbour, VP Production & Innovation of Sony Pictures Entertainment; Josh Constine, Editor-At-Large at TechCrunch, Louise-Marie Marguet, CEO of EmoJam, Lauren Vitek, Founding Employee at TravelBank, Jon Gottfried, Co-Founder of Major League Hacking, Andrew Dubber, Director of Music Tech Fest, and Tuhin Roy, Senior Vice President New Digital Business and Innovation at UMG.
See the full list of all the Hackathon projects here!
Winning teams of the 2019 SXSW Hackathon - Photo by Kenneth Eke