Explore LGBTQ+ Programming at SXSW 2023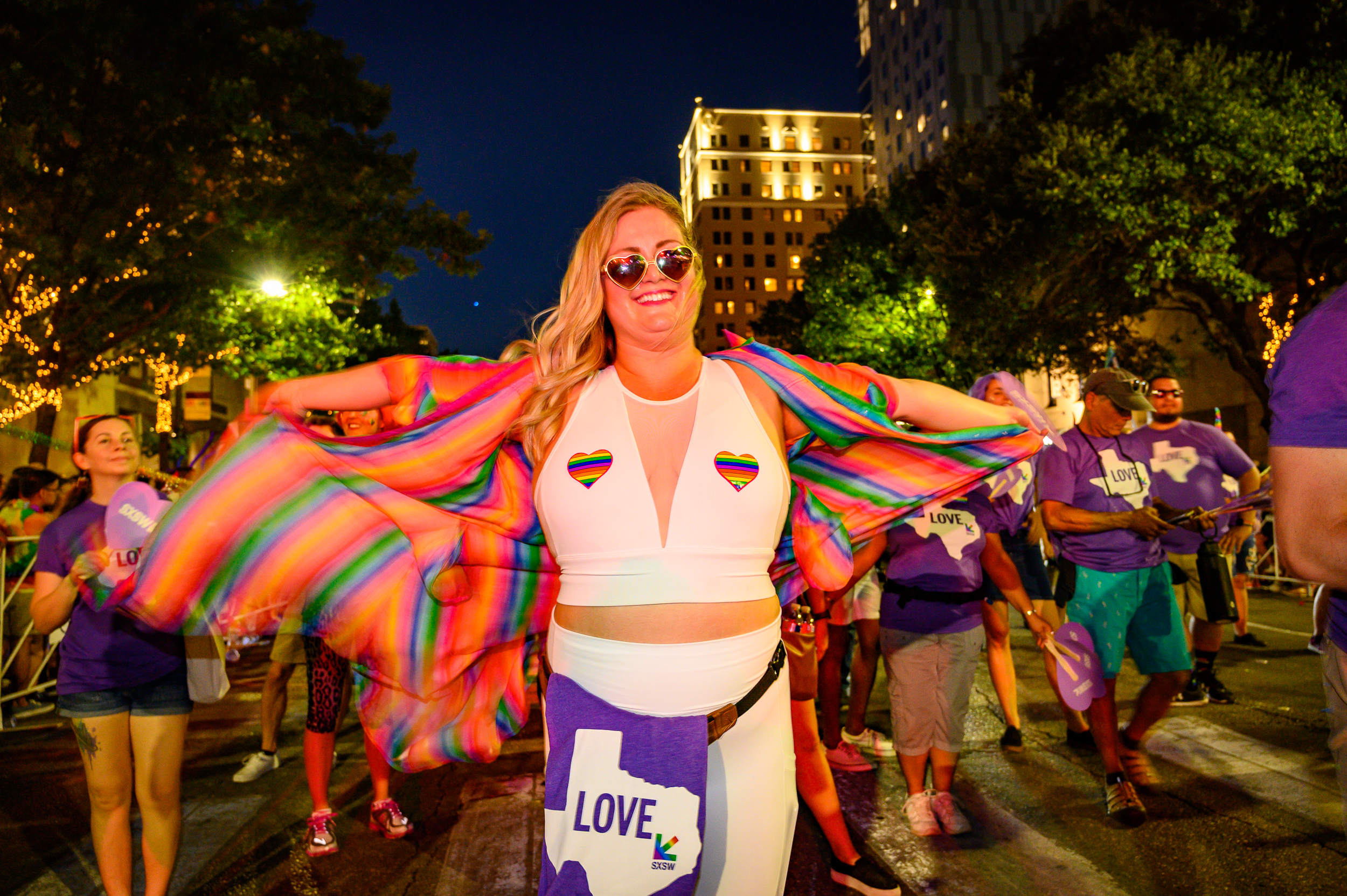 For SXSW 2023, we're honored to bring you a lineup that features an abundance of LGBTQ+ programming, where we aim to uplift queer creative voices and advance awareness and discussion of critical issues facing our communities. From the SXSW Conference to the Music and Film & TV Festivals, LGBTQ+ leaders and creators will take to the stage and screen to share their unique insights, stories, and talent with us.
Big Queer Kickoff Party
Produced by the Austin LGBT Chamber of Commerce, this is the 10th anniversary, and as such, there will be some special surprises. Come celebrate the start of SXSW in the most queer fashion at Rain on March 10!
Sessions
A variety of Conference sessions across multiple programming tracks offer insights into important issues within the LGBTQ+ community. These sessions offer queer and allied creative community leaders an opportunity to educate and support each other, bring difficult conversations to the forefront, and take a look at what the future holds for the LGBTQ+ community. Check out a few sessions on vital subjects you won't want to miss:
Don't Be a Drag, Just Be a Queen
2022 saw a record number of anti-LGBTQ bills introduced across the country, and we've already seen one Texas lawmaker announce that he will introduce a bill to ban youth from attending drag shows next year. The heated political discourse has led to threats against Pride celebrations and drag shows around the world. We know these debates are negatively impacting LGBTQ youth — and that access to affirming spaces and representation is crucial to mental health. Amid these relentless attacks on the LGBTQ community, top drag queens from RuPaul's Drag Race will join The Trevor Project to discuss drag's historical roots and cultural significance today, why promoting self-expression is so important, and how we can all help create a more accepting world.
Safeguarding Social Media for Marginalized Groups
For people marginalized by their gender and sexuality, social media platforms serve as a tool for free expression, organizing and activism. However, female and LGBTQ media users face targeted harassment and trolling online and images of trans and non-binary bodies, particularly during gender transition, are often subject to inconsistent moderation. In this panel, a diverse group of experts will discuss how social media companies can create best practices and offer additional tools to protect marginalized people online. Panelists include the Executive Director of PEN America and Meta Oversight Board Member, a leading voice on inclusionary tech policy, a scholar working at the intersection of technology and LGBTQ rights, and an international human rights lawyer.
Perspectives on the Corporatization of Pride
Join the It Gets Better Project for a presentation about the evolving role brands play in the fight for LGBTQ+ equality -- and their impact (both positive and negative) on the queer youth experience. This session will offer insights from case studies, supplemental research, and LGBTQ+ young people themselves to inform how brands can authentically connect with LGBTQ+ youth in an increasingly complex, and politically charged, environment.
How Will TV Evolve for the Queerest Generation Yet
Oh, how far we've come. Media has made progress with inclusive content- we have dedicated LGBTQ+ platforms, and mainstream networks have shows and characters that are more inclusive. Hit shows like Orange Is the New Black, Pose, and Euphoria are examples. Yet just 25 years ago, Will & Grace was considered "risky". Progress has been made, but there is more to do. Today LGBTQ shows can have short runs or are canceled with limited promotion and little runway to allow growth. What's more, inclusion has often meant same-sex relationship narratives, leaving other sexual orientations and gender identities invisible. Gen Z is "the queerest generation ever," and they demand that content accurately portrays their lifestyles. So what does this mean for the future of TV and streaming content?
Affirming Trans Rights: Actions for Business Leaders
Now is the time to assemble and amplify support for transgender people. More leaders in business, politics, and culture are identifying proudly as transgender and non-binary. sparks & honey is bringing together leaders from medicine, politics, and business to define the current state of gender-expansive advocacy and offer critical actions needed from business leaders.
The outcomes of this conversation are not solely focused on hiring and retaining trans employees at your company, but how we build a safer, expansive, and more creative future. We have a responsibility to use our influence, scale, and voice to establish the needed support and celebration of transgender people. We're excited to accelerate this important work at SXSW in 2023.
Films
The 2023 SXSW Film & TV Festival will feature a number LGBTQ+ stories with wholly unique perspectives that take a lens to the importance of identity, found family, togetherness, and the strength of queerness. This year's lineup includes programming across a wide spectrum of genres and topics: from queer music history, to incisive (but often humorous) takes on issues we face as queer people on a daily basis.
Artists
Queer musicians are breaking barriers in historic ways, on and off the stage. The SXSW Music Festival highlights voices from a number of LGBTQ+ artists that not only take pride in their identity, but also elevate their community through music.
Explore 2023 Showcasing Artists
Check out the SXSW 2023 Pride Playlist on Spotify.
Meetup
We're Here, We're Queer — LGBTQIA+ Meet Up
Alicia Roth Weigel (intersex author, activist and partner at The Pride Fund) and The Cookie Gays, Luis Gramajo and Hans Schrei (founders at Wunderkeks, gay immigrants / entrepreneurs / multi-hyphenates) have teamed up with the goal of creating a "Safe Space" to escape the craziness of SXSW...
Come as you are on March 14 to this official SXSW "kiki" -no code switching needed! If you're looking to have meaningful conversations and make authentic connections or just recharge your fabulous energy at a drag show by Austin's very own Queen, Vylette Ward. Please drop by and slay with us.
Explore the Schedule
Dive into additional LGBTQ+ programming at SXSW 2023 by browsing the LGBTQ+ tag in the SXSW Schedule, or searching the schedule for relevant events.
Join Us for SXSW 2023
Don't miss your last chance to save off the walk-up rate when you register by March 4 at 11:59pm PT for SXSW 2023! Get ready to celebrate the convergence of the tech, film, television, and music industries across a variety of programming formats and special events from March 10-19 in Austin, TX.
Save with our Group Registration rates for teams of 10 or more. Plus, currently enrolled students may apply for a discounted rate.
Book your hotel through SXSW Housing & Travel for the best available rates and locations.
Keep up with us on Twitter, LinkedIn, Instagram, Facebook, and TikTok.
Photo by Jamie Miller