From Short Stories to Academic Essays: Get Inspired to Compete in David Carr Prize 2020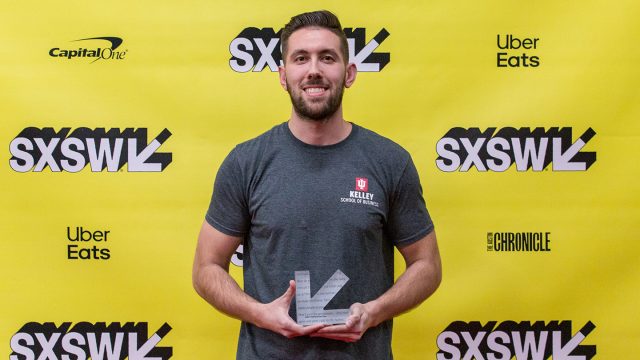 The David Carr Prize was started to honor the legacy of journalist, author, and longtime SXSW speaker David Carr. Prompts each year explore Carr's interests that lie at the intersection of technology, new media, and culture. We invite high school, undergraduate, and graduate students (PhD & Masters included) to respond to the following prompt for SXSW 2020.
"What do we do with our time and lives if society no longer depends on us to work?"
For inspiration, we're recapping the 2019 competition with summaries from the 2019 David Carr Prize Finalists. The variety of formats submitted by finalists truly demonstrates the breadth of the creativity presented by the student writers. Last year's prompt was "In 2050, warmer global temperatures will lead to…" The essays all present a sort of dystopian future in which the characters seem to be surviving after the worst effects of climate change and rising global temperatures leave the Earth in a harsh and inhospitable state.
Read through the finalist summaries and essays as you seek inspiration for a 2020 submission.
2019 Essays
In a perhaps not so distant future, this short story proposes in a fictionalized historical account that after the worst effects of climate change have done their damage to the earth, only women are able to adapt to the new conditions. Men make committee after committee and through their inaction, allow the climate crisis to get to the point where society was unable to recover. Holtzer also outlines the failings of a government that refused to take serious actions and was unprepared when the worst of the effects hit – but we'll let you decide how much of the rest is work of fiction and how much is a cautionary tale.
Written as a breaking news story from the year 2050, this short story proposes that a special task force has finally succeeded in creating a machine that issues a value to every item on the planet – from the material to even a gust of wind – in an effort to monetize previously priceless items. This effort is seen as part of a sustainable response to the effects of climate change for climate refugees to earn money in an otherwise devastated future.
Formatted like an academic article, this fictionalized essay includes graphs and references to explore what could happen if religion and science combine to fight climate change. Through tone and format, the writer is able to emulate the sincerity of academia while satirizing the resistance to climate change.
In this creative short story, a grandfather and granddaughter spend an eventful afternoon on a private museum tour with the eclectic museum owner who made it his life's work to photograph 12,000 different animal species before climate change caused them to go extinct. The digital archive at the Ark, the museum, created by the museum's owner serves as the only remaining record for many of the extinct species.
This fiction short story centers around two women from different generations with different habits and mannerisms who find themselves as roommates in the wake of their town being declared an environmental danger zone. They share the story of the loss of their loved ones and what it feels like to be left behind while the people they care about take the expedition to find a better life for everyone still left on the wasting planet.
2020 Submissions
While you're in the literary spirit, send in a submission! As demonstrated by our 2019 finalists, essays range from fiction short stories and news reports to full on academic essays. Anything goes! Show off your creativity for a chance to win a 2020 SXSW Platinum Badge – five finalists will be selected and one winner will be awarded the David Carr Prize at the Innovation Awards during SXSW. Enter before the extended deadline on Sunday, December 8.
Attend SXSW 2020
Join us at SXSW from March 13-22, 2020. Check out how to attend, plan your housing, and stay up-to-date on SXSW 2020 news.
Register early for the best savings of the season and hotel availability. See you in March!
Follow us on Twitter, Facebook, LinkedIn, and Instagram.
Featured Image by Cal Holman