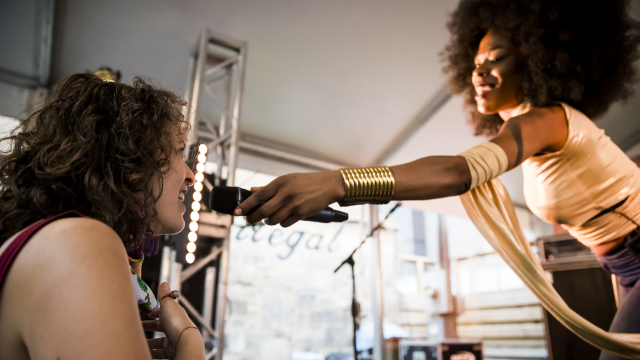 Calling all creatives! Participation opportunities for the 2022 SXSW Conference & Festivals are now open for Film Festival, Innovation Awards, SXSW Pitch, and Gaming Awards. Learn more about how to become part of the event below.
2022 Applications
All deadlines end at 11:59pm PT
PanelPicker® has been reopened for a second round of applications from October 13-22. Enter your session ideas for the 2022 SXSW Conference.
Premiere your film in front of press, film industry, and film lovers at the SXSW Film Festival. Featuring provocative dramas, documentaries, comedies, genre standouts and more, the festival is known for its high caliber and diverse program and its smart, enthusiastic audiences.
Early Entry Deadline: Tuesday, September 14, 2021
Second Entry Deadline: Tuesday, October 5, 2021
Final Entry Deadline: Tuesday, October 19, 2021
Texas High School Shorts Deadline: December 14, 2021
The SXSW Gaming Awards celebrate the wide reach of gaming across areas such as art, design, narrative, gameplay, cultural innovation, and more.
Entry Deadline: December 9, 2021
Showcasing Artist Applications are now closed
The SXSW Innovation Awards prize creative innovation in the connected world, celebrating the ever-widening variety of technology, projects, products, achievements and discoveries. Innovators from across the digital industry have the opportunity to enter their exciting, new work in this competition – open to all projects, products, and developments launched or made in calendar year of 2021.
Early Entry Deadline: August 19, 2021
Regular Entry Deadline: November 11, 2021
Pitch your innovative startup at the 14th annual SXSW Pitch in front of a live audience and panel of expert judges. Plus, be a part of product demonstrations by the most ambitious talents in the world with the creative new ideas to change it. Join the ranks of SXSW Pitch alumni gaining millions in funding along the way with a combined total of over $9.4 billion.
Early Entry Deadline: September 9, 2021
Regular Entry Deadline: November 11, 2021
See You in 2022
Mark your calendars for March 11-20, 2022! Registration opens on September 14, 2021.
For the latest SX updates, check out our News feed; subscribe to SXSW Event Updates; and follow us across the socialverse – Twitter, LinkedIn, Instagram, and Facebook.
Photo by Aaron Rogosin