Announcing Second Wave of 2019 SXSW Film Mentors and Round Tables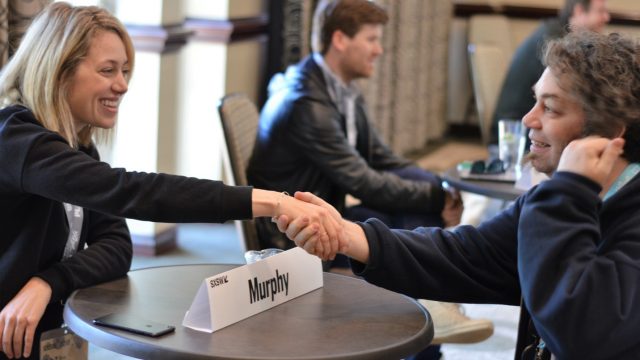 The SXSW Conference is happy to share our second round of Film Mentors and Round Table participants for the 2019 event. Mentors and Round Tables are an excellent way to get industry advice with a personal touch.
Mentor sessions center around one-on-one meetings with film and entertainment professionals, with experts in fields ranging from distribution and filmmaking to marketing and promotion, and more. The Round Table program allows for seven attendees to sit at a table and converse with a rotating group of industry insiders. Not only do attendees get the opportunity to learn from industry experts, but also from the questions and experiences of their peers. Like the Mentor sessions, Round Tables are broken up into different sections such as Sales and Acquisitions, Publicity, and many more.
Stay tuned for Mentors and Round Tables sign-up coming in February. Advance sign-up is required and access is limited by badge type.
If you missed our first wave of participants, check the list out here.
2019 Mentors and Round Tables
Meredith Alloway (ATW Productions)
Shaked Berenson (Ent Squad)
Lin Che (Sandbox Immersive Festival)
Britta Erich (Creative Europe Desk Hamburg)
Rebecca Green (Dear Producer)
Sarah Harris (AFI)
Aijah Keith (IFC Films)
Alia Quart Khan (Film Independent)
Mette Marie Kongsved (Nowhere)
Jessica Kwan (Archer Gray)
Jason Delane Lee (The Lagralane Group)
Yvonne Huff Lee (The Lagralane Group)
Mat Levy (Passion River)
Keith Maitland (GoValley)
J Thomas Nam (Bucheon Int'l Fantastic Film Festival (BIFAN)
Jameson Parker (Brightlight Pictures)
Daniela Sapkar (Sapkar PR)
Matthew Soraci (The Lagralane Group)
Zak Soreff (Sawyer Studios)
Valerie Steinberg (Valerie Steinberg Productions)
Pamela Torno (ITVS)
Jesse Trussell (BAM)
Evette Vargas (Digital-Reign)
Shawn Williamson (Brightlight Pictures)
Join Us For SXSW 2019
Register and book your hotel now to save! The Film Badge gets you primary access to all SXSW Film events including Film Keynotes and Featured Sessions, world premieres, round tables, workshops, parties, and more. Over the course of nine days, the SXSW Film Festival hosts over 450 screenings! Film registrants also have primary access to Convergence events, including the Comedy Festival and nine unique conference tracks, as well as secondary access to most Interactive and Music events.
Follow us on Facebook, Twitter, Instagram, and SXSW News for the latest SXSW coverage.
See you in March!
Mentors: Narrative Filmmaking - Photo by Nicole Burton