Pitch Events and Coworking Spaces: Explore Austin During the SXSW Interactive Festival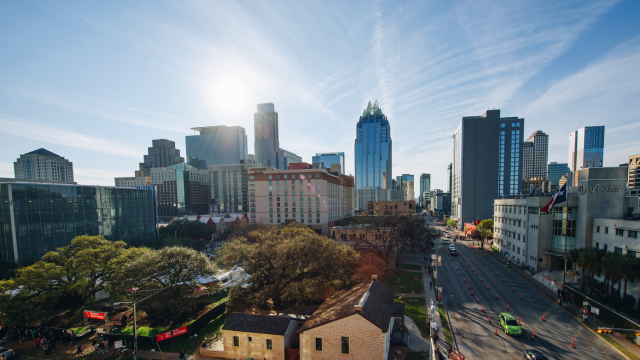 Coined 'Silicon Hills', Austin's transformation from a sleepy college town into a tech hub began in the 1980s with Dell. Today, as one of the fastest-growing tech capitals in the U.S., Austin is home to some of the world's largest companies including IBM, National Instruments, Oracle, Apple, Indeed, Facebook, and many more. With top talent from around the world, warm weather, and endless networking opportunities, there's no better time or place to make industry connections in Austin during SXSW 2019.
From March 8-12, the SXSW Interactive Festival features industry parties, pitch competitions, awards, and abundant networking opportunities concurrent to the SXSW Conference. Throughout SXSWeek, competitions and award ceremonies honor innovators showcasing the future of emerging technology.
For years, SXSW Interactive Festival pitch competitions such as SXSW Pitch, SXSW Release It, and the SXSW Interactive Innovation Awards have supported new ideas, driven early-stage deals, and brought together entrepreneurs and investors from all over the world.
With so many events and networking opportunities including the Interactive Mix at Six, the Interactive Bash, and the Interactive Festival Opening Party, be sure to take time during your visit in Austin to slow down and appreciate the city. Voted by Inc. Magazine as the #1 city to start a business, get to know Austin since you could very well end up here!
Coworking Spaces
Venture outside of the SXSW hustle and bustle to one of Austin's coolest coworking spaces. Enjoy good vibes, and get a feel for the local coworking culture, while getting some work done between Conference sessions and evening networking events. If you're headed east, be sure to check out spots like Native Hostel, Createscape, CRAFT, or East Side Collective. Or, escape downtown Austin entirely and head towards coworking spots such as Impact Hub, Galvenize, or WeWork.
Austin Central Library's Tech Petting Zoo
Recently featured in Time Magazine as one of the world's greatest places, the Austin Central Library features over 500,000 books, an art gallery, cafe, roof-top butterfly garden, and a technology petting zoo. As a visitor in the petting zoo, you can play with next-generation tech gadgets including a large-scale 3D printer.
Austin Street Murals
Anywhere you wander in Austin, you're bound to find unique street art. Beyond the SXSW Art Program's curated installations and interactive exhibitions around town during SXSWeek, there are a few other iconic spots to check out. Snap a welcome pic by the Howdy Austin Mural on West Sixth Street on your way towards Lady Bird Lake. Walk over the Pfluger Pedestrian Bridge for a breathtaking skyline view across from the Austin Graffiti Train Bridge. Finally, no Austin trip is complete without the pivotal photo op in front of the "I Love You So Much" Mural on South Congress. Tip: grab a coffee and a breakfast taco for your walk back across the Congress Bridge into the heart of SXSW.
Jot down these Austin recommendations for your visit this March! Join us for the 2019 SXSW Interactive Festival and explore the SXSW Schedule to learn more about SXSW Conference programming.
With expanded access to events for all registrants, attendees will receive primary access to programming associated with their badge type but also enjoy secondary entry to most other SXSW events. Take the Badge Quiz to find out which badge is perfect for you.
Stay tuned to SXSW News and follow us in all the usual social spots for updates – Twitter, Facebook, and Instagram.
Photo by Judy Won