Q&A and Portrait Gallery: S U R V I V E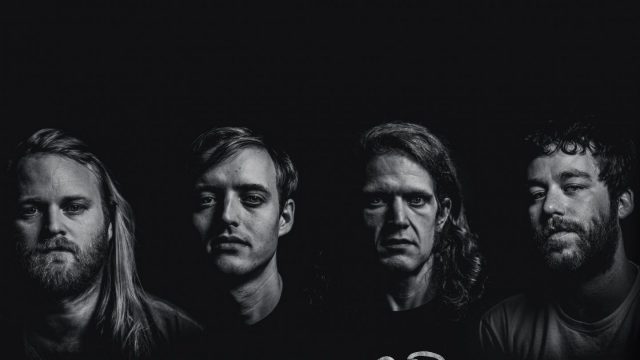 All photos by Dylan O'Connor.
Austin-based band S U R V I V E has been creating pulsating synth music long before earning fame for their work on Netflix's summer hit Stranger Things. In fact, they've been at it since 2008, releasing numerous EPs and singles and performing at SXSW four times along the way.
We invited the group – which includes Adam Jones, Kyle Dixon, Mark Donica, and Michael Stein – over to the SXSW office last month to snap some new photos and chat about Stranger Things, their new record, and the future. Keep going for the Q&A and portrait gallery.
S U R V I V E is currently preparing to release their second full-length, and first via Relapse Records, next Friday, September 30, before the hitting the road for a full US tour beginning the very same day. The band will also be performing at SXSW 2017 in March, which means this is the first gallery we're releasing for a 2017 SXSW Showcasing Artist. They're honored, I'm sure.
Q&A
So obviously you've been getting a ton of well-deserved attention from your work on the Stranger Things soundtrack. How has this changed things for you guys?
Kyle: It's definitely brought a lot more attention to the band and is hopefully going to allow us to do more music. I'm optimistic. 😉
You have a new album on the way, titled RR7349, out on September 30. First one in quite a while. Did your approach differ at all this time around? If so, how?
Michael: We intentionally approach each album different and wanted to deliver this album as individual songs rather than a continuous segue of songs which was the format of our last full length release. From a production standpoint we also wanted to explore a different route from the last album. Overall it's a lot more direct with the instrumentation and arrangement. There's less lost in an abyss of effects and manipulation. Tightening things up using shorter reverbs and delays.
How have your experiences performing at SXSW been in the past?
Mark: SXSW is always super intense and fun. Every year has been a total blast. We are excited to see what's in store for 2017!
How did your recent signing to Relapse come about?
Adam: Relapse approached us about joining their roster. We had just finished up the record and were shopping it around. The first thing we thought was "Relapse? The metal label? That's cool, a lil weird but cool". After realizing that synth bands like Zombi and Pinkish Black are also signed to the label, it made more sense.
You have a North American tour coming up soon. What comes after that?
Michael: We'll return working on our follow up record amongst other new projects.
Portrait Gallery
All photos by Dylan O'Connor.
---
Related News: