Billboard Presents THE STAGE at SXSW: Lil Yachty, Feid, Eladio Carrión, Kx5 & More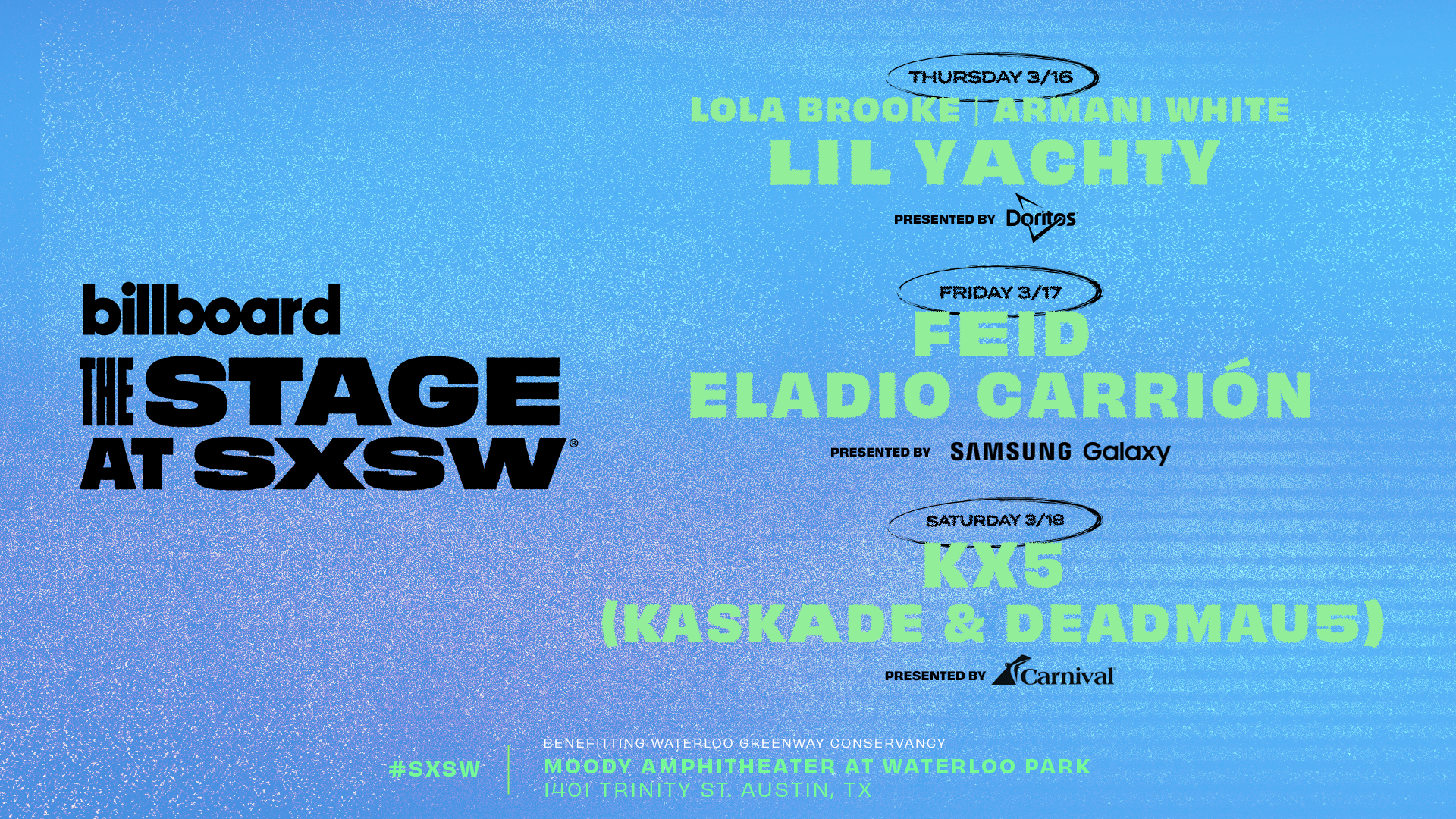 Billboard has announced its return to SXSW for three nights of star-studded concerts and an interactive content house featuring intimate conversations with musicians and industry leaders.
Taking place at Moody Amphitheater at Waterloo Park from March 16-18, Billboard Presents THE STAGE at SXSW will be headlined by rapper and singer Lil Yachty (March 16), Latin superstars Feid and Eladio Carrión (March 17), and electronic music titans Kx5 (Kaskade and deadmau5) (March 18). The concert series will feature opening performances by Lola Brooke, Armani White, and more.
SXSW Music and Platinum Badges and SXSW Music Festival Wristbands receive access to these performances on a first-come, first-served basis depending on venue capacity.
Tickets are also available to the public for purchase here starting at 12pm ET on Friday, February 17. Billboard will donate a portion of ticket proceeds to Waterloo Greenway Conservancy, a nonprofit organization that aims to create an urban park system in partnership with the city of Austin. Waterloo Park, the first of the organization's three phases, opened in 2021 to provide 11 acres of downtown green space, community programming, and performing arts and entertainment at the Moody Amphitheater.
In addition to musical performances, several artists will also take part in unforgettable conversations hosted at The Billboard House (800 Congress), with official speakers to be announced in the coming weeks. Taking place on Friday, March 17, the one-day-only interactive content house, will also feature brand activations, one-of-a-kind photo moments, small bites and cocktails, and more.
Conversations at The Billboard House: This year's free content house will offer festival attendees the opportunity to experience a series of interactive activations and industry-focused discussions, with speakers to be announced in the coming weeks.
Tune into live coverage from Billboard during SXSW at Billboard.com and follow @billboard on Instagram and Twitter for the latest news and announcements.
See You at SXSW 2023
Join us this March 10-19 in Austin, TX for SXSW 2023. Explore Conference sessions, Music Festival showcases, Film & TV Festival screenings, world-class Exhibitions, and beyond on the SXSW Schedule.
Follow us on Facebook, Twitter, Instagram, TikTok, and SXSW News for the latest event info and announcements.