Apply to Exhibit at SXSW 2020: Trade Show, Wellness Expo & More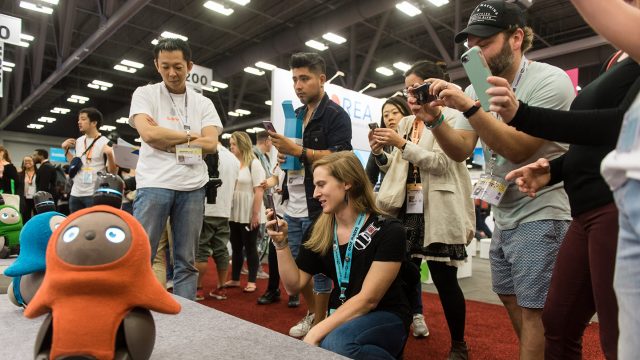 While it may only be halfway through 2019, here at SXSW we already have 2020 on the mind. Since April, we've been busy planning a memorable SXSW 2020.
Now that submissions have officially opened up and anyone in the world can apply to participate, maybe you should be thinking about SXSW 2020, too! From now until September 27, you have the opportunity to save 20% on your booth price.
Beyond PanelPicker, Film Submissions, and Music Showcase Applications, there are many opportunities for your business or organization to get involved at SXSW 2020 — like SXSW Exhibitions. You may have heard about the SXSW Trade Show, which is the most popular SXSW exhibition, but are you familiar with our other world-class exhibitions like SXSW Wellness Expo,and SXSW Marketplace, and SXSW Gaming Expo?
Each exhibition offers unique opportunities for businesses in a multitude of industries to market at SXSW, make B2B connections, and gain exposure to the forward-thinking, professional creatives that attend SXSW in Austin, Texas.
See below for more info on each SXSW Exhibition and which one is the best option for your company.
Apply to 2020 SXSW Exhibitions
Trade Show
The SXSW Trade Show is open to innovative businesses and organizations in the following categories: international delegations, startups, content creators, lifestyle technology, marketing, manufacturing, design and innovation, robotics, hardware and software, security, government technology programs, social impact, sports technology, VR/AR/MR, online media, health + fitness, music technology, artist services and food technology.
SXSW Marketplace
Featuring dozens of local, national, and global brands, SXSW Marketplace lets your business sell its products to tens of thousands of SXSW attendees. If you're a clothing, accessories, or art company, SXSW Marketplace is the exhibition for you!
SXSW Wellness Expo
The SXSW Wellness Expo connects tens of thousands of SXSW attendees interested in wellness to some of the most promising companies in this fast-growing industry. Consider exhibiting at the SXSW Wellness Expo if your business focuses on herbs & supplements, athleisure & fitness gear, lifestyle brands, CBD products, clean beauty products, clean eating, specialty diets, energy healers, mental & physical exercise, or wellness retreats.
SXSW Gaming Expo
SXSW Gaming brings the gaming industry together into one chaotically-fun experience that only the legendary SXSW can provide. It's a unique combination of all things geek, nerd, and gaming that takes place in an environment where creativity thrives.
Unlike similar gaming conventions, the SXSW Gaming Expo is rooted at the heart of the converging Interactive, Film, and Music Festivals which are found exclusively at SXSW. With hundreds of special events spread throughout each of the world-class areas found at the Gaming Expo, no festival provides such a unique and fresh experience for both fans and pros than SXSW Gaming.
Get Ready for SXSW 2020
Register and book your hotel for SXSW 2020 from March 13-22 in Austin, TX. Follow us on Twitter, Instagram, Facebook, and SXSW News for the latest SX coverage.
Photo by Lauren Lindley